Travel Inspiration
October 6th, 2017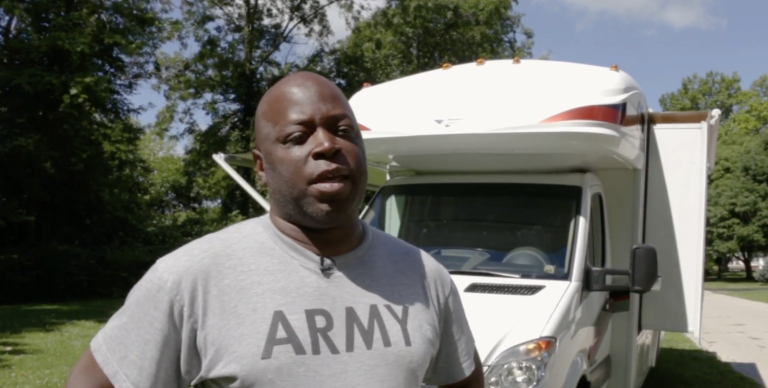 Michael and Sarah Grant hail from a sweet little nook in rural Ohio. After some time in busier professions – the army and police force, respectively – they decided to step back and work from home in professions that allowed more time with each other and their daughter. While their new careers facilitated this, Michael and Sarah also wanted to run a business in an industry that piqued their interest to bring in a secondary income.
Regular visitors to Texas, the Grants have dreamed for years about traveling via RV to their winter destination. Combining that with the idea that they can share their vehicle when not in use and their desire to produce a supplementary income was the impetus to their RVshare rental business.
Since taking the dive into the purchase of their Class C Quest with a Mercedes sprinter engine in the spring of 2016, Michael and Sarah have generated serious income, have created invaluable memories with their beautiful little girl and are looking to the future as managers of a bigger fleet.
Read their story and advice to learn how simple — and gratifying — it is to become an entrepreneur from your driveway with RVshare.
What is your history as an RVer?
Michael: [We had a friend who] owned an RV they didn't use, and we suggested it would be a good idea that they rented it out when they're not using it, but we never owned an RV. There was a summer we thought about renting one, but we'd have to go through a dealership and that made it kind of complicated, so we shied away.
So what made you decide to purchase an RV?
Sarah: I've always wanted to own an RV, but couldn't really justify the cost of ownership. And quite frankly, we can't afford to own a $60,000 toy without making some money off of it.
And the big thing was: we go to Texas every year, and we're used to staying in hotels. When you stay in a hotel — especially when you're traveling with pets — you have to first find a hotel that will accept any pets, and then you have to haul all of the pet's equipment into the room. Because most hotels, even if they accept pets, require that you crate it. So you're lugging all of this stuff up to your hotel room. And if you have children, you're lugging [more] stuff to your room. That is just grossly inconvenient.
My husband and I have always been huge roadtrippers. And it was either just sleeping in the car at rest areas or staying in a hotel. And I like my own space, and I like to be able to keep my own space clean. So I just felt like an RV was the perfect fit, because you drive until you're tired, and then pull over wherever you want — in fact you can pull over in a Walmart parking lot. All Walmarts are RV-friendly for anyone interested, and the wifi is usually good enough to reach out to the parking lot; so you can soak up some free wifi. So basically, I was inspired to find an RV that fit our lifestyle, and one that we could share with others, because, like I said, we couldn't afford to do it without sharing with others.
So you knew when you purchased the RV that you'd use it to run a business?
Sarah: It's expensive to rent an RV, not as expensive as it is to buy one. But personally, I couldn't justify just renting one. I wanted to own it and rent it out. You know, I just couldn't [spend] $1,550 for the week. I could go to General RV, put $1,500 down on one, and own it. And when I found RVshare, it just ticked so many boxes; so I definitely knew going into this we were going to do this for a business.
In our exploration of the whole RV ownership idea and considering renting one, we realized that we'd want to rent one all the time. It would be far more cost effective to own it and rent it out to other people and multiply the blessing. That's another thing we've learned in the RV community and RVshare community is you're making dreams come true here. These are dream vacations people are taking that they may not have had if people had not been able to access this RV. So being able to share something with someone to facilitate the trip of a lifetime is just the coolest thing.
How do you plan to grow you RVshare business?
Michael: We consider ourselves a business owner through RVshare, and we've liked the platform they've offered for us to reach a lot of customers, so we plan on adding another vehicle to our fleet. We hope RVshare will be there for us to facilitate another vehicle and that things just continue to go up for us.
Sarah: I feel like I've become this wellspring of information and knowledge about this thing.
I would like to attract an investor who would let me manage. Until we've had the business for a full two years, we really can't buy another one. But if someone said to me tomorrow, "I'm going to buy an RV, and I want you to manage it," I'd be like, "Okay!" And I will keep it moving all year round for sure.
I've [also] thought: we winter in Texas, we should list [ours] while we are there.
How much money have you made on RVshare?
Sarah: We started listing in May [2016], and our first rental went out on June 3, 2016. Since then, we have collected $45,454.06 in payments. That's just payments collected. It's just very validating, because quite honestly going into it, I wanted to offset the cost of ownership, and at this point we're looking at expanding. I don't know the practicality of having a brick and mortar building, and quite honestly, I don't want to lose the personalization of the experience. I want to be able to provide people what we provide now in terms of customer service. So I wouldn't want to get too big, but I definitely think I'd like to own a couple more.
How has your RVshare experience affected your family as a whole?
Sarah: It's basically bridged the gap between me having to work full time and not spend any time with my daughter; it has allowed me to buffer our income, so that I can work my part-time flexible job as an editor and offset [that] with this income. It has given us the lifestyle we've always wanted. We are truly living the dream.
Next week, look for Part 2 of Michael & Sarah's story as they talk about what affected the purchase of their RV for business.