Wisconsin may be known as the Badger State, and it may be famous for its cheese and football team, but this north-central state is so much more than that. Wisconsin offers a unique combination of natural beauty and family fun. In this post, we're going to learn about some of the coolest and highest-rated attractions the state has to offer its visitors. If you're an RVer, an adventurer, or someone who loves to have a great time at a reasonable price, you'll be pleasantly surprised with what Wisconsin is all about.
To kick things off, we want to mention a little bit about Wisconsin's geography so you're prepared before hitting the open road. It's located between the Great Lakes and the Mississippi River. Wisconsin is classified as warm-summer humid continental climate, but receives plenty of snowfall during the winter months – averaging around 40 inches. So before you go, make sure you're prepared to handle those kinds of conditions.
Without further ado, here are the 10 best RV Trips to take in Wisconsin.
1.Bay Beach Amusement Park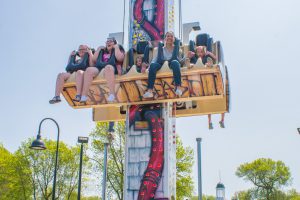 Let's start this list off right with something that everyone loves – an amusement park! Thrills are abundant at Bay Beach Amusement Park, with over 20 attractions, some that'll send you zooming and whirling around, others that are great for a relaxing ride. Best of all, this park is a real winner when it comes to catering to little ones! There's an abundance of rides designed with them in mind, so it's the perfect Wisconsin destination for RV trips with kids. They can hop on The Helicopters that let them ride around and around as they control how high or how low it goes, grab a fun ride on the Lady Bugs, or try out the classic Merry-Go-Round! The rides are just the beginning though. You can also check out the fantastic food, the dance hall, the playgrounds, and souvenirs for sale!
Bay Beach Amusement Park Information
Address: 1313 Bay Beach Rd, Green Bay, WI 54302
Contact: (920) 448-3365
Price: Admission is free! Ride tickets are $.25 each, with most rides requiring one or two tickets.
Website: http://greenbaywi.gov/baybeach/
Where to Stay
Less than an hour from the amusement park is Tranquil Timbers Camping Resort. This Thousand Trails RV park is in a beautiful setting and has great amenities including a swimming pool, mini golf course, and volleyball court. With rates averaging around $45 per night, it's the perfect place to relax!
2. Bay Beach Wildlife Sanctuary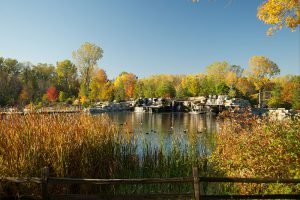 Right across the street from Bay Beach Amusement Park is another fantastic place to visit. The Bay Beach Wildlife Sanctuary is a 600-acre preserve that cares for over 4,500 animals in need annually. If you visit this "urban wildlife sanctuary", you'll want to make time to head to the many facets it offers. The Nature Education Center is home to three floors of learning opportunities, complete with hands-on exhibits and a gift shop. The Observation/Rehabilitation Building contains an animal nursery viewing area, raptor theatre, and more. The Wildlife Habi-Trek Trail is one of the best parts of the refuge, though. That's where visitors can see the animals in their natural habitats! Wolves, owls, cougars, deer, and otters are among the animals that call the sanctuary home. Be sure to check the events calendar on the sanctuary's website before your visit as well, they offer tons of programs and activities!
Bay Beach Wildlife Sanctuary Information
Address: 1660 E Shore Dr, Green Bay, WI 54302
Contact: (920) 391-3671
Price: Admission is free!
Website: http://www.baybeachwildlife.com
Where to Stay
Tranquil Timbers Camping Resort is once again a great choice, and it also allows you to visit both the Bay Beach Amusement Park and the Bay Beach Wildlife Sanctuary in one trip! As mentioned, rates average around $45 per night. Of course, there's plenty of great Wisconsin RV parks, so you'll be able to find one that meets all your needs no matter what.
3. Cave of the Mounds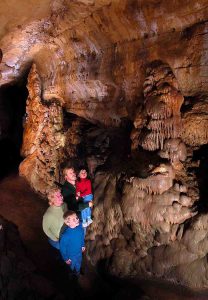 Deep in the hills of Wisconsin is an attraction that'll be sure to make your RV vacation the most unforgettable of road trips! At Cave of the Mounds, you'll be able to explore the wonders of the underground. Tours that wind through paths of wondrous geologic formations and stunning crystals await visitors of this unique attraction.
You might want to bring a sweater though, the cave is a constant 50 degrees Fahrenheit!
Along with guided tours, guests can also check out the other attractions offered on-site. Little ones will love sifting and digging for gems and fossils at the gemstone mine and fossil dig. You'll certainly appreciate the breathtaking views of the numerous gardens where you'll find butterflies galore. These are just a couple of the extras offered at Cave of the Mounds; if we went into detail about everything they have, we'd be here all day! The best way to learn more about it is to visit the cave and experience it for yourself!
Cave of the Mounds Information
Address: 2975 Cave of the Mounds Rd, Blue Mounds, WY 53517
Contact: (608) 437-3038
Price: Admission includes a one hour guided tour, and is $17.95 for adults, $9.95 for kids age 4-12, and free for kids age 3 & under!
Website: https://www.caveofthemounds.com
Where to Stay
Blue Mounds State Park has both primitive camping sites and sites available with electric hookups. The sites are super affordable, with rates starting at $18 for Wisconsin residents or $23 for non-residents. The best part though? It's less than ten minutes from Cave of the Mounds, and you get the added bonus of the beauty of the state park!
4. Apostle Islands National Lakeshore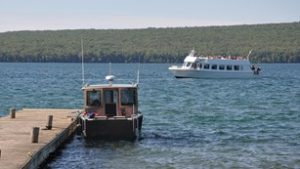 This is a beautiful lakeshore consisting of 21 islands and multiple points of interest. In total, Apostle Islands National Lakeshore takes up a massive 69,372 acres of scenery, right on the northern tip of Lake Superior. Among some of the sights are sandstone sea caves, historic lighthouses, and natural animal habitats. Attractions include docking, hunting, and fishing (one of the most popular things to do out there). Patrons kayak from island to island to get around, so prepare to get a workout in!
Apostle Islands National Lakeshore Information
Address: 415 Washington Avenue, Bayfield, WI 54814
Contact: (715) 779-3397
Price: Entrance is free!
Website: https://www.nps.gov/apis/index.htm
Where to Stay
Good news – Apostle Islands National Lakeshore allows camping right on site in 19 of its 21 islands! All you need to do is make sure you snag a permit, which you can find more information on by giving them a call and selecting option two (as per their directions). Rates start as low as $5 per day if your vehicle and trailer are less than 20 feet.
5. Noah's Ark Water Park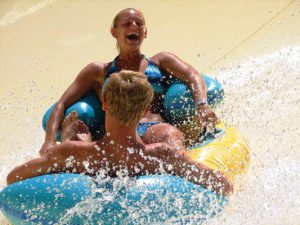 Noah's Ark Water Park is located in Wisconsin Dells and is the largest waterpark in the United States! It sits on 70 acres and is "recognized as one of the best places to visit in Wisconsin Dells with kids." The waterpark features 51 waterslides, wave pools, lazy rivers, and more. Black Anaconda, at over a quarter of a mile long, is one of the park's flagship attractions, described as "America's most thrilling water coaster!" No need for parents to worry though, Noah's Ark has consistently been awarded for its high standards of aquatic safety.
Noah's Ark Water Park Information
Address: 1410 Wisconsin Dells Pkwy, Wisconsin Dells, WI 53965
Contact: (608) 254-6351
Price: they have a season pass for $49.99 but there didn't seem to be anything about single day tickets
Website: https://www.noahsarkwaterpark.com
Where to Stay
Thankfully, Wisconsin Dells offers plenty of choices when it comes to full-service RV camping, including a KOA. One place that stuck out, though, was Bonanza Camping Resort. It's centrally located in Wisconsin Dells, so you'll have easy access to the waterpark, gas stations, supermarkets/convenience stores, or anything else you'd need on your trip. Their website has rates listed at $50 to $60. Best of all, if you need an RV rental for your Wisconsin trip, RVshare offers some great units to rent in the area.
6. Timbavati Wildlife Park
Another great attraction you could add to your Wisconsin RV trip itinerary is Timbavati Wildlife Park. Just like Noah's Ark Water Park, it's located in the busy Wisconsin Dells and it's a fantastic stop for families with kids. There's tons of cool stuff to do at this location, such as enjoying the pretty sights of their award-winning gardens, taking a safari train ride – where you can take a sneak peek at ostrich, zebras, emus, and wildebeest, go for a camel ride, or even check out swine pig racing!
Timbavati Wildlife Park Information
Address: 2220 Wisconsin Dells Pkwy, Wisconsin Dells, WI 53965
Contact: (608) 253-2391
Price: Admission starts at $19.95 for adults and $13.95 for kids.
Website: http://www.timbavatiwildlifepark.com
Where to Stay
Just like our last attraction, Timbavati is situated in Wisconsin Dells, meaning you'll have access to the same high-quality campgrounds and RV parks the area has to offer. Some options include Bonanza Camping Resort, where rates start at $50 to $60, or Wisconsin Dells KOA, which sits a mile away from downtown. The nice thing about KOA is that their parks are pretty consistent. Their rates depend on when you want to go, what how many days, etc.
7. Devil's Lake State Park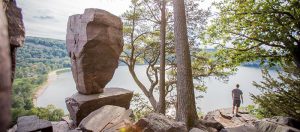 Situated in the Baraboo Range, Devil's Lake State Park is something you don't want to miss! It's the biggest state park in Wisconsin and chock full of breathtaking bucket-list worthy sights. Imagine over 9,000 acres of unadulterated nature. You'll get to experience things like 500-foot high bluffs and the eponymous Devil's Lake – where you can enjoy fishing, watercraft, and more, in the over 360-acre "playground."
Devils Lake State Park Information
Address: S5975 Park Rd, Baraboo, WI 53913
Contact: (608) 356-8301
Price: Vehicle admission stickers start at $5.
Website: http://dnr.wi.gov/topic/parks/name/devilslake/
Where to Stay
You can bring an RV into the area and camp right on site, however, keep in mind that the accommodations aren't fancy. For example, there is nowhere to do laundry at the campsite (although there are nearby laundromats), and of course, you'll need to leave the campground for any shopping or dining as well (they do sell firewood though). Rates start at $20 per night for basic camping and $30 for electric.
8. Circus World Museum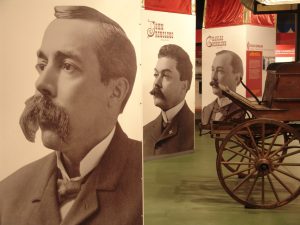 Another Wisconsin attraction to include in your RV trip planner is Circus World Museum, located in Baraboo. It's a large museum complex devoted to circus related history. A little historical fun fact is that Baraboo was actually home to the Ringling Brothers, the founders of the Ringling Brothers Circus aka "The Greatest Show on Earth." Besides interesting exhibits, the museum features parades, a big top circus, tiger adventures, and even a kid's world interactive circus, where the little ones get the opportunity to participate in their own circus performance.
Circus World Museum Information
Address: 550 Water St, Baraboo, WI 53913
Contact: (608) 356-8341
Price: General admission starts at $9.95 for adults. Discounted rates are available for seniors and children.
Website: http://www.circusworldbaraboo.org
Where to Stay
Fox Hill RV Park is located a quick nine minutes from Circus World Museum. They offer ample activities to make sure you're never bored, like a nine-hole disc golf course, wagon rides, carpet ball, gaga ball, game room, giant chess/checkers, etc. Rates start at $37.
9. Milwaukee Art Museum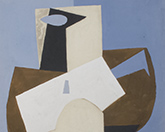 Located in the Milwaukee, Wisconsin, this famous museum features around 25,000 unique pieces of art. It's one of the largest museums in the country, with exhibits such as Degas to Picasso, which takes you through the evolution of art through the 19th and 20th centuries. Milwaukee Art Museum offers group tours, self-guided tours, and drop-in tours.
Milwaukee Art Museum Information
Address: 700 N Art Museum Dr, Milwaukee, WI 53202
Contact: (414) 224-3200
Price: General admission is $19 for adults, and free for kids! Discounts are available for both seniors and students.
Website: http://mam.org
Where to Stay
Milwaukee offers a couple of good campground choices for families, including the Wisconsin State Fair RV Park, which even made our list of the top 10 campgrounds and RV parks in Wisconsin. This is actually the only RV park located in Metro Milwaukee, so it's a great spot if you want to see more of what the city has to offer as well. Rates start at $35 per night.
10. Northeastern Wisconsin Zoo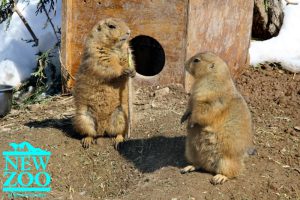 The final attraction on our list of Wisconsin RV trip ideas is the Northeastern Wisconsin Zoo, located near Green Bay. The zoo attracts over half a million visitors each year to their many exhibits like the penguin exhibit, Japanese Macaque exhibit, a tortoise den, and more. They house more than 90 species of animals and 200 individual animals are under devoted care.
Northeastern Wisconsin Zoo Information
Address: 4378 Reforestation Rd, Green Bay, WI 54313
Contact: (920) 434-7841
Price: Admission starts at $9 for adults, $6 for seniors, and $6 for kids.
Website: http://newzoo.org
Where to Stay
Good Sam shows over 40 RV parks and campgrounds located in the Green Bay area. Apple Creek Campground is a solid option and just under half an hour drive over to the Northeast Wisconsin Zoo. The RV park has everything you need for a comfortable stay, including Wi-Fi, a convenience store, laundry room, showers, propane exchange, and drinking water at the site. Rates start at $39 per night and $234 weekly.
For even more camping options, see this list of top campgrounds in Wisconsin!
Final Thoughts
There you have it. Some of the best and highest rated Wisconsin RV travel trips. We hope you enjoyed our travel guide as much we enjoy sharing insights on what RVers like you love to do when they hit the open road. Wisconsin is a beautiful state with so much to offer. From picturesque national parks to exciting water parks, and even hog races, it's no wonder millions of people flock over to the Badger state every year.