Known for its famous racetrack, sweeping farm country, and salt-of-the-earth people, Indiana makes for a great destination on your RV road trip. From the largest children's museum in the world to one of the country's most prominent Amish farms, there's plenty to do and see in the Hoosier State.
Whether you call yourself a Hoosier or you're just stopping through, you'll no doubt fall in love with the so-called "Crossroads of America." Here's our free Indiana RV travel guide packed with our 10 favorite places to visit on your road trip:
1. The Children's Museum of Indianapolis
If you're looking for Indiana RV trips with kids, start off at The Children's Museum of Indianapolis, which holds the title of the world's largest children's museum. Time and time again, it's voted one of the top attractions in Indiana, and for good reason. The museum has five levels and over 120,000 artifacts, including exhibits on dance styles around the world, one taking a contemporary look at China, another exploring the land of dinosaurs, and one about the power of children, featuring historical figures like Ruby Bridges and Anne Frank. In February 2017, the museum changed its pricing structure to make it more affordable for families, so plan ahead early: The website ticketing system incentivizes visitors to buy tickets early by listing the cheapest prices several weeks ahead of time.
Location: 3000 N Meridian St, Indianapolis, IN 46208
Contact: (317) 334-4000
Price: Pricing flexes between $12 and $35, depending on the day
Discounts: seniors, youth
Website: https://www.childrensmuseum.org
Where to Stay:
Less than 30 minutes east of the children's museum, you'll come across the Indianapolis-area KOA in Greenfield. The updated, family-friendly campground has full hookup RV sites, including pull-throughs and back-ins, along with its own pool, fitness center, dog park, and rec hall. Still need to rent an RV? Don't sweat — there are plenty of rentals available from RV owners throughout Indiana.
2. Indianapolis Motor Speedway Museum
You can't leave Indianapolis without paying a visit to its famous racetrack, so next up on our Indiana RV trip itinerary is naturally the Indianapolis Motor Speedway Museum. With dozens of race cars in rotation, plus trophies and memorabilia on display, the museum has enough to capture the attention of even those who know very little about racing. The price of admission includes free entrance into the grounds (as long as it's not a race day) and you can also pay a bit extra ($8 for adults, $5 for children) to take a narrated lap around the track on a tour bus.
Location: 4790 W 16th St, Indianapolis, IN 46222
Contact: (800) 237-3889
Price: $10 for adults, $5 for children ages 6 to 15, free for children 5 and under
Website: http://www.indyracingmuseum.org
Where to Stay:
A short 15-minute drive west from the museum is the Raceview Family Campground, which caters to — you guessed it — families visiting the motor speedway. Open since 1965, the 70-acre campground has 236 RV campsites with electric hookups, as well as updated bathhouses where you can take a hot shower. And the location can't be beat: The RV park is located right across from the Lucas Oil Raceway, where you can check out events like the Chevrolet Performance U.S. Nationals Drags. Be sure to call ahead or check the schedule if you'll be staying during a major race since campsites tend to book up fast.
3. Marengo Cave
Interested in Indiana RV trip ideas that are a bit more underground? Head down to the tiny town of Marengo, where legend has it that a young boy and his older sister accidentally discovered an enormous cave at the bottom of a sinkhole in 1883. Archaeologists now know that the Marengo Cave and its beautiful formations of helictites and stalactites began to form approximately 1 million years ago. The cave, which spans about 5 miles underground, was designated as a U.S. National Natural Landmark in 1984 and now gets more than 70,000 visitors per year. Tour guides offer 40- and 60-minute walking tours, but visitors can also plan a muddy cave exploring trip or check out some kid-friendly gemstone mining.
Location: 400 East State Rd 64, Marengo, IN 47140
Contact: (812) 365-2705
Price: $17 for a 40-minute tour for adults, $10 for children
Website: http://marengocave.com
Where to Stay:
Head 25 minutes south of Marengo to the Horseshoe Bend RV Campground alongside the beautiful Ohio River in Leavenworth. From May to October, Horseshoe Bend offers 70 RV campsites with full hookups and a picnic table and fire ring. The gated campground also has its own camp store, laundry facilities, children's pirate ship play area, and even a boat ramp. You can also try the nearby Grand Trails RV Park in Corydon, which has 65 full-service sites as well as a pool, coin laundry, and barbecue facilities.
4. Holiday World & Splashin' Safari
Indiana summers can get hot, so cool down at the Holiday World & Splashin' Safari in the charmingly named city of Santa Claus. The combination theme park and water park has been open since 1946, making it one of Indiana's oldest family attractions. Formerly known as Santa Claus Land, Holiday World is now divided into four sections representing the Fourth of July, Halloween, Thanksgiving, and Christmas. Each has music and rides themed to that particular holiday, from the Reindeer Games roller coaster to the HallowSwings carousel to the Turkey Whirl tilt-a-whirl. Admission to Holiday World also gets you into the neighboring Splashin' Safari water park, so be sure to dress in or pack your swimsuit for some afternoon swimming. And before you go, be sure to check the website — Holiday World offers "pick your price" tickets online that can help you save up to $20 off the listed admission fee.
Location: 452 E Christmas Blvd, Santa Claus, IN 47579
Contact: (812) 937-4401
Price: $49.99 for general admission, $39.99 for seniors over 60 years old and those under 54″ tall
Discounts: children, seniors, groups, military, veterans, police, fire-rescue, corrections, and EMS
Website: https://www.holidayworld.com
Where to Stay:
Your best bet for RV camping is conveniently located right in Santa Claus. The family-friendly Lake Rudolph Campground and RV Resort has RV campsites with full hookups on either standard gravel lots or upgraded concrete pads. In addition to offering a shuttle service to Holiday World, Lake Rudolph also has five air-conditioned bathhouses, a laundromat, camp store, swimming pool, basketball courts, and mini golf, among other amenities.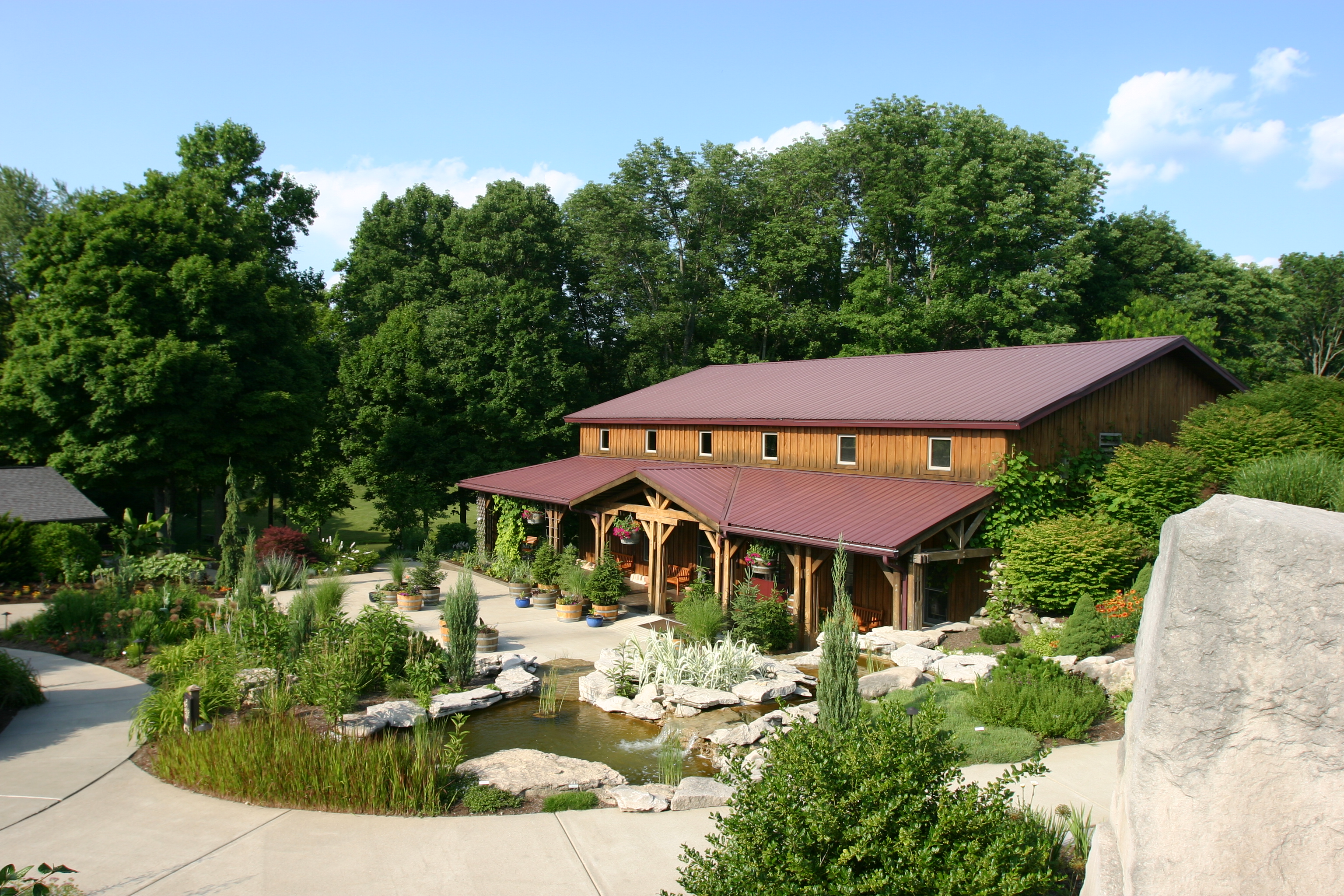 5. Oliver Winery
Whether you're a wine connoisseur or just a casual consumer, paying a visit to the Oliver Winery in Bloomington is one of the best RV trips Indiana has to offer. Indiana University law professor William Oliver established the winery in the 1960s, making it the largest and oldest winery in the entire state. The scrappy operation now makes over 40 wines, distributes in 19 states, and has won multiple awards. The tasting room is open for guided wine tastings seven days a week, and on Fridays, Saturdays, and Sundays, the winery offers an expanded 25-minute walking tour of the production facility and cellar. With outdoor seating overlooking the vineyard, it's a destination unlike any other in Indiana.
Location: 200 East Winery Road, Bloomington, IN 47404
Contact: (812) 876-5800
Price: $5 for a guided tasting of up to eight wines
Website: https://www.oliverwinery.com
Where to Stay:
Head north up to the Hickory Hills Camp Resort in Spencer, where you'll find an abundance of RV sites with full hookups on 300 acres of land. Hickory Hills offers free WiFi, modern bathhouses, laundry facilities, and a camp store, plus activities like gem mining, kayaking, and covered wagon rides. With two lakes and a swimming pool, it's a great place to stay overnight or for a few days on your trip. Interested to see what else is out there? Check out our list of the top 10 campgrounds and RV parks in Indiana.
6. Turkey Run State Park
Tucked along Sugar Creek, Turkey Run State Park is one of the most beautiful places in Indiana and the perfect spot to post up for the day for some outdoor activities. Start your day off with a morning hike on one of the park's 11 trails and then hop in a canoe to paddle down the creek. After a picnic lunch, grab your fishing poles or head over to the saddle barn to ask about guided horseback riding. If you've still got the energy, check out the park's nature center, which is open year-round and offers history talks, a junior naturalist program, and planetarium activities. And if you'd rather just kick back and relax, Turkey Run has a lifeguarded Olympic-sized swimming pool perfect for cooling off and cleaning up before you hop back in your RV.
Location: 8121 Park Rd, Marshall, IN 47859
Contact: (765) 597-2635
Price: $7 entrance fee for Indiana vehicles, $8 for out-of-state vehicles
Website: http://www.turkeyrunstatepark.com
Where to Stay:
The best part about Turkey Run is that you don't have to leave the park to find RV camping. The on-site campground has 213 RV campsites with electrical hookups and updated bathhouses with showers, as well as its own camp store if you forget any supplies. As a close second, you can also check out the Peaceful Waters Campground just a bit south of the park. The RV park offers campsites with electric and water hookups, in addition to free WiFi and modern shower house. The campground also has a four-acre pond, so don't forget your fishing poles!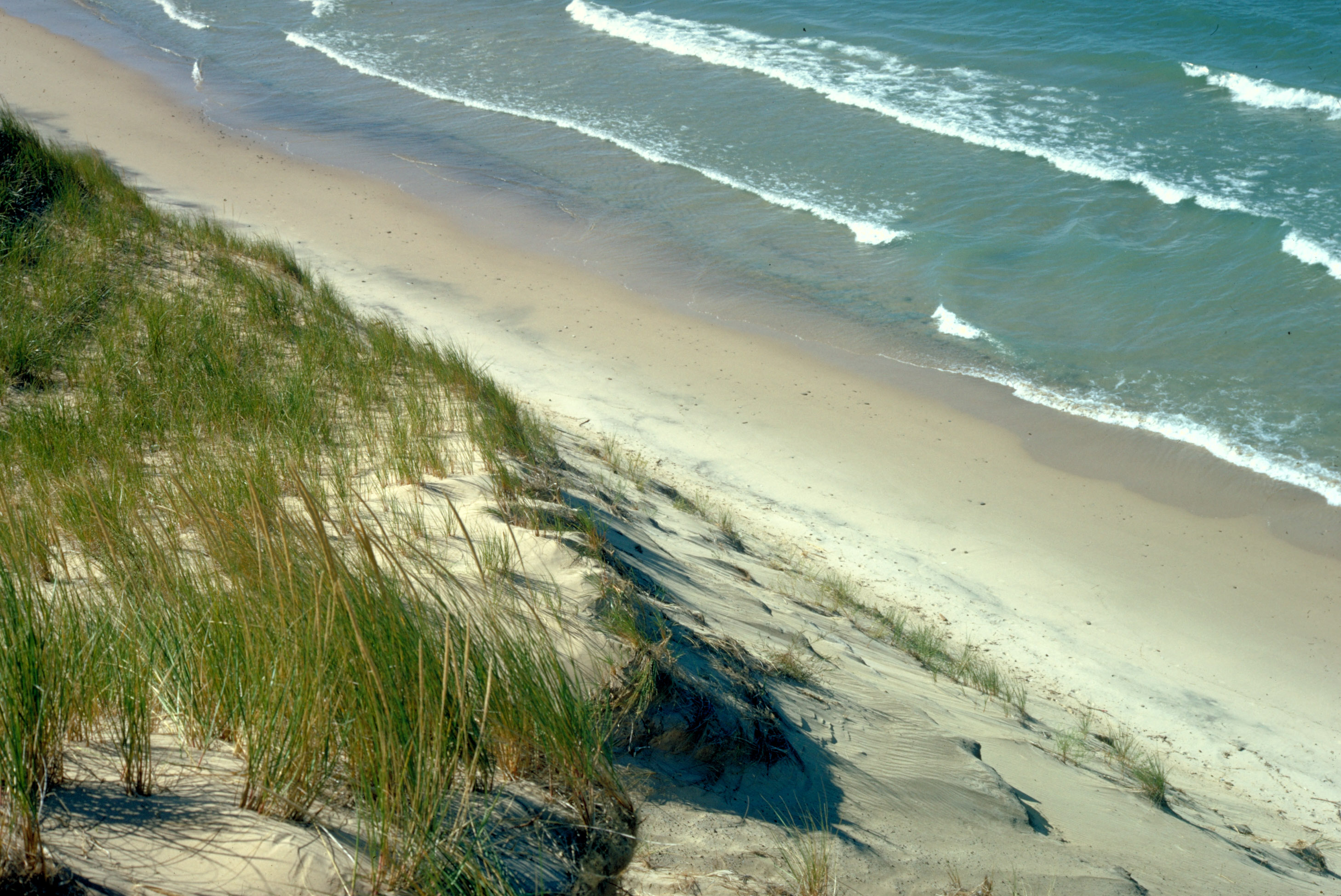 7. Indiana Dunes State Park
Next up on our list of Indiana RV vacations is the Indiana Dunes State Park at the base of Lake Michigan. The park's namesake dunes have been formed over time as the wind off the massive lake blew sand into piles that later became rich ground for vegetation. Designated as a National Natural Landmark in 1974, the state park now welcomes more than a million visitors per year. While most people come to hang out at the beach, there's plenty more to do if you're not one to sit still and sunbathe. Whether you enjoy geocaching, hiking, bird watching, horseback riding, or fishing, you're bound to find something fun to do at the Dunes.
Location: 1600 N 25 East, Chesterton, IN 46304
Contact: (219) 926-1952
Price: $6 per vehicle
Discounts: seniors, military
Website: http://www.indianadunes.com
Where to Stay:
The most obvious choice for accommodations is the Indian Dunes State Park Campground, which has 140 RV campsites with electric hookups less than a mile from the beach. The campground also has modern restrooms and showers, along with a camp store. Because the campground books up quickly, though, it doesn't hurt to check out other RV parks in the greater Chesterton area.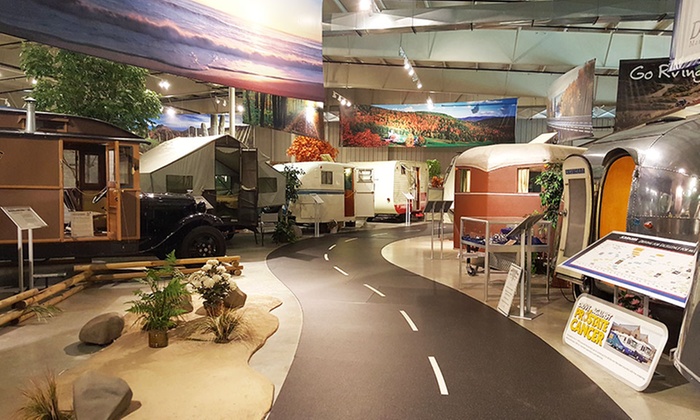 8. The RV/MH Hall of Fame
We couldn't call ourselves a true Indiana RV road trips guide without including a stop at the RV/MH (motorhome) Hall of Fame in Elkhart County, where roughly 80 percent of modern RVs are manufactured. Open since 1991, the museum is a testament to the history of classic RVs, from the Winnebago to the VW  Westfalia to the Airstream trailer. The hall of fame allows visitors to take a journey through time to see when upgrades like restrooms and microwaves were added to recreational vehicles. As a bonus, parking your RV outside couldn't be easier, as the museum has plenty of 65-foot pull-through spaces.
Location: 21565 Executive Pkwy, Elkhart, IN 46514
Contact: (574) 293-2344
Price: $10 for adults, $7 for children ages 6 to 16
Discounts: seniors, groups, families
Website: http://www.rvmhhalloffame.org
Where to Stay:
Right around the corner, the Elkhart Campground has 250 pull-through RV sites, including 130 with full hookups. The family-owned campground has a heated swimming pool, updated restroom facilities, a new banquet hall, and a children's playground. You can also try the family-owned Eby's Pines RV Park and Campground, which offers full hookup pull-through sites in the heart of Amish Country. Eby's Pines has tons of activities, from its swimming pools to its fishing pond and river to even its own roller rink and laser tag arena. There's also a shower house and camp store on site for guests' convenience.
9. Amish Acres
While you're in Elkhart County, take a trip out to Amish Acres, an 80-acre farm used to teach visitors about the Amish lifestyle. For 13 bucks, you can take a tour of a traditional Amish home, hop on the back of a wagon for a tour around the farm, explore the on-site museum, watch a demonstration, and visit an Amish school. If you'd like more, Amish Acres also offers horse and buggy rides, musical theatre, and family-style dinners with traditional Amish fare. And if you happen to be in Nappanee in early August, don't miss the annual Arts and Crafts Festival.
Location: 1600 W Market St, Nappanee, IN 46550
Contact: (574) 773-4188
Price: $12.95 for a house and farm tour for adults, $4.95 for children
Discounts: seniors, students, military
Website: http://www.amishacres.com
Where to Stay:
Just up the road, the Pla-Mor Campground has over 560 campsites, including RV sites with water and electric as well as full hookups. The spacious campground has a swimming pool, fishing pond, 250-yard driving range, camp store, mini golf, and children's playground. A little further north, you can also try the Maple Ridge Campground, which has RV campsites with water, sewer, and electric, along with its own swimming pool, disc golf course, basketball court, pickleball court, and a newly remodeled bathhouse. The 38-acre property is also a great access point for the area's many hiking and biking trails.
10. City Market Catacombs
Circling back to Indianapolis, don't miss the City Market Catacombs, one of the coolest attractions in the whole state. Hidden beneath the busy city streets is 20,000 square feet of secret passageways. The catacombs happen to be the remains of the basement of the former Tomlinson Hall, a multipurpose building from the 1880s that burned down in 1958. Because there's no public entrance, the only way to get into the catacombs is to take a tour, which are offered on Saturdays, generally from May to October. Tickets must be purchased online in advance, and be sure to wear closed-toed shoes to navigate the uneven flooring.
Location: 222 E Market St, Indianapolis, IN 46204
Contact: (317) 639-4534
Price: $13.59 for adults, $7.29 for children ages 6 to 11, free for kids 5 and under
Website: https://www.indianalandmarks.org/tours-events/ongoing-tours-events/city-market-catacombs-tour/
Where to Stay:
Head south about 20 minutes to the Lake Haven Retreat, a 22-acre RV campground with pull-through sites and full hookups. The campground is located on a 5-acre lake perfect for fishing, and you can rent paddle boats directly from the office if you want to spend the morning out on the water. Lake Haven also has bathrooms and showers, as well as laundry facilities if you need to do a few loads while you're there. Not far away, you can also check out the Indy Lakes fish camp and RV park, which has 52 RV campsites with electric, water, and sewer hookups. The gated campground is open year round for RV camping and even has its own dog park if you're bringing your mutt along for the ride.
That's it!
We hope you've enjoyed our Indiana RV trip planner and Indiana RV travel tips! No matter where you go, the Hoosier State is a great place to visit, so you really can't go wrong. Happy camping!
SaveSaveSaveSaveSaveSaveSaveSaveSaveSaveSaveSaveSaveSaveSaveSaveSaveSave
SaveSaveSaveSaveSaveSaveSaveSaveSaveSaveSaveSaveSaveSaveSaveSaveSaveSaveSaveSaveSaveSave
SaveSaveSaveSaveSaveSaveSaveSaveSaveSaveSaveSaveSaveSave