Roof
September 16th, 2019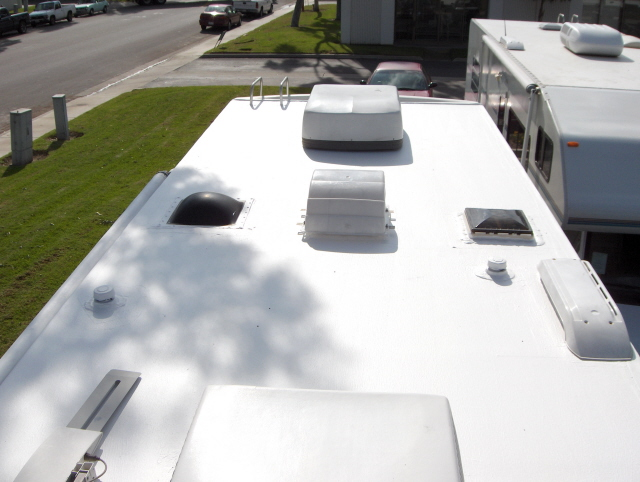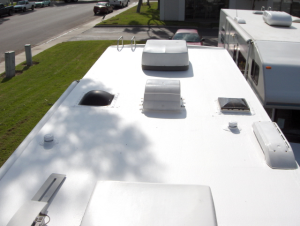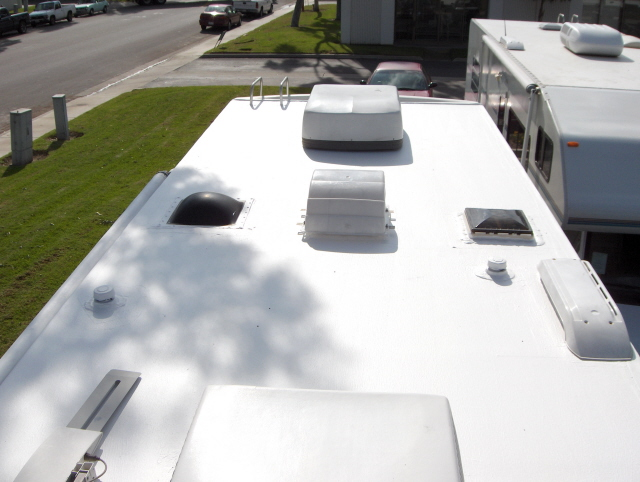 If there's one thing RV owners love the most about their precious motorhome, it's the fact that it provides a solid roof over their head whilst they surround themselves with nature. Sure, tent camping is fun, but when it comes to protection from the elements and the unexpected, you just can't beat an RV.
Your RV roof plays an important role for your vehicle, so it makes sense that you'd want to understand it and care for it correctly. Today, we're going to share everything you need to know about RV roofs, from its various parts, to maintenance, and more!
RV Roof Material
When it comes to RV roof material, there are three common types you should know about: EPDM, fiberglass, and aluminum.
An EPDM RV roof is by far the most popular material used on RV roofs. This is because it is a type of durable, yet lightweight rubber, and therefore doesn't add unnecessary extra weight to your van.
A fiberglass RV roof isn't as popular as its rubber counterpart, but is still found on some models of RV. Fiberglass is hard to the touch, meaning that it weighs more than an EPDM RV roof (yet is a little easier to maintain).
Lastly, aluminum RV roofs are hard to come by, especially due to the additional weight it can add to your already-heavy motorhome. Despite this, some RV owners have still opted for an aluminum RV roof, due to its low maintenance, strength, and ability to last a very long time.
RV Roof Paint
Just like you might paint your home to protect it from weathering or add a pop of color, you can also do this with your RV. Some companies sell roof coating sealer paint which is available in a number of colors to customize your motorhome. Not only can this RV roof paint be used to add extra waterproofing to your RV roof, but it also restores and rejuvenates an otherwise tired (or old-fashioned) roof.
RV Roof Parts
The roof makes up a large portion of your entire RV, so it comes as no surprise that it also involves plenty of RV roof parts, with each serving their own function. We discuss each of these RV roof parts in more detail below.
RV Roof Fan
If you want to maintain a comfortable temperature in your RV, but without the need for traditional fans or more expensive RV roof air conditioning, then a roof fan may be the way to go. These come in plenty of shapes and sizes, designed to fit your model's existing roof vent. An RV roof fan uses 12-volt power to push out or draw air in as needed, helping you to keep your RV warmer in winter and cooler in summer.
Some RV roof fans even come with a built-in thermostat (like this one) to automatically turn the vent fan on or off once it's reached an optimal temperature.
RV Roof Ladder
Many RVs will come with an RV roof ladder already equipped, allowing you to access your roof easily if you need to carry out maintenance or use it as storage. Depending on your model of RV, this ladder may be located on the back, side, or front of your motorhome.
If you need to add or replace an RV roof ladder, there are plenty of options available to you. We recommend shopping around on Amazon for a good deal.
RV Roof Racks
When it comes to RV roof storage, you just can't go past roof racks. RV roof racks are perfect for carrying anything that can't fit into the limited space of your RV, particularly camping equipment, winter clothing, sports gear, or bikes.
It's important you check with your manufacturer about your model's maximum roof load capacity first, as you don't want to damage your RV roof.
RV Roof Trim
The trim on your RV roof is important, as it provides padding along the outside of your vehicle in areas prone to damage (i.e. from tree branches). Over time, your RV roof trim may become damaged or brittle, making it less effective. Thankfully, replacement roof trim can be purchased from specialty RV stores, as well as websites such as Amazon and eBay.
RV Roof Maintenance
Like all parts of your vehicle, your RV's roof also requires proper care and maintenance. One of the most important tasks of RV roof maintenance is to check your RV roof membrane, ensuring that it's still intact. This membrane is often made from rubber material (such as TPO or EPDM), as it serves as effective waterproofing for your RV roof. To keep this membrane in the best condition and extend its life, a solution known as RV liquid roof can be applied. It not only seals roof leaks, but also provides a heat-resistant coating.
If damage or wear causes a rip or tear in your RV roof, then you can also maintain this using an RV roof patch (also known as RV roof tape). This water-resistant patch is easy to apply and creates a permanent fix for any roof cuts or grazes.
Another important aspect of RV roof maintenance is caulking, as this seals your roof from water and keeps various RV roof parts (such as fans, vents, your RV roof air conditioner, etc.) securely in place. RV roof caulk is inexpensive and can be found online (like this one for just $5.99).
RV Roof Cover
If you store your RV outdoors whilst it's not in use, then an RV roof cover may be necessary. These covers can protect your RV's roof from the weather, including snow, sun, rain, and anything else that comes your way. They're also great for keeping dust and debris off your vehicle and allowing any accumulating moisture to evaporate quickly.
RV roof covers come in a wide range of sizes, so it's best to do your research before purchasing one. You'll also want to invest in a good quality roof cover, as these are more resistant to tearing.
We hope this guide has taught you everything you need to know about your RV roof, including its various parts and how to properly maintain them!
This post may contain affiliate links.