RV Owners
Last updated on November 29th, 2022. Originally published on July 29th, 2017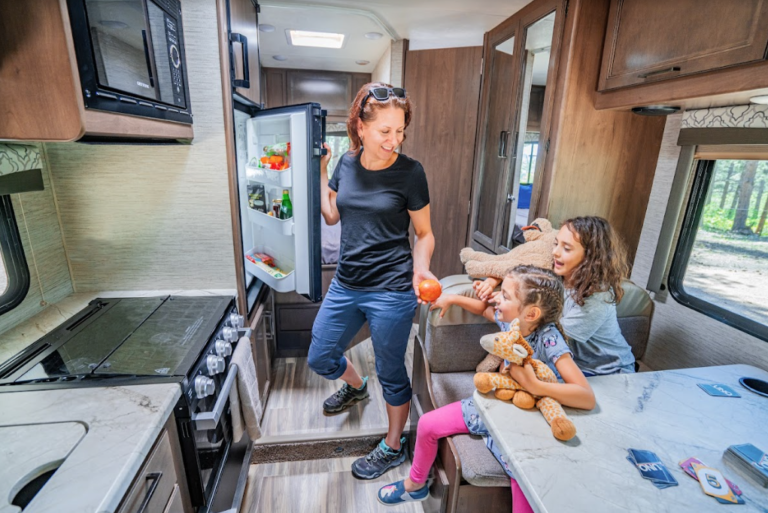 One of the biggest reasons people are drawn to RV travel in the first place is the convenience of bringing your own appliances along for your journey. RVing combines all the flexibility of road-tripping with the comfort of home. You don't have to worry about relying on hotel rooms, whose accommodations can be hit or miss.
You know exactly where you'll sleep each night and, better yet, exactly when the sheets were last washed. And if you're planning to cook your own meals or be on the road long enough to need to do laundry, it's a huge comfort to have your very own refrigerator on board, not to mention the ability to avoid the laundromat!
But if it's time to upgrade or replace your RV appliances, it's important to make sure you get the best models available. After all, you don't want to have to make such a major purchase more than once, especially since RVs are a depreciating investment.
But how do you find and buy the best RV refrigerator? Can you put a regular, full-size refrigerator in an RV if you prefer, or downgrade to a compact version?
We put together this post to answer all your burning questions about RV refrigerators and washer/dryers — and even a few you didn't even know you had.
Understanding Your RV Refrigerator
First things first: How does an RV refrigerator even work? It's not quite the same as the full-sized fridge in your household.
RV refrigerators can't necessarily rely on a steady stream of electric power. Although you might sometimes camp at resorts with hookups, you also need to be able to cool food when you're boondocking and relying on your generator or other auxiliary power source.
That's why most RV refrigerators can operate either on electricity or liquid propane gas.
Here's how it works internally. Inside, your refrigerator features a sealed cooling unit — basically a series of tubes containing ammonia-based liquid. This unit is heated either with a gas flame or by electrically heated means. As it's heated, the cool fluid inside circulates, which draws heat out of the RV refrigerator unit — cooling it down.
Of course, like any other mechanical system, the apparatus can break down in a variety of ways or simply lose its efficiency with age. Although many times these issues can be repaired, from time to time, you'll need to simply replace your RV refrigerator altogether.
Replacement RV Refrigerator
Finding a replacement RV refrigerator will require a good amount of research and shopping. Although they're certainly readily commercially available, you'll want to ensure you find the very best one you can afford. You'll also have some more specific options to work through depending on your travel style and what you're looking for.
For instance, RV refrigerators actually come in a variety of styles and sizes. If you usually take short trips or don't rely much on fresh foods, you might want to consider a smaller option, which might exclude a freezer. Not only will it cost less, but it'll also take up less of your RV's living space. (Psst — if this option is appealing to you, don't write it off out of hand. You might be surprised at how many delicious things you can make on the road without needing refrigeration!)
On the other hand, if you're full-timing or taking extended trips, it's possible to find extra large RV refrigerators, ones which feature full-sized freezers side by side with the regular refrigerator unit. In fact, some RV owners do actually install full-size, residential refrigerators in their large fifth wheels or Class A motorhomes — although it's important to keep in mind that these models will require high-voltage electric power to run, and won't function on liquid propane.
RV Refrigerator Installation
Installing your RV refrigerator can be kind of tricky, so many RV owners hire professional help to ensure they get the job done right. But if you're scrappy and thrifty, it's totally possible to do it on your own.
The best way to learn how to install an RV refrigerator is to check out the variety of resources and tutorials available online from other people who've already done the job. Here are a few helpful YouTube videos to get you started:
RV Washer and Dryer Units
Adding a washer and dryer to an RV can be a huge boon for travelers who frequently take long trips and find themselves spending hours of their trip haunting the local laundromat. Nobody wants to waste their time or their quarters on that!
But if your RV doesn't already have a washer and dryer installed, you'll have to buy one and figure out how to add one in yourself.
Fortunately, this is becoming more and more popular, which means that there are many RV washer and dryers available on the market. Most units are washer/dryer combos, which makes it easy to get all of your laundry done without taking up a huge amount of interior space. (After all, your RV washer/dryer will probably need to be installed in one of your existing closets or cabinets, and you probably want to keep all the storage space you can!)
If you're in a very large RV or travel trailer, you could also consider purchasing a stackable unit, which might work better for both washing and drying than the smaller, all-inclusive units. However, keep in mind that it's always free to dry your clothes if you can hang them on a line — so in our opinion, it makes more sense to splurge on a great washer and let nature do the drying on her own!
No matter what appliance you're looking to upgrade or replace in your RV, always make sure you purchase from a reputable vendor and consider taking the extra warranty.
After all, the whole point of RVing is convenience. So let's make sure those appliances of yours are a blessing, not a bother!