How Tos & Tips
Last updated on May 6th, 2023. Originally published on August 5th, 2017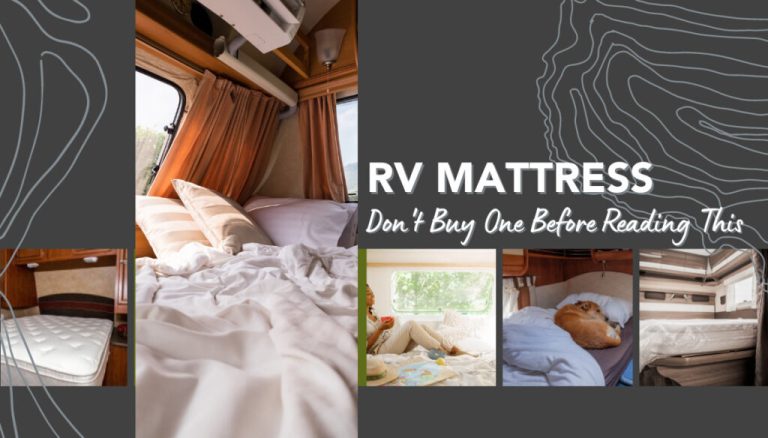 There's so very much to love about RVing. It's convenient. It's flexible. It lets you take control of your travels.
But if you've spent more than a night or two in a motorhome or trailer, you may have realized there's one feature in most rigs that could stand to be improved.
Yes, I'm talking about RV mattresses. Don't get me wrong; it's wonderful to have a bed along for the ride and know exactly where you'll sleep each night… but when it comes to comfort and softness, many RV mattresses leave a lot to be desired.
And it's not like there's no reason for that. When manufacturers are designing and outfitting RVs, every spare pound counts. They want to keep the total weight of a trailer or even a self-driving rig as low as possible, which increases fuel economy and also overall affordability.
But if you're looking to ensure a night of fantastic sleep, that trade-off can leave your Z's dangling in the bargain.
So if you think it's time to buy a new RV mattress, here's what you need to know.
Difference Between RV Mattress vs. Regular Mattress
If you're seriously devoted to your beauty rest, you may be wondering, "Can't I just put a regular mattress in my RV?"
After all, commercial mattresses these days are pretty hard to beat. They come in all different types of materials, sizes, and firmnesses, and you can make a pretty fun day out of shopping for one. (Who doesn't love flopping onto sixteen different beds in one day while the salesperson watches?)
But RV mattresses differ from regular mattresses in a number of important ways.
First of all, as we've already mentioned, RV mattresses are lighter than their regular household counterparts. And although you might not think that's important, depending on your rig, it could matter a whole lot.
For instance, if you're driving a trailer with a gross trailer weight rating, or GTWR, of, say, 2800 pounds, a 100-pound queen sized mattress is a significant fraction of your total load. (Don't forget, that number has to encompass everything in your trailer, from fuels and fluids to food.)
Furthermore, most RV beds aren't built to the same standard sizes as household bedframes. In fact, RV mattresses of the "same" size (for instance, "queen" or "twin) tend to be a few inches shorter or narrower. They also sometimes have curved edges or other custom shapes to help them fit into the space. And in some rigs, mattresses have to be thin and flexible enough to bend when the bedroom slide-out comes in.
Of course, none of that means you can't put a standard mattress in your RV. You just need to pay attention to your total weight and ensure you can find one that will actually into your bedroom.
The most common size RV mattresses are:
The 3/4 or antique size, 48″x 75″
Twin 38″x75″
Regular queen 60″x80″
Full size 53″x75″
RV king 72″x80″
If your RV came with bunk beds, you will require a truck mattress. These come in the following sizes:
42″x80″
38″x80″
32″x79″
36″x76″
35″x79″
How to Measure an RV Mattress
RVs come in so many unique shapes and configurations, it's hard to come across a standard RV mattress sizes chart. In most cases, it's a good idea just to measure the mattress ahead of time before you head out shopping. That way, you'll know exactly what you need, no matter what the manufacturer decides to call it.
There are some fairly universal RV mattress dimensions you should be aware of, however, including the "three-quarter queen" (48 by 75 inches as opposed to a household 60 by 80-inch size) and "queen short" (closer to standard at 60 by 75 inches). Furthermore, if you find an RV with a king-sized bed, it's likely that it'll only be 72 inches wide (as opposed to the household standard 76), although it will probably still be the full 80 inches in length.
How to Choose an RV Mattress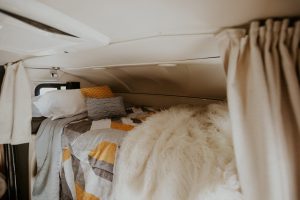 Once you know the size and shape of the RV mattress you need, you can look to see who sells RV mattresses and mattress replacements in your area. Camping supply stores, like Camping World, often offer RV bedding, and there are many online vendors who supply RV mattresses as well.
If you have extra money to spend, you could look into having a custom RV mattress made for you, which would allow you total control over its size and shape as well as its construction. But it is possible to find a good, high-rated RV mattress that's affordable — or even to make a cheap RV mattress into a more comfortable sleeping space.
Memory Foam RV Mattress
A memory foam mattress for RV sized beds is often be the best option. They are inexpensive, lightweight and occupy very little space.
Another appealing feature of a memory foam mattress is an RV is that the material allows for some alteration to size. Many standard size mattresses hang over the edges of the short sleeping spaces in RVs. With some measuring, a bit of precision and ideally an electric carving knife, any owner can make any size fit the specific needs of their vehicle's bed platform. It isn't really necessary to spend extra cash on a harder-to-find foam mattress made specifically for an RV, when it's easy enough to alter a memory foam mattress for less.
There are number of options when it comes to memory foam RV mattresses.
One option is to buy a memory foam mattress topper instead of an entire mattress. They are more cost effective than a proper memory foam RV mattress and they often add just as much in the way of comfort with far less material.
Comfortable RV Mattress
Wondering how to make any RV mattress more comfortable?
Well, it's the same secret you probably followed while you were away at college: If you can't change the mattress, then add to it.
A deluxe-quality, luxury RV mattress can cost literally thousands of dollars. But you don't have to shop for the best RV mattresses on the market to ensure you'll get your rest.
You can easily purchase memory foam toppers and other additional bedding to make even a so-so RV mattress into a plush oasis. It could even be as simple as buying an egg crate mattress pad… just like you did in the dorm!
Even better, these bedding softeners are widely available at easily-accessed commercial outlets, like Walmart and Target. And even if they're not built specifically for RVs, many of them are easily customizable: Just buy a size up and cut and fit until you have the perfect mattress topper.
Finally, never underestimate the value of high-quality sheets and great pillows. The comfort of your mattress will improve tenfold if you pick sheets with a high thread count and make sure to buy the right kind of pillows for your sleeping style. For instance, those who sleep on their backs tend to do better with softer, thinner pillows so you don't throw your neck out of alignment, whereas those who sleep on their sides need a firmer pillow to fill the space between your shoulder and your ear.
By customizing your bed and making sure you've got the right accessories, your RV mattress can go from so-so to serene.
(And don't forget: if you're really in a pinch, you can always try the fold-out dinette or couch! You'd be surprised at how comfortable some of those sleeping surfaces are.)
Sleep well!