RV Owners
Last updated on November 22nd, 2022. Originally published on April 4th, 2015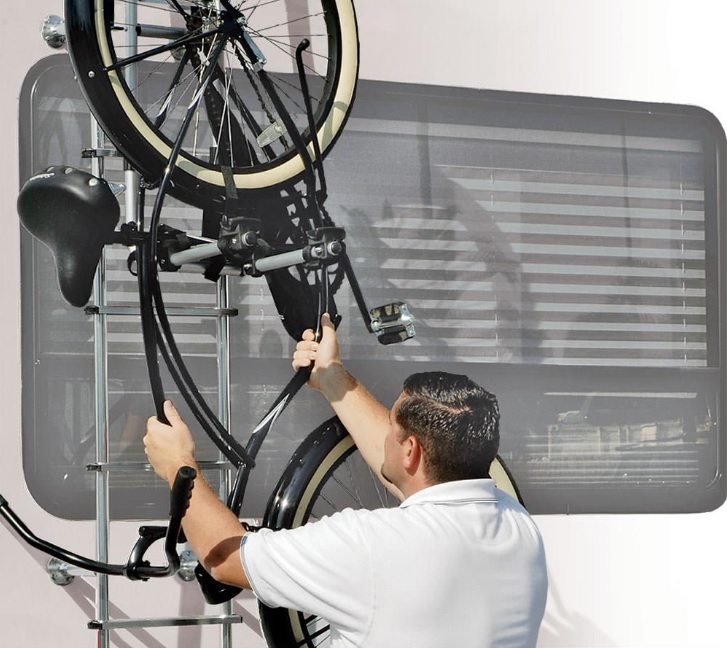 One of the main reasons RV enthusiasts hit the road is to get out amongst nature, so why wouldn't you also want to take your bike? Not only is it a great form of exercise, but it's also a wonderful way to stretch your legs and explore your surroundings. While some RVers might think taking their bikes is a difficult task, we're here to tell you that it shouldn't be. Thanks to the wide range of RV ladder bike racks available, it's as easy as 1,2,3!
How Does a Camper Ladder Bike Rack Work?
Camper ladder bike racks are ideal solutions for transporting bicycles with you on your RV trip. Rather than having to carry them in a separate trailer (or worst, cramming them into your personal space), you can simply attach them to your RV's existing, outer ladder using a bike rack. Depending on the style of your RV ladder bike rack, your bikes will hang either vertically or horizontally.
RV ladder bike racks are made of lightweight aluminum and are usually rustproof, making them a safe, durable, and long-lasting addition to your RV.
Finding Your Ideal RV Bike Rack Ladder
Like most RV equipment, one size doesn't fit all when it comes to RV ladder bike racks. Instead, your rack should be approximately the same size of your RV's bumper ladder, helping it to seamlessly attach to the existing structure. Be sure to check your RV ladder's width, height, and weight limit to determine which camper ladder bike rack is best for you. You can pick one up online or through stores specializing in RV equipment.
How to Install Bike Racks For RV Ladders
RV ladder bike racks attach to your RV's existing ladder, either through hooking onto the steps of the ladder, or mounting to the support bars of the ladder. Depending on your model, some RV ladder bike racks won't require tools to install (like this one), while others may need slightly more effort to mount. Your rack should come with instructions, so be sure to follow these!
How to Keep Your Bikes Secure on Your RV Bike Rack Ladder
While RV bike rack ladders do a great job of transporting your bicycles, you will need to keep them securely in place using straps (particularly when on the road). You can find straps made from durable materials such as rubber, vinyl, and webbing in many RV or camping stores or even online (like this one).
There you have it – our guide to selecting the best RV ladder bike rack! Like many RV accessories, a camper ladder bike rack is a small investment that's incredibly functional. Why leave the bikes at home when you can take them RVing (and do so in style)?
This post contains affiliate links. RVshare may receive compensation if you make a purchase after clicking on a product link.