Kitchen
September 16th, 2019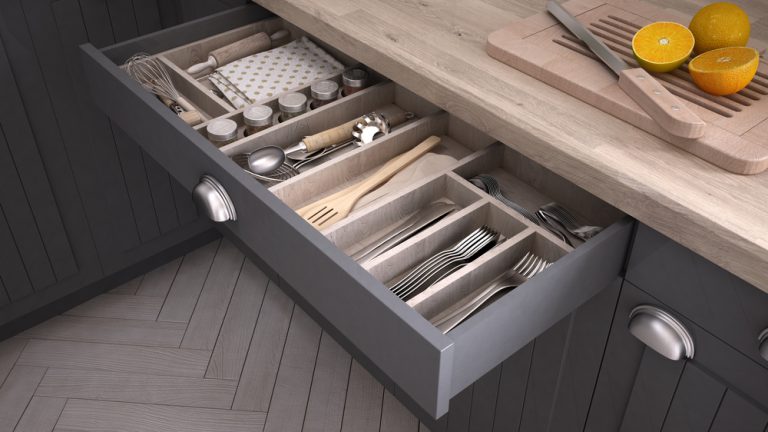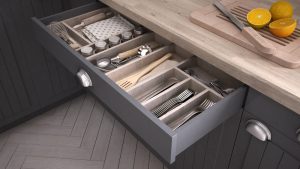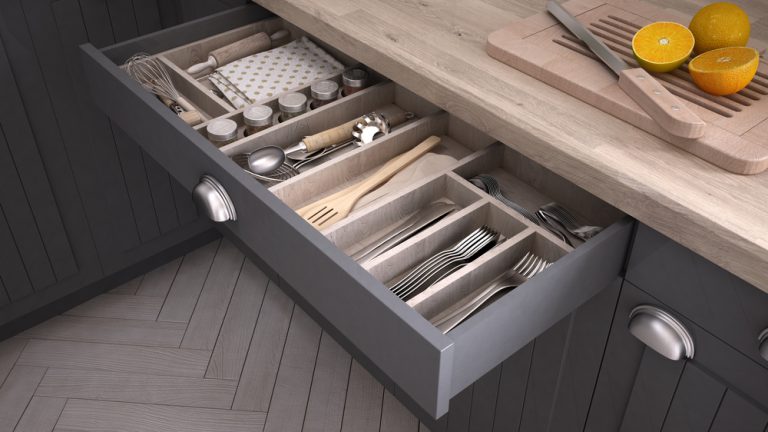 If you ask us, one of the best parts about traveling in an RV is being able to make meals and snacks while traveling. With a well-stocked kitchen in your motorhome, you can skip gross drive-thrus and overpriced restaurants and enjoy your favorite family meals – even while you're traveling to your next destination.
But as every RVer knows, an RV kitchen is a lot smaller than your kitchen at home and may not have all the amenities you're used to. You may not have an oven, for example, and your stove or sink may be smaller than you're used to. But with the right RV kitchen accessories, you can transform your kitchen, keep it organized and make some pretty delicious meals!
Here are some of our favorite RV kitchen ideas and RV kitchen storage accessories.
Countertop Organizers
It's easy to accumulate clutter in the kitchen, even more so when you're working in smaller spaces! That's why RV kitchen storage is critical, and a kitchen countertop organizer can be helpful. A three shelf shelving unit can be used on your countertops as well as in your pantry to keep kitchen tools or canned goods organized. A cabinet or countertop pan and pot lid holder can also help keep your kitchen organized. And of course, a traditional spice rack with the modern twist of sliding cabinets can also help keep your essential spices and other supplies organized.
Other RV Kitchen Storage Accessories
Don't stop with just keeping the countertops free of clutter – make sure your cabinets and drawers are organized, too! Even your refrigerator can be kept neat with organizer trays, essential because RV refrigerators are typically smaller than what you may be used to. A cutlery tray can help keep silverware organized and in one spot, also.
Nesting RV Kitchen Supplies
Anything that "nests" within each other is an ideal RV kitchen storage item! This set of nesting bowls includes not only mixing bowls but a colander and measuring cups also. Another great space saver is this set of pots and pans that stack within one another. With limited cabinet space within your RV, any type of kitchen appliance or supply that takes up as little room as possible is important!
Storage Containers
Many groceries, especially dry goods like cereal or snack items, aren't packaged in a way that saves space. Airtight storage containers are an RV kitchen storage item that can help you fit more items into small spaces, and can even help keep your pantry items fresher for longer.
Instant Pot
If you're thinking of investing in RV kitchen accessories, the Instant Pot is a must-have. Many RVers love having one aboard their motorhome because it can do so much! Use it to make rice, stews, soups, meats, pasta and even cakes and frittatas. Even better, it can make a number of dishes with minimal input from you, so you can spend less time cooking and more time enjoying your vacation! The Instant Pot comes in a variety of sizes, and some sizes can be purchased for under $100, making it a must-have for an RV kitchen.
Portable Grill
If you ask us, the best meal after a long day enjoying nature is continuing to enjoy the outdoors and grilling! Sometimes a campfire is the best way to cook, but they may not always be available. That's why a small, portable grill is a must-have. With a small size, it will store well and be ready whenever you are – just don't forget the fuel!
Coffee Maker or Instant Kettle
Morning rituals don't stop, even when on vacation, so if a cup o' Joe is part of your morning at home, a coffee maker is a must-have! There are a wide variety of coffee brewing systems perfect for an RV, including a compact Keurig, small drip pot, a French press, or even a Chemex or pour-over. Another option is an electric kettle, which can also be helpful for boiling water for tea, oatmeal and much more.
With just a few strategic RV kitchen accessories, you can have all the comforts of cooking at home!
This post may contain affiliate links.