Kitchen
September 16th, 2019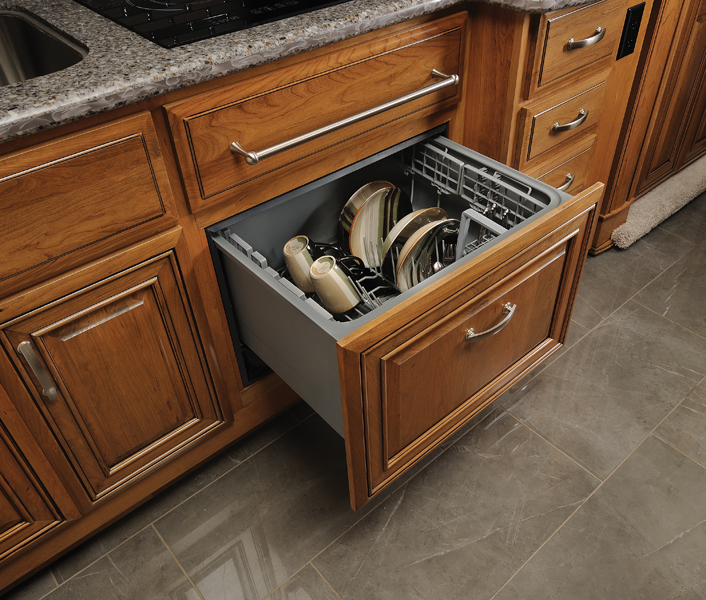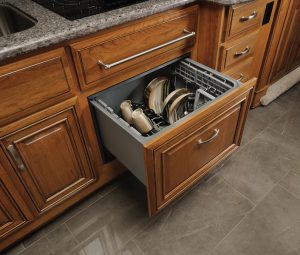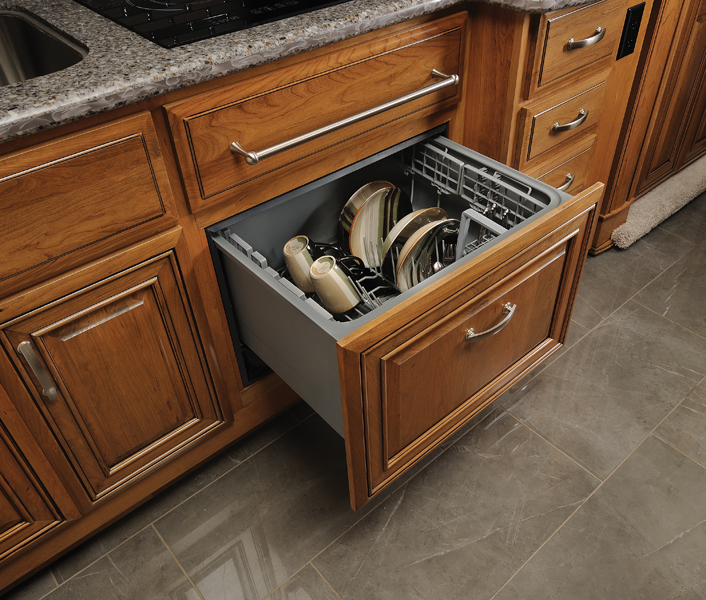 Have you ever wondered what it would be like to skip the time-consuming process of hand dishwashing while out camping? Believe it or not, that's completely possible. RV dishwashers are available, and they actually work quite well!
RV Dishwasher Types
There are three basic types of RV dishwashers to choose from, and each one has its own pros and cons:
#1: Countertop Dishwasher
The countertop dishwasher is great for RVers because it's tiny. That said, its tiny size can also be considered a hindrance if you plan to wash a lot of dishes or if you like to wash bulky items (such as pots and pans) in the dishwasher.
As the name suggests, this particular appliance sits on the countertop. It can be quickly and easily hooked up to a sink for access to water and a drain. Unfortunately, moving the heavy dishwasher is not quite as easy, meaning you'll either need some serious muscles before and after every use, or you'll have to give up some of your precious counter space permanently.
#2: Compact Dishwasher
Small, but not quite as small as the countertop dishwasher, a compact dishwasher is often a great solution. This appliance is very similar to a traditional dishwasher but is much smaller in size.
It does consume quite a bit of water, but people who camp with full hookups may not mind this. The other thing to keep in mind is that these kinds of units almost always require professional installation.
#3: RV Dishwasher Drawer
Dishwasher drawers are wonderful because they use a limited amount of water, saving you precious water as well as tank space while camping without hookups. Besides all that, the dishwasher also holds a surprising number of dishes.
Still, no appliance is perfect, and this one has its faults. For one thing, it is quite a bit bigger than some of the other options out there. Additionally, not every RV has the connections needed for a drawer dishwasher.
Finding Your RV Dishwasher
So many options can be overwhelming. If you're not sure where to begin, check out the Vesta RV dishwasher line by Westland. This line is made especially for RVs. It includes units in two sizes, both are easy to install, and according to RV dishwasher reviews, their products are wonderfully well made.
Other favorite compact dishwashers include the EdgeStar Countertop Portable Dishwasher for 6 Place Settings and the EdgeStar BIDW1801SS 18″ Built-In Dishwasher. However, almost any countertop or 18-inch dishwasher will work just fine.
Of course, if you're shopping for a new rig anyway, making room for a dishwasher and seeking out the perfect unit would be silly. In these cases, it's often better to purchase an RV with a dishwasher built in. For example, many Entegra coaches come equipped with a dishwasher drawer and we love it!
No matter which dishwasher you choose, you're sure to appreciate the free time you gain on each and every camping trip. After all, who likes doing work while on vacation?
This post may contain affiliate links.