RV Owners
Last updated on April 20th, 2023. Originally published on May 27th, 2015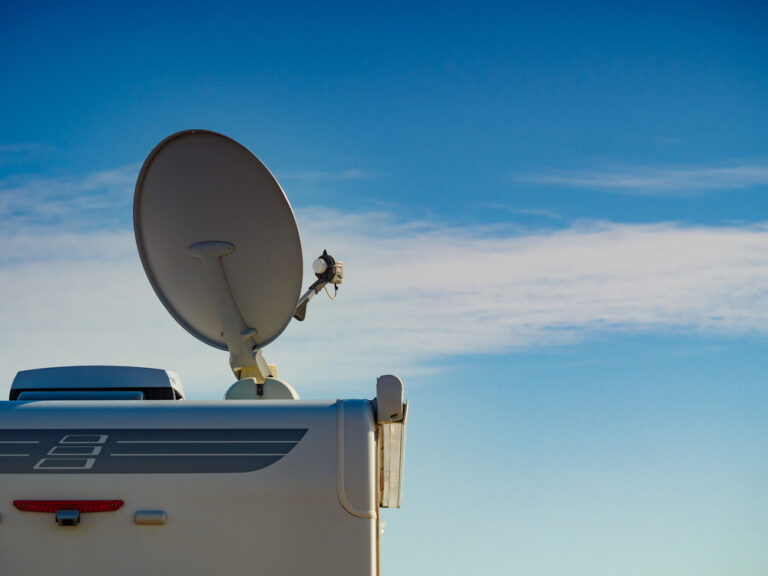 It's always fun to be out in nature, spending time with family and friends while camping out in your RV. However, it's also nice to sometimes have the modern creature comforts, to which we've all become accustomed. While we often turn to our trusty RVs to get away from the hustle and bustle of modern life, that doesn't mean that you have to completely disconnect. Whether it's catching up on your latest Netflix obsession, watching your team's big game, or keeping up-to-date with the local news, you'll need a way to connect in order to make all this possible – especially for those rainy days and evenings spent inside the rig!
Tip: It is extremely helpful to have good access to TV, internet, and even radio in case of emergencies or severe weather!
To do all of these things and do them reliably, you'll need an RV antenna to pick up the signals and make your RV feel like a bit of a contemporary oasis among the rustic woods and campgrounds.
Luckily, the days of ridiculously expensive RV TV antennas that are difficult to install, are long gone. Today, we're going to not only share some of our best (and most affordable) recommendations for RV antennas and how to find them, but we're also going to cover everything you need to know about RV antennas before you buy one.
What is an RV Antenna?
To explain it simply, an RV antenna allows you to watch TV or surf the internet without the need for a standard cable hookup. The antenna is able to pick up signals that broadcast exclusive programming right to your TV. This means you can have all your favorite channels right at your fingertips.
Choosing The Best RV Antenna
Do You Want an Indoor or Outdoor RV Antenna?
If you're considering purchasing an antenna for your RV, then the first thing you need to decide is whether an indoor or outdoor antenna is for you. To pick up the HD signals put out by local affiliates of major networks like ABC, CBS, and NBC, etc. you will need a TV antenna. So, which is best? Well, that depends, as they both offer advantages and disadvantages.
Outdoor RV antennas for TV are perhaps the most popular due to the fact that they pick up more channels than their indoor counterpart. This is because they're attached to the roof of your vehicle. This also poses some disadvantages, however, as you must raise the antenna to use it or lower it when your vehicle is driving.
Outdoor TV antennas are made of plastic and aluminum, both of which snap easily, so if you leave it up and drive under a tree, chances are good that you may find yourself in the market for a replacement very soon.
On the plus side, the location on the outside of the vehicle means they often pick up lots of channels.
But wait! Outdoor TV antennas now come in a sleek, aerodynamic design that doesn't need to be raised or lowered.
Indoor RV TV antennas may last longer, as they're not exposed to the elements. To boost their indoor signal, you can purchase an RV TV antenna booster (which we discuss in more detail below). An indoor RV TV antenna does not have the same range, and it does need to be stored when it's not in use, but it's also easier to position and control.
Satellite Antennas
A satellite antenna is a dish that is installed on your RV and requires a subscription to a service. Essentially, there are 3 different types of RV TV satellites:
Portables — Portables are generally the most cost-effective option. They can be moved to suit your needs in each location, but must be set up and taken down each time you move.
Domes — Domes have a sleek, modern look that many people love. They are automatic and can be mounted on the roof of your RV, meaning less to worry about during setup and teardown. Some can also be used when the vehicle is in motion, making them an awesome option for those who spend a lot of time on the road.
Multi-Satellite TV Antennas — Finally, there are multi-satellite antennas. Just as the name suggests, these use multiple antennas to ensure they are always offering the best possible signal. These are the most reliable option by far, but also the most expensive.
Other Things to Look for When Choosing an RV TV Antenna
There are also some other things you can take into consideration when choosing the perfect RV TV antenna for your vehicle. These include:
Material: Most RV antennas are made out of plastic or aluminum. If you buy an outdoor antenna, it's recommended that you buy an aluminum one because they're sturdier, rust-resistant, and more durable. Plastic antennas, on the other hand, are perfect for indoor use as they're lighter.
Definition: New models of antennas are being created for high definition use, but it's important you double-check that this is the case before you commit to the purchase.
UHF and VHF Signals: Want to receive all of the available channels in and around your local area? Ensure your RV antenna is able to pick up both UHF channels (channels 14 to 51) and VHF channels (channels 2 to 13).
Weight: The desired weight of your RV TV antenna will vary depending on whether you choose an outdoor or indoor model. Outdoor models should be sturdy, not flimsy or lightweight. After all, you don't want heavy winds to snap it off. Indoor TV antennas for your RV can be lighter, however, as you want them to be easy to stow away.
WIFI Capacity: Most RV TV antennas will come with WIFI capabilities, which is great for using the internet when you're RVing. If you frequently camp in places that are hidden away among nature, you'll want an antenna that has a strong WIFI capacity.
Price: When it comes to choosing your ideal antenna, the price will play a large role too. Work out your budget first, then see what options are available to you which won't break the bank.
Installation: Depending on your skill set, you'll also want to check out the installation details of your RV TV antenna. Some models are easier to install than others.
7 Tips for Choosing the Right Antenna:
1. Make Sure Your Outdoor TV Antenna is HD
HD, or high-definition antennas are a must if you want to receive HD channels. All new antennas are HD, but if you're looking to save a few bucks by buying a used RV antenna for TV, make sure it's an HD model, like the King 0A8000 HDTV Antenna, available on Amazon.com. Stations put out HD signals, and you want to make sure you'll be able to receive them.
2. Consider a TV Antenna Booster
A simple contraption such as a Winegard TV Antenna Booster can work wonders if you find yourself needing to boost the signal. Simply snap the booster on your existing outdoor TV antenna and watch more channels.
3. Find TV Stations Near Your Location with Online Tools
There are some great websites that will tell you the distance to the nearest TV stations, and the direction in which your RV antenna needs to be pointed in order to pick up a signal. Both antennaweb.org and the DTV Reception Maps from the FCC are free and simple to use.
4. Dish For RV Versus DirecTV For RV
A satellite TV antenna will probably set you back a few hundred bucks, and you'll need to pay a monthly subscription rate on top of that. But if you're a serious TV watcher, you may find the cost worth it!
There are a few different options when it comes to satellite TV networks. However, US users will likely want to look into Dish Network for RV or RV-friendly DirecTV. When it comes to choosing between the two, a lot depends on personal preference, as well as which provider you might already use in your sticks-and-bricks home. Many feel that DirecTV is a bit more user-friendly when it comes to motorhome and trailer installation, but some will argue that DishTV for an RV is a cheaper option, especially if you already use Dish Network at home.
Both are great options, but as always, we recommend doing a bit of shopping and choosing based on what will work best for you in terms of pricing and available channels.
For Dish users, the KING VQ4500 Tailgater is a very popular model on Amazon, with nearly 1700 reviews and a 4.5-star rating.
On the other hand, you might find that having all of that access to television takes away from your camping experience, so carefully consider if you want to do this. It's also good to remember that many campsites offer free cable TV service to their guests, which means that a satellite RV antenna and all of the expenses you incur from satellite TV service may be unnecessary.
5. Improve Campground WIFI Reception with a WIFI Booster Antenna
An RV TV antenna booster can help you receive more channels with better reception. There are two basic kinds. One is mounted on the exterior of your RV, while the other is a small device that sits on a desk (or attaches to a window using suction cups) and plugs into your laptop. Either one can keep you surfing the internet comfortably without having to wander around looking for a decent signal. If you work out of your RV, an RV WIFI antenna may prove to be an invaluable piece of equipment for you.
6. Want to listen to your favorite radio stations? Purchase an RV FM Antenna
With all of the music and podcast listening options we have at our disposal, it may seem a bit antiquated to want to get plain old FM radio in your RV. However, lots of RVers still really like to listen to local radio. It offers a feel for the regional flavor and is a good source of information. An RV FM Antenna can help to boost radio reception within your RV. Installing one in does require drilling a hole through which to thread the necessary wires, but it's a fairly straightforward job for anyone who's even just a tiny bit handy.
7. Consider Alternatives
Some of you may be asking, "What if I want to enjoy quality programming without dealing with a dish for my RV?" If this sounds like you, consider a streaming service. Streaming services such as Netflix and Amazon Prime Video might be the ideal solution. You can even use YouTube Red or Hulu to stream live TV if you like. Just make sure you have a good mobile hotspot with plenty of available data in order to make this option work.
Winegard RV Antennas
Slick, reliable and aesthetically pleasing aren't usually adjectives you'd use to describe a TV antenna. In fact, most of the antennas and dishes we traditionally see on houses are actually massive eyesores. Not so with Winegard.
Winegard RV antennas are rated among the top in their class by reviewers, and they're surprisingly sleek and inconspicuous, making them a great addition to any RV. With a 55-mile radius, they mount easily to the roof and provide crystal clear connections to free digital and HD channels, even in remote areas. And if you want to improve your picture quality, you can add an amplifier to your existing setup or upgrade to a Winegard satellite dish for even more channels.
Installing a Winegard RV antenna is quick and easy, and most users report being able to do it themselves with little help. Simply mount the antenna to your RV's roof with the included hardware or an upgraded mount, and you'll be ready to go. With a Winegard RV antenna, you can stay connected to the world while enjoying the comfort and freedom of RV travel.
Best RV TV Antenna: Our Top 5 Recommendations
We've scoured so many RV TV antenna reviews to present you with the 5 most recommended models. These include, in no particular order:
Where to Buy an RV TV Antenna
You can purchase indoor and outdoor RV TV antennas from a number of destinations, both online or in-store. Check out your local RV specialists to see if they stock antennas, or head online to websites such as Amazon to pick up a good deal, whether it's for the entire RV antenna or just specific RV TV antenna parts.
The Bottom Line
You might hop in your RV and go camping to get away from everything, but in this day and age, many RVers don't want to be 100% disconnected from the outside world. Having access to TV, WiFi, and even radio is helpful and often essential, but getting those signals into your RV often requires an RV antenna.
So, there you have it – everything you need to know about RV TV antennas before you make your purchase! Whether you're an RV beginner or a comfortable old pro, this list should give you enough information on RV antennas to get you started.
This post contains affiliate links. RVshare may receive compensation if you make a purchase after clicking on a product link.