Travel Inspiration
Last updated on January 9th, 2023. Originally published on June 26th, 2018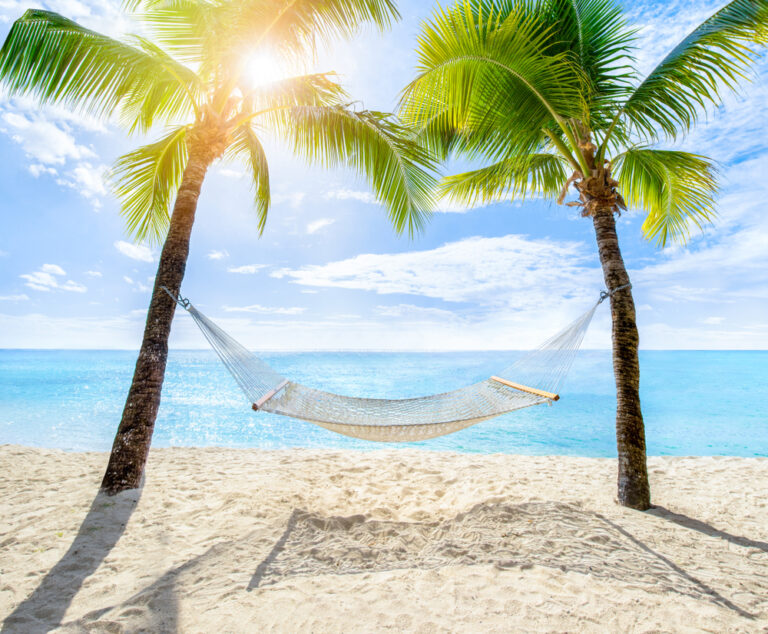 Summer's here, and just about everyone is in vacation-planning mode. But figuring out where to go, and what to do once you get there, can be as overwhelming as it is exciting.
Some campers are doubtless headed for life-changing, adrenaline-pumping journeys, maybe even including daring outdoor ventures like scuba diving or mountain climbing.
But for others, summer vacation might serve better as an opportunity to slow down a bit — which, yes, you can do even while speeding down the highway. It all comes down to where your head is at (and where you're headed) on your RV journey.
Vacation Ideas
We're all about finding the best adventures and having tons of fun on the road — but sometimes, an easy-going, relaxing road trip is exactly what the doctor ordered.
So if you're looking for more chill than thrill, here are some of the best relaxing vacation spots in the U.S. to consider.
Traverse City, Michigan
Looking for relaxing beach vacations that don't involve a lengthy (read: stressful) drive to an ocean coast?
Michigan's Traverse City offers one of the most accessible relaxing getaways for midwesterners — and yes, lake beaches totally count. In fact, Country Living named Traverse City the most charming beach town in America. Take that, all of Florida and New England!
Where to stay: Traverse Bay RV Resort offers easy access to everything this beautiful part of the state has to offer — and has a nearly-perfect five-star Google rating.
Click here to see RVshare rentals in Traverse City, Michigan.
Best Relaxing Vacations
Any place can be relaxing if you approach in the right way — but the following destinations offer time-proven family fun.
Hot Springs State Park, Thermopolis, Wyoming
Think "affordable, relaxing spa vacations" is an oxymoron?
Think again. In the aptly-named town of Thermopolis, Wyoming, you can wind down with a relaxing soak in Hot Springs State Park's free bath house, where the thermal groundwater's temperature is maintained at a perfect 104 degrees for therapeutic bathing. (You'll be grateful for the moderation — it's 128 degrees when it bubbles up out of the ground, just about the temperature of a medium-rare steak!)
For the perfect end to your indulgent day of natural spa soaking, watch as one of Wyoming's largest herds of bison meander around the landscape. If you're an early riser, you might even catch the 8:30 a.m. supplemental feeding.
Where to stay: Although the park is day use only, there's a great developed campground nearby called Eagle RV Park — not to mention all the BLM land and wilderness out there in wide-open Wyoming.
Click here to see RVshare rentals in Thermopolis, Wyoming.
Sedona, Arizona
If you looked up "perfect relaxing vacation spot for an RVer" in the dictionary, you'd likely find… that that's not an entry in the dictionary. (Get it together, Merriam-Webster!)
But if it were, it would probably feature a picture of Sedona. Temperate climate just about year-round, world-class hiking opportunities, a burgeoning food and beverage scene — and did we mention its numerous spas are frequently named some of the best in the country?
Where to stay: There are almost too many RV parks in Sedona to count, so you've got your pick of the litter. But if you're looking for something a little bit out of the box, consider Camp Avalon, which offers "spiritual activities" like drumming circles and vision quests along with full-hookup camping.
Click here to see RVshare rentals in Sedona, Arizona.
Quiet Vacation Spots
Looking for a little peace and quiet — and maybe even some romance? Don't miss these peaceful destinations.
The Black Hills, South Dakota
If you're looking for relaxing vacation spots where the cell signal's thin but the views are anything but, look no further than western South Dakota. And trust me, there's so much more to it than Mount Rushmore — not that you should miss a visit!
Cruise around Custer State Park to see ranges where the deer and the antelope really do play, not to mention the roaming herds of buffalo. And don't forget a trip down Needles Highway, easily one of the most scenic 40-mile stretches of road in America.
Where to stay: There are a number of affordably-priced, RV-accessible campgrounds inside Custer State Park itself, but you can also look into the resort-style campgrounds in the area, including several KOAs.
Click here to see RVshare rentals in Custer, South Dakota.
Carmel-by-the-Sea, California
What California destination combines amazing wine tasting, delicious seafood eating, and one of the most famous dog beaches in the entire U.S.?
If you guessed this sweet-sounding destination, congratulations: your prize is two-fold. Firstly, of course, you get the satisfaction of guessing correctly; secondly, if you visit, you'll soon learn first-hand why this little seaside burg is so special. It's a shining enough gem to draw the likes of Clint Eastwood north of Los Angeles — heck, he even went on to become its mayor for a spell. You can still visit his restaurant while you're in town!
Psst: If you're after relaxing vacations for couples, consider this our recommendation. Its hard to do better than stunning ocean views, adorable boutiques, and premium wineries when it comes to setting the mood.
Where to stay: Marina Dunes is a touch north of Carmel proper, but it's just about as close to oceanfront camping as you can get.
Click here to see RVshare rentals in the Monterey Bay area of California.
RV Vacations
Yes, we may be biased, but we're pretty convinced that traveling in an RV rental is one of the best ways to up the chill factor of any road trip you might take. After all, it's pretty relaxing to not have to worry about hauling all your stuff into a new hotel room every night!
No matter what corner of the country you're starting from (or headed towards), there's an RVshare rental in your area that'll meet your family's camping needs and make your adventure as stress-free as humanly possible.
In fact, you'll really only have one thing to worry about: where to next?
This post may contain affiliate links.