Travel Inspiration
Last updated on December 20th, 2022. Originally published on March 15th, 2018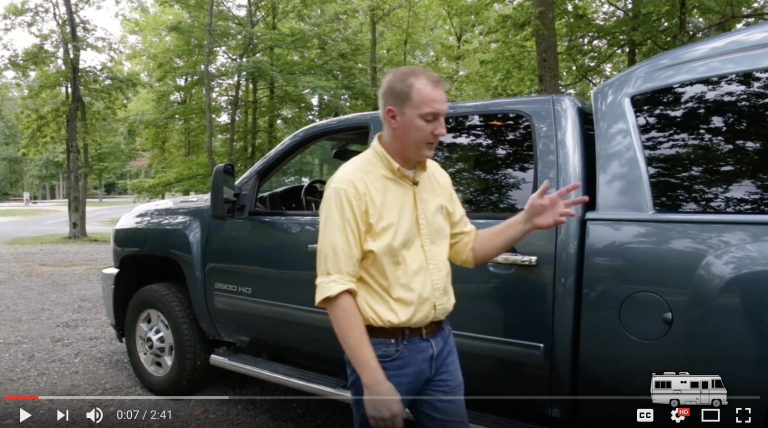 Last time we heard from Mark Chamberlain, he was sharing with us how he evolved into a camper and business owner, his goals for his RVshare rental business, and his involvement with Jellystone. Today he talks more about using RVshare as he takes us through a travel trailer that is available to rent on RVshare and to use at Jellystone at Dogwood Valley. His "Family Size on a Budget" camper offers the amenities of a large trailer without the need for the massive towing vehicle.
How did you find RVshare as your rental platform?
Mark: We found out about RVshare through some friends who had rented through the system. We used to go to a Christian music festival [with them]. They did not have a camper, and one year, they pulled in with a very nice camper. We just got to talking about it, and they told us about their experience. They said, "Hey, you ought to try renting yours out." It took actually a full year for us to bite the bullet. Had it in the back of our minds, but we did not research anything else at the time.
We went all in with RVshare, because it had everything we were looking for in terms of payment and contract systems, the messaging side and the calendar. It seemed there was nothing I could really find that it lacked.
Can you walk us through listing, booking and communicating with RVshare?
Mark: The original listing was real interesting because, as I said, we'd been on the fence about it for about a year. I'd set a reminder on my phone, and I just kept snoozing it. It finally popped up one Saturday morning, and I said, "Okay, let's do this."
The camper was in storage in our barn, so it didn't even look the best, but still a very nice camper. We went ahead and listed it with only the bare minimum of information and no pictures, but I didn't activate the listing.
[In] less than a week, I had an email from an RVshare representative that said, "The booking volume in your area is extremely high right now. Would you like some assistance in activating your listing?" I simply responded, "Yes," and I think it was two days later with stock photos and no description hardly at all, we actually had our first booking for the camper. So then of course we scurried around and wanted to get it out of the barn, pictured, cleaned up, and ready to go; but it just turned and snowballed from there. We had most of the season booked before we even had our own pictures on the site.
I can say, the RVshare folks have been very helpful with setting things up, because I don't know if I would have activated the listing if I'd have finally gotten off my rump about it, but everything's been very good. They've been very attentive too, because we've had a lot of questions as we've gone along the way, and they're able to answer questions for our campers when we're not able to.
Can you talk about some of the questions you had as a new rental company on RVshare?
Mark: The biggest thing, when we were just getting going, was how do we handle insurance? Once we got our first booking, [we knew] this was gonna be a thing for us, and we wanted to turn it into something more. We were going to need to look at some sort of insurance coverage that covered all of our rental fleet and our customers and make it easy for them. I had no idea where to start. I called every insurance company I knew and nobody would help me. [They] said, "Sorry, we can't support that."
Finally, a support request at RVshare turned up the company that we're using today, and it was flawless from then on out. We've had lots of other questions come up about, you know, somebody has made a reservation and now they need to change it — usually it's to extend —which is wonderful, but [RVshare has] always been very, very attentive. It's just nice and hands-off. I've had experience with payment processing, websites and things in the past; this, as an owner, as an RV owner, is just turnkey. Everything is handled.
Can you then talk about just running a business through RVshare? What do you think you do to keep your RVshare business moving fluidly, easily?
Mark: I'll say, when you start out and you actually invest yourself in this business, you are in the hospitality industry, whether you wanted to be or not. It becomes very important to you how you treat people, because they can leave feedback on your listing with exactly what their experience was — positive or negative.
We've worked very hard from the beginning to make sure, especially starting out with not having any feedback, [to get] a lot of positive feedback to help boost sales.
So my wife or I, we're not set up or interested in being in hospitality, but we found ourselves here, as I said. That's probably been the biggest eye opener through all of this — just responding to people at different hours than you might be normally used to, just to make sure that you're attentive to folks. Honestly, that's dovetailed real well into our lives, because most of the activity on our listings happens after we've put the kids to bed or after I'm done with work for the day. So I can respond to people, and I'll actually then get a response back that same night and we're back and forth. [Customers] are very appreciative of that, to be able to talk to someone.
So that's been very nice. Then when we send people off in our campers, just taking the time to make sure they understand everything in the camper is a huge thing, because in so many instances, they haven't stayed in a camper before. This is their first experience, and they want it to be a good time for the family. They don't need a lot of issues. So we've worked to stock our campers with things to make it easy. There are a lot of accessories for leveling and connections and things, so that when they arrive at a campground, they can just get set up, hopefully very easily. We show them how to do all of that on our site before they get sent off.
We do a a fair amount of delivery as well. We just schedule either with the customer or with the campground to get the camper delivered, and it's totally turnkey for [the camper], then. They just get the keys and enjoy their weekend.
Can you talk about RVshare as a communication tool?
Mark: For me, the communications mechanism of RVshare is key, because we've rented over 200 nights this season alone.From a communications standpoint, the [RVshare platform] is the primary tool we use to keep track of all of our bookings. When we get a booking request in, we'll usually get a text message, and I'll look at it pretty much immediately on my phone if I'm available to do so. And at that point, I start a conversation with the renter, unless they have given me some information upfront that I can go ahead and just make a quote on. But with having four campers now that we have sometimes several going out on the same day, it is the only way that we can keep track of who needs what and when.
The messages, when we're responding back and forth, all get tied to the booking. So if I need to go back and see, did I commit to something or someone's picking up a camper today, all of my notes are right there in line with the system. The only thing that we've added on to it is a shared Google Calendar for my wife and I, where we have all of our listing commitments, so that we know when we need to have a camper ready to go out.
What kind of interactions have you had with RVshare customer service, and how have those gone?
Mark: I have been personally back and forth with RVshare quite a bit. The season that we started in was the beginning of the new insurance availability through RVshare, and I had a lot of questions about that because we had just booked our own commercial insurance. And honestly, I received a phone call from the head of the insurance department very soon after sending a very important request about how I navigate this, and we were able to talk through. I was very thankful for that because we had obviously made a large investment into this and were very new, so we didn't want to see that sacrificed. So I've been very happy with the responses. Always receive a response. As with all technology, things will come up and I'll be able to submit some sort of a request and then I always get a response back and every time that I can recall,the problem has been resolved and we can move forward. It's been very helpful to have knowledgeable people on the other end of the line.
Mark's Long-Term Goals for RVshare Business
You said that you could rent campers full-time. Do you have plans to evolve your business through RVshare, and how are you going to do that?
Mark: Yeah, if we're going to move past where we're at today, we've got to figure a few things out. The first is, how do we handle the volume from a sending off and cleaning standpoint? We do have some young kids, so we're looking to maybe integrate them in the business somehow, and make that a little bit of an opportunity for them. But there's still the responding to messages and just making sure we can handle volume without people feeling like you're not being attentive to them. So, the first thing that I feel we have to do before we get anymore is we have to understand our market a little bit more.
I don't want to get into a situation where we're competing with ourselves. We want to have some longevity in our campers, so I'd like to be able to keep them around for three to five years. So we need to just take a look at our market a little bit more. We're very new at this, so I can't say we're experts in anything, but we've definitely seen a focus for where our campers go, and we'll start to invest more time with those venues, with those events to see if we can increase bookings at those times of year.
What is the ultimate goal you'd like to achieve?
Mark: Our initial goal with RVshare, as it states in my profile, was: we [as a family] would like to have the full-time camping experience. With having five kids, we need a big camper for that. So we were looking to have [the campers we are currently renting out] eventually buy us a fifth wheel to do that.
But — [our goal] has quickly become much more than that. That dream is still there, but we look at this as a viable opportunity to do all sorts of things that we weren't able to do before — like help with college payments. So I can't say that our final goal is in place yet, as far as where we're headed, but we've got some decisions to try to make over the winter season to see how we better handle 2018.
You just mentioned looking at bigger goals down a longer road, like college. Are you comfortable saying how much you've made on RVshare and how you're using that income to affect your family's opportunity?
Mark: The income we've made from RVshare was surprising. As I said before, our initial goal was just to pay for the original camper. From a month-to-month payment standpoint, it's paid for itself about three times over just in 2017. In total, 2017, we will have booked, at this point, about $20,000 in rentals.
Most of that is going to pay back the investment, because we did purchase three additional campers this year. But it's very nice because we originally had them targeted for a two-year payback. We'll be beating that, so that we'll be into profit earlier than expected. But at this point, I would assume that we will then use that profit [to put] into more campers.
Beyond the income, what has the RVshare experience done for your family?
Mark: That's actually a very interesting question. The RVshare experience has opened up a couple of trips to us. There's been some destinations that people have talked about that weren't on our list before that we've been able to do, [like] top of the caves, which is actually here in Ohio. We hadn't had it on our list. I think it's down by Hocking Hills. But we had, because of other reasons, a really stressful year, and haven't been able to camp this much. But we kicked off the season camping for the first time over Easter, because we were delivering a camper somewhere; and we decided just to extend the reservation a few extra days and stayed there. It was a wonderful experience, and it looks like we might have a new Easter tradition as a family.
Advice for Easy Rentals
Do you have a vetting process for your renters? What sets off red flags to you?
Mark: I think we've been fairly liberal, to be honest with you, with our rentals, because we did want to invite some business in and build some feedback on the site. We needed to start somewhere. And I'll tell you, the community of people we've been approached by through RVshare just blows me away. The interest that these people have in just having an enjoyable weekend with their family or being able to stay comfortably at an event, while realizing that they're taking somebody else's property and that they need to respect it, [has been amazing].
I think one great thing about the RVshare system is the security deposit, [and] that was one thing we were not liberal on. We charged a very high security deposit, I think, on all of our campers. But that creates an expectation of trust and that the camper will be returned in the shape that it was delivered in.
So, we've not had a bad rental experience with folks that I would say they're blacklisted. We've had some interesting experiences and some interesting phone calls and things like that, but that's people. So it's been really neat as a previous introvert to get exposed to more and more people and just be able to actually build some relationships with folks that say, "We're going to see you again next season if you would consider us." So, I enjoy that.
This has not been at all a painstaking process of having to vet out people. I feel we've been very blessed.
What advice do you have for owners who are interested listing their RV on RVshare?
Mark: The first piece of advice I would give is to set your expectations correctly, because [running a business on RVshare] is not a get-rich-quick thing. Again, I feel we've been very blessed, but as soon as we saw the potential, we set out a very distinct path for what we were wanting to do. We purchased campers in a price range that we could afford to pay cash; and we set the rental prices up, so that they would cash flow and [we] could pay for them in a very short period of time. It's worked out.
So set your expectations, and the best way to do that is by doing your research. So when I say I didn't look at other services, I certainly looked at other listings. So, before we set our pricing on the RVshare system, we looked at a lot of different listings within the state to see where we needed to fall in order to be competitive and invite business.
So what about the customers who are coming to use your RV, what kind of advice do you have for them?
Mark: The best piece of advice I have for a prospective renter is just to be realistic. We are dealing with this still on the small scale; we're trying to be a business. We've been very responsive to folks, but it is not a luxury hotel on wheels. You're still camping; there will still be issues. We've done a lot to try to help and make sure that those issues are minimized, but we like to work with people that will work with us.
What is your proximity to Dogwood Valley at Jellystone, that can offer a comfort level to your customers?
Mark: We're obviously, as equipment renters, more comfortable when our equipment is close by. And we couldn't ask for a better place for it to be than here. We're only about 15 minutes away. So if anybody has any problems, we can run up here and help them; or we're always a phone call away. But, my own family, even being 15 minutes away, would love living here versus home just because it's such a great experience. So, it's wonderful to be able to share that with other folks. We just completed a reservation here where we delivered a camper to first-time campers, and they're hooked.
What specifically do you like about RVshare?
Mark: I like RVshare and continue to push all of our booking traffic through it, because there are so many good things. The first thing would be the communication. It's so easy to keep things together. But somehow, the community, as I mentioned before, or people we've had ask to rent our campers, has just been a group such that we've not been uncomfortable renting. And I did explore after things started picking up, some other listing companies; and it's been a night-and-day difference. I get responses from the people on RVshare. With another site, I can send a quote and have no idea what's going on. So, I feel like I've got really good visibility into what's going on on the prospective renter's end. And it's much more of a conversation than a black hole. So, that keeps me coming back.
And, it's just worth it to not have to deal with contracts and payment processing and so many of the things that RVshare handles. It's just worth it.
What advice do you have for renters using RVshare?
Mark: For first-time users of RVshare, I do get a lot of questions. Just that they have no idea what to expect. And unfortunately, a lot of them don't read the stuff that's plastered everywhere. So, how does the damage deposit work? Things like that over and over and over again.
What advice can you give RV owners who've just listed their vehicle on RVshare?
Mark: I talked about setting expectations. And one of the expectations that you have to have is that things will break, and it's not always the customer's fault. A travel trailer is a travel trailer. If you've ever owned one or lived in one for long, you can see where issues could come up. We've had trim come off; we've had different parts of awnings break and things like that; but we consider it part of the normal wear and tear. We try to treat our customers with respect and understand that things are going to happen. So the hardest part is if you do try to do back-to-back bookings and you've got a camper that's just returned with an issue, you have to try to resolve it quickly.
So when we decided that we wanted this to be a business and that we were going to purchase campers for full-time rental that we weren't going to use ourselves, we decided to do a few things.
The first thing was we purchased two of everything that goes inside of the camper, so that if we come across an issue with a piece of bedding or we need to swap out bedding, we can do so at a moment's notice. And then also, as an owner, you just have to understand that things are going to break and that's not always the customer's fault. When you're trying to do back-to-back rentals, you have to be prepared, because you could get a camper that's returned with a small issue that needs to be fixed immediately. So we've stocked up on pull tabs for awnings, clips, adapters and things like that. So just in case something doesn't come back complete, it's not going to affect the next group that's headed out.
Ready to consider renting your RV with RVshare? Learn more and see how much you could make.