How Tos & Tips
Last updated on November 4th, 2022. Originally published on July 28th, 2015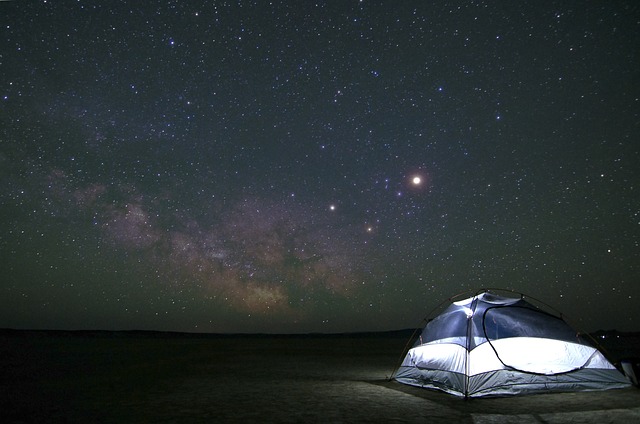 If you love to tent camp, then this article is for you! Everyone tries tent camping at least a couple times in their lifetime — and some people love it! There's something about sleeping out in nature that relaxes even the busiest of people. The beauty of the woods and spending time in the wild have an amazing ability to create a feeling of serenity.
For many people, the main drawback of tent camping is the hassle of getting your shelter set up. It's never as easy as you think it should be. No one wants to struggle with a detailed diagram that explains virtually nothing or crawl around in the dirt trying to connect pole A to slot C.
The answer to this common tenting problem? A pop up tent.
A pop up tent makes life easier, and that's why campers love them. Pop up tents are easy to set up and they require no overwhelming instructions. They come in a variety of shapes, colors, and sizes. You can buy a tent for one, or a tent for ten and have it up in no time at all.
There are a lot of options when it comes to pop up tents. You could spend hours researching the hundreds of choices, or you could just simply read this one article that details the in an outs of pop up tents and the four best ones for your next big camping adventure.
What is a pop up tent anyway?
For years, mankind has wrestled with the process of putting up and taking down tents. It's been a real pain since the beginning of time. Place this pole into that hole, zip this flap into that flap, and on and on. A pop up tent is an innovative way to set up a tent without needing a degree in engineering. A pop up tent is pulled out of its bag, thrown in the air, and ….ta-da! You have a full size tent. (Seriously, why would you ever go back)?
Pop up tents come in two categories. Some are true pop ups, while others are a hybrid pop up with built-in lightweight poles. Trust me when I tell you that both are way easier to set up than a traditional tent.
The main downfall of the pop up tent is that without heavy poles the structure is more susceptible to the wind. Because of this staking is always recommended, and even then you may want to exercise caution when camping in a strong wind with a pop up tent. On the plus side, all the pop up tents listed below are water-resistant and UV protective.
Here are the top 2 reasons I will never go back to a traditional tent.
Pop up tents are super lightweight without being bulky.
Pop up tents are easy to deal with. Simply pop them open and twist and shove them closed. You can take these babies nearly anywhere. And in an emergency you can create shelter fast!
Now, it's time to pick the right tent for you. This list has been gathered from amazon.com after careful research of the reviews and customer suggestions.
Before you choose a pop up tent start by asking yourself some questions:
How many people will sleep in the tent?
What type of weather will you be using the tent in?
Will you be carrying it in a backpack?
How much space do you want inside the tent?
Will this be the family tent?
Are you planning to buy a series of small tents as your family grows?
Once you are clear on what you want and need in a pop-up tent, you can decide which of these top-reviewed tents is the right one for you.
If you want a simple, waterproof tent for one person, then the Zaltana Pop Up Tent is for you. Constructed of double-layer polyester with an inner lining, this tent will keep you warm and dry. This go-anywhere tent only weighs 5 lbs, and shrinks down to an amazing 30-inch diameter when packed.
Even though this tent is lightweight, it's also super strong. The fiberglass frame holds its shape even in the midst of wind and rain. Inside, the double-layer construction provides amazing ventilation for safe, comfortable sleep. Quality and affordability are what the Zaltana is known for. Combining 190T waterproof Polyester with strong black nylon floors keep you dry all night long.
Coleman is the camping name everyone trusts. This six-person instant tent is a perfect example of their quality at work. An easy-to-set-up tent that is great for camping with your friends or family!
This tent is classified as an instant tent as opposed to a pop-up. However, setting it up is about as simple as it gets. Many people claim to be able to set this tent up in 30 seconds to 1 minute. That sounds pretty great to me.
The Coleman Instant tent measures 10′ x 9′ and is 6′ tall at the center. Toss in the sleeping bags and you can fit about six people comfortably. There is an entrance area with a large door and four big windows made of waterproof mesh. The tent is made from high-quality polyester taffeta and is waterproof and super durable.
Coleman uses high tech materials to make this tent amazingly safe and efficient. Whether it rains, snows or blows, you and your loved ones will stay dry and comfortable!
Are you looking for a futuristic tent that's beyond easy to set up? If so, you're going to love the Rightline Gear Pop Up Tent. Its sleek design and flame-retardant cover make it worth the money time and time again.
The Rightline Gear pop up tent features a built-in UV shield to keep your skin safe from the blazing sun. It's flame-retardant shell means you don't have to worry when roasting those marshmallows. Worried about rain? Don't be. This tent is water resistant with an extra thick floor. With one door and two windows, you are sure to feel comfy and secure while getting plenty of fresh air.
The tent will sleep up to two large adults with a little bit of room left over. It measures 90 x 72 x 42-inches and takes just a few seconds to set up. At just under 5 pounds this tent is easy peasy!
The Lightspeed Instant Tent offers plenty of space for a family of four. It measures 108 x 84 x 57-inches and provides enough space for four adults, or 2 adults, and a bunch of tiny feet!
This instant tent is super fast to set up with preassembled poles and a unique bottom-pull hub system that opens like an umbrella. Simply push it up from the center, stake it down, and BAM, you're done. It's that easy.
The Lightspeed tent features water-resistant fabric, a bathtub-style floor, a vestibule for storing shoes, and mesh windows to let the air in the keep the bugs out.
This tent weighs 10 pounds and folds down small enough to be an excellent backpacking tent. If you're looking for a quality, lightweight tent for the family, look no further than the Lightspeed Outdoors.
There you are — some great pop up and instant tents that provide the perfect shelter for nearly every camper. Pop up tents work great for one or two, and instant tents are awesome for a whole family. 
Which tent did you like best and why? Are you looking for a pop up tent, or would an instant tent suffice? Add your comments below and share your camping insight with other readers.
Please share this article with your friends. You can tweet it, like it, pin it or even email it. Thanks for reading!