New vs. Used – Which RV Should you Buy?
RV Owners
October 19th, 2017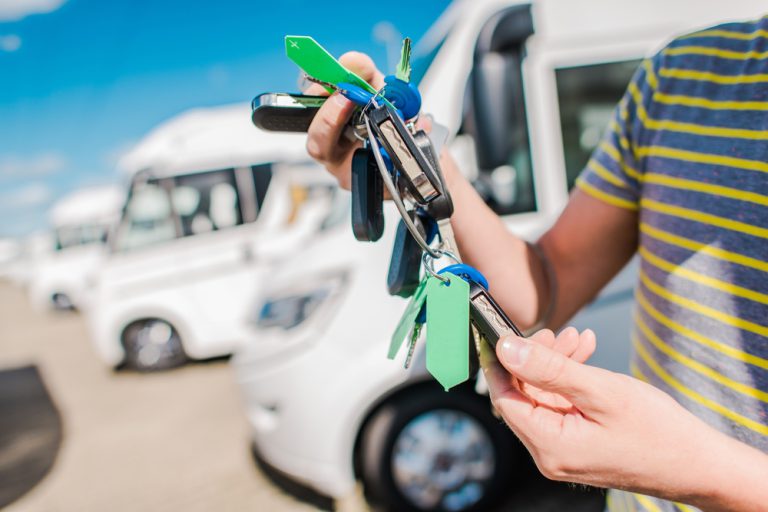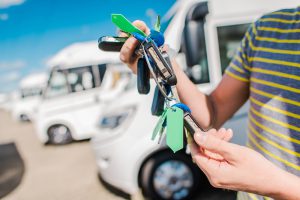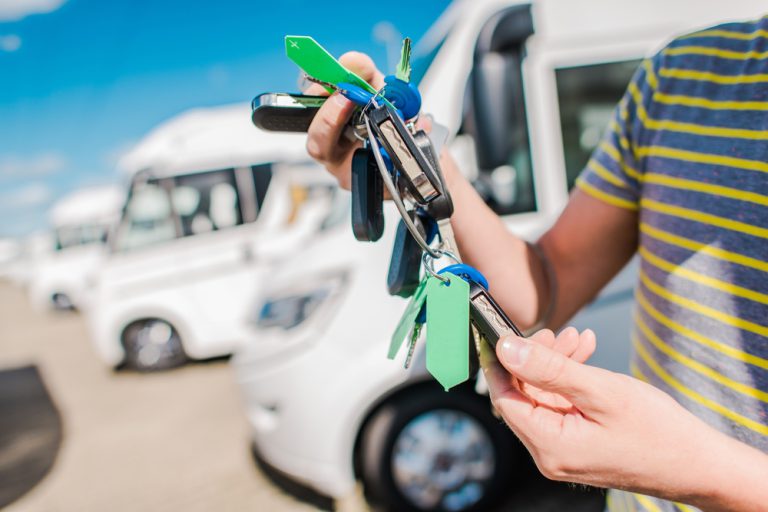 So, you made the decision.
After taking a few camping trips in a rental rig, you decided you just can't live without an RV of your very own.
Congratulations! Obviously, we here at RVshare think this is a great step. Owning your own travel trailer or motorhome can go a long way towards making your life more adventurous and fun. (And, psst — now that you're going to be camping even more frequently, it's a better time than ever to start saving 50% on every campsite you visit by joining our favorite camping club, Passport America.)
Of course, as in every part of life, there's always some sort of trade off. And in the case of owning your own RV, well… we're talking about prices.
RVs aren't cheap, no matter how you slice it. Even a modest travel trailer can cost tens of thousands of dollars, and if you're looking for something a little bit more luxurious, you could be facing a price tag as far north as the $500,000 mark.
But don't worry! There's an RV out there for every travel style and every budget. Doing the research on what specific style, make, and model of RV you're looking for is the first step, and then you can start to figure out the specifics about which rig to actually buy.
Once you get to that level, though, you'll face a very important question: Should you buy a new RV, or a used one?
As it turns out, there are a lot of good reasons on either side! And in this post, we're going to explore them — and give you the information you need to find the best buy, no matter which direction you decide to go with.
Alright, ready? Let's dig in!
Should I Buy a New or Used RV?
So, what's the main benefit of purchasing a new RV?
Well… it's brand new! Which means no one else has ever lived in it and you get to drive it off the lot without any miles on the odometer. All its systems and features are — hopefully — in perfect working order, and the rig is still filled with that delicious new-RV smell.
Buying a new RV also often means your rig and its systems will be under a manufacturer warranty for a certain period of time, which protects your investment and promises easy repairs should something go wrong. And, of course, new RVs tend to have all the latest features, like integrated USB charging ports or even pre-installed solar systems including everything but the actual panels.
Sounds pretty great, right? So why on earth would you buy used?
Well, for one thing, if your budget's important to you, you can save a *heap* of money by purchasing a pre-owned vehicle. Although the used RVs and travel trailers you find for sale won't exactly be cheap, they'll certainly be exponentially less expensive than their brand-new counterparts… especially when you consider you lose about 10-20% of the purchase price just by driving a new vehicle off the lot. (That's right: RVs, just like cars, are vehicles, which means they're depreciating assets… even though the price tag looks a whole lot more like a mortgage!)
Used RVs also, so long as they're not too old, actually benefit from having been lived in and used a bit! Previous owners may have encountered — and already fixed — off-the-lot mechanical issues or appliance problems. You'll also often find used RVs have nice, homey touches that were custom-installed by their last parents, like closet organizers, space-saving magnetized knife holders or spice racks (psst — don't forget about the spice jars themselves)!
Things to Look for When Buying a Used RV
Basically, buying used means you'll spend less money — potentially thousands of dollars less — on a vehicle that may just be more road-ready. And besides, you can always upgrade your rig to match the latest fancy-pants model. Who needs integrated USB charging ports when you can just buy a $14 wall plate that does the same thing?
But there are a few things you need to keep in mind when shopping for a pre-owned rig.
For instance, you don't want to purchase a vehicle that's too old, especially since many developed campgrounds actually have restrictions on the age of the RVs they allow in their campground. Anything over 10 years might just be too vintage for some luxurious resorts.
Plus, the older an RV gets, the more wear and tear you'll find on its parts and pieces, which can mean a whole lot of expensive repairs for you down the road. If you don't want to totally eclipse the amount you saved by buying used in the first place, it's important to check the rig thoroughly for signs of water damage and other issues before you sign the sales contract! Be sure to have a checklist or buying guide with you when you when buying a used RV, and if possible, look at the specific model's owner's manual to see what systems will need upgrades soon. This will help you figure out how many miles your rig should have in order for you to still get value out of the transaction.
Guide to Buying a Used RV
So, where do you buy a used RV in the first place?
Well, many dealerships trade in both new and used rigs, and this is a great way to approach the sale if you're hoping to finance a used RV. Just ask for the used RV sales department when you enter. Of course, keep in mind that the advertised price doesn't necessarily include other costs, such as the dealership fee and the tax you pay on a used RV.
You can also find used RVs for sale by owner by browsing your local newspaper's travel trailer classifieds or checking out RV Trader, which is one of the best ways to buy a used RV since it allows you to filter by distance from a specific location — much more exact than simply Googling "used RVs for sale near me." It's also a good option if you plan to pay cash for your rig.
Best Used RV for the Money
No matter who you buy from, you can help ensure the price a used RV is right by doing your research.
The first, and most important, thing is to thoroughly check the RV for water damage, which is a sure sign that the RV doesn't have much time left.
You should also look up your RV's value at NADA, which is basically like the Kelley Blue Book for used RVs.
Happy shopping. We can't wait to see which RV you take home!
This post may contain affiliate links.