How Tos & Tips
October 31st, 2019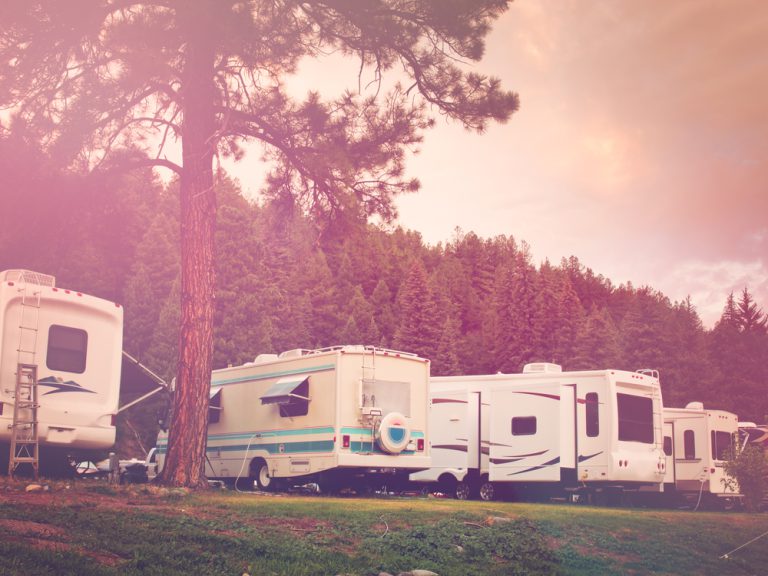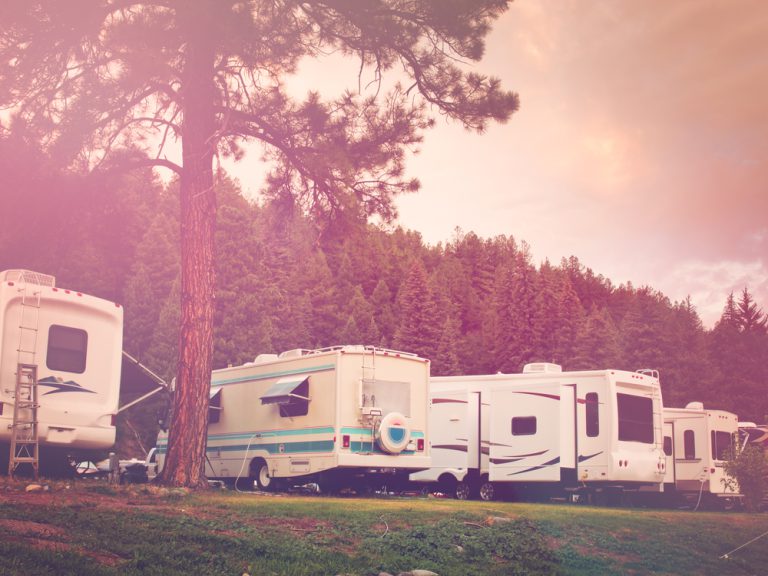 You may already know for sure that the RV life is the one for you. Rolling around the country, seeing the world from your very own private bungalow on wheels… what could possibly be better?
And to be sure, there's a lot to love about RVing. But the type of RV you choose can have a serious impact on exactly what your travel experience is really like. And although there are dozens of different types of RVs out there, the very first decision you have to make comes down to one simple choice: motorhome or travel trailer?
While motorhomes and trailers share a lot of characteristics in common, they also have some pretty serious differences that have a big impact on what it's like to travel in one or the other. The specific type of camping experience you're after will have an effect on your answer to the motorhome vs. travel trailer showdown, as well as the size of your camping party, the types of places you like to explore, and how much you're willing to "rough it."
In this post, we'll walk you through the ins and outs to consider while you're contemplating that infamous question: travel trailer vs. motorhome… which one should I buy (or rent)?
Motorhome vs. Travel Trailers: An Overview
We're going to dive into the nitty-gritty about several different types of motorhomes below, so you can get a firm sense of how your experience would be different if you traveled in, say, a Class A motorhome versus a travel trailer.
But before we do that, let's take a step back and consider the question in the broad sense. What are the pros and cons of motorhomes and travel trailers, respectively?
If you ask campers whether they prefer a towable rig or a motorhome, you're apt to get very strong opinions on either side. That's because each type of RV has its own drawbacks and benefits, which, in many cases, the other type simply can't emulate.
Motorhomes have the attractive attribute of being easier, in most cases, for a new user to operate. Although they're big, they're essentially no different from your day-to-day vehicle, driving-wise. You don't have to learn how to make any hitch connections or do any serious setup; you just get behind the wheel, put the key in the ignition, and start driving towards your destination… keeping in mind that the vehicle weighs a whole lot more than you're likely used to, taking longer to stop and requiring wider turns!
This ease of use is one reason motorhomes are a more popular RV rental option, particularly for those who rent from the big box rental agencies with nationwide franchises. For both the customer and the renter, the whole scenario is just plain easier: no one has to worry about teaching a newbie the mental gymnastics it sometimes takes to back their travel trailer into a campsite.
For those considering purchasing an RV of their own, it's also important to remember that motorhomes almost always cost more than travel trailers — which is no surprise, considering travel trailers don't have an engine of their own. Thus, they can be offered for sale cheaper and often have more living space than motorcoaches, and even come in specialized styles, like toy hauler campers, which allow you to bring along an ATV or other large auxiliary vehicle.
RV trailers also have the additional benefit of automatically including a "getaway vehicle" in that you need a truck or SUV to tow the rig with in the first place. When you're traveling by motorhome, on the other hand, you'll either need to rely on public transportation or Ubers, bring along a bike, or tow a car behind the RV, which can be a hassle, especially if the car you already have isn't capable of four-on-the-floor towing. RVers often call these smaller, auxiliary vehicles "toad," meaning "towed" vehicles… but when you're towing a rig, you already have a smaller vehicle with which to see your destination.
That said, most trailers do require large, powerful tow vehicles in order to get them where they're going. And although they're less expensive in and of themselves, if you don't already have a truck or SUV, looking at their prices can quickly give you a severe case of sticker shock. It's easy to eclipse all the savings you get by opting for a travel trailer over a motorhome simply by purchasing a tow-capable vehicle… to say nothing of the math you have to do to ensure the vehicle you buy is, in fact, capable of safely towing your travel trailer.
Now that we've covered the overarching differences between motorhomes and travel trailers, let's dive deeper. How do travel trailers differ from each specific motorhome class?
Class A Motorhome vs. Trailer
For many, Class A motorhomes are the rigs you first think of when you hear the word "RV." These are the big, bus-style rigs that movie stars and musicians often travel in, and they can be some of the most luxurious RVs on the market.
That said, smaller Class A RVs do also exist; the thing that really sets them apart is their body style rather than their size. Either way, campers who favor Class A motorhomes are generally looking for ease of use and comfort, and often as much room to stretch their legs as possible.
If that's the kind of camping experience you're after, or if you travel with a large family or group, you could still choose a trailer instead — but you'd probably want to opt for a fifth-wheel camper, which will offer the largest amount of living space, especially if it has slide outs. In fact, fifth-wheel trailers are among the largest RVs in the world as far as living space is concerned; some of them, fully set up, offer over 500 square feet of space. I've definitely lived in apartments smaller than that!
Class B Motorhome vs. Trailer
Class B motorhomes, also known as sleeper vans, offer a more similar camping experience to your traditional travel trailer. Although you won't have to unhook anything to get set up at camp, you'll probably be dealing with convertible furniture or wet/dry bathroom facilities, much as you might in small RV trailers or pop-up campers.
Although they're small, Class B RVs can be surprisingly expensive, especially when built into high-end van chassis like Sprinters. That said, either a Class B motorhome or a travel trailer might suit a camper who's looking for a more rugged, off-the-grid experience, or a single adventurer or close couple who don't mind sharing their space.
Class C Motorhome vs. Trailer
A Class C RV is similar to a Class A in many ways, but feature a unique body shape and design. Specifically, these RVs are built into standard truck chassis, which gives them the "attic" that is often used for storage, entertainment centers, or even an extra sleeping surface.
Class C motorhomes can be a great middle-of-the-road option for campers who just aren't sure exactly what they're looking for. They offer all the ease of use and much of the luxury of Class A rigs, but at a lower price and with a more approachable cockpit — after all, it feels just like sitting in a normal truck. They're comparable to mid-sized travel trailers, although small Class Cs, like Winnebago's Minnie Winnie, are also available for those who want to save space and money.
At the end of the day, nobody can decide which type of RV is best for you… except, of course, you. And if you're in the market to buy, our best suggestion is to try out as many different types as possible. There's nothing like the hands-on experience of camping in a specific type of rig to get a real feel for whether or not it works for you, and it's way better to accidentally rent the wrong RV than to accidentally buy it!
The good news is, no matter what kind of RV you choose, you can't go too wrong. Camping is fun, no matter how you slice it… and unlike the big, nationwide franchises, renting a rig from RVshare's peer-owned fleet gives you the opportunity to try out as many different types and styles as you want before you make the big decision. Just think of it as the best homework assignment you've ever received!
This post may contain affiliate links.