Where the Future of RVing is Headed
RV Owners
June 30th, 2018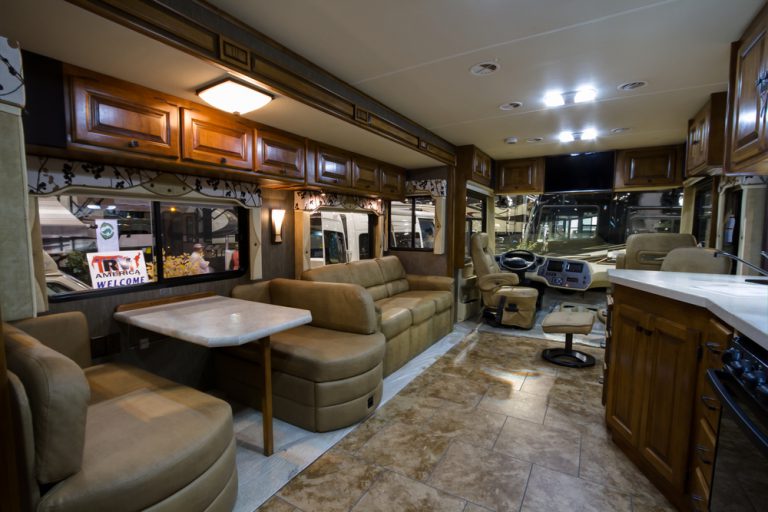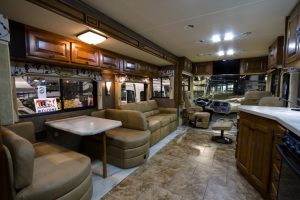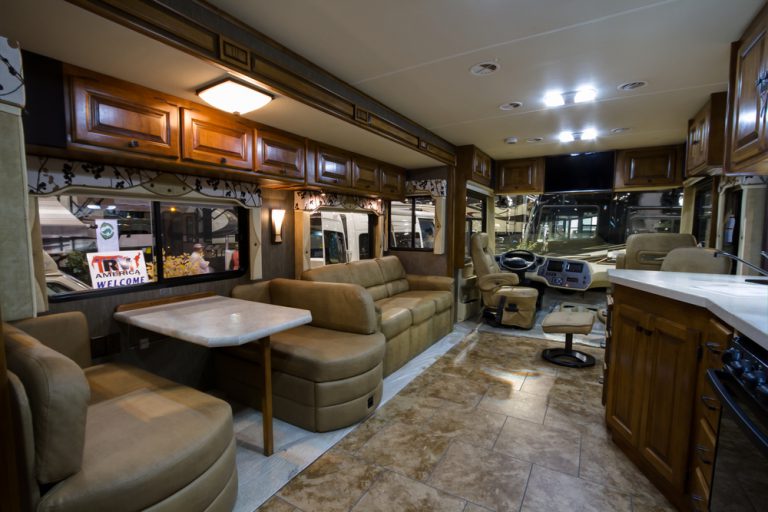 RVing has a lengthy and storied history. Developed in the 1910s and popularized in the 1930s, traveling in your very own home on wheels is a concept that's more than a hundred years old. Pretty crazy, huh?
While the first developers came up with some impressive gadgetry for their time, we've certainly come a long way when it comes to camping technology. Today's travel trailers and motorhomes offer all the comforts of home, and, in fact, are sometimes even more luxurious than your sticks-and-bricks abode. (Hey, even the nicest penthouse in the world doesn't have expandable walls — and if you know of one that does, please let us know ASAP.)
Whether you're an occasional camper, a regular weekend-getaway warrior, or even living on the road full time, you may be wondering about the future of our favorite mode of travel. Even a hundred years is the blink of an eye in the broad scope of things, which means RVing is more than likely only going to get better, with more technological innovations on the way to make your outdoor excursions even more comfortable and fun.
RV Camping
Even though the RV business is our livelihood here at RVshare, we're not psychics — or at least, we're not willing to admit our telepathic powers in public. 😉 So while we can make some guesses about what's coming next in the world of motorhomes and travel trailers, we can't predict the future of the RV industry with a high degree of certainty.
That said, one thing is for sure: RV camping is here to stay. In fact, if industry business indicators are any… well, indication, RVing is experiencing a huge boom right now.
According to the RV Industry Association, or RVIA, RV shipments for 2017 totaled 504,599 units — which is a 17.2% increase from 2016. Not only that, but this is the eighth year in a row the industry has experienced this kind of growth. It's safe to say more and more people are getting excited about the RV lifestyle and investing in their passion for travel.
Although the majority of RV owners still only use their vehicles recreationally for discrete vacations, there's also been an increase in the number of people taking to the road full time. Chris Dunphy and Cherie Ve Ard, who blog about their nomadic lives at Technomadia, give us a peek at the rapid expansion of the Xscapers camping club — the attendance at the Annual Bash has increased exponentially since its inception in 2015.
Lightweight Campers
So now that we know that the activity of RV camping is on the rise, let's talk about what we can expect from future recreational vehicles. Modern RV design is fascinating and inspiring, a tale of constant growth, progress, and innovation.
One huge improvement in modern campers has been a move toward lightweight construction, which allows manufacturers to pack more gadgets and luxury accessories into smaller campers. In fact, thanks to new, high-tech materials, some small trailers can even be pulled behind a large SUV — or even a standard sedan-style vehicle.
Although lightweight design might not be the flashiest innovation, it's definitely one that has increased campers' potential, both by making more luxurious motorhomes and more easily-towable trailers. The delicate balance of finding materials that don't weigh a lot, but are still sturdy and well-insulated, has been one of the most impressive modes of growth in the industry. We can only predict that future RVs will continue to become lighter, faster, and better-equipped for handling everything the road has to offer.
Modern Camper
So, what other cool, new features can we expect to find in modern RVs — and the RVs still to be created and designed in the future?
Well, as the world becomes more and more aware of the necessity to live greener lives, chances are more commercially-available rigs will come ready for solar power. many trailers are already set up with solar installation in mind, though the panels themselves don't usually come as a bonus from the dealership. (Hey, maybe that could change, too!)
Certain manufacturers are also experimenting with creating hybrid RVs, which would harness and run off electric power. These unique vehicles utilize both a front-mounted diesel engine and a high-powered lithium RV battery, which is constantly charged by the engine. Then, a controller automatically switches the RV's power source for the drive train from the engine to the batteries or both, depending on which source is more efficient in a given instance.
Of course, interior RV technology is also expanding, with newer, smarter appliances being offered on floor models and small touches like USB charging ports. As our world becomes more and more interconnected and technologically advanced, RV manufacturers will follow suit and adapt motorhomes to the digital world.
RV Future
Along with all this high-tech, futuristic stuff, there's also a move to make the modern RV more affordable. After all, more and more travelers are looking toward motorhome camping as their next adventure, and crafting accessible rigs is good for manufacturers' business.
In many cases, smaller translates to more affordable, which is why you see so many tiny campers, like teardrop trailers and sleeper vans, on the roads these days. As technology allows designers to make more powerful engines and lighter-weight materials at less up-front expense, we may see an expansion of small RV models, including mini motorhomes.
One of the most exciting things about being a camper today is the fact that you're participating in the rich, relatively new history of this travel lifestyle, which has always been about innovation, scrappiness, and finding ways to make things work. That means the real answer to the question, "What's next for RV camping?" actually comes down to you and your adventures! Campers help shape the industry by voting with their wallets, providing feedback to manufacturers about what features and design elements are working and what conveniences they wish they had on board; that's why some motorhomes now come with luxuries like slide outs, washing machines and bathtubs.
So, campers, you tell us: What's next? One thing's for certain — we'll be there for whatever the future brings, and we can't wait to see what it is!
This post may contain affiliate links.