How Tos & Tips
January 29th, 2020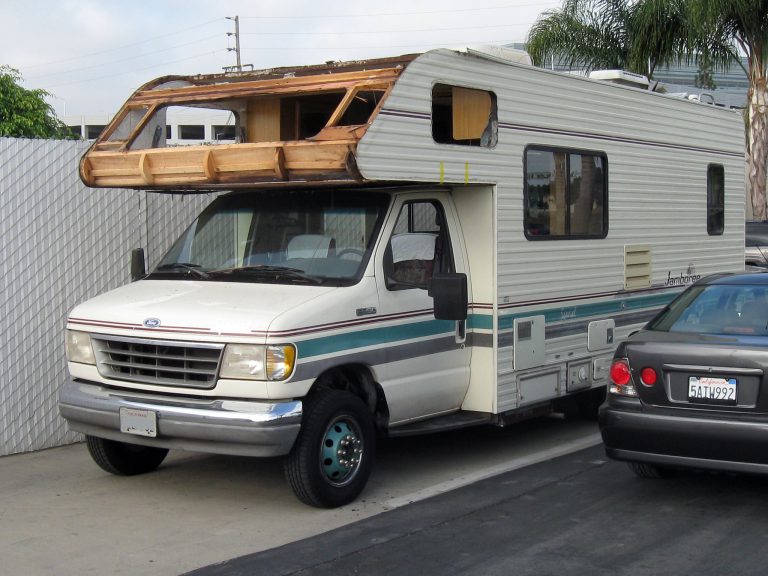 One thing we love about RVs is the fact that most repairs can be made quickly and easily by the owner. That said, there are times when you might need a little help with a repair. When these bigger issues arise, many people take their RV into the shop to be fixed. However, some people prefer to turn to mobile RV repair.
Wondering what mobile RV repair is, and if it might be a good option for you? This article covers the ins and outs of RV mobile repair, so you can decide with confidence whether or not this is the route you want to take next time your rig is in need of some TLC.
What is a Mobile RV Repair Service?
As you might imagine, mobile RV repair service is a type of repair service that comes to you. This might mean that a mobile RV tech visits you in your campground or at your home.
In some cases, people choose this service out of necessity because they can't move the RV due to damage. However, more often than not, a mobile RV mechanic is called out because it is the most convenient option.
Types of Mobile RV Repair Services
Many people seem to believe that a mobile RV mechanic is "one size fits all." However, this is not actually the case. In fact there are a total of three different types of mobile RV repair service.
#1: RV Dealer or Repair Shop House Calls
Some RV dealerships and repair shops will make house calls on request. This is typically done only on an emergency basis, and you will likely pay a huge sum to have a tech from one of these places visit you. For this reason, we don't recommend going this route if it can be helped.
#2: Mobile RV Repair Specialists
There are some repair techs out there who specialize in a certain type of repair. These specialists often work out of their trucks, and if not that, they tend to be more willing to visit customers due to having a niche customer base. That said, because these repair people are specialists, you can also expect to pay well for their services.
#3: General RV Repair Techs
Finally, there is the general mobile RV tech. This guy tends to be a jack of all trades, with a bit of experience fixing pretty much everything that can go wrong on an RV. They rarely have a shop to work out of, meaning mobile work is all they do. In most instances, this is the person you want to call in when you want mobile repair work done.
Getting Parts for Mobile RV Repair
Unfortunately, because the general mobile tech (option #3) tends to work from his or her truck, you can't expect them to have every RV part you could possibly need on hand. This means the parts might need to be ordered online or picked up at a local store.
In some cases, the tech has connections and is able to get a bit of a discount, making it beneficial to order through them. That said, it often works just as well for you to order or pick up the needed items yourself.
You might find that it's best to talk to the repair person beforehand to find out what you should order, and have it ready to go when they arrive. This will save everyone time and will likely save you some money.
Benefits of a Mobile RV Repair Service
The obvious benefit to hiring a mobile RV tech is the fact that you don't have to move your RV at all. If you're already all set up at your favorite campground, there is no need for you to unplug and hitch up to have repairs done.
Likewise, if your RV is sitting in your yard, calling in a mobile tech removes the need to drive the rig into a shop. Finally, there is the chance that you are unable to move the RV at all. In these cases, this benefit is not just convenient, it's necessary.
Another awesome benefit of choosing an RV repair service that comes to you is the fact that the work can be done in your yard, meaning you may not even have to take off work to get it done.
We also appreciate knowing the tech will be focused only on your rig while he or she is at your home or on your site. This means mistakes are less likely to be made due to distraction, and you know you are paying for hours spent focused purely on your RV.
Drawbacks of a Mobile RV Repair Service
All that said, there are definite drawbacks to calling in an RV mobile repair service. One of the biggest cons is cost.
Generally speaking, you will pay more for mobile RV repair. Some technicians will charge for travel by the mile; others charge a flat rate. You can sometimes negotiate this rate if you find camping neighbors who are also willing to hire the technician on the same day as you, giving that tech more work in your area.
Another issue with mobile RV repair service is the fact that some campgrounds will not allow repairs to be made onsite. In these cases, chat with your repair person to see if they know of a nearby alternative location.
Lastly, depending on your location, you might find it difficult to locate a mobile tech in your area. That said, one can almost always be found.
Finding a Mobile RV Repair Service Near You
Ready to hire a mobile RV repair service? You might start your hunt for the perfect person by searching the internet for something like "RV handyman near me" or "mobile RV repair service near me". Often, this will bring up several results, meaning you needn't search any more.
If the simple internet search is fruitless, you will need to get a bit more creative. In thee cases we recommend trying the following options:
Ask the campground — If you're staying in a campground (or if there is one in your area) you could try asking the office if they can recommend a mobile tech. Often, they see mobile RV repair services on a regular basis and are happy to give recommendations.
Contact a dealership, shop, or parts store — Sometimes the local RV dealership, RV shop, or RV parts store can help with recommendations. The mobile mechanics have to purchase parts somewhere, after all, and often it is from one of these places.
Chat with fellow campers — Your fellow campers might also be helpful. Ask your campground neighbors, or hop on the Facebook group for your local campground and ask there.
Clearly, the option to hire a mobile RV repair service is an awesome one, and there is definitely a time and place for doing so. That said, it's better to skip the repair bill altogether whenever possible.

For this reason, you will want to make sure to keep up on your camper maintenance and learn to do small repairs on your own. This will keep the cost of RVing down and allow you to save your money for more awesome camping adventures.

[similar_ai_related]