Making Renters Feel at Home in this Farmhouse Chic RV
Travel Inspiration
February 4th, 2020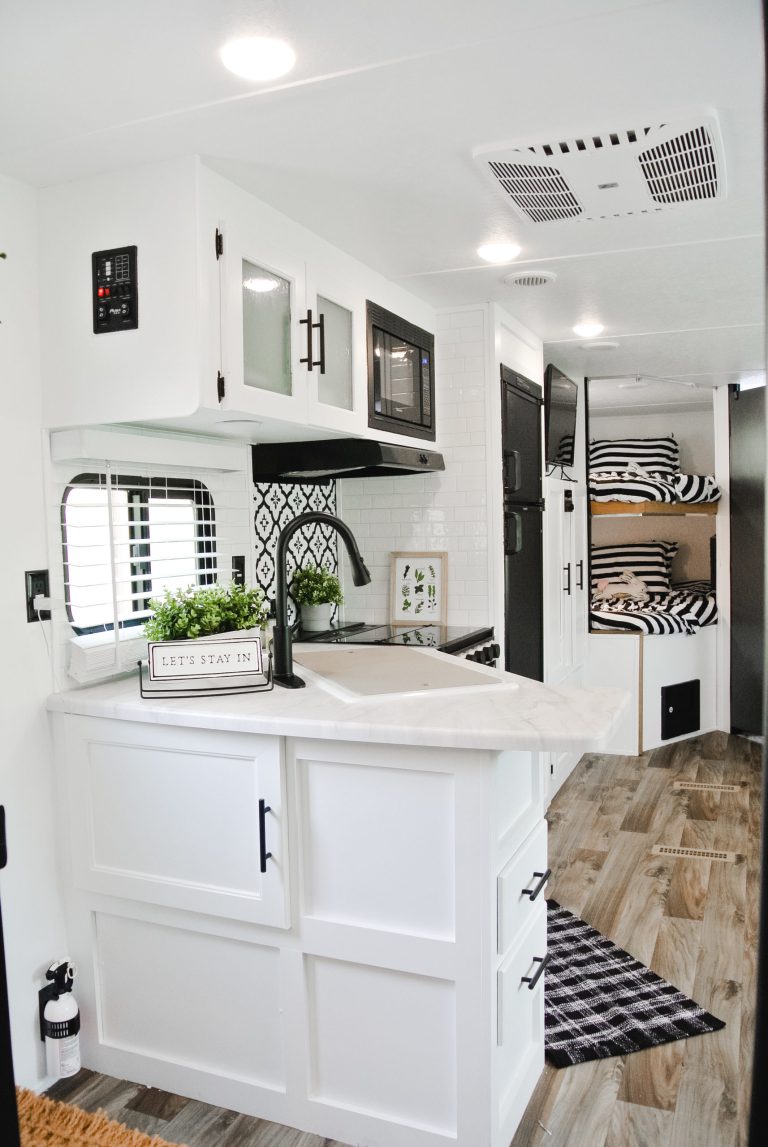 Stephanie and Joey of Florida have turned their RV into a true home on wheels. They left no stone unturned when updating their rig and thinking through the experience they wanted to provide their guests. From renovations to services offered, we have six simple tips any RV owner can incorporate and any renter can appreciate!
Paint it white
Painting the interior of the RV white is such a simple update an owner can do. It makes the space feel more open, spacious and a lot brighter. The cabinets, walls, and bunks instantly feel more welcoming with a couple coats of bright white paint. This is a far cry from a stark, sterile space – Stephanie and Joey did a great job of adding character to the rig. There is a lot of personality within this unit with their choice of hardware and warm wood tones.
Reconfigured Layout
Not all owners are willing or able to update the layout of their rig, but we are here for it with this farmhouse on wheels. The booth table has been replaced with a traditional table and bench seating, adding to the openness of the space. Comfy seating is still available on the updated couch; swapping out the black with a lighter and cozier version, making the living area feel a little bigger without skimping on needed storage.
Bedding
Perhaps the only good thing about a vacation ending is being able to sleep in your own bed. Luckily, when you stay in an RV like this one, you won't get quite as homesick. Stephanie and Joey made sure to include quality bedding and mattresses to ensure their guests' comfort. 
Decorations
The little touches added to this RV really make it a home on wheels. Even the details as simple as some faux greenery, new shower curtain, and hanging artwork help RVs stand out. We also really love the above and beyond additions Joey and Stephanie added, like the updated backsplash, light fixtures, and window treatments.
Offering Delivery
This couple offers rental in Jacksonville and even Orlando – specifically Disney's Fort Wilderness campground. The short drive for them to take the RV to Disney is worth it to reach more renters. In fact, Stephanie shared with us that most of their rentals are delivery. This means they have more control of setting up and tearing down the RV, which helps prevent damage. You don't have to live near the happiest place on Earth to offer this valuable service to renters! Check out this post for all the benefits.
What their renters are saying
"Joey and his wife were awesome! They delivered and set everything up so when we arrived there was nothing we had to do. The camper was very clean and their attention to details (like mini shampoo, conditioner, body wash and lotion bottles in the bathroom & coffee pods in the kitchen) made us feel like we were staying in a hotel instead of a camper but I have to say our favorite detail was the queen mattress. They didn't spare any expense with the pillow top mattress or the sheets!! The sheets weren't scratchy or thin but well made and soft. We would definitely rent from this sweet couple again!!"
"A great camper with equally great owners. It feels like you're in a bed and breakfast. The kids will love the sleeping bags in the bunks. I would recommend this camper and rent again from these owners."
Final touches
Stephanie and Joey really strive to make their camper a home away from home for their renters. They offer their RV to be friendly to kids and pets, making sure to include details that renters can appreciate for their little ones, like a full bathtub. Going beyond the RV itself, they want their guests to feel comfortable and at ease, adding in final touches before the renter even arrives. 
"We deliver it to their site, set it up for them, hook everything up, put out the coffee maker, turn the A/C on, etc so that when the renter arrives, they are being welcomed to instant comfort and ready for vacation. Once the rental is complete, we pick it up and handle the dumping and cleaning for them. This means that even for someone who has never camped before, they can still utilize our rental and not feel like they need to learn all about camping ahead of time."
Thanks, Stephanie and Joey, for sharing your story with us. Rent their RV by heading here!