RV Owners
February 12th, 2021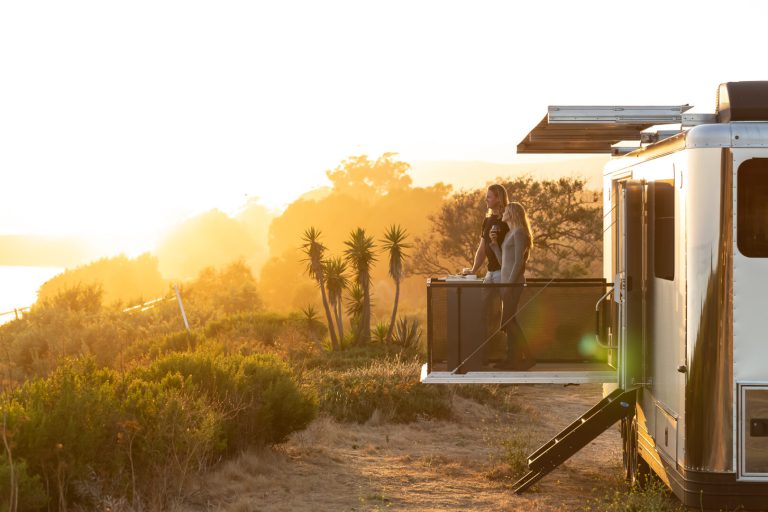 Joanna Hofmann, Living Vehicle Co-Founder and CMO, shares how she and her husband went from renovating trailers and living a mobile lifestyle to creating the most luxurious and powerful off-grid trailer on the market today.
You've heard the expression, you want something done right, do it yourself.  Well, that's exactly what we did!  We took over a decade of experience in designing and living in mobile spaces to create the ultimate off-grid trailer for full-time living.
The Beginning of Living Vehicle
My husband Matthew is a licensed architect in California.  Together, we ran a mobile renovation business, Hofmann Architecture, based in Santa Barbara, CA.  We designed over 400 custom vintage trailers while we lived the mobile lifestyle.  Vans, buses, motorhomes, anything on wheels, we've done it.  We even lived on a boat for several years!
While we loved the full-time lifestyle, we were feeling limited – both with our business and our personal lives.  The RVs we called home weren't suited at all for full-time living.  Our own mobile living struggles helped us see a clear gap in the market, so we decided to transition away from renovating existing vehicles to building our own luxury trailer from the ground up. Instead of an RV (Recreational Vehicle), we designed an LV (Living Vehicle), intentionally designed for full-time or extended use with true four-season performance and maximum off-grid capabilities.
Matthew's design and architecture background influenced our desire for a clean, modern design that was rooted in a sustainable lifestyle.  He grew up in Mammoth, CA, with the Gateway to Yosemite as his backyard.  Together, we had a passion to create an experience that allowed us to connect with the outdoors.
We kept a list of all of the things we didn't like about the RVs we lived in and were on a mission to improve them.  High on my list were a better shower experience, a proper kitchen complete with an oven, dishwasher, full-sized fridge, and enough storage that allowed us to live on the road full-time without having to part with the things that were important to us.  We've been improving upon our first model we released back in 2017, perfecting the design and innovating with new technologies to create the most luxurious experience possible.
Incorporating Sustainable Solutions
We are getting very close to our ultimate goal of a self-sufficient trailer that generates its own resources.  For 2021, LV can create perpetual energy given you're getting sufficient sun power via the 3000+ watts of solar the Living Vehicle PRO model offers.  There are also redundant sources of off-grid power including an integrated back-up generator and energy integration that allows you to rapidly charge your trailer while operating your tow vehicle.
Because of our experience and being our own customer (we also lived in an LV and traveled the US for several years when starting the company), we have been in a unique position since day one to understand the realities of life on the road and how to design for just that.  Living Vehicle has resonated with a lot of experienced RVers who share in our desire for a more functional and capable living space. A lot of people are drawn to the modern design of LV and our commitment to sustainability.
While we offer state-of-the-art technology, LV is appealing to a growing audience, especially with the current pandemic.  We're seeing a lot of first-timers and people that were flirting with the idea of getting into a trailer but couldn't find one that truly fit their needs.  Because of our design and architecture background, LV truly feels like home and actually functions better than most luxury apartments.
We're also seeing a lot of experienced RVers who want to dive further into the lifestyle and desire more amenities and capability; independence and self-reliance offer a lot of freedom and security in today's world.  Our customers are finding the transition easier than expected since LV is so well-equipped to meet their needs so well.
Specialized Remote Working Accommodations
Our latest model offers a "mobile office" option that instantly converts a two-person workstation to a queen bed.  The desk surface stays flat when converted to the bed and may accommodate up to four 27" monitors.
All the gear for work neatly disappears under the bed and away from view.  It's been a huge hit with all of the remote workers, especially creatives and business owners that need more of a substantial setup than just a corner at the dining room table and a single laptop.  It's also great for distance learning or those that are homeschooling.  Creating intentional spaces for all of the demands of our daily lives is key for success in small-space living. We are deeply passionate about how well we can make a space function – and cater to the needs of serious working professionals.
Off-the-Grid Capabilities
With people fleeing the cities in favor of more remote areas surrounded by nature, off-grid capabilities become vital. The ability to sustain off-grid in all environments is key – whether it's the searing heat of the desert or below freezing temperatures of the mountains.  These features allow people to opt for raw, undeveloped land and live in a truly sustainable way.
Our flagship model, the PRO, offers nearly 50 kWh of battery capacity, which is the most energy storage ever offered in a trailer.  Our customers want to be off-grid for as long as possible while also enjoying the modern-day amenities we expect in luxury living.  Features such as a washer/dryer, dishwasher, spa shower, and residential-sized appliances save time and make living in a small space so much better.  It truly is a luxury option for those interested in full-time/extended off-grid living.
Designed for Full-Time Living
While designed to travel, LV is a great option for people looking to set up for a more permanent arrangement.  The best part is, you can always move your home when life circumstances change!
Mariana, one of our customers living in Northern CA, shared her family's experience of living in the LV with me after losing their home in the wildfires, then were faced with the pandemic shortly after.
"We have experienced something so beautiful amidst so much sadness.  Living in the LV meant our small family bonded in ways we could never imagine, and especially during the pandemic, we learned how important that bond has been to keep us healthy and happy.  We also feel free because we know we can always pick up and move locations with the LV and yet still enjoy the happiness the LV has given us."
We are hopeful about the future and are excited to continue pushing the boundaries of what full-time mobile living looks like in today's unpredictable, often unstable, world.  It feels good to be part of a lifestyle solution that offers an attractive option for those looking to connect more deeply with their families and the Great Outdoors.