The 5 Kinds of People You Meet RVing
RV Owners
Last updated on November 24th, 2022. Originally published on May 7th, 2017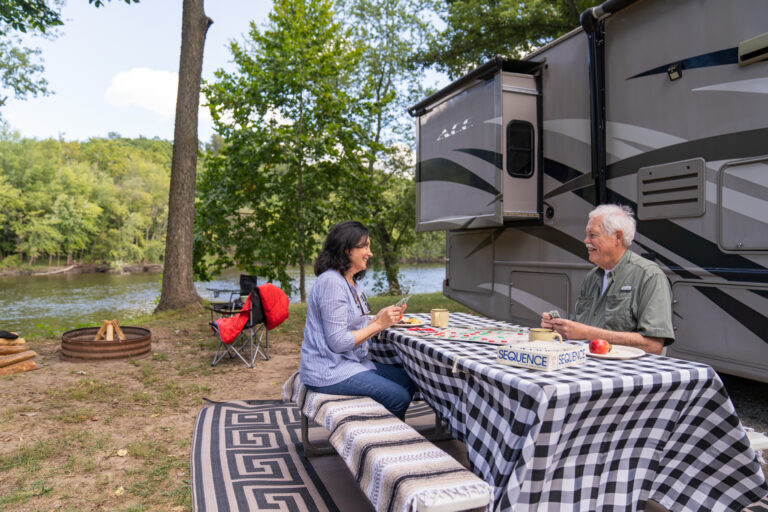 Even if you're brand new to the RV lifestyle, you've no doubt noticed how unique and special our community can be — and, yes, sometimes a little strange, but in a good way. RV living takes a certain kind of gumption, a certain willingness to step outside of one's comfort zone and get one's hands dirty. And as it turns out, that fearlessness is very frequently aligned with selflessness and a drive to help others whenever possible.
Maybe that's because full time RVing does come with a set of unique challenges. As full-timers, much of the community stability others take for granted is hard for us to come by.
Sometimes, it's the little things, like knowing which pizza joint is the undisputed best in town or which vet to take your cat to in an emergency. When you're constantly on the road and home is a new place every week or two, there is no "undisputed best," no go-to. You have to constantly relearn and readapt to new communities, quickly creating a place for yourself within them for the brief time you're there. Sometimes, we're only just starting to become comfortable with an area, able to recognize and greet familiar faces at the local gym or restaurant, when it's just about time to move on.
Deeper community ties, of course, are even harder to come by. Not many well-entrenched people want to become attached to a nomad who's constantly on the move.
But maybe that's why the people who take on full time RVing as a lifestyle have such generous and authentic spirits — why they seem to instantly and genuinely care about the other RVers they meet along the way. Even though we're not all in the same place at the same time, those of us who've chosen the life of an RV nomad are, indeed, a community. And when we run into our fellow community members, we're eager to greet them with joy, hospitality, and warmth… and more than likely an open bottle of wine (or two).
Here are some of the people you might meet along the way as a full-time RVer.
1. The Dog People
You know these people. This is that couple who doesn't go anywhere without their dog, whether it's heading out for a rugged backcountry hike or a romantic dinner. You're most likely to encounter them in some scenic spot along the west coast, which features lots and lots of off-leash dog beaches.
But since their dog is so well socialized, constantly encountering many new experiences and people, she's almost always a complete joy to be around — making her a perfect (and eager!) pet surrogate for those of us who had to leave our four-legged friends at home.
2. The Gourmet Chef
This camper might be cooking over an open fire, but you can bet dinner's gonna be better than a plain old can of beans. In fact, even s'mores pale in comparison to what this gourmand can whip up. We're talking three course meals whose dishes' names you can't pronounce, all miraculously produced over a camp stove.
Best of all, he's happy to share the wealth with his neighbors. Maybe you can provide the fire and wine while he provides the eats. (Trust me, you're getting the better end of that deal.)
3. Mr. (or Ms.) Fix-It
Need a part replaced? Or, more realistically — still having issues with that stubborn part you've likely already replaced and poured more repair money into than you'd rather think about right now?
Never fear. This RVer comes equipped with her toolbox wherever she goes, and she's never too busy to take a look. Just load her up with some Dicor and a freshly-charged screwdriver gun, and she can make your RV as good as brand new. Heck, if you watch her closely, you'll probably even see her smile while she does it.
4. The Off-Gridder
As she rolls into camp, the first thing this RVer will do is set up her solar panel tilting system — that is, if you see her roll up at all. In her perfect camping scenario, she's boondocking far enough into the wilderness to be out of sight of her nearest neighbors.
If you do get the chance to be in close proximity to this camper, be sure to pick her brain if you can. You might just learn about some glorious secret camping spots that somehow haven't made it to the internet yet, not to mention how to survive the zombie apocalypse. (Spoiler alert: Her main piece of advice is going to be about conserving water. Not that she's wrong about that.)
5. The Bookworm
Similar to the Off-Gridder but maybe a little less scrappy and well-equipped, this camper gave up some of the storage space he could have used for adventure and survival gear in the name of a different mode of travel entirely: the pages of books.
Whether he's into fiction, history, or camping-specific stuff like birdwatching or identifying foliage, the Bookworm's favorite camping position is curled up by the fire ring in his camp chair or hammock, with his nose and imagination sunk thoroughly into his latest read. That doesn't mean he isn't a good neighbor, however — say hi (quietly, so as not to startle him), and you'll soon learn exactly how many stories of his own he has to tell.
Of course, there's no way to accurately depict the many wonderful, beautiful people you'll meet on the road… and besides, finding them is part of what your adventure is for in the first place.
So close your laptop and get out there and go meet them. Your community is waiting for you!