RV Owners
August 4th, 2015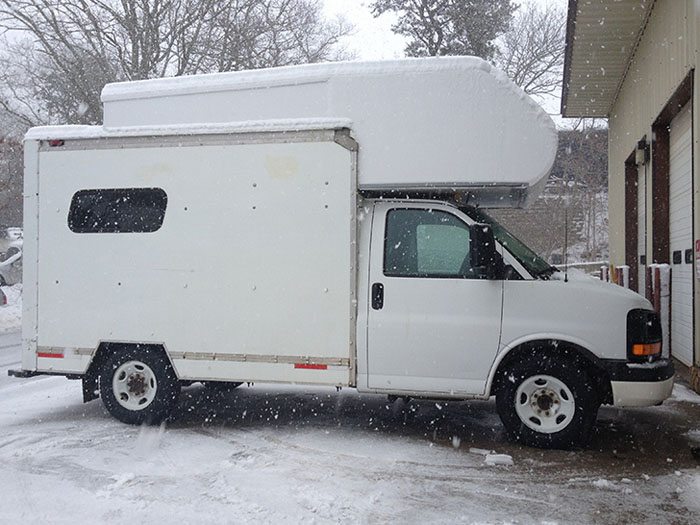 What would you do if you were low on cash but wanted your own RV? Where would you go for inspiration? You would turn to the the Internet of course! The online world is full of creative and impressive DIY ideas.
Ideas like this cheap UHaul truck turned cozy home on wheels.

Called the "Taj MaSmall," this homemade motorhome was created by Kim. She is a skilled, inventive, and creative woman who decided to make her dreams come true. She bought a standard UHaul GMC 3500 10-foot box truck and built a surprisingly luxurious home.
From the outside, Kim's rolling home looks just like an other UHaul-type truck — except for the windows that she built in to provide natural light. But on the inside it's quite different from a normal moving truck. She accented it by adding thrift store cushions and reclaimed french doors. Two great touches that turned a barren moving truck into a livable space.
To build her home, Kim used as much reclaimed material as possible. For example, she used copper flashing to design and retrofit the interior of the truck. She also customized it with many features that make her space more comfortable. Some of these include:
Sleeping loft
Couch
French doors
Instant hot water heater
Shower
Her sleeping areas is situated right on top of the driver's seat. She also added a multipurpose beach glass wall that is used as extra counter space. As an added bonus, when it's folded up, it becomes a wall for her corrugated aluminum shower. It even comes with a portable composting toilet!
When Kim isn't in search of a new adventure, she relaxes in her comfortable living space. And who can blame her? The space she has built is warm and inviting.
If you are interested in building your own motorhome, this proves that you can do it. Inspiration comes in many forms and you can make your dream come true for an affordable price. All you need is a willingness to experiment and an adventurous spirit. Follow your heart and who you too could have your very own custom rolling home.
To read more about Kim and her adventures visit here blog tajmasmall.wordpress.com.