The Ultimate Guide to Ice Fishing in an RV
RV Owners
November 15th, 2021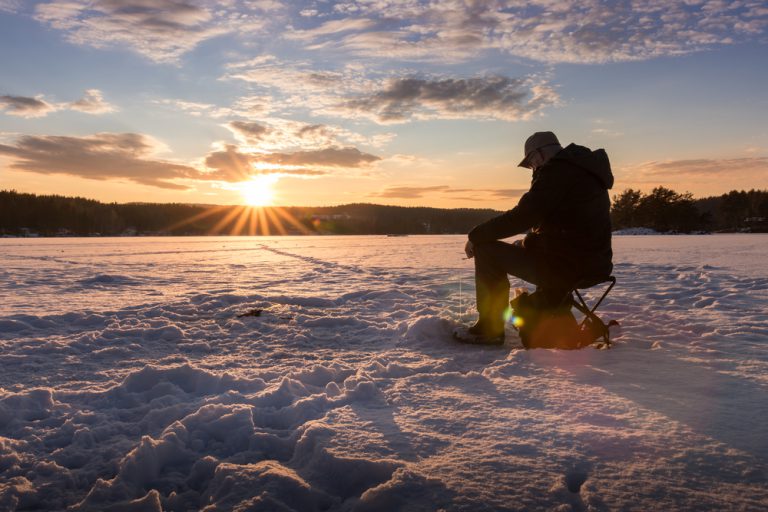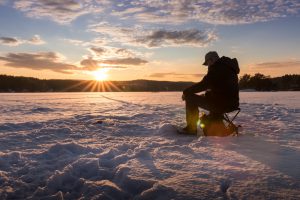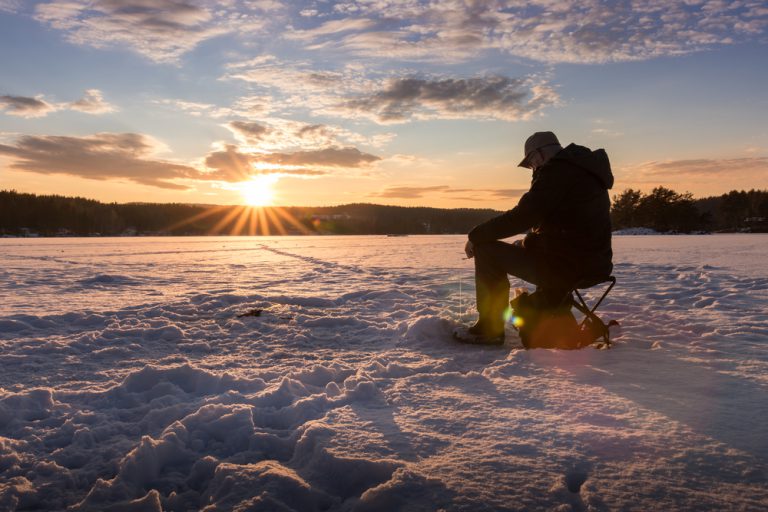 There's something special about reeling in a fresh catch and whipping it up for dinner any time of year — but it can be even more thrilling come winter. For those tough enough to stick out the cold temperatures, ice fishing allows you to continue to catch your own meals throughout the year, while also giving you access to the hidden world of aquatic life that's captured under a frozen lake's surface.
Better yet, with today's technology ice fishing doesn't have to be an exercise in masochism. The right gear and even specialized RV campers make it easy to make your ice fishing excursion in the lap of luxury.
Here's everything you need to know about ice fishing in an RV this winter.
When Can You Go Ice Fishing?
Ice fishing might not be the most popular sport in existence — it does, after all, require navigating out to a frozen body of water in extremely cold temperatures, acquiring a host of specialized equipment (which we'll get to in a second), and sitting over a hole drilled in the ice for hours.
But many anglers welcome this break from "normal" spring, summer, and fall fishing on liquid water: along with offering a novel experience, ice fishing also comes with its own set of unique benefits.
For one thing, ice fishing can actually improve access to certain bodies of water, where there might not be a place to put in a boat or otherwise get out onto the water to fish. Additionally, certain types of fish might be more available (and larger) during the winter season, when they're putting on bulk and not being fished out by summertime "normies."
Regardless of why you decide to go ice fishing, though, one thing's for certain: it only works during certain parts of the year!
In general, ice fishing season starts in December and ends in March, but the specifics will depend on which state you're in and the whims of the winter weather. In all cases, safety should be your first concern, which means you want to ensure there's a nice, thick layer of ice on top of any body of water you're considering fishing. In the coldest states, like Minnesota, North Dakota, and Michigan, there may be up to six inches of ice on the lakes by November, but it all depends.
Ice fishers follow a general rule of thumb that four inches of clear ice is safe to walk on — or six inches of cloudy ice. Additionally, factors like the growth of aquatic foliage, currents, and springs can all create unsafe conditions, so in all cases, you want to exercise extreme caution and be sure to check the thickness of the ice as you venture out onto the frozen lake surface. (There are specialized tools to help you do so — again, we'll get to that in the "ice fishing gear" section below!)
Finally, bear in mind that in most cases, you'll still need a current, legal state fishing license in order to go ice fishing. Your state fish and game department will also have more information about when the specific ice fishing season is in your state and which surfaces are safe to walk on at different parts of the year. We also recommend finding a veteran ice fisher in your area and asking if you can learn alongside them.
Ice Fishing in an RV
Alright, now that we've covered the basics, how can an RV make your ice fishing adventure that much cooler? (Actually, it may actually make it warmer, which some of you will undoubtedly find pretty cool…)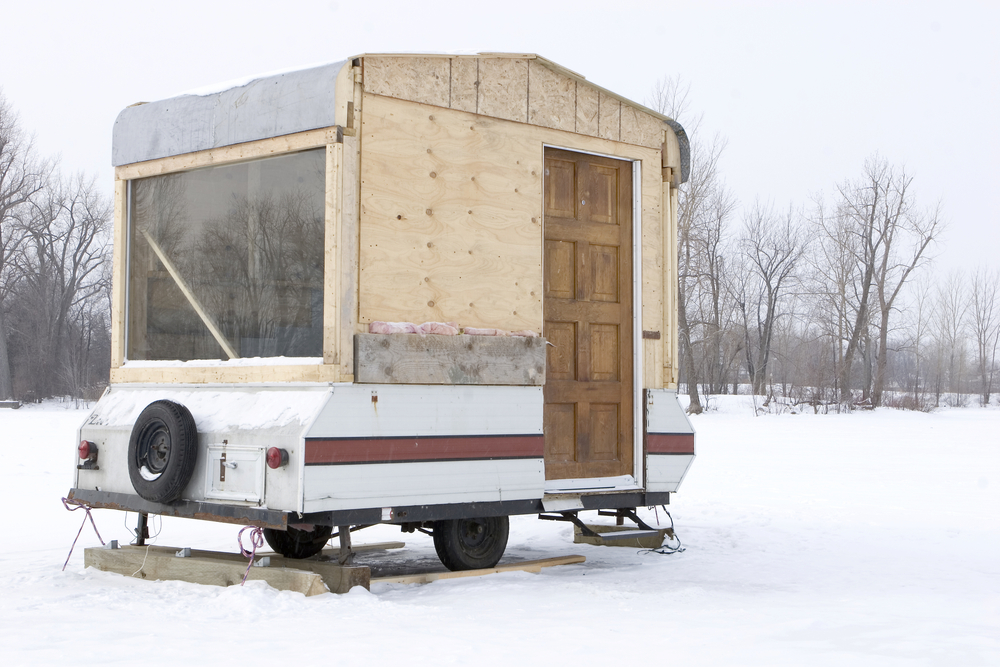 While you can go out ice fishing with just yourself, your warm-weather gear, your fishing pole and a drill, many ice fishers have taken advantage of the technology available to them by using special shelters or huts to keep themselves cozy on the ice. These shelters can be as low-tech as an insulated tent or as fancy as a fancy as a rentable wood cabin… and, as you may have guessed, there are now specialized ice fishing RVs available for this purpose, as well!
An ice fishing RV is, in a lot of ways, like a regular RV: they feature creature comforts like beds, sofas, and onboard kitchen and toilet facilities, but they also have some specialized parts in order to make ice fishing a snap. For starters, you'll notice (covered) holes in the floor, through which you'd drill into the ice and fish; they also have special suspensions that allow the frame to sit flush with the ice once the axle and wheels are lifted and rotated out of the way.
Ice fishing RVs also come with additional insulation, which keeps them cozy even in the sub-zero weather that often accompanies ice fisherfolk on their journeys. Their interiors might be more rugged than your typical rig, with cabin-style wood paneling and heavy-duty rubber flooring. Some are even offered as shell models, without any finishing done inside — so you can customize your portable ice house yourself!
Ice Fishing Gear
So now we've covered when ice fishing season is and how an ice fishing camper could help you do it in style.
But we've yet to dive into the nitty gritty — namely, how to ice fish, and what equipment you need to do the job well.
As is true of most hobbies, there are a wide variety of levels at which you can "do" ice fishing. (After all, Native Americans have ice fished for sustenance for millennia, so it's definitely possible to do it without a bunch of fancy, expensive, newfangled equipment.)
That said, the newfangled equipment is expensive precisely because it can make your ice fishing experience a whole lot easier (though certain standard fishing gear can work for the most part, too!). Here's some of the main gear you need to get down to business and go fishing through a hole in the ice — which is honestly a pretty impressive feat of physics!
Drill
No matter how you plan to go about ice fishing, one thing's for certain: you're going to have to drill through the thick ice that separates you from the fish! Additionally, most methods of checking the thickness of the ice for safety involve using some sort of drill, as well.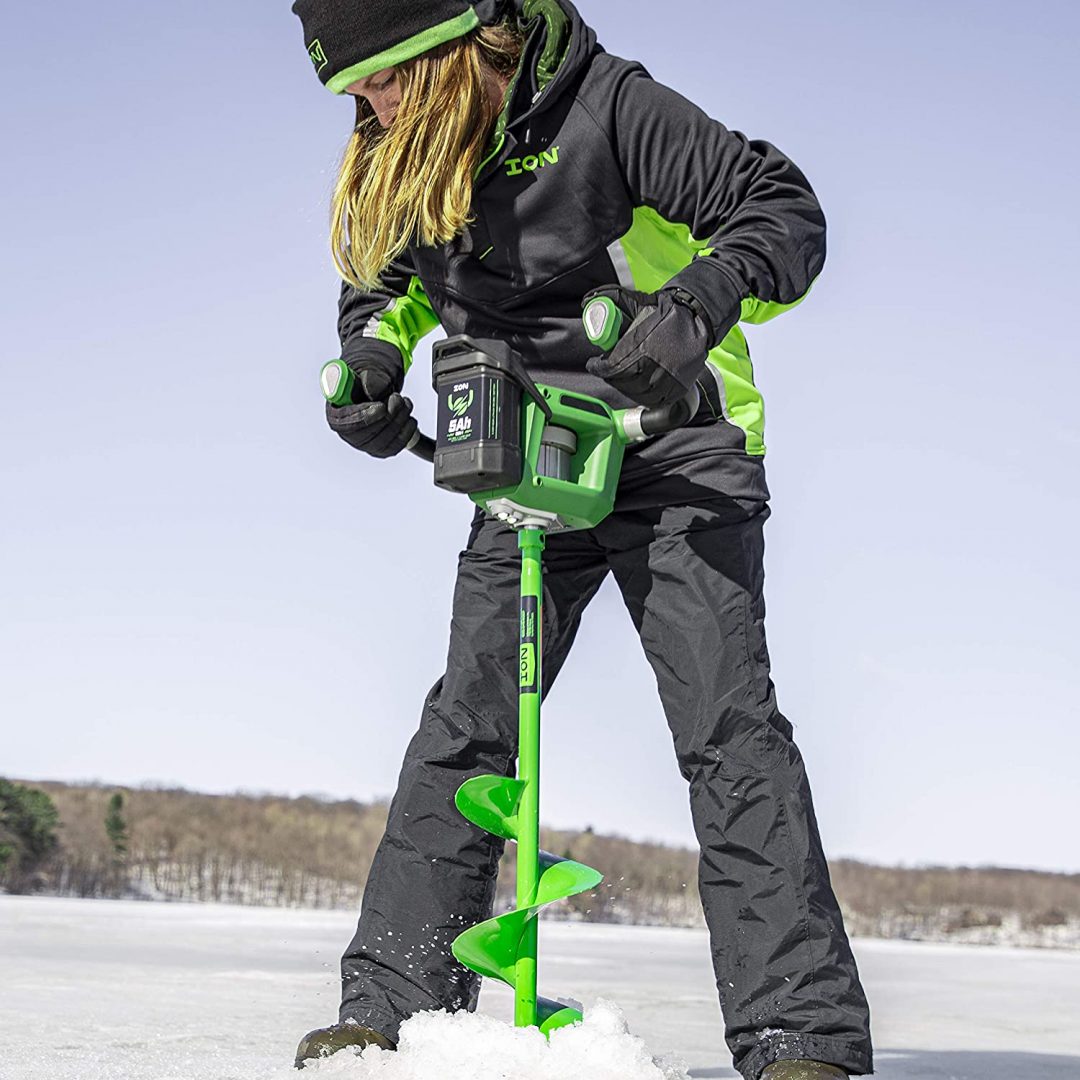 Specialized electric ice augers can run several hundred dollars, but they do make the process of getting through thick ice relatively easy. If you're looking for a more affordable, old-school (but elbow-grease-intensive) way to make a break in the ice, hand augers are available for under $100 a piece.
As far as checking the ice is concerned, many ice fishers use an 18″ wood auger bit mard at the 4-, 6- and 12-inch thresholds. Once the ice has been penetrated, water will leave a mark on the wood demonstrating how deep the ice may be. There are other methods of testing the ice thickness, as well, including lower-tech methods such as using a "spud stick" or a hatchet. No matter what you do, just be sure to maintain caution at all times and check the ice depth in several places before you set up shop. The thickness of ice can be inconsistent even just a few feet away, and you definitely don't want to fall through the ice!
Speaking of which…
Ice Picks for Safety
It's not a scenario many of us want to think about too hard — and to be fair, it's quite rare, since most ice fishers are so careful. But it is possible to fall through thin ice. And with the weight of your water-soaked clothing (not to mention the shock of the water temperature and fear of the scenario), it can be pretty difficult to haul yourself back out of the ice hole with your bare hands alone.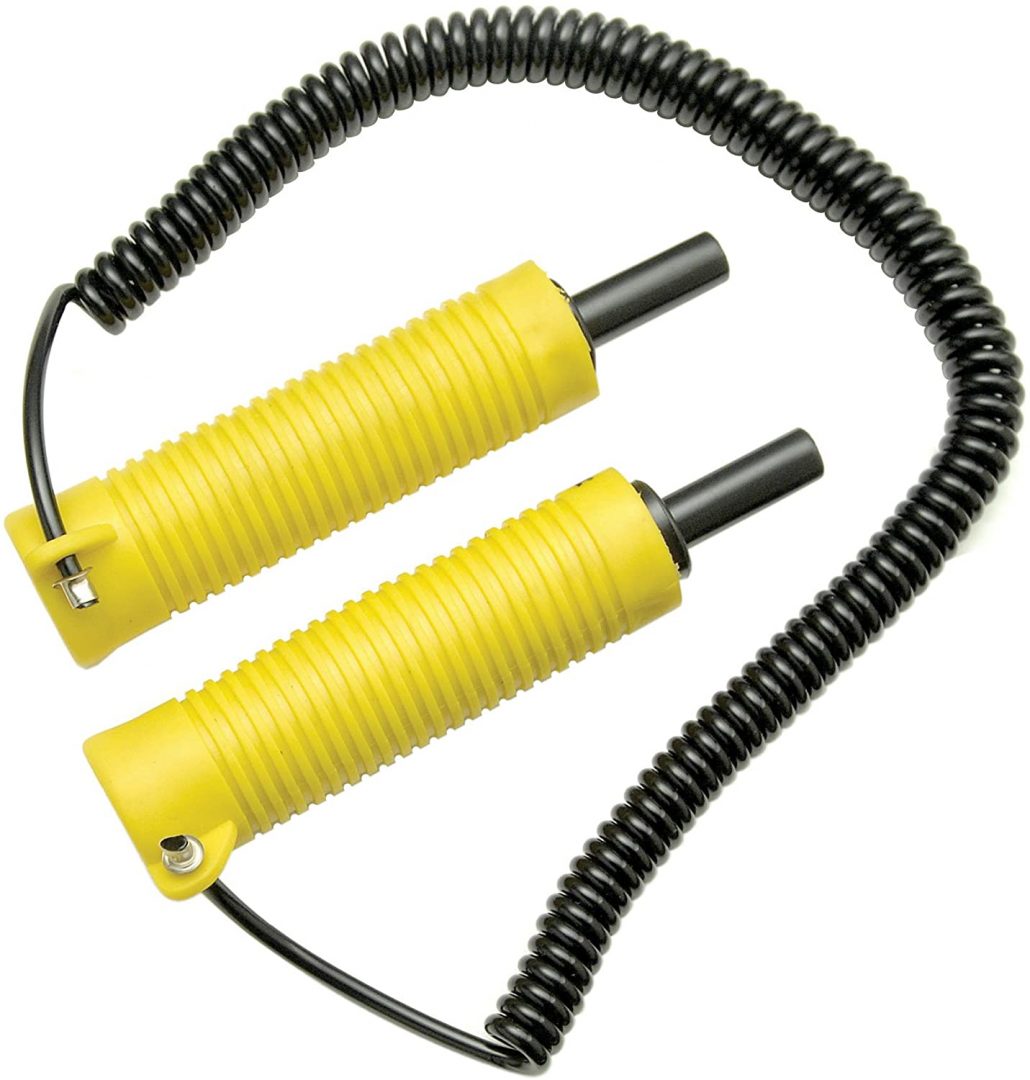 That's why it's critical for all ice fishers to carry ice picks, which can help them safely self-rescue in this scenario. It's possible to make your own set at home with some nails, cable, and wooden dowels — but reliable, retractable ice picks are available from many outdoor vendors affordably, and offer both reliability and safety.
Ice Fishing Rod and Reel
You can certainly use a regular fishing rod for the purpose of ice fishing. Again, keep in mind that Indigenous peoples used little more than string they made from local plants and animal guts.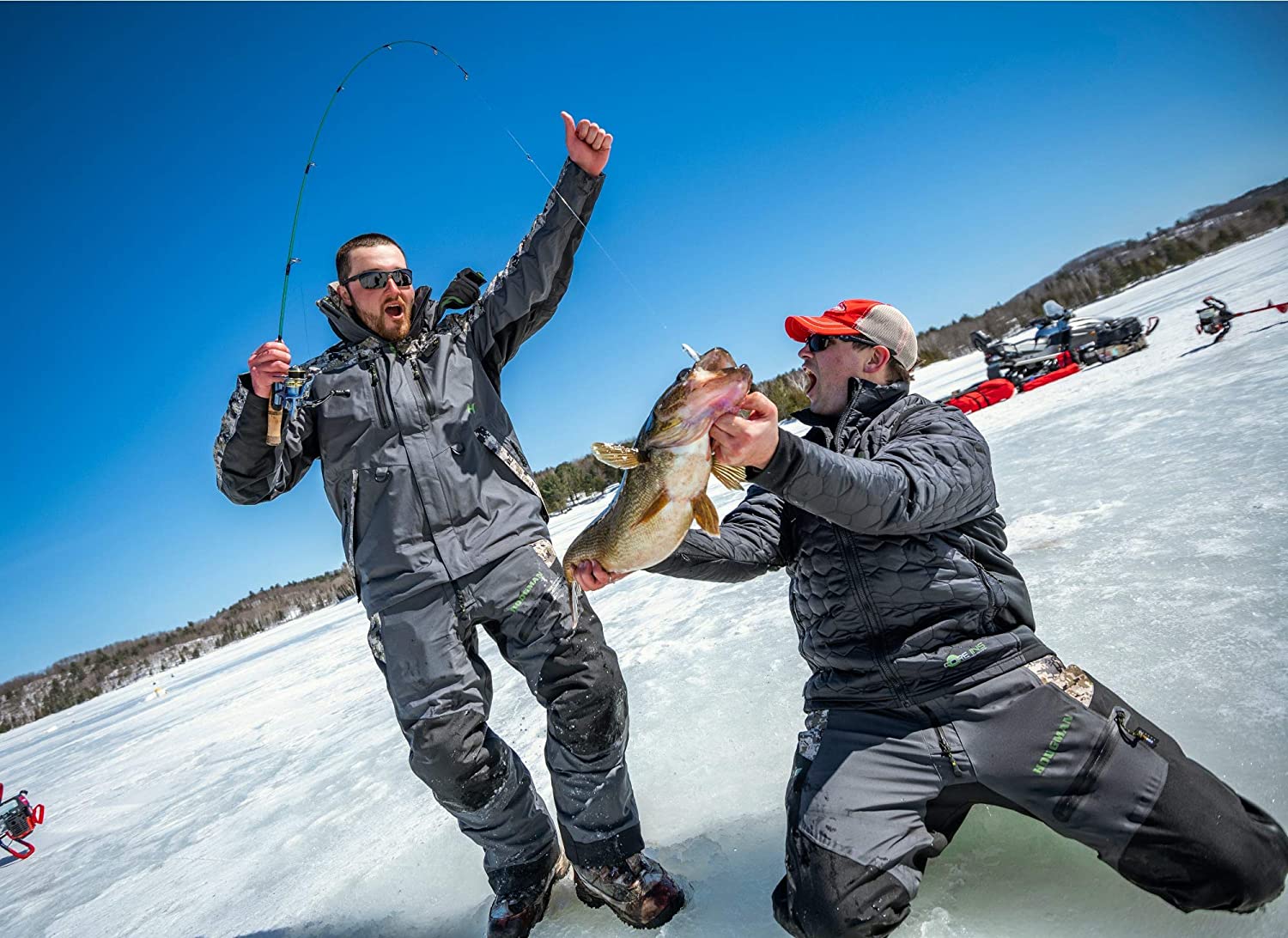 But a rod and reel specifically designed for ice fishing can make the process a lot less labor-intensive and more fun. For one thing, they're shorter, which makes them better suited to the unique process of ice fishing (where you're ideally dealing with fish directly below the hole, rather than letting them swim off and drag your line against the edge of the ice, which can sever it). They're also often more sensitive than other fishing poles, so you'll be able to detect bites even from fish who've grown understandably sluggish and low-energy in the frigid wintertime waters.
Warm Weather Clothing
Even if you'll be traveling in an RV or sheltering up in an ice hut, the temperatures you'll face while you're ice fishing are seriously cold. Warm, insulated clothing is non-negotiable!
In addition to your regular cold-weather gear, you might consider a specialized float bib or pair of coveralls, which have the added bonus of acting as a floatation device just in case you do experience a fall-through. The air trapped in this warm garment could help save your life, along with keeping you nice and toasty if all goes according to plan!
Bait Container
Many ice fishers find they have the best luck when using live bait, which means you'll need a live bait container to bring along for the journey. An insulated bait container can help keep your critters at the right temperature, which may not match the freezing-cold windchill you're experiencing in the great outdoors!
Ice Fishing Electronics
While certainly not a requirement (let's remember again our ancient friends who've been doing this since before cameras were even invented), specialized ice fishing electronics can make the project of ice fishing as simple as shooting fish in a barrel — literally.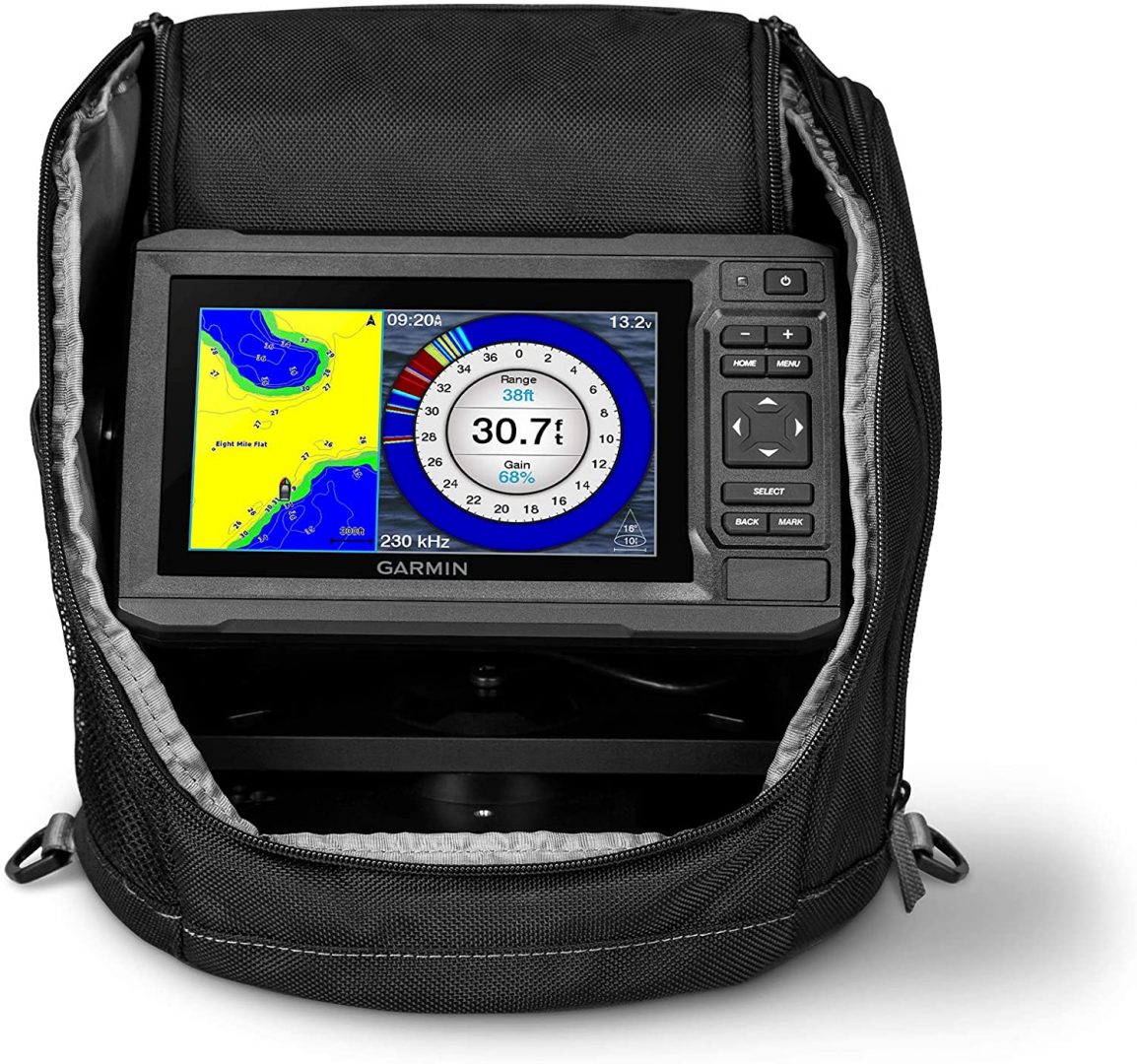 Ice fishing electronics include underwater cameras that can tell you all you need to know about the nearby wildlife and their behavior, as well as ice contour maps based on hole drills, GPS technology, and more. These electronics vary in price from a hundred or so dollars to several — but depending on how easy you want your ice fishing to be, it may very well be worth the money to you.
Sled
As this list proves, ice fishing does take a fair amount of equipment! You're probably not going to want to haul it out onto the ice on your back.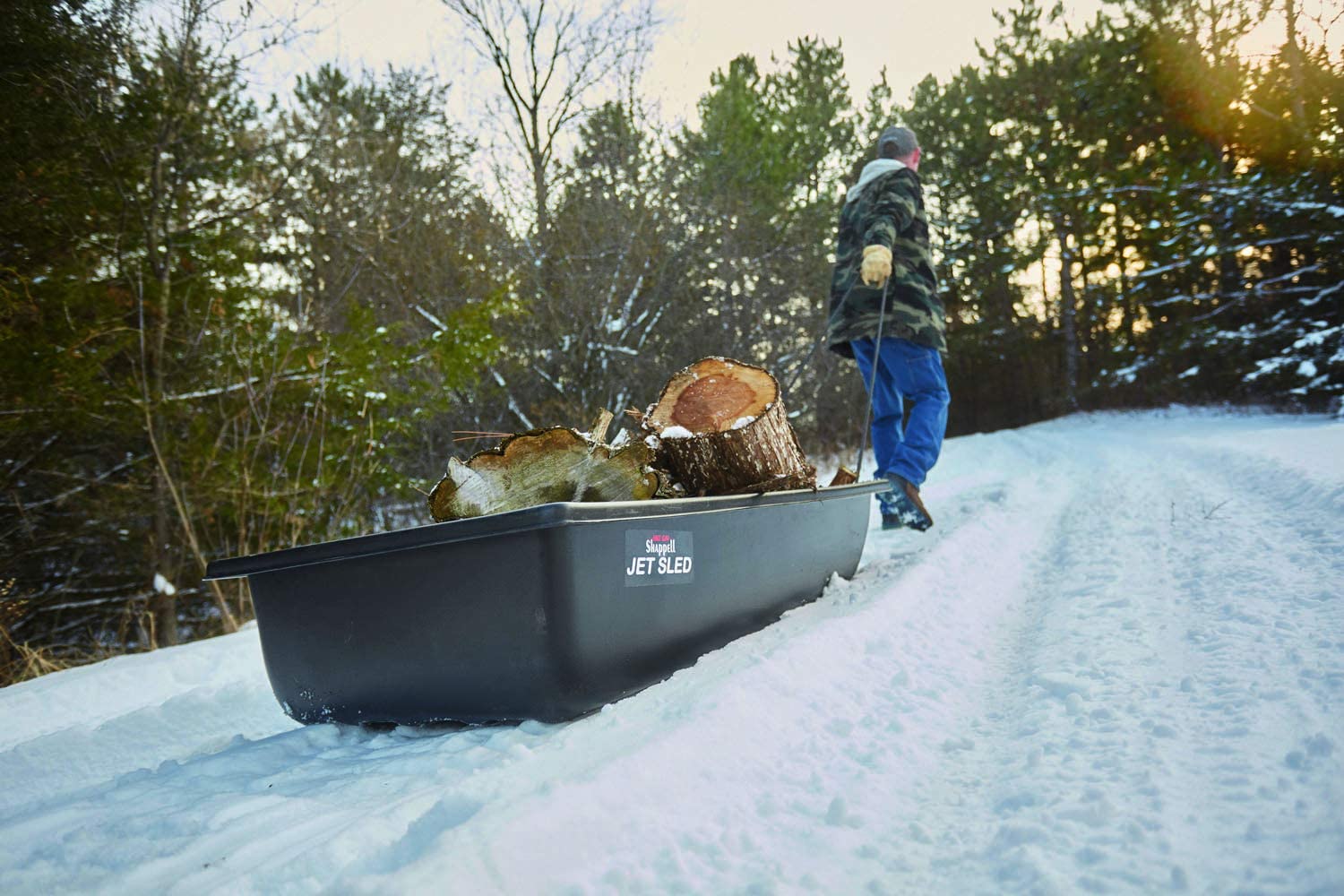 If you're not taking an ice-fishing RV out onto the lake's surface, we recommend acquiring an ice-fishing sled, which makes it easy to drag out all of your ice-fishing accoutrements.
Ice Fishing Camping
Phew! We've covered a lot of ground. Let's close up with maybe the most important part of this entire post: finding the perfect ice fishing camper.
If reeling in dinner from the comfort of your own private ice house on wheels sounds almost too good to be true, well — it's not. And you don't even have to go all in and buy an ice fishing RV of your own to get started!
Although it's difficult to find specialized RVs available for rent from big-box franchises, the peer-to-peer market truly carries every kind of RV you can think of, including ice fishing campers. While you might be less likely to find one of these rigs in, say, Florida, if you go to the RVshare website and search for a rig in an area where ice fishing is popular — say the Upper Peninsula of Michigan — you may very well be able to find ice fishing RVs, especially during the winter. (To improve your chances, head to the "More Filters" menu option and type "ice" into the keyword search.)
Ice fishing campers like this one, in Detroit Lakes, Minnesota, offer room to sleep up to four adults, or even more people if you're traveling with kids. This model features that rugged, cabin-like interior we were talking about, and the renter offers to include extras like games and kitchen supplies at a slightly increased cost.
Along with allowing you to take a one-of-a-kind adventure, renting an ice fishing RV also helps you to ensure it's a hobby you're really serious about before you invest in a rig of your own.
Keep in mind, too, that regular RVshare rentals are available year-round, around the country — and you could easily stay in one on the shore while hauling your gear out for a day of fishing on the laketop!
Good luck, anglers!
This post contains affiliate links. RVshare may receive a commission if you purchase using a product link.