How Tos & Tips
November 2nd, 2019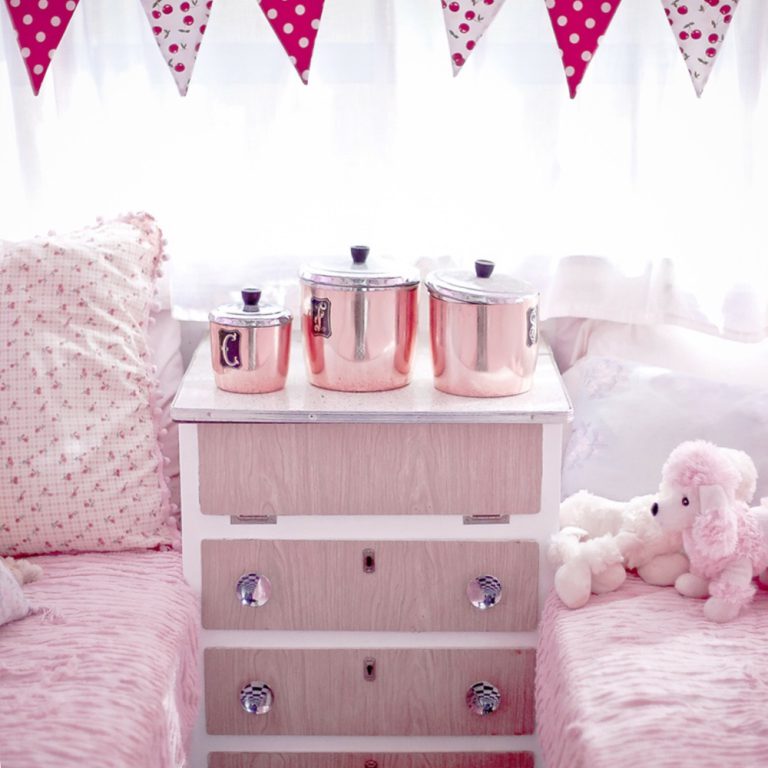 One of the most fun things about owning an RV is the ability to make is a cozy home-on-wheels. Of course, this involves a bit of redecorating in order to make the space feel like your own. This is good to do throughout the camper, but we recommend starting in the place that should be the most relaxing for you: the bedroom.
If you're looking for ways to upgrade your RV bedroom, you've come to the right place. Here we've compiled our favorite ideas so you can pick and choose the ones that best suit you. Not only that, but we've also made sure to stick to budget-friendly ideas, which means you can give your RV bedroom a whole new look without breaking the bank.
This is wonderful if you're working with one bedroom, and even better if you happen to have a two-bedroom RV.
Budget Bedroom Decoration: Window Dressings and Bedspread
Let's begin by discussing the two most noticeable aspects of your bedroom decor: the window dressings and the bedspread. Finding these things on the cheap is actually easier than you might think.
Here are our suggestions:
Invest in an inexpensive duvet from IKEA. By doing this, you'll be able to change the look of the room often by simply replacing the duvet cover. These covers are surprisingly affordable, making it budget-friendly to change things up regularly.
Alternatively, you could shop for a bedspread at a thrift store. There are almost always quilts and other bedspreads available in good condition for a fraction of the price you might pay for a new one.
When it comes to window dressings, we recommend going with curtains. In most RVs, a pillow case is plenty big enough to create cute little curtains for the bedroom windows. Can't sew? Hem tape should do the trick.
DIY Bedroom Wall Decor on a Budget
Next up on our list of bedroom upgrades is wall decor. Many people would head out and purchase some things to hang on the walls. However, we think it's much more fun, personal, and budget-friendly to go the DIY bedroom decor route.
DIY decor ideas for the bedroom don't have to be elaborate. In fact, they can be quite simple and still make a wonderful statement.
Below are some wall art projects that are easy to put together and make for wonderful cheap room decor:
Frame a map.
Create a collage using photos of your travels.
Paint wooden letters and spell out a message.
Other DIY Bedroom Ideas
Looking for more DIY projects for the bedroom? There are plenty more out there, and not all of them result in wall art. In fact, there are a good number of ideas out there for other kinds of decor, DIY bedroom storage, and even floor coverings you can make yourself.
Here are some that we love:
More Bedroom Design Options
Of course, there are plenty of other ways to upgrade your bedroom. If you're looking to do even more to your RV bedroom and don't mind spending a little bit more time or money, this is the section for you.
The following options may cost a bit more than the simple DIY ideas above, but we think they are worthwhile and still inexpensive enough to be considered budget-friendly ideas:
Make your RV mattress much more comfortable but still keep it cheap by investing in a mattress topper rather than an entire mattress. We recommend this topper.
Have a bedroom without a door? Use a couple of decorative shower curtains and a tension rod to separate the bedroom space from the rest of the rig.
Cute strings of lights such as these can add fun character to your bedroom while also giving an additional light source. Put them up over the bed to create a magical space to snuggle up each night.
Add some color by painting the walls in your bedroom. This is a bigger project for sure, but many find that it really helps them feel at home—and, if you purchase paint on sale, it doesn't have to cost too much.
With so many great ideas to choose from, there are bound to be a couple of options here that work for you. Pick the ones you like best and roll with them. We're guessing your RV bedroom will be a lovely haven by the time you've finished with it.