How Tos & Tips
May 12th, 2019
Whether you're looking to replace your camper appliances with something better or you need to replace something due to an issue, finding the perfect thing is rarely easy. These appliances are far from cheap, and you want to make sure you get it right the first time—but how do you know what's best for you? Where do you find the information you need to even figure that out?
If these are things that have been on your mind, this is the article for you. Here, we will discuss the ins and outs of choosing RV appliances, as well as some of our favorites.
Choosing an RV Refrigerator
Let's begin by discussing RV refrigerators. Unfortunately, needing to replace an RV fridge is not uncommon at all. In fact, if you keep your RV long enough, you're bound to need a replacement eventually and it'll likely be the first of the RV kitchen appliances you need to replace. Here's what you need to know when shopping for your new one.
There are two types of RV refrigerators:
There are standard three-way fridges, which give you the option of running the fridge on gas or electric.
There are also all-electric fridges, which are basically smaller versions of what you'd find in a house.
The three-way refrigerators are the better option for boondockers who don't always have access to electricity. That said, they are pricey and don't work quite as well as their all-electric counterparts.
Meanwhile, the electric fridges out there are much more affordable, work really well, and give the user more interior space to work with. The only downfall is that they require electricity to work, meaning they are no good for those who enjoy off-grid camping.
Our favorite three-way refrigerators are Norcold units such as this one. However, if you decide to go all-electric, you'll want to check out something like this Avanti unit. Just be sure to measure carefully so your new unit will fit where the old one was.
RV Stove or Oven Replacement Options
If your RV oven or stove quits working, you have two options: replace it with a new RV-specific unit or find alternative cooking solutions. What you choose will likely depend on your budget and camping style.
While the gas stoves and ovens that typically come in RVs are nice for boondocking, not everyone loves them. If you feel you'd prefer an all-electric cooking experience, consider buying an induction burner and toaster oven, NuWave oven, or convection oven instead of replacing your old unit with something similar.
If you do decide to replace your gas cooking appliances, we recommend this Suburban range.
Picking a Stackable Washer and Dryer
Many of those who camp often—especially full-time RVers—wish to do laundry while in their tiny home-on-wheels. This is completely understandable, but it can require quite a bit of planning, as fitting a washer and dryer into an RV is not always an easy feat.
One of the best options for saving space is a stackable washer and dryer. That said, you won't want to go out and purchase just any stackable duo. Instead, you'll be looking for something that is the right size for your space, as well as a set that offers the right features.
For the most part, the features you'll be searching for are much the same as what you might look for in a washer and dryer for your home. However, because water, tank space, and electricity can be limited when camping, you may want to look for water- and energy-saving options.
Our favorite RV washer and dryer is the Splendide Stackable Washer and Dryer.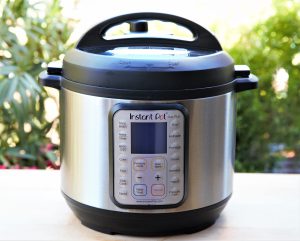 The Best Appliances for Your RV
Wondering what other appliances we recommend for RVers? Below is a list of what we consider the best of the best. From large home appliances to RV small appliances, this list should help you find exactly what you need for your trailer or motorhome:
By now, you should have a pretty good idea of what you need. Why not order it today? After all, your new appliance is sure to make your rig much more comfortable, meaning you can camp more often and have an even better time!