How Tos & Tips
Last updated on April 22nd, 2023. Originally published on May 12th, 2019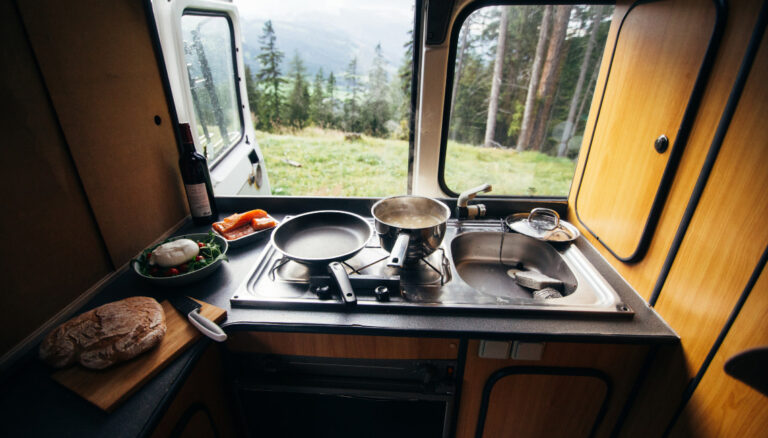 Whether you're looking to replace your camper appliances with something better or you need to replace something due to an issue, finding the perfect thing is rarely easy. These appliances are far from cheap, and you want to make sure you get it right the first time—but how do you know what's best for you? Where do you find the information you need to even figure that out?
If these are things that have been on your mind, this is the article for you. Here, we will discuss the ins and outs of choosing RV appliances, as well as some of our favorites.
Questions To Consider Before Purchasing RV Appliances and Accessories
You can read lots of advice on the best RV appliances to purchase, but all of it may not necessarily apply to you. Think about how you're mostly going to be using your RV before considering what to purchase. Some things to ask yourself:
Who will I be traveling with? A family of four (or more!) is going to need very different things than an adventurous single person or a couple.
How long will I be traveling in my RV? If you're living full-time, or for an entire season, in your RV, you may want things like a dishwasher or washing machine while weekend travelers may not need those.
What are my habits? If you're out hiking or kayaking or sightseeing all day, you may want kitchen appliances for RV like a slow cooker or Instant Pot. If you enjoy relaxing closer to home and enjoy cooking and entertaining, you may not.
How much space do I have? Another consideration when you're looking at an RV appliance is where you will put it. Kitchen appliances and washing machines may be convenient, but you don't want to feel cramped in an already small living space.
Choosing an RV Refrigerator
Many people like to upgrade from the fridge that comes with their RV. Depending on the size of your vehicle, you may even want to investigate a full-size residential unit, but you'll have to be sure your rig has space for the additional battery power. Aside from knowing how much space you have available, you'll certainly want to read reviews of RV refrigerators before purchasing one. This is another time when you'll want to consider your own RV use – if you're just using it on weekends, you'll need a much smaller fridge than if you live in it full-time.
Unfortunately, needing to replace an RV fridge is not uncommon at all. In fact, if you keep your RV long enough, you're bound to need a replacement eventually and it'll likely be the first of the RV kitchen appliances you need to replace. Here's what you need to know when shopping for your new one.
There are two types of RV refrigerators:
There are standard three-way fridges, which give you the option of running the fridge on gas or electric.
There are also all-electric fridges, which are basically smaller versions of what you'd find in a house.
The three-way refrigerators are the better option for boondockers who don't always have access to electricity. That said, they are pricey and don't work quite as well as their all-electric counterparts.
Meanwhile, the electric fridges out there are much more affordable, work really well, and give the user more interior space to work with. The only downfall is that they require electricity to work, meaning they are no good for those who enjoy off-grid camping.
Our favorite three-way refrigerators are Norcold units such as these. However, if you decide to go all-electric, you'll want to check out something like this Dometic unit. Just be sure to measure carefully so your new unit will fit where the old one was.
Choosing an RV Dishwasher
They may not be traditional appliances for RVs, but a dishwasher can be a wonderful addition if you find yourself doing a lot of cooking and cleaning up afterward. Having a clear understanding of when and how often you will use a dishwasher will help you choose the right one. Think about how much water a dishwasher will use, whether you have the gray tank capacity for the water waste, and whether you have the cabinet or counter space for one. RV dishwashers fall into three categories — countertop, compact, and the popular RV dishwasher drawer.
Countertop dishwashers are portable and super easy to use, but you will lose precious counter space. A compact RV dishwasher is small and operates like a residential dishwasher, but it uses quite a bit of water. An RV dishwasher drawer is the most popular option, as it uses very little water, can hold multiple place settings, and most are ultra-quiet!
Choosing an RV Stove or Oven
If your RV oven or stove quits working, you have two options: replace it with a new RV-specific unit or find alternative cooking solutions. What you choose will likely depend on your budget and camping style.
While the gas stoves and ovens that typically come in RVs are nice for boondocking, not everyone loves them. If you feel you'd prefer an all-electric cooking experience, consider buying an induction burner and toaster oven, NuWave oven, or convection oven instead of replacing your old unit with something similar.
If you do decide to replace your gas cooking appliances, we recommend this RecPro Range.
Choosing a Washer and Dryer
A washer and dryer is an excellent idea if you spend a lot of time in your RV—especially for full-time RVers— and don't want to hoard your quarters for laundromats and campground laundry rooms! Wanting a washer and dryer is completely understandable, but it can require quite a bit of planning, as fitting a washer and dryer into an RV is not always an easy feat.
For space considerations, many RVers prefer an all-in-one unit that washes and dries like this one.
One of the best options for saving space is a stackable washer and dryer. That said, you won't want to go out and purchase just any stackable duo. Instead, you'll be looking for something that is the right size for your space, as well as a set that offers the right features.
For the most part, the features you'll be searching for are much the same as what you might look for in a washer and dryer for your home. However, because water, tank space, and electricity can be limited when camping, you may want to look for water- and energy-saving options.
Our favorite RV washer and dryer is the Splendide Stackable Washer and Dryer.
Other RV Appliances to Consider
An Instant Pot – since this appliance works as both a pressure and a slow cooker, it saves space. It's also a great idea for busy people who want to spend all day out and about, then come back to a meal that was either cooking all day, or that can be made in just minutes.
A mini-blender/food processor – another space-saving appliance that can take the place of several utensils
A tankless water heater – while these have long been used in European campers, they're now gaining popularity here in the U.S. as well. Talk to a professional before purchasing one, and consider whether your RV runs on propane (most tankless heaters do), whether it comes with a shut-off valve, and how complicated it might be to install.
A dehumidifier – condensation in your RV is always a concern, and a dehumidifier is a good purchase to keep everything else running well. Here are three important questions to ask before buying a dehumidifier: How many liters does it remove in 24 hours? Does it have an automatic fill shut off? Is it quiet?
A combination microwave/convection oven – another great space-saver! Convection ovens use circulated air to increase the speed of cooking and baking your food.
A vacuum – you can get a central vac that stays installed in your RV (this is considered a value-adding option), though they're notoriously low on suction. You could also purchase a portable vac of your own to keep in your rig. Either way, you'll likely want something to help you keep your living space clean and free from dirt and dust. Our favorite RV vacuum is the BISSELL, 3061 Featherweight Cordless Stick Vacuum which breaks down for compact storage and comes with a built-in, removable hand vac for small cleanups. Some features to consider before you buy include suction power, maneuverability, size, power source, HEPA filtration, and motorized VS. air-powered brush.
How Can I Save On RV Appliances?
That's a pretty long list of appliances above, and some of them don't come cheap. There are a few things you can do to try and save, however. Look for used RV appliances for sale. Used RV appliances should, of course, run cheaper than their newer counterparts. You can look for RV appliances for sale on places like Craigslist or Facebook Marketplace, or on various RV forums. Also, if you have an appliance, rather than replacing it, see if you can purchase RV appliance parts to repair it. Finally, look for sales on Amazon and elsewhere to see if you can bring the cost down.
The Best Appliances for Your RV
Wondering what other appliances we recommend for RVers? Below is a list of what we consider the best of the best! From large home appliances to RV small appliances, this list should help you find exactly what you need for your trailer or motorhome:
Final Thoughts
The secret to picking great RV appliances is research and careful installation. Remember that every dollar you spend, needs to be accounted for. Choose items that give the most bang for your buck!
And while some of these RV appliances aren't essentials, they all work to make life on the road a little easier. You can use this list as a guideline, and upgrade your appliances as you have the time and money to do so. If something is important to you in a sticks-and-bricks house, you can assume it will be important to you in your RV. But also keep in mind, space in a camper, trailer or motorhome is limited. Consider your top priorities first and then make small cutbacks according to your personal taste.
If you don't mind washing dishes, forget the dishwasher. If you like simple coffee, use an Aero Press (and save space). Using a laundromat will allow you to get all your laundry done at once. So, do you really need a washer? Pick and choose the special RV appliances that are key to your personal lifestyle. Remember, you can always add something later, if you really want it.
Happy Camping!
This post contains affiliate links. RVshare may receive compensation if you make a purchase after clicking on a product link.