How Tos & Tips
July 10th, 2019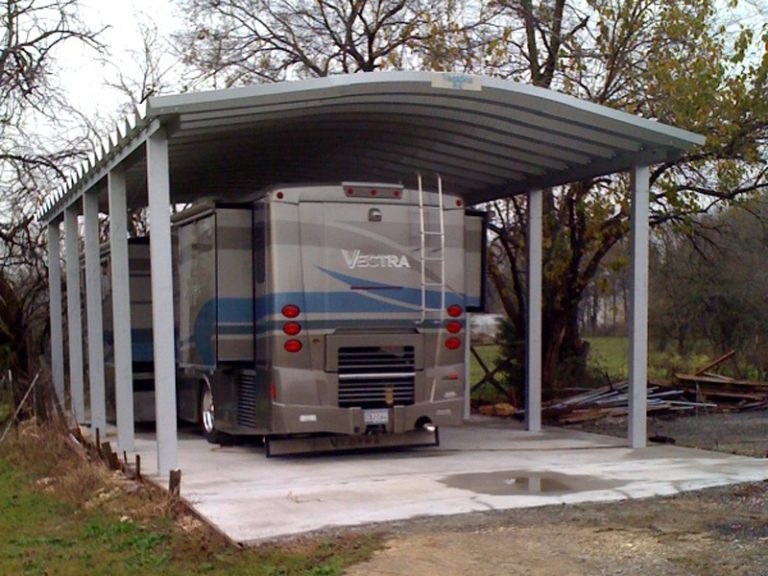 Having an RV gives you the ability to escape on a budget, and at the drop of a hat. This is a huge part of the appeal of owning an RV, and is certainly a valid reason to make such an investment.
However, even though most of us like to escape for awesome adventures as often as we can, this is not always possible. This results in the RV sitting in storage, often for weeks at a time.
Aside from the fact that they may leave RV owners longing for a getaway, these long stretches in storage aren't much of a problem. That said, there are some things you'll want to do before letting your rig sit in storage in order to ensure it's as well kept as possible. One of these things is covering your camper.
The Importance of Camper Covers
Why on earth would you need to cover your RV? After all, aren't motorhomes and trailers made to survive the elements?
Well, to be honest, the answer to that second question is yes and no. Sure, your RV can handle most normal weather conditions. In fact, it'll make it through even the strongest of storms. However, sitting in the sun too much will definitely do some damage over time, as will heavy rain, hail, and high winds.
Since you won't necessarily be around to see and fix this damage, there's a chance the issues will worsen during the RV's time in storage, meaning you could return to a rig with holes in the roof and/or skylights, water damage, and fading from the sun.
Trailer and motorhome covers are the very best defense against these things. Fortunately, covers are relatively affordable and easy to use.
All About Fabric Motorhome and Travel Trailer Covers
The most common and most cost effective option in terms of RV covers is the fabric cover. These come in a variety of shapes and sizes, so you will want to make sure you get one to fit your RV. The cover then fits snugly over your trailer or motorhome and is held in place with fasteners. The fabric used for thee covers is quite durable, waterproof, and sun resistant, meaning such a cover will do its job well.
The Best Fabric Cover Options
Wondering what the best RV covers are in the fabric cover category? This is dependent on your rig, as not all covers come in all sizes. That said, there are a few covers that do stand out from the crowd.
For instance, Adco RV covers are top of the line. We also really love the Classic Accessories covers. Both brands have a wide variety of sizes, meaning you can find something to suit your needs, whether you're looking for a pop-up camper cover or a cover for a large class A RV.
The Option of Metal RV Covers
There's also the option of a metal RV cover. These covers are actual structures that look much like carports. In fact, the only real difference between a metal RV cover and a carport is the height, as obviously a structure meant to go over an RV needs to be much taller than one meant to cover a car.
Metal RV covers offer even more protection than their fabric cover counterparts. They will help ensure rain and hail don't damage the RV as it sits. These structures can even be nice to park under while the RV is in use, as they will keep the sun off of the top of the RV, making it easier to cool in the summer.
The SteelMaster metal covers are an awesome option that everyone seems to love.
When to Use RV Tire Covers
In addition to the walls and roof of your RV, you'll also want to make sure to protect the tires. Tires that see too much sunlight will deteriorate quickly, making them unsafe for use. This is where RV wheel covers come into play.
Motorhome or trailer tire covers should be used anytime your RV will be stationary for more than a week or so. This includes trailers sitting under metal covers, those covered by a fabric cover, and even those in use. Covering the tires is especially important if you'll be parked in a hot sunny location, but it never really hurts to put those covers on, no matter the weather.
Tips for Using Your RV Cover
Once you know which kind of cover you'd like to invest in, you will want to follow these tips to ensure you're using it correctly.
Buy the right size – When it comes to fabric covers, size and shape are incredibly important. Check and could check to make sure you get the right size and will have a perfect fit.
Follow instructions – Make sure you follow the manufacturer's instructions carefully. This goes for both metal and fabric covers. Following the instructions could make all the difference in how well your cover works.
Take additional storage steps – Simply putting your RV under a cover during storage isn't enough. You will also want to take additional steps to make sure your RV is safe. This includes removing all food to prevent pests, locking all windows and doors, checking all seals, and winterizing the water system if necessary.
As you can tell, using covers to protect your RV is a very smart choice. Hopefully this article helps you develop a better understanding of the types of covers and what they might be used for so you can make a smart choice.
No matter which type of cover you choose, we recommend investing in one right away so you can leave your RV in storage with peace of mind, knowing you will return to an undamaged rig that's ready to camp!