Travel Inspiration
July 15th, 2019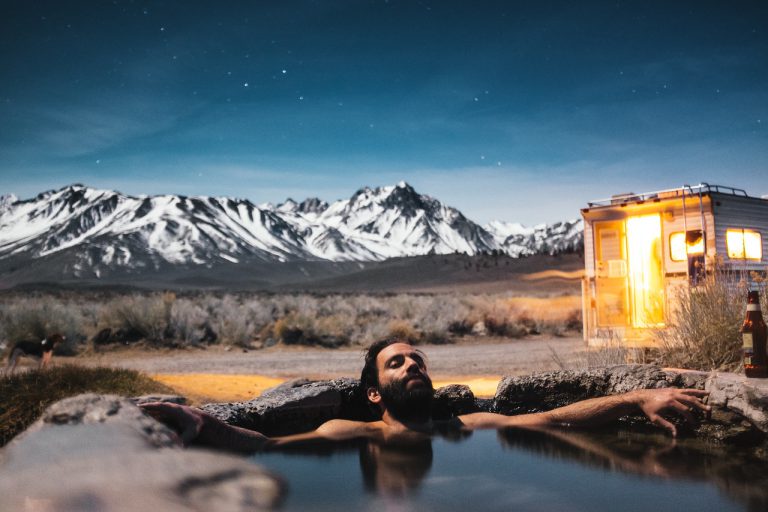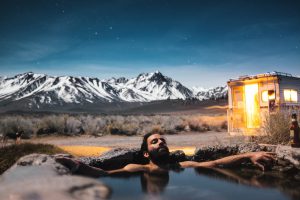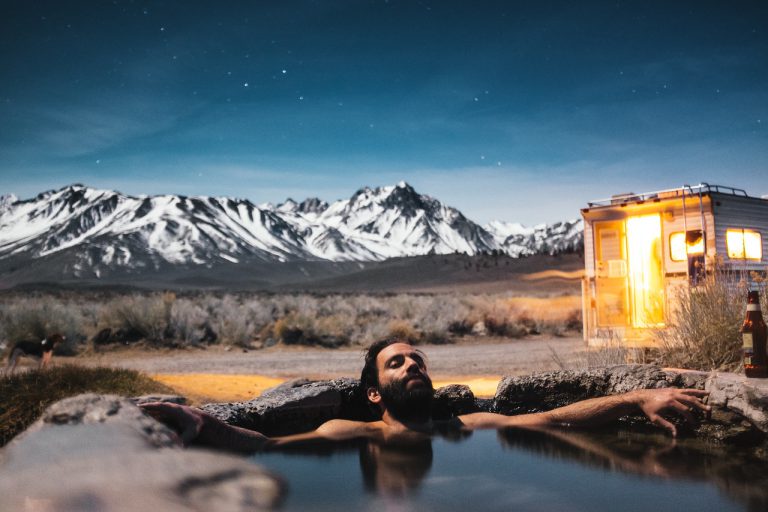 Fancy a soak?
There's nothing like the soothing feeling of warm water to put you at ease after a long day of hiking and adventuring… or even just driving. And as much fun as it can be to kick back in the campground hot tub, if you really want to take it to the next level, we suggest heading to some hot springs.
Of course, just like RV campgrounds, hot springs come in a wide variety of types and styles, and your experience can vary wildly depending on which ones you go to. For instance, there are super-fancy, developed springs with attached resort spas, and there are also hot springs that require you to wander more than a mile into the wilderness. Which kind is best? It all depends on you and your personal preferences. But either way, you're bound to find an epic adventure if you head to one of the hot springs on this list.
Hot Springs Near Me
No matter what corner of the country you call home, chances are there's a beautiful, relaxing hot spring not too far away — although of course, they do tend to be clustered in certain specific areas, often due to geographical formation or volcanic activity.
But even if it requires a bit of a drive, these hot springs are well worth your efforts. Here are a few of our favorites.
1. Riverbend Hot Springs – Truth or Consequences, New Mexico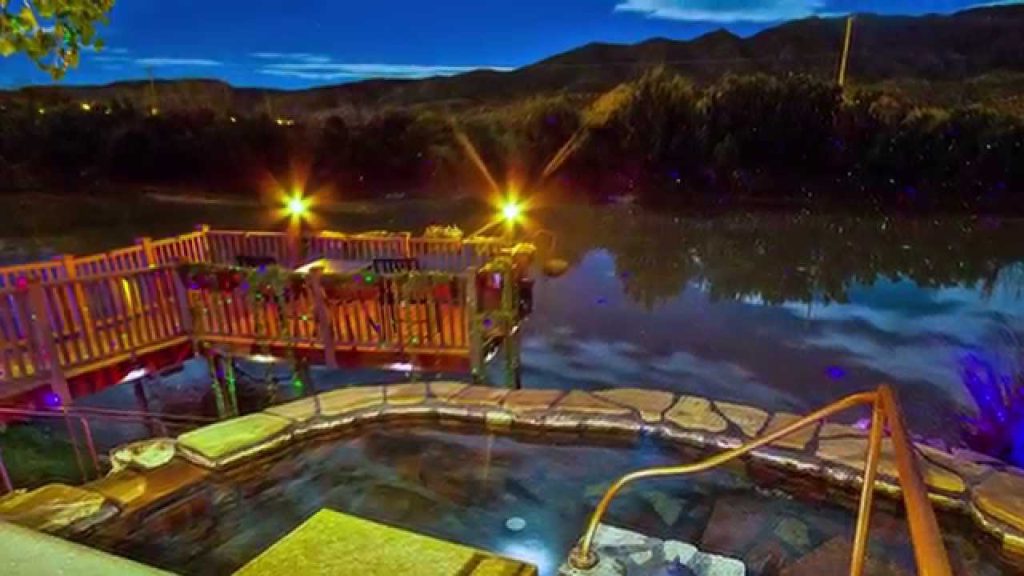 As awesome as Colorado, Wyoming, or Idaho may be — and as chock-full of hot springs as they are — you might be surprised what you'll find a little bit further south at the tail end of the Rockies. Just a couple of hours south of Albuquerque, the town of Truth or Consequences (yes, that's the real name, and yes, it's kind of a long story) is well-known for its spas. In fact, the town's original name was Hot Springs, New Mexico.
There are plenty of places to soak if you make your way to T or C, as the locals call it, but our suggestion is a trip to Riverbend Hot Springs, which offers a variety of carefully-curated, private riverside pools sure to ease even the weariest body and soul. There are also on-site lodgings and a gift shop if you want to make it into a weekend-long experience.
Click here to see RVshare rentals near Truth or Consequences, New Mexico.
2. Manby Hot Springs, Taos, New Mexico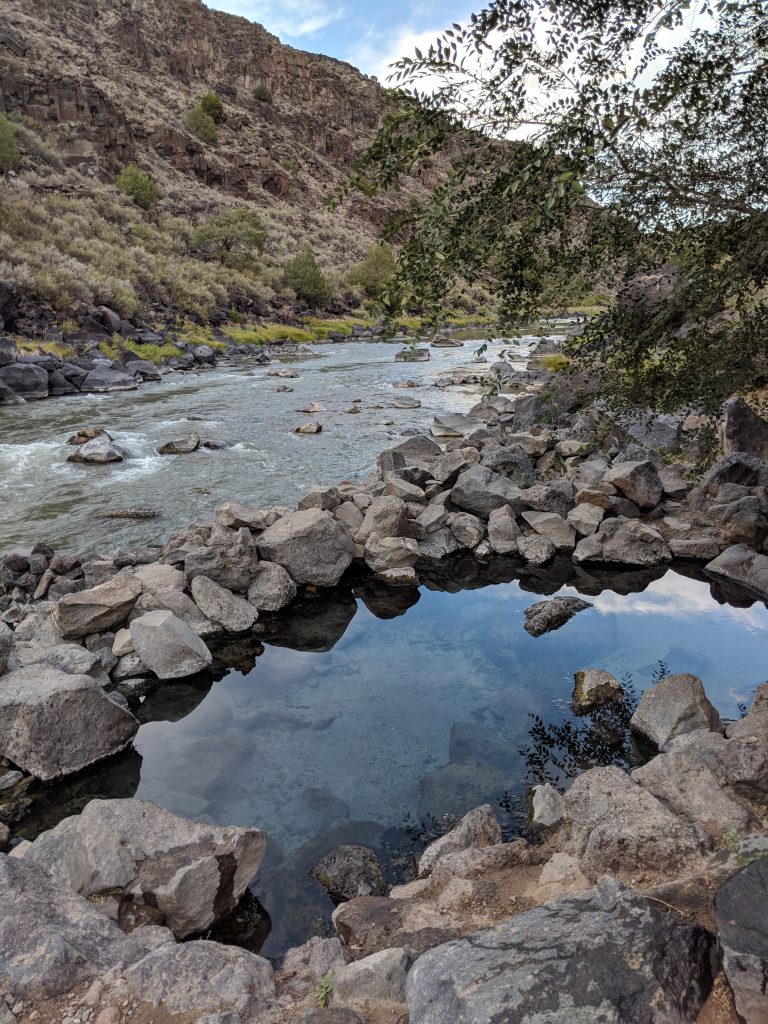 That's right, we're kicking off this post with two New Mexico hot springs right off the bat. But hear us out, because we have good reason.
As luxurious and decadent as the Truth or Consequences springs are, Manby offers New Mexico visitors a whole different kind of experience. They're tucked immediately alongside the Rio Grande, and there's no entry fee or developed spa to walk through to get to them. Instead, you'll take a short hike down into the canyon and enjoy a totally serene, peaceful, all-natural view… and when we say all natural, we do mean it. The hot springs near Taos are well-known for their "clothing optional" dress code. Enjoy!
Click here to see RVshare rentals near Taos, New Mexico.
3. Hot Springs State Park – Thermopolis, Wyoming
The name of this city says it all. Thermopolis, Wyoming is literally on the map because of its hot springs — and it's also home to the biggest pool of hot mineral water in the world. Don't miss it!
There are the springs themselves to explore, of course, but the park is also home to one of the state's largest herd of bison. Either way, you don't want to skip a stop at Hot Springs State Park.
Click here to see RVshare rentals near Thermopolis, Wyoming.
4. Frenchman's Bend Hot Springs – Ketchum, Idaho
Idaho's Sun Valley is already the definition of a hot destination — and that goes double when you take the 10-mile detour to add these natural hot springs to your itinerary. Scenic and accessible in both summer and winter weather, Frenchman's Bend is a local favorite whose waters are a piping hot 110 degrees Fahrenheit. Look for the designated parking area, and for best results, go early… this is a popular stop for good reason!
Click here to see RVshare rentals near Ketchum, Idaho.
Hot Springs Near National Parks
Planning a national park trip? Adding some hot springs into the mix can only make it better. Here are a few in and around some of the most famous national parks in the register.
5. Yellowstone Hot Springs – Gardinier, Montana
Located just ten minutes north of Yellowstone National Park, if you want to experience this area's thermic effects first-hand, these developed hot springs are the perfect place to do so. Offering more than 4,000 square feet of mineral hot spring pools to relax and soak in, Yellowstone Hot Springs is the perfect place to kick back and let go of all that tension you worked up hiking or biking those strenuous trails in the national park. (An important caveat: you should never wander into the technicolor hot springs you see inside the park itself, except in the case of specifically-designated swimming areas. These thermal pools can be scaldingly hot and sulphuric, and soaking in them can cause serious injury, or even death!)
Click here to see RVshare rentals near Gardinier, Montana.
6. Glenwood Hot Springs Pool – Glenwood Springs, Colorado
Enjoying the Colorado Rocky Mountain high? The best way to round out the experience, by far, is to kick back and enjoy a soak in the soothing hot waters that also characterize this part of the country — and Glenwood Hot Springs is one of the most famous places to do so for a reason. This developed pool is accompanied by a resort lodge and spa, with amenities and conveniences including fitness center facilities and even athletic classes. All told, this inclusive resort gives you everything you need to enjoy a one-of-a-kind Colorado vacation, whether you're planning to spend time in the national park or not.
Click here to see RVshare rentals near Glenwood Springs, Colorado.
Hot Springs in Arkansas
East coasters may think that all the best hot springs are far, far west of the Mississippi. But not so! Arkansas is actually home to some very famous warm waters… including a whole national park devoted to the southeast's most relaxing soak.
7. Hot Springs National Park – Hot Springs, Arkansas
Alright, it may be west of the Mississippi, but if you're an east coaster, it's a whole lot closer than Colorado! Plus, it's the only hot spring on this list that actually has an entire national park designated for it. How can you do better than that?
Hot Springs National Park is comprised of a historic bathhouse as well as surrounding natural areas, so there are plenty of things to see and do both indoors and outdoors when you visit. You'll be able to take a soak, of course, but also learn about the historical importance of the building when you take a guided tour. And if you want to work up some lactic acid before you kick back and relax, there are hiking trails through the Arkansas forest that'll get you sweaty and sore!
Like the other NPS-managed federal recreation sites in America, Hot Springs National park offers a fun and informative Junior Ranger program to help get younger visitors interested in and excited about the natural landscapes surrounding them. We have a responsibility to make our children good stewards of the earth so we all can continue to enjoy it for many, many years to come — so click here to learn more about the Junior Ranger program!
Click here to see RVshare rentals near Hot Springs, Arkansas.
No matter which of these hot springs makes your itinerary this year — or even if you find yourself heading somewhere else entirely — traveling by RV is the very best way to combine the freedom and flexibility of the road with the privacy and comfort of having your very own place to stay. And when you rent through the peer-to-peer market at RVshare, you'll be able to choose from a wider variety of well-maintained vacation vehicles, all offered directly by network of our trusted local owners. Each rental is backed by A-rated insurance coverage and you can also opt into 24/7 roadside assistance, so you won't have a single thing to worry about while you're on the road.
That peace of mind is sure to make that luxurious soak all the more wonderful. Enjoy, campers!
This post may contain affiliate links.