RV Owners
February 1st, 2021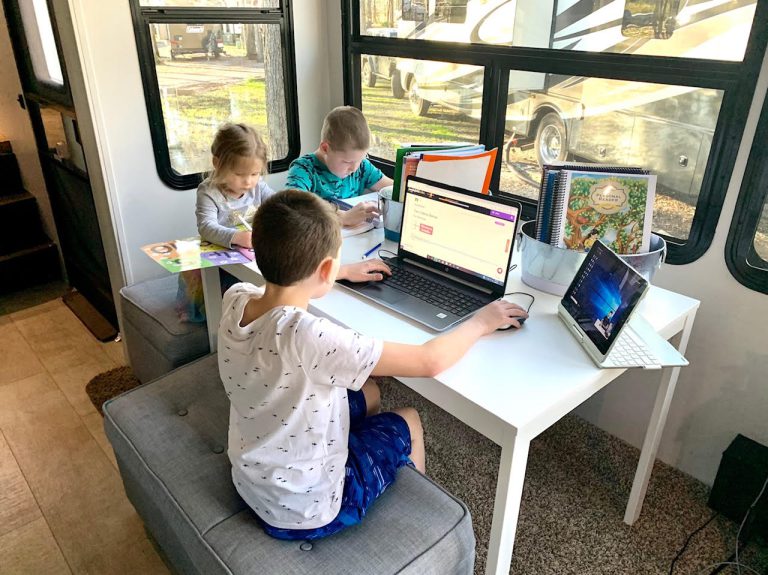 Last year, our family of six hit the road for the adventure of a lifetime. We sold our home and the majority of our belongings to travel the country full-time in our RV. Aside from the obvious major difference (hello, tiny living), embarking on this adventure brought a big change for our family – a switch to homeschooling. We have two school-aged children – Jakob, in fifth grade, and Jaxon, in third grade – who would both need to continue their education while traveling. Having never homeschooled before, we took to the internet to research everything we needed to know. Now three months into our journey, we are sharing our top four tips for successful homeschooling from the road, or what is better known as roadschooling.

Know Your State's Homeschooling Laws
Whether you choose to maintain your existing state of residency or transfer residency elsewhere, there are laws that you must follow when homeschooling. These laws focus on curriculum, attendance, testing, and reviews. Most states require you to submit a notice of intent to switch to homeschool and provide guidance on which subjects must be covered in your home instruction, requirements which you can easily comply with from the road. However, some rules impose significant challenges if you are traveling full time. For example, many states require that you maintain a portfolio of your child's work to be reviewed on a set schedule with school board representatives. You need to find out if you can complete these reviews virtually or electronically. Similarly, many states require students to participate in standardized testing. You need to coordinate your travel schedule with testing schedules, explore the possibilities of virtual testing, or inquire about a waiver of requirements.
Researching your state's homeschooling laws should be one of the first tasks you complete so that you know exactly what you need to do to ensure compliance. Your state's board of education website will provide complete information, but here is a handy chart to get you started. In our experience, school board representatives are open to the immense learning opportunities that traveling provides. Call your local homeschooling coordinator and discuss what options you have.
Don't Lose Sleep Over Which Curriculum to Use
We spent countless hours researching curriculum and can guarantee that you will, too. There are endless options available to you; so many that it can quickly become overwhelming. As you explore the possibilities, remember that there is no right or wrong decision. You have to find what works best for your children. Each type of curriculum has their pros and cons with no single curriculum being better than the other. The best part of choosing a curriculum is that you can change it at any time until you find the perfect fit.
Most curriculum falls into one of three categories: textbook based, internet based (self-paced or instructor-led), or a hybrid. For a traveling family, internet-based programs are beneficial because there is no added weight from textbooks, notebooks, and the like, but with stable internet connections being problematic in many areas of the country, textbook based programs are often a safer option.
Here are a few curriculums that we love for roadschooling and why:
Traveling families also have the opportunity to explore the notion of unschooling – allowing your travels and your children's' interests to guide their learning instead of a structured curriculum. For example, while on a hike in North Carolina, we stumbled upon a small cemetery with an interesting history lesson on Yellow Fever. This opened up discussions about pandemics and ultimately led to research on how the human body responds to viruses and bacteria, making for a very in-depth science lesson. Similarly, a family trip to tour the USS Yorktown sparked an interest in World War II, which both boys are now independently studying for social studies. If you find that choosing a curriculum is overwhelming, unschooling may be the right choice for you.
Embrace Flexibility and Balance
When we started our travels, we had a very structured schedule every day. I would work for a few hours in the morning and then begin teaching immediately following breakfast with a goal of being finished in the early afternoon. Then, our younger kids would go down for naps while the boys played outside for a few hours until dinnertime. We quickly learned that having such a set schedule was impeding our overall goal: to see the country. Our adventures and explorations were being cut short just so that we could stick to an arbitrary, self-imposed schedule. We quickly put a halt to that, now letting our journey set the schedule.
How do we do this? To start, we research each area to decide what we want to see and where we want to explore. Then, I use a calendar to map out our activities for the duration of our stay in an area, creating a plan that balances curriculum-based learning with unschooling opportunities. I take care to consider drive times, meal times, and activity levels when determining how many hours we can realistically dedicate to homeschooling. If we are going on a three-hour hike, it takes two hours of roundtrip driving, and we need to eat a meal before and after, there is likely little to no time to sit and learn. Instead, I will find a learning opportunity on the hike or find an activity that can be completed on the car ride. Similarly, if we spend ten hours exploring a new city, the next day will likely be more relaxing; a perfect day for reading in the hammock or catching up on some math lessons.
Get Comfortable with Being Organized
Let's be honest – getting organized takes quite a bit of time and energy, but staying organized takes even more. Living in an RV, organization is essential. We have organized and reorganized our homeschooling supplies quite a few times since we hit the road and have finally found something that works for us. Our goals were to find a system that allowed the boys to be more independent with getting and putting away their school books and supplies, making it as easy as possible to pack and unpack for travel days, and having short-term supplies readily available while long-term supplies were tucked away.
Our solution was to convert one section of our toy hauler in to the homeschooling area. We purchased a set of storage cubbies from Ikea and use these to organize everything. On top of the cubbies we can find anything that we need on a regular basis. Each child has his own galvanized metal bucket holding textbooks – we found these to be decorative and strong enough to handle the weight of their books. Sterilite's mini three drawer organizers are the perfect size to hold basic school supplies – pencils, glue sticks, scissors, crayons, colored pencils, and so on. We also invested in lap desks from Amazon that are the perfect solution for working from an uneven surface outside or while lounging on the sofa. Tucked away in the cubbies are supplies that we need less often: art supplies, upcoming curriculum, and extra school supplies. 
Roadschooling is a unique experience that more and more families are embracing. If the opportunity presents itself and you find yourself asking if you should do it, trust me when I say that you should take the leap. Use these tips to get started and prepare yourself for a world of limitless learning!
This post may contain affiliate links.