How Tos & Tips
September 10th, 2020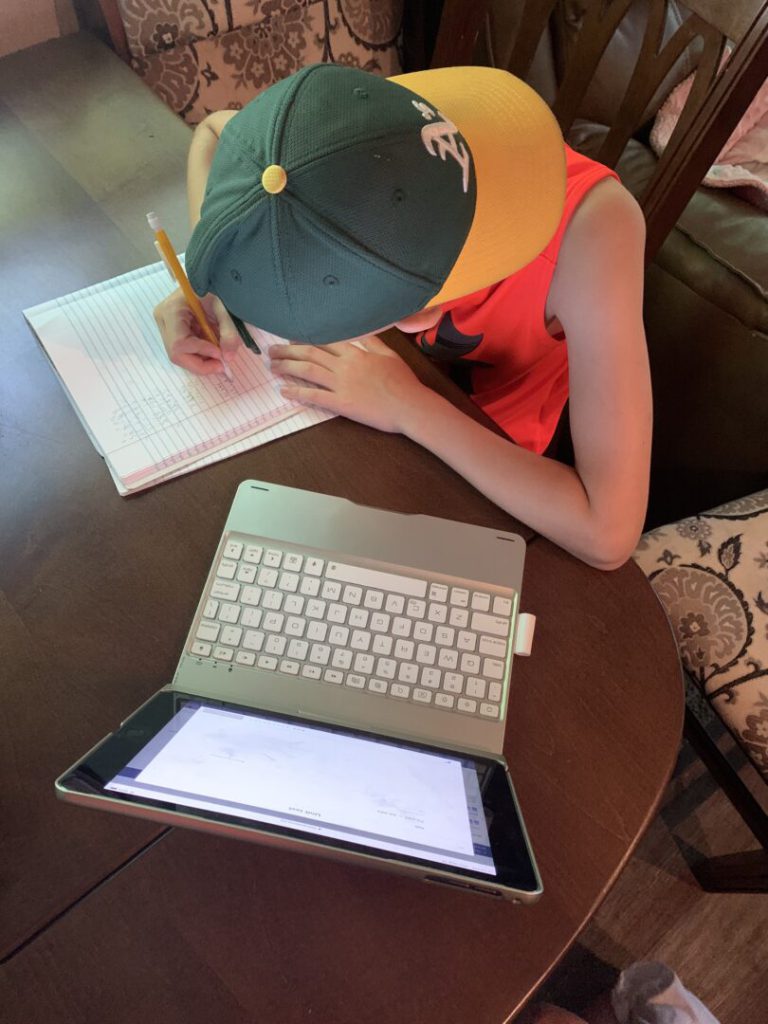 Kids and parents across the nation are getting settled into their new routines – whether that be heading back to school or turning dining room tables into classrooms.
Some families are deciding on a different option, though. And that is to take the leap into trying full-time RVing! While making a change this big has plenty of unknowns, it makes sense for many to choose to give the RV lifestyle a try with so many schools and employers offering remote work and education.
To get first-hand insight on what it takes to learn and work from the road full time, we chatted with Julie, who is just starting out full time RVing. She, her husband, and their four children, ages 6 months – 10 years, recently moved into a 2019 Grand Design Momentum 395M (a 42' fifth wheel). Read on for her tips on adjusting to homeschooling and their plans for life on the road!
How to Decide to RV Full Time
Four years ago, our family purchased our first RV. We quickly realized how much we loved the RV lifestyle. We enjoyed being outdoors and exploring different areas, but we also looked forward to the simplicity of life in the RV and spending more quality time together. Whenever our trips would come to an end and it would be time to pack up to come home, we were always so sad.
Consider work and schooling arrangements
Two years ago, I mentioned the possibility of going full time. My husband was nearing retirement eligibility and I could work from anywhere – why not just live in the RV? My husband initially thought it was unrealistic, but quickly warmed up to the idea. We spent a few months pondering how it would work before putting an 18-month plan in place to make it happen.
Think about your "why" – what do you hope to gain from this experience?
The obvious answer [for what I want my kids to experience] is adventure and exploration. I want them to experience first-hand what they are learning about – historical landmarks, animals, cultural celebrations, state capitals, ethnic foods, and so on.
Beyond that, my hope for them is to gain an appreciation for experience over possessions. I want to challenge and empower them to try new things, make new friends, and learn new skills. I want them to be consistently immersed in diversity of people, places, and cultures. I want them to see that there is a huge world beyond their home state. And, most importantly, I want us all to experience quality time as a family.
Tips for Adjusting to Road or Homeschooling
Release expectations, be flexible, and remember – learning opportunities are everywhere
Most importantly, remember to give yourself some grace!  Homeschooling is drastically different from a structured school environment, and does not, and should not, look the same. Not only will you spend many less hours schooling than you are used to, but there will be convenient learning opportunities at every turn. Don't overlook the educational value in the day-to-day: make a recipe to learn fractions, use grocery shopping to learn budgeting or how to count money, take a nature walk for a science lesson, watch a movie to learn about other cultures. Along those same lines, there are countless ways to incorporate free community resources – national and state parks, museums, and libraries to name a few. Have fun and don't stress!
Have test runs
One of the key things that we did was trial runs to see what worked for us. Over the summer, I set aside a few days a month and we would play school. It gave me a lot of insight into how to juggle schedules, each child's learning styles, how I needed to adjust my teaching style, what types of curriculum worked best, and what types of space and supplies we needed.
How to Set Up Homeschooling in an RV
Keep space and weight of RV top of mind
Homeschooling in an RV provides its own challenges that must also be considered. RVs have limits to both space and weight, so purchasing endless books, school supplies, and equipment is not practical. Similarly, we don't always have the best internet, so an online program can be problematic as well. If you are in an RV, be sure to ponder all of those factors before you begin shelling out money on homeschooling items. Another tip is to invest in supplies that are reusable – dry erase boards and markers, wipeable worksheets and workbooks, and magnetic manipulatives are some great examples.
Be flexible on where you set up to learn for the day
Because space is limited in RVs, having a dedicated homeschooling space is not always possible. Right now, we do not have a dedicated space and our boys move around each day. They usually find themselves at the kitchen table, but sometimes they cozy up on the sofa and oftentimes they head outside to the picnic table.
Get creative when you can have a dedicated space
While they enjoy the change of scenery, one of our upcoming projects will be to convert a space in the garage of our toy hauler for desks that we can use for both homeschooling and work. Because that will be a multi-purpose space, we will use desks that fold up for easy storage and stools that we can tuck away when not being used.
Organize, organize, organize!
Another key factor is organization. In order to keep clutter to a minimum, invest in storage cubes or drawers. Label them so that you can easily find what you need and so that the kids can help clean up at the end of each day. We have a magazine box for each child that holds their curriculum books and a storage cube that holds their supplies. We store those in the benches of our kitchen table so that the boys can access anything they need at any time.
Balancing Work and Homeschooling
Have a schedule and plan ahead! For anyone balancing homeschooling and work in a house, being in an RV really isn't that different. The one exception being the limited amount of quiet spaces to take conference and video calls. As a business owner, it is crucial that I have time to work every day. I have found that the key is carving out dedicated time for my business early in the morning before the kids wake up and late at night after they go to bed.
During the daytime hours when the kids are awake, my time is mostly dedicated to teaching and quality time with the kids. If I have to work during the day, I make sure to plan independent activities that they can complete without my involvement or have my husband run PE class while I finish my work.
Embrace the freedom of living on the road!
We really do not have a concrete plan [for where we plan to go] at this point; I think that's part of the fun of this adventure! Since we are leaving in the winter months, we know that we will head south first to avoid freezing temperatures as much as possible. Then we will make our way west. Ultimately, we hope to see as many of the national parks and landmarks as possible and use those to educate our children.
Our initial plan is to travel for one year and then reevaluate. If we like it and we have more to see, then we will keep going. If it isn't the life for us or we feel like we've seen enough, then we will settle down. Or maybe we will have a hybrid lifestyle where we balance RV life and a sticks-n-bricks home.
Thanks so much, Julie, for the awesome tips on RVing full-time as a family! For more tips on roadschooling, check out the posts below: