Travel Inspiration
Last updated on November 17th, 2022. Originally published on May 25th, 2017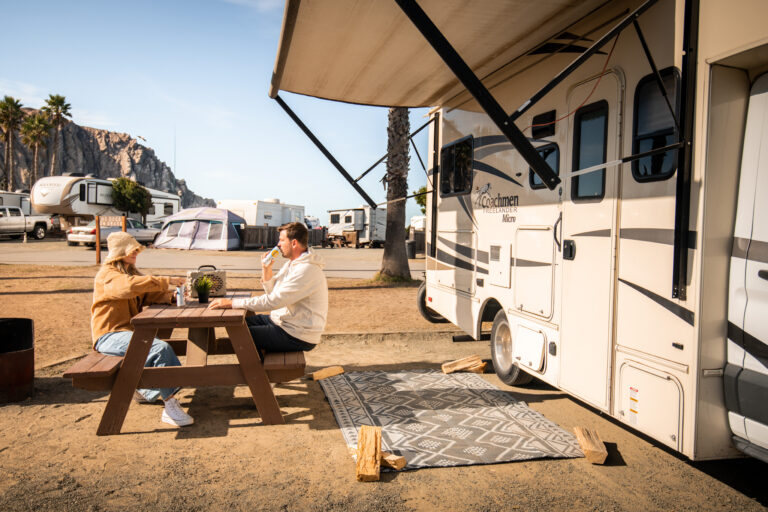 It's easy to understand why RVing makes for an incredible travel opportunity. You have all the freedom and flexibility of the open road with none of the inconveniences of a traditional road trip — namely, figuring out where to lay your head each night, making trice-hourly bathroom stops and spending outrageous amounts of cash on sub-par gas station food.
But some campers fall so deeply in love with the RVing lifestyle that they take it to a whole 'nother level. A level which involves ditching your stable, foundation-built house and committing to living life on wheels.
Yes, I'm talking about full time RV living. And if it doesn't sound so crazy to you, don't worry: You're in very good company. But there are some things you need to consider before you set out on your new footloose lifestyle.
Is Full Time RVing for Me?
First things first: Although it might sound completely idyllic, living in an RV year round is not without its challenges. And it's certainly not the right lifestyle for everyone.
For instance, if you're committed to your daily schedule, the unpredictability of RV travel might stress you out. Minor breakdowns, route changes, and the serendipitous opportunities you'll find you want to take advantage of mean even the best-laid itinerary should be considered a suggestion. So if you're a like-clockwork kind of person, you might want to stay in a house that matches your steadfast nature.
Furthermore, many families mistakenly think full-time RVing is a perfect way to live a frugal life without even trying. And while living in a camper full time certainly can be a budget-friendly option, this simply isn't always necessarily the case.
It's hard to come up with something like an "average" cost of full time RVing. There are simply too many different factors affecting the bottom line.
For example, you can choose between living full time in an all-inclusive, cushy RV park with a club house and a pool… or finding backcountry boondocking sites that cost just a few dollars a day or less. You can stock your fridge with cheap staples like peanut butter and pasta, or you can cook gourmet meals in your fancy, all-inclusive kitchen — or even throw more money into your food bill by going out multiple times a week. And don't forget about the internet! You might find yourself paying a hefty monthly bill to ensure connectivity if your livelihood depends on it… or maybe you can pocket the cash if you only ever use your laptop for Facebook. Not to mention the cost of your rig itself, which can vary by hundreds of thousands of dollars depending on whether you want a luxurious Class A motorhome or a modest trailer.
At the end of the day, whatever lifestyle you're accustomed to living is likely to be the one you replicate in your new, mobile lifestyle. So don't make the mistake of thinking it'll instantly make you a penny pincher.
Tips for Full Time RVing
Figuring out how to start traveling in an RV full time requires a lot of research and planning — and since you know your personal need preferences better than anyone, it's a project you simply have to complete on your own
However, we do have a few pieces of general advice for those genuinely interested in trying out the lifestyle.
First of all, as discussed above, your budget for full time RVing will depend largely on the kind of lifestyle you already live. Make sure to be honest with yourself, and plan for extras you'll want — like comfy RV campgrounds, which can carry hefty nightly fees, or entertainment costs for events and attractions. Although some RVers love just sitting in nature watching the grass grow, you might find yourself frustrated with your travels if you can't afford to do the things you're interested in at your destination.
Secondly, make sure you shop around before you settle on your new rig. After all, even a "cheap" RV is a major purchase, costing several thousand dollars. And since RVs are recreational vehicles, they depreciate, so you need to be prepared to lose whatever you spend on your rig.
In short, before you buy an RV, make sure you really, really like it! Spend as much time as you can on your walkthrough, and try to envision everyday activities like cooking and watching TV. Does the layout feel comfortable? How big are your holding tanks? Where can you set up a work station?
The best RV for full time living will, again, depend on your preferences and individual needs… but doing the footwork to ensure you don't buy a lemon — or a rig that simply isn't suited to your needs — is well worth the time and effort.
Pros and Cons of Full Time RVing
As wonderful and liberating as living in a house on wheels can be, there are some drawbacks to keep in mind while you're considering making the switch.
Namely, you won't have the predictability of knowing where you'll wake up on a day to day basis — and if you're currently working a traditional office job, that stability might be out the window, too. Most full-time RVers find jobs that allow them to work remotely or string together seasonal work at different locations in order to make a living on the road. That means you need to be prepared to follow the weather — and maybe some whimsy — rather than getting caught up in micromanaging your life. In other words, get comfortable being uncomfortable!
You might also be surprised at what little things you'll miss about living in a stable home. For example, that familiar feeling when you enter the grocery store and know exactly where to go to find your favorite bag of cookies or brand of yogurt? Yeah, kiss that convenience goodbye.
And get ready to constantly ask for recommendations. Where's the best pizza, veterinarian, mechanic? Knowing which businesses are reputable in an area takes time, and you're likely to be moving to new places quickly enough that you won't be able to establish that knowledge.
However, full timing does come with a host of wonderful benefits that are simply impossible to get with any other lifestyle. Think about it: Your house has wheels! If you decide you don't like your surroundings or can't stand your neighbors, you can simply pick up and drive off.
And although it's possible to spend lots of money on the road, RVing does lend itself, in some ways, to frugal living. For one thing, you don't need to worry about property taxes, and if you buy your rig free and clear, a mortgage is out, too. Plus, even if you do take out a loan, the monthly payments are quite likely to be much lower than they would be for a foundation-built house.
You also get the opportunity to meet new people of all different lifestyles and walks of life, and to build the enrichment of travel and novelty into your day to day experience. There really is nothing quite like it.
Full Time RV Travel
Whether you're planning to live full time in RV campgrounds or ready to head as far off grid as you can, a life of traveling in a camper is a unique opportunity to make adventure into a regular part of your day to day experience.

It's not perfect, and it's not for everyone. But for those who find themselves happiest when life offers at least a few surprises, it's one of the most rewarding ways to make a home.

[similar_ai_related]