Travel Inspiration
June 8th, 2020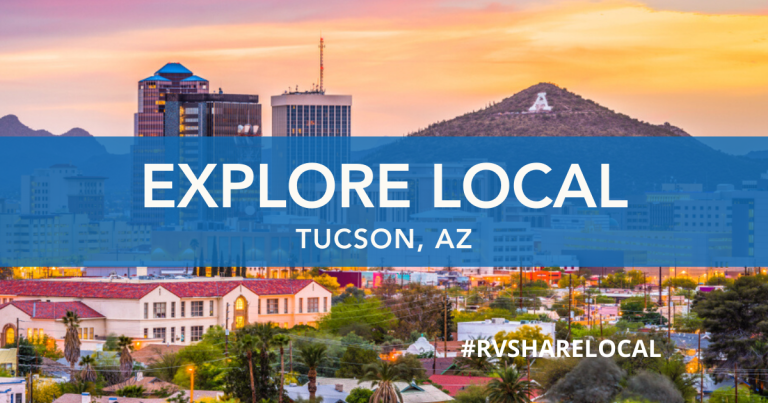 When it comes to Arizona, you might be thinking Phoenix, Flagstaff, or even Winslow… but Tucson is something of an unsung gem. This city, tucked close to the state's southern border, is the gateway to Saguaro National Park and home to a huge array of things to eat, see and do in its own right — which is why we've written this guide to help you explore Tucson, even if you've called it home for decades.
Why We Love to Travel
So why do we love to travel in the first place? A huge appeal of traveling is the new-ness a place has to offer. Getting to experience cultures that are different from our own or eating cuisine that is not what we're used to are amazing ways to grow as individuals and learn about others. Seeing how other people live helps us keep an open mind and even gather inspiration to bring back into our daily lives.
Travel is also a great way to get away from the day-to-day. Breaking up our routines with a fun trip definitely recharges the batteries and helps prevent us from getting burnt out.
But we're here to tell you – you don't have to go far from home to get this perspective!
Benefits of Traveling Locally
While the culture an hour away from your home might not be drastically different from what you're used to, you can still gain a deepened sense of appreciation for where you've laid your roots. Plus, traveling locally has a lot of benefits:
More cost-effective. Local travel is certainly a budget-friendly way to explore! Many activities and parks are free or have a low cost of entry. For day trips, you can also pack your own meals to save.
Eco-friendly way to travel. Travel is hard on the environment, but putzing around your area is more sustainable than air travel.
Quick trips. Getting out locally means you can do it more often! Long weekend trips are a lot easier to take when the destination is a short drive away.
Easy to plan. Preparing your itinerary for a local getaway will likely save you some time and stress.
More convenient. Especially if you have little ones, sticking close to home may be much more convenient than far-off destinations. If you forget something, have an emergency, or need to cut the trip short, being close by definitely has its benefits.
Explore Local: Tucson, Arizona
What is Tucson, Arizona known for — and why is it well worth playing tourist in your own backyard?
Well, there are a ton of fun things to do and places to explore in Tucson, whether you're venturing out solo, hanging with your sweetheart, or taking the whole family. From outdoor excursions to fine dining and delicious fast eats, Tucson truly offers something for everybody, and it's a great opportunity to get more familiar with a city you may think you already know. So if you've yet to take a drive out to the local state parks or historic villages around town — or even if you're just looking for the next place to get lunch or dinner — read on to discover some of our very favorite Tucson local gems.
*Note: Some of the suggestions may not be doable due to coronavirus closures, but keep this list handy for when things start opening back up more! Be sure to check individual pages for specific operation details.
State Parks in Tucson
One of the very best ways to explore Tucson, Arizona is to explore the many beautiful wilderness areas that surround it. From sky-high saguaro to stunning fields of sand, there's so much to stand in awe when you visit the state and national parks in Tucson, AZ.
Best Hiking Trails
Both within and outside of the state parks, there are a wide variety of hiking trails in Tucson — many of which you don't want to miss. Here are some of the most scenic and worthwhile Tucson hiking trails.
Bear Canyon to Seven Falls Trail
Perhaps the most popular venture in the Sabino Canyon Recreational Area, Bear Canyon to Seven Falls Trail is a 9-mile round-trip hike that sees about 1,000 feet of elevation gain, putting it firmly into the "moderate" category. Your hike is rewarded by a beautiful, cool pair of pools fed by the titular system of waterfalls, so be sure to bring a towel so you can take a dip!
Romero Canyon Trail to Romero Pools
Another trail that requires a bit more climbing before giving you a place to cool your feet, the Romero Canyon Trail spans a total of less than six miles round-trip and sees 1,300 feet of elevation gain — though the first mile is relatively flat, meaning the second last half is quite steep. Horseback riding is also allowed on this trail, so be sure to leave way for those clip-cloppers!
Tanque Verde Falls Trail
Short but rewarding, the Tanque Verde Falls Trail is less than a mile one way, but offers iconic Arizona countryside views as well as a waterfall. Dogs are also allowed to come along for the adventure, but they must be leashed.
Pima Canyon Trail
Just shy of four miles round trip and seeing 666 feet in elevation gain, Pima Canyon is a moderate hike that offers a bit of a workout and a lot of reward. Along with hiking, the trail is also frequented by runners, horseback riders and rock climbers, so it's a great opportunity to expand your sense of outdoor adventure!
Wasson Peak
The tallest point in the Tucson Mountains, Wasson Peak is well worth the effort to climb to — and there are multiple ways to get up there. We recommend the King Canyon and Norris Trail route, which will take you about 8 miles round trip with about 1,700 feet of elevation gain, which honestly isn't too bad for claiming a summit!
Best Restaurants in Tucson
All that outdoor exploration got your appetite worked up? No worries — Tucson is chock full of wonderful things to eat. Here are some of our favorite restaurants in Tucson, whether you're looking for steak, seafood, or something a little bit more exotic.
Boca Taco
You can't visit the desert southwest without enjoying some serious Mexican-inspired flavors — and if you're in the mood for a taco, we highly recommend heading to Boca. Founder and owner Chef Maria Mazon, who has appeared numerous times on the Food Network, prides herself on putting together thoughtful, fresh, authentic flavors… and given that she was born in Tucson and raised in Sonora, Mexico, she certainly knows how to make a taco.
Indian Twist
While there aren't a superfluity of Indian restaurants in Tucson, there are some opportunities to get your hands — and taste buds — on authentic eastern eats. Indian Twist serves up modern, but classic Indian foods like tikka masala, tandoori chicken, and a range of biryani, not to mention several gluten-free and vegetarian options.
Charro Steak
If you're looking for a steakhouse with a bit of a twist, stop by Charro Steak: it serves up classic cuts with a backdrop of Mexican-inspired flavors, which makes sense given how close to the border you are. If you can, try to leave some room for an order of prickly pear albondigas before your meal — or at least take some home for later!
Senae Thai Bistro
You may be miles away from Asia, but that doesn't mean you can't get an authentic taste of Thailand while you're in Arizona. Senae Thai Bistro offers diners classic dishes like Pad Thai, Pad See Ew and a wide range of curries, all in a comfortable and casual modern atmosphere.
Vivace Restaurant
Considered one of the best Italian restaurants in Tucson, Vivace offers more than just dinner: it's a dining experience. Start with fresh burrata served two ways before moving onto a refreshing salad, but be sure not to fill up before your main plate arrives. Choose from freshly-made pastas, carefully crafted risottos or meat-based dishes including osso buco.
Fun Things to Do in Tucson
Don't get us wrong, you could probably spend a lifetime wandering around this unique desert landscape and then eating to fuel up for more adventures.
But there's plenty to see and do in town, too! Here are some of our favorite fun things to explore in Tucson, whether you're bringing along the whole family or looking for an opportunity to (re)kindle some romance.
For Couples
Want to get cozy with your sweetheart? Here are some Tucson hot spots not to miss.
Tucson Botanical Gardens
You probably know by now that, despite the rumors, the desert is anything but deserted; it's an oasis for a wide variety of plant and animal life. If you want to get up close and personal with a wide array of desert flora without necessarily spending days hiking, biking, or driving, heading to the Tucson Botanical Gardens is a great start. Along with viewing local plants in a curated setting, you can also wander through a cloud of tropical butterflies in the orchid garden if you visit the gardens in the summer. There are also shopping and dining options on-site!
Mt. Lemmon Scenic Byway
Sometimes, there's nothing more romantic than a long drive, just the two of you — particularly if you've got some beautiful scenery to take in while you're at it. The Mt. Lemmon Scenic Byway is also known as the Catalina Highway or the Sky Islands Scenic Byway, and it runs from the northeast edge of town to climb 27 winding miles to the top of Mt. Lemmon (which sits at 9,157 feet). There are definitely plenty of photo opps!
The Mini Time Machine Museum of Miniatures
Depending on your general attitude toward museums, you may think they're anything but romantic — but the Mini Time Machine Museum of Miniatures is not your average museum. There's something about viewing these dioramic displays in miniature that brings a smile to just about anyone's face, and it's a wonderful place to spend an afternoon with your sweetheart.
For Kids
Bringing the whole family along for the fun? There are plenty of places to enjoy family fun in Tucson.
Biosphere 2
Shimmering in the rural desert landscape on the outskirts of Tucson, Biosphere 2 is something of a mystery even after you've enjoyed the tour — which will take you through a variety of unique indoor ecosystems including a rainforest, a desert, a savannah, and even an ocean. It's a great way to get the kids interested in ecology and sustainability, and it's fascinating for adults, too… and by the way, for an extra dose of insight once you get home, check out the documentary about the project, Spaceship Earth.
Reid Park Zoo
A day at the zoo is a classic family activity for good reason. Kids will enjoy visiting elephants, tortoises, giraffes and everything in between — and it's also a prime location for events like birthdays. If you're local, you can also take advantage of Reid Park Zoo's volunteer programs to help aid first-hand with conservation measures.
At Night
What's up in Tucson after dark? So glad you asked. Here are some suggestions.
The Gaslight Theater
Offering musical comedy melodramas six nights a week, with five different shows per year, The Gaslight Theater is a perfect entertainment option fit for the whole family — and you get free popcorn, to boot!
Stargazing
Tucson itself may be a relatively big city, but it's in a state with a whole lot of wide open spaces — which means it's got great opportunities for stargazing. Kitt Peak is home to an observatory and it's just an hour outside of town, making it a great option that's close by enough to be readily accessible.
On the Weekend
There's plenty to see and do in Tucson all week long, but if you're wondering what to do on Saturday and Sunday, here are some suggestions.
Old Tucson
Want to take it back to the wild wild west? Old Tucson is a movie-studio-cum-outdoor-park set up to look like Tucson from the late 1800s, complete with saloons, eateries, and attractions fit for the whole family. Once you're done wandering, head home to sit on the couch and watch one of the many movies that was filmed here — whether you laugh it up with "Three Amigos" or sink into the classic drama of "Tombstone."
Heirloom Farmers Market
There's nothing quite like a farmers market for bucolic weekend wandering, and luckily, the Tucson area has several to choose from.  Heirloom holds farmers markets across the area, with options in Rillito Park, Green Valley, Steam Pump Ranch and more. Swing by for fresh produce, delicious prepared foods and a generally festive atmosphere!
Spas in Tucson
Who couldn't benefit from some R&R? After days spent exploring in the hot desert sun, head to these top spas in Tucson to get some well-deserved pampering.
Hashani Spa
Considered one of the best day spas in Tucson, Hashani Spa is tucked inside the JW Marriott Tucson Starr Pass Resort. From classics like massage and facials to more detailed bodywork, like body wraps and eye treatments, you can find everything your heart and skin desires at this upscale spa location.
Spa Solai
With two locations in Tucson, Spa Solai offers both beautifying and rejuvenating services in an undeniably beautiful atmosphere. They also employed an infectious disease expert in their quest to provide a highly sanitized experience after the COVID-19 outbreak, so you can rest assured that you're in the safest hands possible.
Best Gyms & Yoga Studios
Keeping up with your daily routine is important for both your physical and mental health. Here are some of the best gyms in Tucson to help you get grounded, gritty, and ready for action.
Prestige Fitness
One of the most highly regarded gyms in Tucson for a reason, Prestige Fitness offers everything you need to make real changes in your physical fitness routine, including a free one-on-one consultation with a trainer. Once you're a member, you'll have access to a wide range of equipment and classes to help you do the work to get stronger.
Undisputed Tucson Gym
Interested in going mano-a-mano with your fitness goals? Undisputed Tucson Gym is a one-stop-shop offering a variety of mixed martial arts classes as well as a fully equipped gym for cross-training. Go for a class or just to spend half an hour on the treadmill; either way, you'll be making your way toward a stronger self.
Tucson Yoga
Whether you're looking for a gentle flow, a restorative yin class, or something more challenging, Tucson Yoga likely offers a practice that will fit your needs — and each class takes place in a warm, welcoming, friendly environment.
Day Trips in Tucson
Tucson itself is awesome, but there are also some great places to check out in the nearby vicinity, too!
Bisbee
This historic copper mining town is now a thriving community of artists and musicians, and its walkable downtown area is as beautiful as it is fascinating. The remains of Queen Mine itself are also visible from the highway, and private tours of the mine are available.
Tubac
A desert town established all the way back in 1752, you can still see the ruins of the original Spanish fort constructed at Tubac. Over the years, the town has been abandoned, destroyed, and resettled, and is these days filled with artists and bohemians who ventured into the desert to live a different sort of life.
Tombstone
I mean, how can you go this far south in Arizona without making a trip to Tombstone? Established back in 1879 by silver miners, Tombstone has captured the imagination of Americans — and film makers in particular — for decades. See it for yourself; it's only a little over an hour outside of downtown Tucson.
As a final reminder, some of these activities may need to wait until businesses fully reopen from coronavirus closures. However, there is still much to see and experience in Tucson that you can enjoy today! What are your favorite spots in Tucson? Send them our way to [email protected] or by tagging us on Instagram @rvshare and using the hashtag #rvsharelocal.
Now what are you waiting for? Get out there and explore Tucson!