Travel Inspiration
June 18th, 2020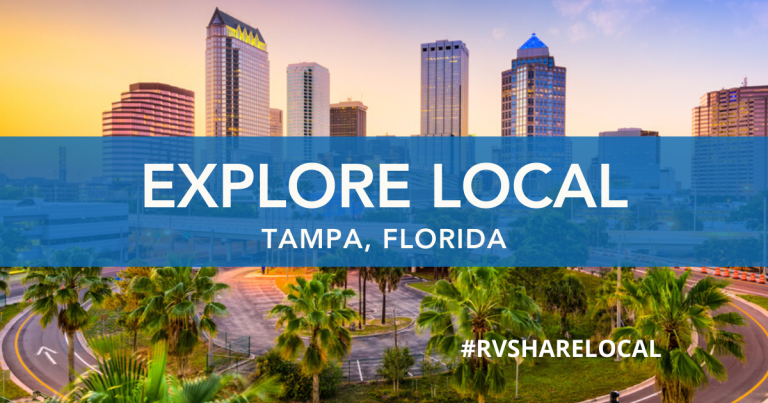 As the largest city in the Tampa Bay area, and the third-largest city in Florida, Tampa is full of exciting things to see, delicious food to eat, and fun places to explore. Whether you like beaches, hiking, culture, or craft beer, you'll find more than enough activities to keep you busy.
From wandering the historic Ybor neighborhood to relaxing at Clearwater Beach outside of town, to trying a new restaurant you never knew about, there's always a long list of fun things to explore in Tampa, Florida. Today, we'll walk you through how you can re-discover all Tampa has to offer.
Why We Love to Travel
So why do we love to travel in the first place? Getting to experience cultures that are different from our own or eating cuisine that's different than what we're used to are amazing ways to grow as individuals and learn about others. Seeing how other people live helps us keep an open mind and even gather inspiration to bring back into our daily lives.
Travel is also a great way to get away from the day-to-day. Breaking up our routines with a fun trip definitely recharges the batteries and helps prevent us from getting burnt out.
But again – you don't have to go far from home to get this perspective! Sometimes the best adventures are just around the corner.
Benefits of Traveling Locally
While the culture an hour away from your home might not be drastically different from what you're used to, you can still gain a deepened sense of appreciation for where you've laid your roots. Plus, traveling locally has a lot of benefits:
More cost-effective. Local travel is certainly a budget-friendly way to explore! Many activities and local parks are free or have a low cost of entry. For day trips, you can also pack your own meals to save.
Eco-friendly way to travel. Travel is hard on the environment, but putzing around your area is more sustainable than air travel.
Quick trips. Getting out locally means you can do it more often! Long weekend trips are a lot easier to take when the destination is a short drive away.
Easy to plan. Preparing your itinerary for a local getaway will likely save you some time and stress.
More convenient. Especially if you have little ones, sticking close to home may be much more convenient than far-off destinations. If you forget something, have an emergency, or need to cut the trip short, being close by definitely has its benefits.
Explore Local: Tampa, Florida
Tampa pretty much has it all – beautiful weather, gorgeous sandy beaches, urban amenities, business and shopping districts, and a blend of cultural influences. And with so many fun things to do in Tampa, it's hard to know where to begin.
Even if you've lived in Tampa for a while, there's so much this city can offer that you might not have discovered. From the plethora of restaurants serving diverse cuisines, to the expansive walking and biking trails, to the outdoor recreation, even lifelong residents can find something new to experience. So let's explore some of our favorite fun things to do in Tampa, Florida!
*Note: Some of the suggestions may not be doable due to coronavirus closures, but keep this list handy for when things start opening back up more! Be sure to check individual pages for specific operation details.
State Parks in Tampa
The Tampa Bay area is home to more than a dozen state parks and historical sites where you can hike, bike, and enjoy nature. Here are some great state parks in Tampa if you're ready to explore the outdoors.
Best Hiking Trails in Tampa
If you like to hike, you're in luck! There are so many great hiking options around Tampa to choose from. The state parks all have excellent trail systems, but here are some of the other best hiking trails in Tampa for you to check out.
Upper Tampa Bay Trail
The Upper Tampa Bay Trail is an easy trail that is great for beginners or the whole family. This 14.3 mile in and out trail provides plenty of shade and is well maintained. It's popular with hikers, runners, and bikers, so go early as it sometimes gets crowded.
Flatwoods Park Trail
Flatwoods Park Trail is a bit north of Tampa, located in the Flatwoods Conservation Park. This seven mile paved loop is great for both hikers and bikers and is even dog friendly (but keep them on a leash!). While there's not a lot of shade on the trail itself, it's surrounded by trees, flowers, and many birds for you to watch while running.
Tampa Riverwalk
If you're looking to stay in town, the Tampa Riverwalk is a 2.6 mile pedestrian trail in downtown Tampa. It spans the Hillsborough River and goes past the art district and many tourist attractions. It's also full of dining, shopping, and entertainment options so it's perfect for those whose idea of a hike is to walk to a restaurant for dinner.
Bayshore Boulevard
Another urban trail, Bayshore Boulevard is a great place to walk, run, or bike along the water. The 4.5 mile paved walking and biking path runs along the shore and is the perfect opportunity for some Instagram shots of dolphins playing in the bay. It's near downtown and an excellent place to get in your steps or take an early morning jog. There are even exercise stations and drinking fountains along the trail if you need to up your workout.
Best Restaurants in Tampa
Tampa has a fantastic variety of restaurants with all sorts of diverse cuisines. When you're hungry after all your exploring, there's plenty of great places to grab a bite to eat.
Oggi Italian
This small and intimate Italian café and wine bar has great service and even better food. Oggi Italian has a quaint outdoor seating area down a side alley that gives off European vibes. It's an ideal place for date night or when you want some authentic tasting Italian food.
Queen of Sheba
Queen of Sheba Ethiopian Restaurant dishes up delicious Ethiopian food with a heavily vegetarian menu. They serve rich simmering stews, seasoned dips, injera bread, and even sampler dishes if you want to try a bit of everything. And be sure to try their coffee!
Bamboozle
If you're looking for a great Vietnamese restaurant, you need to try Bamboozle. This downtown Vietnamese Asian fusion restaurant not only serves fantastic pho and banh mi, they also have extensive gluten-free and vegan menu options.
Farmacy Vegan Kitchen & Bakery
Vegans and non-vegans alike love Farmacy Vegan Kitchen & Bakery for their breakfast, lunch, and baked goods. From vegan burgers made from Impossible patties, to Philly cheesesteaks made with cashew "cheese", to their selection of vegan donuts, Farmacy provides delicious plant-based menu items.
Soho Sushi
If you want that perfect mix of innovative sushi in a fun location, check out Soho Sushi. This trendy and upscale sushi joint is close to downtown and features fresh and creative sushi and sashimi. And bonus, it includes other Asian inspired entrees for your friends who may not love sushi as much as you do.
Miguel's Mexican Seafood and Grill
Miguel Rodriguez opened his upscale Mexican restaurant, Miguel's Mexican Seafood and Grill, after being inspired by the food his Aunt Ninfa made. Today this restaurant serves flavorful home-cooked Mexican dishes and sauces with plenty of seafood and quality ingredients.
Fun Things to Do in Tampa
So you've explored the state parks and eaten your heart out, but there's more to Tampa than just the outdoors and delicious meals. Whether you're looking for fun things to do in Tampa with kids, or just looking for the best things to do on a rainy day, here are some of our favorite top things to do in Tampa.
For Kids and Families
Tampa is an incredibly kid-friendly city. And no matter what their interests are, you'll easily find quite a few fun things that will keep your kids entertained.
Busch Gardens
Probably one of the most well-known things to do with kids in Tampa, Busch Gardens is an amusement park and zoo all in one. Kids will love both the roller coaster rides and a multitude of exotic animals, and parents will love how this park tires the kids out.
Adventure Island
In case Busch Gardens wasn't enough, Adventure Island waterpark is located right across the street and includes water slides, lazy rivers, and plenty of dining options for when you need to refuel after a day of swimming.
Glazer Children's Museum
The Glazer Children's Museum is a fun learning laboratory that encourages kids to play, connect, and discover the world. A great option for rainy days, they offer various programs and seasonal activities as well as permanent exhibits for kids to explore. It's the perfect way to trick your kids into learning something while they play.
The Florida Aquarium
Another one of the best things to do in Tampa, The Florida Aquarium lets kids and adults get up close to Florida's vast array of sea life. And they're also working to help restore Florida's sea turtle and coral populations.
The local beaches
One of the best things to do with kids (or without!) is to head to the many beaches in the Tampa Bay area. The largest public beach is Tampa is the Ben T. Davis beach, but there's also Clearwater Beach across the bay. It might be more crowded, but it's one of the best beaches in all of Florida.
Cheap Things to Do in Tampa
If you want to have fun without breaking the bank, don't worry, there are plenty of cheap things to do in Tampa this weekend or anytime!
Find the Best Cuban Sandwich
We hope you've had many Cuban sandwiches, but in case you missed this iconic meal or are just hungry for another one, KŪ´BÅ is located inside Heights Public Market in downtown. It's the perfect place to grab a Cuban for lunch while you plan what your next stop will be as you explore Tampa.
Ybor City Historic Walking Tours
While the historic Ybor City neighborhood has great shopping, restaurants, and nightlight, they also offer Ybor City Historic Walking Tours where you can get to know the Cuban history of the original "Cigar City" and learn a bit more about this part of town.
At Night
Sure, there's plenty of things to do in Tampa during the day, but what about at night? Not to worry, there's tons to do after sunset as well!
Tampa Ghost Tours
For those who like the supernatural, Tampa Ghost Tours gives candlelight walking tours that feature the ghosts and haunted houses of the town. It's a spooky way to spend a date night or scaring yourself silly with friends.
Top Golf
Top Golf Tampa lets you hang out and have a beverage or two all while practicing your swing. The party atmosphere makes it great for both large and small groups, so it's the perfect place to meet your friends.
Cigar City Brewing
Beer lovers will want to visit Cigar City Brewing for a pint. The brewery is open late and while it doesn't serve food, it brings in food trucks on the weekends so you can nosh while you enjoy some of of their beer.
Free Things to Do in Tampa
If you're looking to save some money, there are actually a lot of free things to do in Tampa. Here are some of our favorite ideas.
Florida Botanical Gardens
Located in the suburb of Largo, the Florida Botanical Gardens is open to the public for free. This 182-acre botanical garden facility includes public art, mosaics, murals, and also has a children's area with a butterfly puzzle and outdoor musical instruments for kids to play with.
Tampa Firefighters Museum
This niche museum is free to the public and preserves the history of Tampa's fire department. Located within the former city fire department building, the Tampa Firefighters Museum includes restored historic fire trucks, uniforms, and fire equipment. They also offer fire safety classes for kids.
Tampa Bay Farmers Market
The Tampa Bay Farmers Market sells locally sourced food and ingredients from regional farmers. It's open to the public seven days a week and has free entry. Vendors sell flowers, meat, vegetables, baked goods for you to take home and enjoy.  
Fourth Friday
Every Fourth Friday of the month is full of arts and culture events. Many of the city's art galleries, studios, and museums offered free or discounted entry, and even many restaurants and bars offer deals.
Spas in Tampa
Whether you're on your own or looking for fun things for couples to do in Tampa, a spa day is always a good idea. If you need a little relaxation and rejuvenation, stop by one of these spas.
Safety Harbor Resort and Spa
For ultimate luxury spend the day at Safety Harbor Resort and Spa. This spa features natural mineral springs baths and offers individual services or all day and half-day packages. They're one of the oldest spas in Tampa and provide a large variety of spa treatments.
Enchanteria Day Spa
The Enchanteria Day Spa has an east meets west vibe with it's welcoming and eclectic décor. They offer skincare, massage, facials, beauty services to help you feel your best. They're also known as the Brow Divas of Tampa, in case you want to get your brows done by the experts.
Spa Evangeline
Located in the trendy Epicurean Hotel, Spa Evangeline features decadent body treatments, massages, facials, manicures, and pedicures. Their scrubs and lotions are infused with herbs and botanical oils, and their specialty is wine centered treatments like the "Lost in Wine Country Body Treatment" which includes a scrub, mask, and massage.
Best Gyms and Yoga Studios
While there's plenty of water activities and ways to stay in shape around Tampa, there are also some great places to work out or practice your yoga in town.
Bella Prana Yoga & Meditation
Bella Prana Yoga & Meditation offers yoga classes for all levels, as well as yoga teacher training and workshops. It's the perfect way to start your morning or end your day with a little zen.
Bayshore Fit
With no long term contracts, personal trainers to help you meet your goals, and high-quality workout equipment, Bayshore Fit has you covered. They offer classes such as strength training, HIIT, and circuit training among others.
CAMP Tampa
Camp Tampa's goal is to create a place where you can try new things, push your boundaries, and make new friends while working on your fitness goals. They have classes such as cycle, yoga, circuit, and HIIT so you can work out the way you want or try out something you've never done.
Day Trips in Tampa
While we think there are plenty of places to explore in Tampa itself, if you want to head out of town here are just a few of the spots nearby for you to visit.
Orlando
Home to Disney World, Universal Studios, Sea World and much more, this amusement park hot spot is only about an hour away from Tampa. This makes it an easy day trip where you can go explore the theme parks and be back in time to sleep in your own bed.
The Everglades
While there aren't really any National Parks in or near to Tampa, Florida, the Everglades National park is always worth a visit. This 1.5 million acre National Park wetland preserve is several hours away but makes a great weekend trip. Hike along the trails or take an airboat tour throughout the everglades to see if you can catch a glimpse of alligators, birds, turtles, and more. Locals tend to put off going to well-known spots, so if you haven't visited Everglades National Park, it's definitely a place to check out.
As a final reminder, some of these activities may need to wait until businesses fully reopen from coronavirus closures. However, there is still much to see and experience in Tampa that you can enjoy today! What are your favorite spots in Tampa? Send them our way to [email protected] or by tagging us on Instagram @rvshare and using the hashtag #rvsharelocal.