Travel Inspiration
July 6th, 2020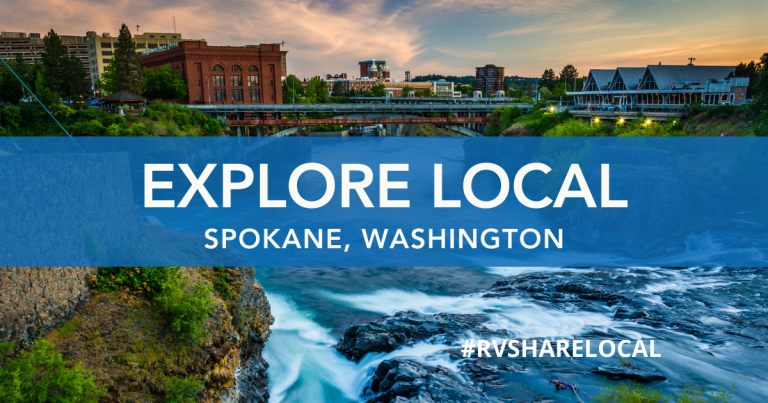 The Lilac City. The Gateway to the American west. An incredible place to lay down roots and start a family — or to treat as home base as you take on greater west-coast adventures.
No matter how you see Spokane, chances are you haven't seen all of it. This one-of-a-kind city is brimming with things to see, do, and explore. So if you're looking for the top things to experience in Spokane, you've come to the right place: here's our explore local guide for this unique eastern Washington city!
Why We Love to Travel
From meeting new people to experiencing new sights, sounds, and smells – is there anything more exciting or rejuvenating than a break from the day-to-day mundanity? Traveling is an excellent way to immerse yourself in a new culture, setting, or way-of-life, but the best part is this: you don't have to venture far from home to enjoy what this world has to offer.
Whether your journey takes you across your own city, to an unexplored part of your state, or even to the other side of the world, there's no doubt you will still learn a lot about your surroundings – and yourself – along the way.
Benefits of Traveling Locally
While the culture an hour away from your home might not be drastically different from what you're used to, you can still gain a deepened sense of appreciation for where you've laid your roots. Plus, traveling locally has a lot of benefits:
More cost-effective. Local travel is certainly a budget-friendly way to explore! Many activities and local parks are free or have a low cost of entry. For day trips, you can also pack your own meals to save.
Eco-friendly way to travel. Travel is hard on the environment, but putzing around your area is more sustainable than air travel.
Quick trips. Getting out locally means you can do it more often! Long weekend trips are a lot easier to take when the destination is a short drive away.
Easy to plan. Preparing your itinerary for a local getaway will likely save you some time and stress.
More convenient. Especially if you have little ones, sticking close to home may be much more convenient than far-off destinations. If you forget something, have an emergency, or need to cut the trip short, being close by definitely has its benefits.
Explore Local: Spokane, Washington
With almost a quarter of a million people and an area of about 70 square miles, Spokane's certainly not the biggest city in the country (or even the state) — but it's the perfect size for exploring. With a wide variety of green spaces, cultural attractions, restaurants, shopping opportunities, and more, Spokane truly has something for everyone: singles, couples, and families of all ages.
Exploring local is the best way to get a real sense of what a city is like — rather than heading straight for the tourist traps, we recommend scoping out the hidden gems that people who live in and love a place are likely to recommend. And what are those hidden gems when it comes to Spokane? Glad you've asked! Here are our best suggestions.
State Parks in Spokane
Although there are plenty of urban excursions to keep you interested in Spokane, there are also a wide variety of natural landscapes to explore in the area. Here are the best state and national parks in and near Spokane, WA.
Little Spokane River Natural Area 
A great place to explore the bogs, forests, and other ecosystems that characterize this part of eastern Washington, Little Spokane River Natural Area is home to a great many hiking and biking trails to help you get familiar with those features for yourself.
Centennial Trail State Park 
This state park is, as its name suggests, a trail the whole way through: 40 miles of trail, to be exact, perfect for long afternoon cycling sessions, morning runs, and other outdoor excursions.
Riverside State Park 
Riverside is comprised of a sprawling 9,194 acres of land along both the Spokane and Little Spokane Rivers. That means it's got over 200,000 feet of shoreline for relaxing, fishing, swimming, and boating, as well as many spacious and generously-appointed campsites to make for the perfect weekend getaway.
Best Hiking Trails
Whether or not you venture to one of the many preserved wildernesses in eastern Washington, there are some incredible footpaths to wander! Here are the best hiking trails in Spokane and the surrounding areas.
Iller Creek Conservation Area Trail
Tucked into the Dishman Hills Natural Area, the Iller Creek Conservation Area Trail is perfect for those looking for a relative adventure — though it's still by no means a piece of cake! At 4.6 miles round trip and with about 1,200 feet of elevation gain, this undulating trail does require some effort, but the views you'll get in return will make your sweat more than worth it.
Bowl and Pitcher Loop Trail
Bowl and Pitcher Loop Trail is located in the above-mentioned Riverside State Park and is truly a great opportunity for an easy afternoon jaunt. At less than 3 miles round trip and with under 150 feet of elevation gain, this trail doesn't require much commitment and still gets you a nice opportunity for fresh air and exercise.
Rocks of Sharon Trail
Another Dishman Hills Natural Area trail, Rocks of Sharon is a well-known and beloved hike by many locals, and once you go for yourself, you'll see why. At 6.5 miles round trip and with about 1,800 feet of elevation gain, this one does require some effort, but the beautiful wildflowers and sweeping views will make you forget that you're sweating in the first place.
Indian Painted Rock and Knothead Valley Loop
At just under 7 miles round trip and about 1,000 feet of elevation gain, the Indian Painted Rock and Knothead Valley Loop isn't exactly a climb — but it's not a quick stroll, either. Visitors remark on the vibrant greenery along this trail as well as the beautiful views and impeccable trail maintenance, making it the perfect opportunity for exercise or excitement.
Glenrose Cliff Trails
A hike firmly in the "moderate" category, the Glenrose Cliff Trails measure 6.7 miles round trip and see about 1,400 feet in elevation gain. Along with hiking and nature walking, this trail is also frequented by runners and horseback riders, so be sure you leave ample room for hooves and heavy breathers!
Best Restaurants in Spokane
If all that hiking and adventuring has you hungry, you're in luck. Here are some of the best restaurants in Spokane, whether you're looking for Italian, Mexican, Asian, vegan, or something else altogether.
Maracas Mexican Grill
Spokane might be about as far from the Mexican border as it's possible to go in the lower 48 — but that doesn't mean you can't get an authentic taste of the cuisine! Maracas Mexican Grill is a family-owned business dishing up the very best and most classic flavors you're craving, and they also have nightly specials (Margarita Monday! Taco Tuesday!) to keep it spicy.
Ferrarro's Restaurant and Bar
If you're looking for a date night option that will transport you instantly into the heart of the Old Country, Ferrarro's Restaurant and Bar might just be exactly what you're looking for. Offering hearty and delectable favorites like fettuccine alfredo, baked lasagne, veal marsala and more, Ferrarro's is a checker print-tablecloth, chianti-in-a-basket Italian dining experience to remember.
Umi Kitchen and Sushi Bar
Spokane might be miles from the nearest ocean, but that doesn't mean you can't get some delicious sushi! Umi Kitchen and Sushi Bar offers a wide range of fish but also grilled Japanese favorites like tempura and teriyaki. We recommend starting out your meal with the takoyaki — fried octopus bites!
RÜT Bar & Kitchen
Pronounced like "root," RÜT Bar & Kitchen is a unique Spokane institution that's all about elevating vegan dining — and they do it right. One glance at this innovative menu and you know that every member of your dining party is going to be pleased, even the carnivores. (Chipotle peach tacos? Truffle mac and cheese? Yes, please.)
Wild Sage Bistro
If you're after comfort food with a twist, check out Wild Sage Bistro. Using locally-sourced ingredients and adding a creative touch to a classic menu, this place is a solid choice for dinner any night of the week — and they even have gluten-free items!
Fun Things to Do in Spokane
Food? Check. Outdoor fun? Check and check. What else is there to do in Spokane besides eating and hiking, you ask?
Lots. Here are some of the top things to do in Spokane this weekend — and well beyond.
For Kids and Families
Spokane is a great place for families, no matter how old your kids might be. Here are some fun things to do with your kids in and around town.
Spokane Splash Pads
Winters may be chilly, but come summer, the heat's on — and that means it's a great time to visit the Splash Pads the city has installed around the city. Two popular spots to find them are in Manito Park and Discovery Playground in the Spokane Valley. Best of all, this activity is 100% free of charge — so get splish-splashing!
SkyRide at Riverfront Park
Want to get a sweeping overview of the city that's a bit of a thrill, too?  SkyRide at Riverfront Park is a 15-minute gondola ride offering stunning views of the river, skyline, and more — and it's less than $10 for adults and $7 for youth riders aged 3-12. (Kids under 3 are free!)
Don't have the kids along with? No problem; we're sure you're still going to have a good time. This is also one of our favorite things for couples to do in Spokane!
At Night
We've covered many of the best things to do during the day in Spokane, but what about after night falls? Here are some after-dark options for you and your sweetheart.
Barrister Winery
Eastern Washington is well-known for its wine, and if you want to get a taste of the good stuff for yourself, Barrister Winery is a great place to do it. Along with by-the-glass wines and retail bottles, Barrister also offers a range of events including a summer concert series, so it's really a great place to uncork and unwind.
Gamers Arcade Bar
Want to get your game on while you enjoy happy hour and pub grub? Gamers Arcade Bar has you covered on all fronts — no matter what your potion. They offer a menu of 31 canned beers (with new ones rotated in each quarter) and a specialty drink menu including a grape-jolly-rancher-infused vodka. Sign us up — and count us in as Player 2!
Cheap and Free Things to Do in Spokane
Yes, you can get a sense of the city of Spokane on a budget. In fact, there are quite a few free and cheap things to do in town. Here are a few!
Spokane Sculpture Walk
A self-guided sightseeing tour, the Spokane Sculpture Walk is totally free of charge… and you don't have to wait for any stragglers or listen to a droning docent, either. Plus, if you get tired of the tour at any time, you can simply take off and head for the nearest park bench or restaurant — the route takes you through some of the coolest parts of Spokane, anyhow!
Farmers Markets
A farmers market is a great way not only to shore up your stash of produce but also to meet and greet the locals and enjoy a generally festive atmosphere. With more than 2,500 farms in Spokane County, it's not surprising that the city boasts not just one, but several farmers markets to choose from, held at a variety of times and locations throughout the week and city. They're free to enter — but you certainly might be tempted to spend a bit of money while you're there!
John A. Finch Arboretum
Encompassing 65 acres of forested hills in the southeastern quadrant of Spokane, the John A. Finch Arboretum is a beautiful place to take an afternoon stroll and also hosts events year-round — and it's totally free to enter. Hours are from dawn til dusk and restroom facilities are also available on a seasonal basis.
Spas in Spokane
Looking and feeling your best takes effort — and sometimes, a little bit of help! Here are the best day spas and salons in Spokane, Washington.
Davenport Spa and Salon
Nestled inside the historic hotel of the same name, the Davenport Spa and Salon is the perfect place to turn when you need a bit of pampering. Whether you're looking for an indulgent massage, rejuvenating facial or something else entirely, this all-inclusive oasis has you covered — and they also offer some packages and couples' options for your convenience as well.
Spa Paradiso
Maybe you're looking for a massage or body treatment to help your skin glow and your muscles relax. Maybe you're looking for waxing, nail care or a new 'do to help you look your best. Maybe you're even interested in taking on some medical interventions, such as Botox injections or clinical peels, to catapult your look to the next level. No matter what it may be, you can find your service at Spa Paradiso — and rest assured you'll be in the hands of professional caregivers the whole time.
Best Gyms & Yoga Studios
Staying in shape doesn't just help you look better — it helps you stay strong, healthy, and ready to take on whatever adventures life brings your way. Here are the best gyms and yoga studios in Spokane.
Spokane Fitness Center
Offering three well-stocked and comfortable locations throughout the city, Spokane Fitness Center is the go-to facility for those seeking a simple, effective gym. Two of the locations also offer daycare, so you can get your sweat on even when you've got the kids with you!
The Union Downtown
Whether you're looking for a spin class, yoga, some fun TRX moves, or a combination of all three, The Union Downtown is a great studio to check out. Pursuing fitness no matter the style and doing so in a spirit of community — that's what this place is all about!
Beyoutiful Hot Yoga
When it comes to yoga, some like it hot — and if you count yourself in that camp, Beyoutiful Hot Yoga is a Spokane institution worth your consideration. Offering a wide variety of classes held by talented and motivated instructors, Beyoutiful is, as its name suggests, all about finding the experience that's right for you, personally.
Day Trips in Spokane
Although you could easily spend weeks or months exploring Spokane proper, there's no reason not to check out the other cool, day-trippable places in the vicinity! Here are some awesome spots to add to your Spokane day-tripping or weekend-getaway itinerary.
National Parks
North Cascades National Park isn't right next door to Spokane, but it's well worth the four-and-a-half hour drive if you've got the time to really enjoy it. Known for its glaciated peaks, conifer forests and alpine lakes, exploring this unique stretch of countryside truly feels like stepping into a fairy tale.
Glacier National Park is actually over the border in the state of Montana, but it's one of the most famous national parks in the register for a reason. With some of the most remote and wild wildernesses in not just the country, but the world, Glacier is a must-visit for any serious adventurer.
Dry Falls
A surreal landscape that's home to the ruins of what was once a stunning set of waterfalls, Dry Falls is just an hour or so west of Spokane in near Coulee City. The formations you see before you when you visit have been that way since the Ice Age floods that swept the area thousands and thousands of years ago, making this a true trip back in time as well as a modern-day trip through space.
Missoula, Montana
At three hours from Spokane and requiring a cross of state lines, Missoula might be best for a weekend getaway rather than a day trip — especially considering the sheer amount of cool stuff there is to see and do there. Meander around downtown and have a gander at the many galleries, and be sure to take a peek at Brennan's Wave, which is something of an aquatic treadmill. You'll see people surfing on it just about every time of year, although sometimes, they definitely need wetsuits to do it comfortably!
What Washingtonian doesn't want to experience the city's most well-known, vibrant cityscape? Seattle is about more than coffee and bookstores and salmon pierogies, but all those things are pretty awesome, too. Plus, you can take a relatively cheap ride on a ferry boat. What's not to love?
Note: some of these activities may need to wait until businesses fully reopen from coronavirus closures. However, there is still much to see and experience in Spokane that you can enjoy today! What are your favorite spots in Spokane? Send them our way to [email protected] or by tagging us on Instagram @rvshare and using the hashtag #rvsharelocal.