Explore Local: Portland, Oregon
Travel Inspiration
May 13th, 2020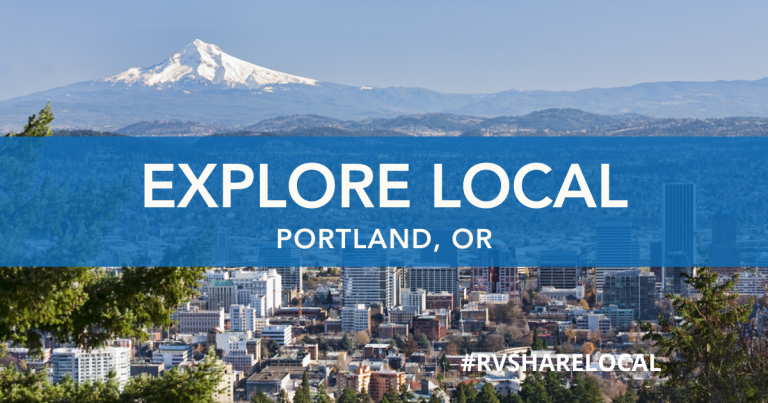 The beauty of travel is seeing new places, experiencing new things, meeting new people… That feeling of wanderlust is buried deep in our souls! But here's the thing – you don't have to go far to fill your cup. Sometimes the best adventures are the ones close to home. And if you're from Portland, you're lucky to have loads of exploring right at your fingertips.
From hiking to breweries to art galleries and great eating, Portland is chock full of local treasures and things to do, and regardless of how long you've lived here or if you've visited before, chances are there are some things you've yet to discover. Along with the city itself, there are literally hundreds of trails and other outdoor recreation opportunities in the vicinity; depending on the season, you might be able to take a bite of a special Hood strawberry or meander through the Christmas lights on Peacock Lane.
In this post, we're going to walk you through all the best things you never knew you were missing in Portland, Oregon.
Why We Love to Travel
So why do we love to travel in the first place? Well, we've already said that a huge appeal is the new-ness a place has to offer. Getting to experience cultures that are different from our own or eating cuisine that is not what we're used to are amazing ways to grow as individuals and learn about others. Seeing how other people live helps us keep an open mind and even gather inspiration to bring back into our daily lives.
Travel is also a great way to get away from the day-to-day. Breaking up our routines with a fun trip definitely recharges the batteries and helps prevent us from getting burnt out. 
But again – you don't have to go far from home to get this perspective! 
Benefits of Traveling Locally
While the culture an hour away from your home might not be drastically different from what you're used to, you can still gain a deepened sense of appreciation for where you've laid your roots. Plus, traveling locally has a lot of benefits:
More cost-effective.

Local travel is certainly a budget-friendly way to explore! Many activities and parks are free or have a low cost of entry. For day trips, you can also pack your own meals to save.

Eco-friendly way to travel.

Travel is hard on the environment, but putzing around your area is more sustainable than air travel. 

Quick trips.

Getting out locally means you can do it more often! Long weekend trips are a lot easier to take when the destination is a short drive away.

Easy to plan.

Preparing your itinerary for a local getaway will likely save you some time and stress.

More convenient.

Especially if you have little ones, sticking close to home may be much more convenient than far-off destinations. If you forget something, have an emergency, or need to cut the trip short, being close by definitely has its benefits.
Explore Local: Portland, Oregon
It's no surprise that Portland draws visitors from all across the country… and that many of those visitors eventually choose to stay for much longer. (Like, forever.)
The Emerald City is so called because it's smack-dab in the center of an actual rainforest — the largest one in the country, for that matter. Its unparalleled outdoor recreation opportunities include miles of hiking and mountain biking trails, but also paddling, kite surfing, climbing, horseback riding, and so much more. Once you've had your fill of outdoor adventuring, there are plenty of urban activities to keep you occupied, including one of the most happening food scenes in America, as well as a bustling nightlife and plenty of things to do during the day.
This guide is perfect for those living in or near Portland who want to get to know the city even more. If you're looking for fun things to do in Portland, this is the guide for you!
*Note: Some of the suggestions may not be doable due to coronavirus closures, but keep this list handy for when things start opening back up more! Be sure to check individual pages for specific operation details.
State Parks in Portland
One of the main reasons people visit Portland is the number of green spaces the area hosts. There are a bevy of beautiful local parks, but there are also a variety of state parks and even national parks in proximity to Portland, OR.
Here are some protected areas to check out in Portland.
Best Hiking Trails
Let's get this straight: there's no way we're going to list all, or even most, of the best hiking trails in Portland. There are simply too many; it's one of the most common Portland pastimes.
But we will list a few of our favorites, just in case you're somehow stumped for things to do in Portland during the day.
Forest Park
In Portland, you don't even have to venture out of the city to feel like you're out in the middle of nowhere. Forest Park offers a respite to locals and visitors alike, with more than 80 miles of trail fit for hiking, biking, trail running, and plain old meandering.
One good option to consider is the Southern Forest Park Loop, which runs about 9 miles and sees approximately 1,000 feet of elevation gain, making it a moderate rating, and its length allows visitors to really kick back, relax, and spend some time feeling like they're out in the middle of nowhere even while they're right in the heart of town.
Larch Mountain Trail
Nearly everyone in Portland makes their way to Multnomah Falls — but few follow the trail up to the falls as far as it actually goes. Once you get past the major tourist trap, you can follow this trail about a mile up to a viewpoint at the top of the falls… and if you're really in for an adventure, you can take it the full seven miles up to the top of Mount Larch for a spectacular view including many of the famous peaks in the area, like Mount Hood, Mount Rainier, and Mount Baker. (Just remember you'll have to climb back down that seven mile trek, as well!)
Kings Mountain Trail
If you're looking for a trail that's challenging, but short enough for a quick day trip — and which will give you a great look at the Coastal Range just west of Portland — Kings Mountain Trail is a great place to start. Tucked into the Tillamook State Forest (yes, just like the cheese!), this 4.6-mile out-and-back adventure will definitely make you feel your legs… but the views are more than worth it.
Angel's Rest
One of the most famous trails in the area, Angel's Rest still gets a place on our list just because it's that worth it. Seeing about 1,400 feet of elevation gain over a little more than two miles up, it's definitely in the moderate category — which is to say, it's pretty doable for people in decent shape, but you may find yourself huffing and puffing on the way up if it's been a while since you've hit the gym. Either way, it's definitely worth making the attempt, because the view is downright unforgettable.
Best Restaurants in Portland
If there's anything that's more popular to do in Portland than hiking, it's eating — and you've got no shortage of restaurants, eateries, and even food trucks to pick from.
Lucca
Widely considered one of the best Italian restaurants in Portland, Lucca offers wood-fired pizzas, classic pastas and other dishes served up in a cozy, but bustling, atmosphere.
Butterfly Belly Asian Cuisine
There are so many that it's really tough to name the best Asian restaurants in Portland, but if you're looking for a one-stop-shop for everything from vermicelli noodles to egg rolls to pad thai, Butterfly Belly has you covered. They also offer bone broth beef pho that's been cooked for a full 48 hours, and their foods are free of preservatives, MSG and, in many cases, gluten.
Vtopia
Like Asian restaurants — and any type of restaurant, actually — there are so many vegan and vegetarian options in Portland that it's hard to name the best one. But something you definitely probably haven't seen before is a place like Vtopia, which is an all-vegan restaurant and cheese shop! Just imagine a fancy charcuterie board with absolutely zero guilt about how it was made. It's possible in Portland.
Bluefin Sushi Bar
If you're looking for a sushi bar that's authentic, kid-friendly, and has a fun atmosphere, Bluefin Sushi has you covered. From sashimi to rolls to dishes specifically for the kids, you can find all of your favorites here… and some new ones you didn't know were your favorite.
Santa Fe Taqueria
If you're looking for street tacos to die for, head to Santa Fe Taqueria, one of the best casual Mexican restaurants in Northwest Portland. It's tucked on 23rd Avenue which is a well-known shopping district, so you'll have plenty to do once you've eaten.
Babydoll Pizza
Portland has no shortage of great pizza to choose from. But if you're looking for a simple, New York style slice at affordable prices, it's hard to beat Babydoll. It's also attached to a full bar, so you can sit down and have a drink with your 'za.
Blue Star Donuts
Everyone knows about Voodoo Donuts, and don't get us wrong, they're great. But the real local favorite is Blue Star, which even has a location inside the PDX airport. We recommend the raspberry rosemary buttermilk or the meyer lemon and key lime curd.
Local Insider Tips From Yume Delegato:
A fixture in Ladd's Addition, Teote was one of the early champions of mezcal in Portland and still boasts one of the finer lists in the city. Also known for their margaritas and arepas, Teote's SE Portland flagship offers a cozy dining room with counter service downstairs and a sprawling bar and covered patio upstairs. They opened a Mezcaleria in NE Portland as well!
One of the most anticipated restaurant openings of 2019, Eem has quickly earned its place in Portland's dining firmament with innovative take on Thai barbecue and tiki-inspired cocktails. And the meats. Oh, the meats. Given this place's immense popularity and lack of reservations, wait times can be long, but well worth the wait. (Pro tip: Stop by for lunch or an early dinner to avoid the wait at peak hours.) 
Swanky bars with curated menus are a dime a dozen in Portland, but Bit House Saloon manages to strike those familiar chords with finesse. In a part of town where all outdoor seating is typically sidewalk seating, Bit House's spacious patio is a great place to kick back with a cocktail during happy hour and watch the sunset.
Fun Things to Do in Portland
Once you've got the hiking and eating taken care of, there's still plenty to see and do in Portland. Here are some of our favorite options.
Portland Kids Activities
Children's Museum
"The Portland Children's Museum is, like, the best children's museum in the country," says Elizabeth Molly Howard, a parent who lives in the area. She and her four-year-old, Klari, love exploring the museum's interactive and educational displays and exhibits.
The museum is designed specifically for kids aged 0-12, and adults aged 16 and over must make arrangements if they want to visit without their kids in tow. The museum includes a clay studio, a construction zone, a market and more to help kids grow, play, and learn how to live in this great big world of ours.
Westmoreland Park Nature Playground
Portland has no shortage of parks, of course, but Westmoreland Park Nature Playground is something special. It's chock full of things to climb, discover and explore, not to mention the stunning natural landscape it's surrounded by.
Cheap Things to Do in Portland
Looking for the best things to do in Portland this weekend that won't leave you broke? Here are some must-hits.
Powell's City of Books 
Powell's is an actual legend amongst book lovers, and even if you're not much of a reader, you're sure to find something to catch your fancy. Along with books, the 68,000-square-foot main storefront offers games, art supplies, novelties, and even socks. It's totally free to enter, but we won't lie… it's hard to come out of this place without buying anything!
McMenamins Kennedy School Soaking Pool
Sometimes, you just need a soak. If so, it's time for a trip down to the McMenamins Kennedy School Soaking Pool, where the general public is invited to relax and enjoy the heated oasis for just $6 per person, any hour, any day.
Bonus: if you live in the neighborhood, you're actually entitled to a free soak! You'll have to present a valid Oregon State ID with an address within the school's specific boundaries. (See the website for full details.)
Activities in Portland For Families
There's all sorts of family fun to be had in Portland! Here are some places to start.
The Oregon Zoo
The 64-acre Oregon Zoo is home to about 1,8oo animals, from tortoises to tigers to elephants and everything in between. Meander through the African rainforest before visiting the Cascade stream and pond exhibit, and don't forget to stop in the gift shop or grab a bite to eat!
Oregon Museum of Science and Industry
The Oregon Museum of Science and Industry, or OMSI as it's known around town, offers a range of rotating exhibits as well as a multitude of interactive permanent collections and exhibits that are perfect for getting the whole family excited about science. The planetarium and science playground are particularly cool!
What to Do in Portland at Night
Not sure how to amuse yourself after dark? Try out these beloved institutions.
Ground Kontrol
Arcade bars are popular the world over these days, but Ground Kontrol was one of the first. Enjoy classics like pinball alongside brews and pub eats, all in the heart of downtown Portland.
 Peacock Lane (Christmas Only)
Anyone who's lived in Portland for more than a year has likely experienced the Christmas excitement at Peacock Lane, a street where each resident outdoes themselves in decorating for the season. Meander along with the rest of the crowd to ooh and aah at the light spectacular.
Spas in Portland
One of the best things for couples to do in Portland — or even solo travelers or parents who need a moment to rest and relax — is hit the spa. Here are some great options.
Blooming Moon Wellness Spa
If you're committed to a vegan lifestyle, it doesn't end at the plate. Blooming Moon Wellness Spa offers cruelty-free treatments of all sorts, from body scrubs to massages to facials.
The Dragontree Holistic Day Spa
According to ancient medicine, wellness is about the whole body. The Dragontree is a holistic spa that will treat every part of you, from fingers to toes, in pursuit of the best health outcomes.
Best Gyms & Yoga Studios in Portland
YoYoYogi
An authentic, local yoga studio that offers everything from relaxing yin to challenging hot classes, tucked into a beautiful, historic downtown building? Yes, please.
Hollywood Fitness
Widely considered one of the best local gyms by area locals, Hollywood Fitness offers personal training, group classes, and a wide range of equipment to help you become your best self.
Free Things to Do in Portland
Portland Saturday Market
Farmers markets have become popular throughout the country, but Portland has one of the oldest — and one of the best. Each weekend during the sunny season, the Portland Saturday Market draws crowds who gather around the local artists, farmers, and food vendor who gather there… and by the way, it's open Sunday, too!
International Test Rose Garden
Tucked inside Washington Park, the International Test Rose Garden is just what it sounds like: a testing ground for some of the newest and most fascinating varieties of rose. Although it's worth wandering through any time of year, go in mid- to late summer for the best chance of seeing some serious blossoms.
Day Trips in Portland
While there are tons of fun things to do in Portland, there's also a wealth of adventure available in an easy driving distance! Here are a few fruitful day trips to tackle.
Tillamook Creamery
Tillamook dairy products, like cheese and ice cream, line Portland-area grocery shelves — and increasingly, grocery shelves elsewhere, too. The creamery where it's all made is available for public tours, and it includes a DIY cheese-tasting flight!
Newport
You could easily spend a lifetime exploring the Oregon coast, and it's hard to narrow it down to a specific city. That said, if you're not sure where to start, head to Newport, which features a walkable downtown, some delicious eats, and one of the best aquariums in the country.
As a final reminder, some of these activities may need to wait until businesses fully reopen from coronavirus closures. However, there is still much to see and experience in Portland that you can enjoy today! What are your favorite spots in Portland? Send them our way to [email protected] or by tagging us on Instagram @rvshare and using the hashtag #rvsharelocal.
This post may contain affiliate links.