Travel Inspiration
June 24th, 2020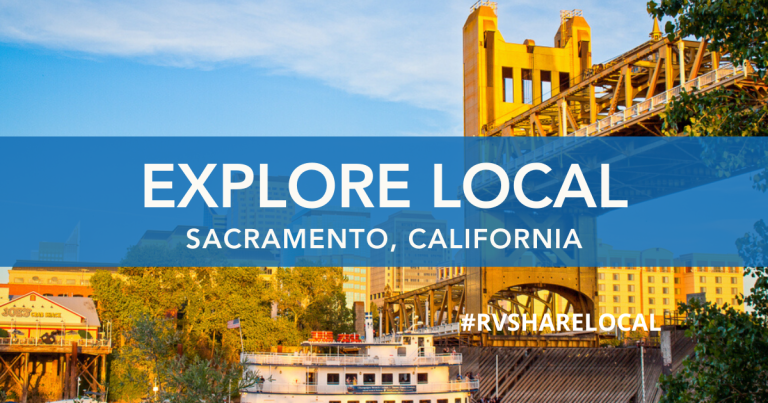 Sacramento is the capital city of California and it has over 508,000 people calling it home. While California is often associated with its ritzy coastal areas and beach-loving lifestyle, Sacramento offers a more diverse landscape and change of pace. It's one of the few cities in the state where you can experience the colorful changing of fall foliage, plus the area boasts plenty of tree-lined streets, freshwater rivers and lakes, and a rich Gold Rush history.
Even those who have lived in the city for a decade would agree they haven't experienced all that Sacramento has to offer, while for those new to the region – well, they've got a lot to look forward to as well.
Ready to discover the best of Sacramento, California? Let's get started!
Why We Love to Travel
From meeting new people to experiencing new sights, sounds, and smells – is there anything more exciting or rejuvenating than a break from the day-to-day mundanity? Traveling is an excellent way to immerse yourself in a new culture, setting, or way-of-life, but the best part is this: you don't have to venture far from home to enjoy what this world has to offer.
Whether your journey takes you across your own city, to an unexplored part of your state, or even to the other side of the world, there's no doubt you will still learn a lot about your surroundings – and yourself – along the way.
Benefits of Traveling Locally
While the culture an hour away from your home might not be drastically different from what you're used to, you can still gain a deepened sense of appreciation for where you've laid your roots. Plus, traveling locally has a lot of benefits:
More cost-effective. Local travel is certainly a budget-friendly way to explore! Many activities and local parks are free or have a low cost of entry. For day trips, you can also pack your own meals to save.
Eco-friendly way to travel. Travel is hard on the environment, but putzing around your area is more sustainable than air travel.
Quick trips. Getting out locally means you can do it more often! Long weekend trips are a lot easier to take when the destination is a short drive away.
Easy to plan. Preparing your itinerary for a local getaway will likely save you some time and stress.
More convenient. Especially if you have little ones, sticking close to home may be much more convenient than far-off destinations. If you forget something, have an emergency, or need to cut the trip short, being close by definitely has its benefits.
Explore Local: Sacramento, California
Whether you've lived in Sacramento your whole life, are a recently new transplant to the city, or are planning on visiting the region sometime in the near future, Sacramento offers an exciting new experience in almost any direction you look.
Read on to start your Sacramento, California adventure!
*Note: Some of the suggestions may not be doable due to coronavirus closures, but keep this list handy for when things start opening back up more! Be sure to check individual pages for specific operation details.
State Parks in Sacramento
If you're looking to spend some time outdoors to enjoy a spot of fishing, hiking, camping, picnicking, or more, then you're in luck. With plenty of state parks and national parks within the region, you don't have to travel far to get your nature fix.
Folsom Lake State Recreation Area: Located about 25 miles east of Sacramento is the Folsom Lake State Recreation Area, which is situated at the base of the Sierra foothills. At this scenic place, you can partake in recreational activities such as hiking, biking, running, fishing, camping, picnicking, horseback riding, water-skiing, and boating.
Nimbus Flat State Recreation Area: Just over 20 miles out from the city is the Nimbus Flat State Recreation Area, a scenic park with a stretch of riverfront facing the dam. Facilities include one group campground, 11 miles of paved bicycle trails, 6 miles of multi-use trails, and a boat ramp for excellent year-round bank or boat fishing. Keen anglers will particularly love this park, as commonly caught species include rainbow trout, brown trout, black bass, crappie, and bluegill.
Brannan Island State Recreation Area: This stunning spot in California's San Joaquin Delt is situated just 47 miles southwest of Sacramento. It's famous for its endless maze of rivers and streams, which offer motorboating and kayaking, as well as other recreational activities such as fishing and swimming.
Best Hiking Trails
Whether you're after a quick round-trip or a day-long hike, Sacramento has a variety of hiking and walking trails to satisfy your every need. Just don't forget to pack some water, sunscreen, and a snack, of course!
South Fork American River Trail: Featuring 25 miles of trails that span from Sacramento to Coloma, the South Fork American River trail is perfect for all levels of hiking. You'll love the scenery along the way, including rivers, forests, hills, and chaparral canyons. Almost a fifth of California's total native plant life is situated among these trails, so it's a great way to immerse yourself in nature just outside of the city.
Sacramento Recreational River: For beautiful river views and waterside paths, the Sacramento Recreational River is the place to be. This tranquil hiking location is popular among both locals and tourists, as you get to listen to songbirds or spot a deer along the way.
Jedediah Smith Memorial Trail: As you know, Sacramento is filled with parks, with many of them offering access to the 32-mile long Jedediah Smith Memorial Trail. The paved trail meanders along the American River Parkway, making it both an easy and scenic hike.
Best Restaurants in Sacramento
Sacramento is heralded as the national "Farm to Fork capital", which means local restaurants utilize the abundance of regionally grown products here, more than anywhere else in America. With the region being home to over 1.5 million acres of farms and ranches, you can expect the freshest, tastiest, and highest-quality produce on offer anytime you dine within or outside of the city.
Ready to enjoy a scrumptious meal while wandering around Sacramento? Here are our top restaurant picks!
Bacon & Butter
If you think it doesn't get any tastier than literally just bacon and butter, you're in for a treat. Despite Bacon & Butter's name, they offer a wide variety of breakfast, lunch, and brunch, including some of the best burgers in town, according to locals. Trust us, you'll be coming back here again and again.
Kru Contemporary Japanese Cuisine
Chef and Founder of Kru, Billy Ngo, is known for his use of the best ingredients and flavor, as well as his commitment to increasing sustainability in his menu. At this restaurant, it's the Japanese cuisine favorites you love, with a modern and trendy twist.
LOCALIS Restaurant
At this popular restaurant, you can enjoy locally sourced New American dishes, including vegan options. Because LOCALIS places the utmost importance on fresh and local produce, the menu changes with the season to reflect what's being harvested during that time. Clever, comforting, and oh-so-cool.
Ella Dining Room and Bar
Known as a "Downtown Sacramento institution and premier dining destination", Ella certainly won't disappoint. It prides itself on serving New American, farm-to-fork cuisine throughout the day and even has an award-winning wine list on-hand to complement your dish.
South
If fried chicken is more your thing, don't worry – we hear you. Sacramento isn't all fine dining and modern interpretations of classics. You'll also find fantastic fast food that has people begging for more. South is one of the most popular of these places, offering mouth-watering fried chicken and other Southern-inspired delights you just won't taste anywhere else.
Fun Things to Do in Sacramento
After filling up on delicious food and enjoying all that the hiking trails and state parks have to offer, you may be wondering: "what's next?" Well, when it comes to Sacramento's attractions and activities, you're only just getting started. Here are some of the most fun things on offer in and around the city!
For kids and families
Sacramento might be earning a reputation as a hip and trendy place to be, but that doesn't mean there aren't plenty of attractions aimed towards children. If you and your family are looking for a way to pass the day, look no further than these activities.
Fairytale Town
It's been in operation for over 60 years and is thankfully showing no signs of slowing down. Fairytale Town contains 26 playsets based on nursery rhymes and fairytales, a friendly flock of farm animals, two performing arts stages, and several gardens to provide children with a safe and educational place to have fun.
Sacramento Zoo
Who doesn't love a fun day out at the zoo? Sacramento Zoo is a non-profit which aims to inspire appreciation, respect, and a connection with wildlife and nature through education, recreation, and conservation. You'll get to see nearly 500 native, rare and endangered animals here.
On the Cheap
Looking to save a dollar or two during your Sacramento excursion? There are plenty of activities and attractions that can be visited on a budget, helping you to get the most out of your time spent in the city.
Old Sacramento Waterfront
While there are over 125 shopping, dining, events, and attractions located in the beautiful Old Sacramento Waterfront historic district, even just a stroll around in the sunshine can be enough to satisfy your afternoon. Grab an ice cream, take in the water views, or check out one of the many tours on offer.
California State Railroad Museum
Come and experience California and the West's rich railroad history at the California State Railroad Museum. For $12 and under per person, you and your family can view several interactive exhibits to learn about Sacramento and its surrounding area from a transport perspective. For an additional $8-$15 per person, you can take an exciting trip on a historic locomotive.
At Night
What should you do in Sacramento once the sun goes down? We're glad you asked! Here are our suggested night-time attractions.
Sacramento Comedy Spot
At Northern California's largest comedy school, you can not only learn how to become a comedian but also watch hilarious comedy-related events and shows. After you've wined and dined within the city, why not make your way to the Sacramento Comedy Spot to finish your evening with some laughs?
Fox & Goose
Catch some late-night live entertainment at the Fox & Goose, including local bands and musicians. A mainstay since 1975, this place also offers a menu of "pub grub" in case you get peckish, as well as an excellent array of beer, wine, spirits, and cocktails.
Free Things to Do in Sacramento
If you're hoping to not even spend a dime while visiting the region, then you're in luck. There are plenty of fun, family-friendly, and fantastic things to do in Sacramento – all of which are completely free.
California State Capitol Museum
The building serves as both a museum and the state's working seat of government, so visitors can still come here to spend a few hours of their time learning about the area's history – all for free. Public tours are conducted daily on the hour from 9 am to 4 pm, while films are shown daily in the basement theater.
Jelly Belly Factory Tours
Did you know Jelly Belly offers free, self-guided factory tours seven days a week, except for on public holidays? During these tours, you'll get to see factory workers creating America's favorite jelly bean below observation decks, view some art pieces made completely out of jelly beans, and receive a package of assorted flavors to enjoy. Not bad, huh?
Spas in Sacramento
By now, you've probably been on your feet all day exploring the sights and delights that Sacramento has to offer. If you're craving some rest and relaxation, or even a bit of pampering, these are two of the best spas in the region.
Asha Urban Baths
Asha Urban Baths offers a refuge from the hustle and bustle of life. Providing services such as a soak, cold plunge, sauna, massage, skincare, yoga, and more, this really is your one-stop destination for all things relaxation and wellness.
Thai Massage Spa Retreat
Thai Massage Spa Retreat is located in Downtown Sacramento, close to the Convention Center. Here, you can enjoy a variety of Spa packages that are the ultimate in pampering, including a variety of popular massages (such as hot stone), as well as facials, body scrubs, sauna, and more.
Best Gyms and Yoga Studios
Looking to hit the gym in Sacramento, or perhaps a relaxing yoga session is more your thing? It doesn't matter what your mind and body is craving, this spectacular city has the perfect place on offer.
Zuda Yoga
So, what exactly is Zuda Yoga, you ask? At Zuda, they combine the fun of challenging physical practices with the "profound message" of yoga. According to the studio, their classes are "bold and enlivening to enable us to get past resistance". Sound good? Zuda Yoga offers more than 45 weekly classes of power vinyasa yoga, all in the heart of Sacramento.
Sacramento Eco Fitness
Sacramento Eco Fitness is the first human-powered fitness facility in California. This means that while you're working out for your physical health and wellbeing, you're also making a contribution to improve the environment. You see, each time you show up to workout on the facility's Eco-Power cycles, you're generating watts that help power the facility. Genius, huh?
Day Trips Near Sacramento
Looking to fulfill your wanderlust by heading outside of Sacramento for a day? You could spend decades within Sacramento without barely scratching the surface of all there is to do in this large city, but consider these day trips next time you fancy a new adventure.
Yosemite National Park
When one of the most popular natural wonders in all of the United States is just over a 2.5-hour drive away from Sacramento, you'd be silly to pass up a visit. Yosemite National Park is famous for its high cliffs and outcroppings, waterfalls, ancient sequoias, and stunning wilderness. While at the national park, you can also enjoy activities such as hiking, camping, biking, fishing, rock climbing, and so much more.
Napa Valley
Napa Valley is known as California Wine Country, and it's just over a one-hour drive from Sacramento. As a world-famous wine region, you won't want to miss the wine tasting or wine tours, as well as the popular Napa Valley Wine Train, which is a vintage locomotive and traveling restaurant running through the valley.
As a final reminder, some of these activities may need to wait until businesses fully reopen from coronavirus closures. However, there is still much to see and experience in Sacramento that you can enjoy today! What are your favorite spots in Sacramento? Send them our way to [email protected] or by tagging us on Instagram @rvshare and using the hashtag #rvsharelocal.