Travel Inspiration
June 24th, 2020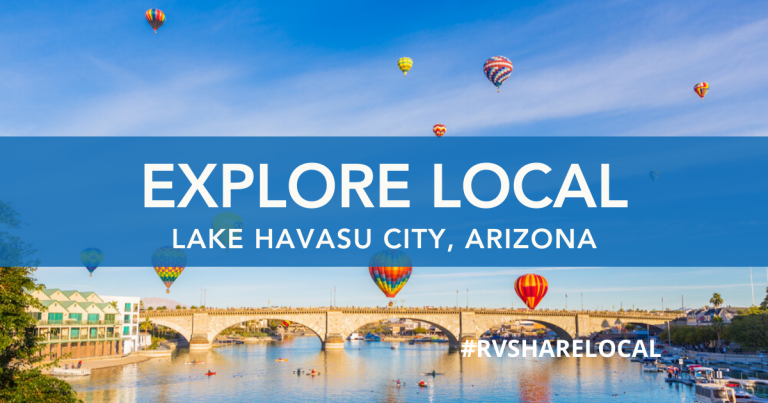 Lake Havasu City, located in western Arizona, is an outdoor enthusiast's heaven. With over 300 days of sunshine each year and varying landscapes on your very doorstep – including tranquil water, vast desert, and rugged mountains – there's certainly no shortage of activities in every direction you turn.
Heralded as "the most exotic place in Arizona that you can reach by road", Lake Havasu City has a lot to boast about, including 400 miles of stunning coastline and 60 miles of navigable waterways, as well as numerous restaurants, attractions, parks, and annual events.
Even those who have lived in the region for a decade would agree they haven't experienced all that this place has to offer, while for those new to the region – well, they've got a lot to look forward to as well. Ready to discover the best of Lake Havasu City, Arizona? Let's get started!
Why We Love to Travel
From meeting new people to experiencing new sights, sounds, and smells – is there anything more exciting or rejuvenating than a break from the day-to-day mundanity? Traveling is an excellent way to immerse yourself in a new culture, setting, or way-of-life, but the best part is this: you don't have to venture far from home to enjoy what this world has to offer.
Whether your journey takes you across your own city, to an unexplored part of your state, or even to the other side of the world, there's no doubt you will still learn a lot about your surroundings – and yourself – along the way.
Benefits of Traveling Locally
While the culture an hour away from your home might not be drastically different from what you're used to, you can still gain a deepened sense of appreciation for where you've laid your roots. Plus, traveling locally has a lot of benefits:
More cost-effective. Local travel is certainly a budget-friendly way to explore! Many activities and local parks are free or have a low cost of entry. For day trips, you can also pack your own meals to save.
Eco-friendly way to travel. Travel is hard on the environment, but putzing around your area is more sustainable than air travel.
Quick trips. Getting out locally means you can do it more often! Long weekend trips are a lot easier to take when the destination is a short drive away.
Easy to plan. Preparing your itinerary for a local getaway will likely save you some time and stress.
More convenient. Especially if you have little ones, sticking close to home may be much more convenient than far-off destinations. If you forget something, have an emergency, or need to cut the trip short, being close by definitely has its benefits.
Explore Local: Lake Havasu City, Arizona
Whether you've lived in Lake Havasu City your whole life, are a recently new transplant to the area, or are planning on visiting the region sometime in the near future, Lake Havasu City offers an exciting new experience in any direction you look.
Read on to start your Lake Havasu City, Arizona adventure!
*Note: Some of the suggestions may not be doable due to coronavirus closures, but keep this list handy for when things start opening back up more! Be sure to check individual pages for specific operation details.
State Parks in Lake Havasu City
If you're looking to explore nature in or around Lake Havasu City, then you're in luck. The region is also home to several state parks and recreation areas, offering outdoor activities such as hiking, biking, swimming, boating, camping, and so much more.
Located near the famous London Bridge of Lake Havasu City is Lake Havasu State Park, which offers swimming beaches, hiking trails, boat ramps, numerous campsites, and the Arroyo-Camino Interpretive Garden. Situated on the banks of Lake Havasu, it's hard to beat the tranquil scenery of this popular place.
Located further south than Lake Havasu State Park, this resort-like, 2,000-acre park features more than 60 campsites, plus a swimming beach, boat ramp, fishing areas, hiking trails, and more. Anglers particularly like the state park due to its fishing opportunities, with largemouth and striped bass, channel and flathead catfish, bluegill, and crappie all found within the lake.
North of Lake Havasu City is the Havasu National Wildlife Refuge, which is a 37,515-acre refuge located along the lower Colorado River. It's home to over 300 bird species, but also offers recreational activities such as boating, fishing, and hiking.
Surrounded by 180-degree views of the Colorado River is Buckskin Mountain State Park, a stunning recreation area offering activities such as hiking, boating, swimming, camping, and more. Mountains line the river on both the Arizona and California sides, giving you the feeling as though you're miles from home – even if you're an Arizona local.
Mojave National Preserve
If you fancy crossing the border into California, just under a 1.5-hour drive will take you to the famous Mojave National Preserve. Covering 1.6 million acres, this park is home to canyons, mountains, Joshua Tree forest, sand dunes, and so much more. Enjoy camping, horseback riding, hiking, hunting, and wildflower viewing.
Best Hiking Trails
Itching to do a bit more exploring outside among nature? The area is filled with fun hiking trails for all levels, allowing you to experience the stunning scenery of Lake Havasu City with your own eyes.
Shoreline Trail: Fancy an easy walk that takes in the beauty of Lake Havasu? The Shoreline Trail provides a paved concrete sidewalk along Bridgewater Channel through Rotary Park with views of the lake, mountains, and London Bridge. It's a 2-mile trip.
Water Tank Trail: This easy, 6.2-mile hike passes the scenic rocks of Aubrey Hills to a fenced-in wildlife watering area. The final destination is located just below Horse Hoof Point (also known as Shiprock Mountain), where you can spot herds of bighorn sheep.
Crack in the Mountain Trail: If a moderate hike with some climbing involved is more your thing, then this trail is for you. It'll take you approximately 3 hours to complete and passes through one of the most famous slot canyons on the Lower Colorado. It ends at a scenic cove on the lake beside Balance Rock, a must-see attraction in the region.
Dead Burro Canyon Trail: For the more serious hikers out there, this one takes the cake. Stretching 7.3 miles, this trail is strenuous, with climbing and scrambling involved. The mountain views are completely worth it, however, as is the sense of adventure as you pass through a deep scenic canyon in Havasu National Wildlife Refuge.
Best Restaurants in Lake Havasu City
After all of that walking, there's no doubt your stomach will be rumbling by now. Treat yourself to some of the finest cuisine Lake Havasu City has on offer, including everything from American classics and woodfired pizza, to seafood and plant-based delicacies.
Black Bear Diner
For home-style comfort food classics and friendly customer service, Black Bear Diner is a local go-to. It offers a community-oriented, family dining concept that provides great food in a fun, bear-themed atmosphere, with diners operating in 14 states across America. Their chicken fried steak is a standout!
Juicy's the place with the great food
So, what makes Juicy's the "place with good food"? Their quality American dishes and friendly, comfortable atmosphere makes this a treat for both locals and visitors alike. The prices are reasonable, yet the portions are generous, so it's the perfect place to dine after a big day out on the trails.
Shugrue's Restaurant and Bar
If hand-cut steaks and fresh seafood is what you're craving, then Shugrue's Restaurant and Bar is well worth the visit. Offering stunning views of the Bridgewater Channel and the world-famous London Bridge, Shugrue's is all about providing fine dining in a casual atmosphere.
Barley Brothers Restaurant and Brewery
Barley Brothers is known for its extensive menu and award-winning craft beer. They offer delectable American cuisine, such as Cajun seafood salad, Lobster burger, and baby back ribs (just to name a few), as well as a popular and lengthy woodfire pizza menu.
Ójala
Looking for a vegan-friendly place to dine? Ójala is passionate about plant-based food and its extensive range of salads, sandwiches, burgers, burritos, and so much more has got you covered. Be sure to try their signature black lemonade or infused water to quench your thirst, while their chipotle hummus burger is as good as it sounds!
Fun Things to do in Lake Havasu City
After feasting and enjoying all that nature has to offer, you may be wondering: "what next?" Well, when it comes to Lake Havasu City's attractions and activities, you're only just getting started. Here are some of the most fun things on offer in and around the city!
For kids and families
Looking for some fun things to do within the city that will keep the kids entertained? You've come to the right place!
Aquatic Center
Sure, there is plenty of shoreline to swim and splash around in, but if you're looking to escape indoors and beat the heat, the Aquatic Center in Lake Havasu City's C.V. Wood Community Center is the place to go. Kids will enjoy the waterslide, wave pool, kiddie pool, and outdoor splash area, while teens and adults can relax in the heated pools or lap pool.
Southwest Kayaks
Just a short drive from Havasu Lake City's most popular beaches and ramps is Southwest Kayaks, which offers pedal and paddle kayaks, as well as paddleboards for hire. So even if you and your family don't have the watercraft necessary, you can still enjoy a day out on the lake fishing or simply enjoying the scenery.
On the cheap
Exploring Lake Havasu City doesn't have to cost a small fortune. Here are some of our favorite ways to enjoy the city "on the cheap".
Lake Havasu Museum of History
Learn more about the history of the Lake Havasu region by visiting its popular Museum of History. Here, visitors can learn everything about steamboats, mining, wildlife, and local history, thanks to the museum's numerous exhibitions. For visitors aged 12 and over, admissions costs just $7.50 per person.
Lighthouses
Did you know Lake Havasu City is home to more lighthouses than any other city in the entire country? More than eighteen can be seen from the shores of the lake, with each of these being miniature, working replicas of famous lighthouses around the United States. Most can be hiked to, while some are only accessible via boat. Either way, lighthouse spotting while in Lake Havasu City isn't just a recommended activity, but one that will hardly cost you a cent too!
At night
Found yourself wandering around the city long after the sun has gone down? Here are our top activities to enjoy in the Lake Havasu region during the darker hours.
Lake Havasu City stargazing
Lake Havasu City has been designed with no streetlights in any of the residential areas, making the region one of the best stargazing locations you'll find. Simply download a stargazing app (such as Sky Map or StarWalk), pack your binoculars, and head a few miles out of town. If you're lucky, you may even witness a meteor shower!
Kokomo Beach Club
Ready to shake your booty at the hottest nightclub on the river? Listed as one of the World's Best Nightclubs and World's Best Party Destinations on the Travel Channel, Kokomo Beach Club is just as fun during the night, as it is when the sun is up. Experience your favorite band or DJ up-close or order your favorite cocktail from the generous bar menu.
Free Things to do in Lake Havasu City
Whether you want a fun way to waste away a sunny Sunday afternoon or a date idea that won't break the budget – here are our most recommended things to do in Lake Havasu City that won't cost you a cent.
The London Bridge
There's no doubt by now, you've already heard us refer to the famous London Bridge several times, so what exactly is it? Originally built in the 1830s to span the River Thames in London, England, the bridge needed replacing, so was sold off before being relocated to Lake Havasu City. Now, it's the second-largest tourist drawcard in Arizona, topped only by the Grand Canyon. Take a stroll along it and relive its historic past.
Rotary Community Park
Located on Smoketree Ave, not far from the London Bridge, is the Rotary Community Park and Playgrounds. Access, of course, is free, and you and your family can enjoy activities such as swimming, boating, picnicking (including BBQs), a walking trail, sports courts, skate park, and more. It's the perfect place to spend an afternoon without breaking the budget.
Spas in Lake Havasu City
If this long list of activities within Lake Havasu City has tired you out, then perhaps a visit to a local spa is in order? After all, everyone deserves a bit of pampering!
Body Essentials Holistic Spa
In need of some detoxification services and programs to "promote inner-body rejuvenation and transformation"? Body Essentials Holistic Spa is a popular destination within the region, particularly for its wide range of massages, energy therapy such as reiki and chakra balancing, and wellness treatments such as ionic foot spas, body contour wrapping, and more.
A Natural Massage and Day Spa
Another recommended spa in the city is A Natural Massage and Day Spa, which offers services such as hot stone massage, deep tissue massage, or couple's massage, with other popular offerings such as manicures, pedicures, and hair treatments. It's a one-stop shop for all of your aesthetic or relaxation needs!
Best Gyms and Yoga Studios
Looking to hit the gym in Lake Havasu City, or perhaps a relaxing yoga session is more your thing? It doesn't matter what your mind and body is craving, this spectacular city has the perfect place on offer.
Eight Lotus Wellness and Yoga
With the motto "fight stress and find serenity", Eight Lotus Wellness and Yoga will instantly have you feeling at ease. They teach Ashtanga inspired, Iyengar, Anusara, Shambhala, and Hatha yoga in the traditional Indian methods, and even offer a variety of classes, courses, and workshops to help you incorporate yoga in all aspects of your life.
Havasu Fitness
This state-of-the-art fitness center offers over 23,000 square feet of space, making it a health and fitness haven. Havasu Fitness offers weights, cardiovascular equipment, group cycling, sectorized weight machines, a group activity room, and a ladies section, which includes the latest in resistance training equipment.
Day Trips Near Lake Havasu City
Looking to fulfill your wanderlust by heading outside of Lake Havasu City, even if only for a day? While the Lake Havasu region can provide you with endless adventures, Arizona is also home to some other spectacular attractions, all within a few hours' drive!
Grand Canyon
If you live in or near Lake Havasu City, or simply find yourself visiting the region, a trip to Arizona's most famous attraction – the Grand Canyon – is a must. It's around a 2.5-hour drive from Lake Havasu City and is located within the Grand Canyon National Park, which offers incredible scenery, hikes, and other outdoor activities.
Oatman
Only 54 miles northwest of Lake Havasu is the historic gold mining town of Oatman. It's a unique reminder of the Old West, filled with wooden sidewalks and 1880s-style buildings. A particular highlight, however, is a recreated western shootout, as well as the wild burros that roam the streets, coming and going as they please.
As a final reminder, some of these activities may need to wait until businesses fully reopen from coronavirus closures. However, there is still much to see and experience in Lake Havasu City that you can enjoy today! What are your favorite spots in Lake Havasu City? Send them our way to [email protected] or by tagging us on Instagram @rvshare and using the hashtag #rvsharelocal.