Travel Inspiration
June 22nd, 2020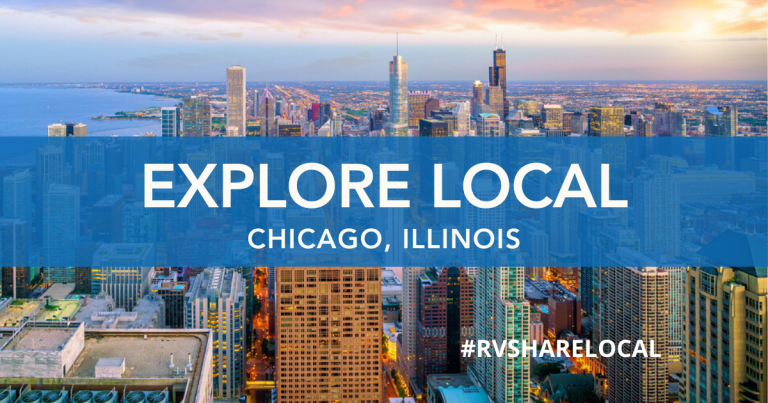 With its scenic Lake Michigan setting, skyscraper lined skyline, and bold architecture – there's just so much to love about Chicago. Not only is it the largest city in Illinois, but it's also the third-largest city in the United States, meaning there's certainly no shortage of things to do and see within the area.
With what locals refer to as an "urban-meets-natural beauty", Chicago has a lot to boast about, including 42 kilometers of lakefront, 26 beaches, 580 parks, 7,300 restaurants, and more than 65 craft breweries. Even those who have lived in the city for a decade would agree they haven't experienced all that Chicago has to offer, while for those new to the region – well, they've got a lot to look forward to as well.
Ready to discover the best of Chicago, Illinois? Let's get started!
Why We Love to Travel
From meeting new people to experiencing new sights, sounds, and smells – is there anything more exciting or rejuvenating than a break from the day-to-day mundanity? Traveling is an excellent way to immerse yourself in a new culture, setting, or way-of-life, but the best part is this: you don't have to venture far from home to enjoy what this world has to offer.
Whether your journey takes you across your own city, to an unexplored part of your state, or even to the other side of the world, there's no doubt you will still learn a lot about your surroundings – and yourself – along the way.
Benefits of Traveling Locally
While the culture an hour away from your home might not be drastically different from what you're used to, you can still gain a deepened sense of appreciation for where you've laid your roots. Plus, traveling locally has a lot of benefits:
More cost-effective. Local travel is certainly a budget-friendly way to explore! Many activities and local parks are free or have a low cost of entry. For day trips, you can also pack your own meals to save.
Eco-friendly way to travel. Travel is hard on the environment, but putzing around your area is more sustainable than air travel.
Quick trips. Getting out locally means you can do it more often! Long weekend trips are a lot easier to take when the destination is a short drive away.
Easy to plan. Preparing your itinerary for a local getaway will likely save you some time and stress.
More convenient. Especially if you have little ones, sticking close to home may be much more convenient than far-off destinations. If you forget something, have an emergency, or need to cut the trip short, being close by definitely has its benefits.
Explore Local: Chicago, Illinois
Whether you've lived in Chicago your whole life, are a recently new transplant to the city, or are planning on visiting the region sometime in the near future, Chicago offers an exciting new experience in almost any direction you look.
Read on to start your Chicago, Illinois adventure!
*Note: Some of the suggestions may not be doable due to coronavirus closures, but keep this list handy for when things start opening back up more! Be sure to check individual pages for specific operation details.
State Parks in Chicago
Chicago and its surrounding area are home to multiple state parks and national parks, helping you to get back to nature and leave behind the hustle and bustle of the city – even if only for a couple of hours. Here are our top picks within the region.
Silver Springs State Park: Named after its crystal-clear springs which sparkle like silver on a sunny day, this state park is just over an hour drive from the city center. Visitors can enjoy boating and fishing in the lakes and rivers, as well as activities such as hiking and picnicking in the warmer months and ice fishing, sledding, ice skating and cross-country skiing during the winter.
Illinois Beach State Park: This beachside state park stretches along the shore of Lake Michigan and provides a wide rage of relaxing and recreational activities, such as swimming, boating, picnicking, hiking, fishing, and camping. Enjoy the sandy dunes, oak forests, and sprawling marshes, all just an hour's drive north of the city.
Moraine Hills State Park: Not far west from Illinois Beach State Park is Moraine Hills State Park, which is known for its wetlands, lakes, wooded hills, and ridges. It's home to many rare plants, as well as wildlife such as red fox, coyote, white-tailed deer, and blue and green herons. Activities include picnicking, hiking, and boating (rental only).
Shabbona Lake State Park: Venture a little further west from the city and you'll find Shabbona Lake State Park, which is very popular due to its fishing and camping. It offers 1,550 scenic acres which are perfect for hiking, picnicking, and enjoying winter sports.
Channahon State Park: Less than an hour's drive south-west from the city center will take you to Channahon State Park, which is named after an Indian word meaning "the meeting of the waters". Not only do the DuPage, Des Plaines and Kankakee rivers meet here, but the park is also the official trailhead for the Illinois & Michigan Canal State Trail and contains a historic waterway.
Starved Rock State Park: This state park was voted the #1 attraction in Illinois and for plenty of good reasons too. It's just over 1.5 hours' drive from the city and is home to 18 canyons, as well as tree-covered sandstone bluffs, and more than 13 miles of hiking trails allowing access to waterfalls, natural springs, sandstone overhangs, and scenic overlooks. Other in-park activities include camping, fishing, boating, and hunting.
Best Hiking Trails
One of the best ways to truly experience Chicago is by foot, so luckily, there are plenty of hiking trails in or near the city. These are some of our favorites!
Chicago Lakefront Trail: If you're after a sightseeing tour of downtown Chicago that also takes you along the stunning shores of Lake Michigan, then this is it. This popular trail is always filled with locals and tourists alike and has several sightseeing stops along the way. It's over 18 miles long, but we recommend starting from Grant Park if you're after a shorter distance (8 miles) that takes you to some of the most notable attractions within the city.
The 606 (Bloomingdale Trail): Located in Downtown Chicago, near Walsh Park, is this unique trail built on an abandoned train line. It's a 5.7-mile round-trip containing an ADA-compliant surface, making it an easy yet intriguing walk for all levels, including families. The trail was originally designed to be an escape from the hustle and bustle of urban Chicago, and to this day, it still serves that purpose.
Morton Arboretum Loop: The Morton Arboretum is located just 26 miles west of Chicago and it provides a stunning walk through various gardens, prairies, wetlands, and curated forests. It's a 4.5-mile round-trip loop which begins from the Visitor Center around Meadow Lake.
Best Restaurants in Chicago
In 2017, Bon Appetit named Chicago the Restaurant City of the Year, so you know you're in for a treat when it comes to eating within the popular city. Whether you're craving comfort food, fast food, or a fine dining experience, this area has it all. Ready to satisfy those post-hike cravings?
Oriole
With executive chef Noah Sandoval at the helm, Oriole is one of – if not, the best – fine dining restaurant within Chicago. It's earned two Michelin stars for its incredible food and is heralded for its comfortable and cozy interior but be warned: fine dining like this isn't cheap!
Superdawg Drive-In
If a casual, drive-in hot dog parlor is more your thing, then you're not alone. With well over 3,000 reviews on Google, and average rating of 4.5 stars, Superdawg Drive-In is a popular slice of history within the city. Get a hot dog and fries delivered straight to your car, sit in and enjoy the nostalgic décor, or try their raved-about onion crisps and milkshakes.
Lou Malnati's
With 56 locations within Chicagoland alone, Lou Malnati's is certainly one of the most popular restaurant chains in the region, and for good reasons too! You see, they specialize in a dish that Chicago is perhaps most famous for, deep-dish pizza. We hear the "Buttercrust" is the best you'll ever try.
Mi Tocaya Antojería
If you're looking for one of the best Mexican restaurants in Chicago, look no further. Mi Tocaya Antojería specializes in modern Mexican cuisine and can draw quite the crowd. Their reasonably-priced cocktails are a hit, while share-worthy favorites such as tacos, enchiladas, and more are always in high-rotation.
The Publican
For a different vibe altogether, The Publican is well worth a visit – whether dining with your significant other or a large group of friends. It pays homage to the noisy European beer halls where you can gather and share food with your pals. It also offers a creative menu with a strong focus on pork and seafood dishes, all with hearty servings, of course.
Fun things to do in Chicago
After feasting and enjoying all that nature has to offer, you may be wondering: "what next?" Well, when it comes to Chicago's attractions and activities, you're only just getting started. Here are some of the most fun things on offer in and around the city!
For kids and families
Looking for some fun activities to do with children? Look no further! The following attractions are sure to satisfy even the smallest humans for hours on end.
Navy Pier
Located on Chicago's iconic lakefront, Navy Pier is the place to go for recreation, relaxation, entertainment, and education, making it ideal for a fun family day out! Enjoy the view on the iconic Centennial Wheel or take a walk through the Funhouse Maze. Navy Pier is also home to the Chicago Children's Museum, Crystal Gardens, and other cultural attractions.
Shedd Aquarium
This indoor aquarium was once the largest of its kind in the world. These days, Shedd Aquarium is home to over 32,000 aquatic animals, including everything from sharks and stingrays to penguins, turtles, sea lions, and more. Whilst here, you'll also find programs and events for all ages and interests.
On the cheap
Want to hit the town without it costing you a small fortune? Chicago is full of fun and interesting attractions, including those that cost just a few dollars for you to enjoy. Here are some of our favorite ways to enjoy the city "on the cheap".
Lincoln Park Zoo
Well folks, it just doesn't get any cheaper than free admission, does it? Once inside Chicago's Lincoln Park Zoo, you can experience wildlife up-close, such as penguins, polar bears, zebra, flamingos, rhinos, and so much more. Since you saved some cash on entry, why not treat yourself to a paid exhibit, train ride, or bite to eat once inside?
Chicago Sports Museum
For just $10 admission for adults and $6 per child over the age of 3, you and your family can enjoy an afternoon at the famous Chicago Sports Museum. Here, you can enjoy everything from skill challenges and hi-tech simulated experiences to unique sports memorabilia. Just two highlights include testing your vertical leap against Michael Jordan and comparing your wingspan to Scottie Pippen. You'll be amazed!
At night
Whether it's date night or you simply find yourself wandering around the city long after the sun has gone down – here are our top activities to enjoy in Chicago during the darker hours.
The Skydeck
Imagine looking out over the twinkling city lights at night from 1,353 feet in the air. This is just one of the things you can cross off your bucket list in Chicago after visiting The Skydeck, including its must-see attraction, The Ledge. After all, it's the tallest building in the Western Hemisphere, plus it's been rated a Top 10 Worldwide Attraction by TripAdvisor.
Jazz at the Green Mill
The Green Mill Cocktail Lounge is an entertainment venue on Broadway in Uptown, Chicago. Here, you can enjoy performances from big-name artists to local late-night jam sessions. With over 100 years of history, the Green Mill is a mainstay within the American jazz scene. It's early '30s and '40s inspired décor will even transport you back in time.
Free things to do in Chicago
Looking to get the most out of your time spent within the city of Chicago? Whether you want a fun way to waste away a Sunday afternoon or a date idea that won't break the budget – here are our most recommended things to do in Chicago that won't cost you a cent.
Millennium Park
Referred to as an "Urban Icon of Beauty and Culture", Millennium Park is your one-stop place for many of the fun things that Chicago has to offer – many of which are free, of course! There's an impressive year-round line-up of music, arts and recreation programs and don't miss the stunning Lurie Garden (located at the south-eastern end of Millennium Park) while you're here!
Garfield Park Conservatory
Chicago's Garfield Park Conservatory is one of the largest and most stunning botanical conservatories in the nation, yet admission is free – although a small donation is encouraged. Escape the hustle and bustle of this city by wandering through the attraction's eight indoor display gardens, which are home to thousands of plant species from around the world. Plus, there are nature, arts, and educational programs for all ages to enjoy.
Spas in Chicago
Alright, by now you've probably been on your feet all day exploring the sights and delights that Chicago has to offer. If you're craving some rest and relaxation, or even a bit of pampering, these are two of the best spas in the region.
Allyu Spa
From therapeutic massage and bodywork, to advanced skincare and beauty resources – Allyu Spa provides all this and more in a "caring and luxurious" environment. If you're after something a little more unique, try their chakra balancing or reflexology, or treat you and your loved one to a couple's spa day package.
AIRE Ancient Baths
Inspired by the tradition of baths from ancient Roman, Greek and Ottoman civilizations, AIRE Ancient Baths aim to transport you to another time and place, whilst deeply relaxing your body and mind. Their thermal baths are most popular but other intriguing experiences include being able to submerge yourself in a red wine bath.
Best Gyms and Yoga Studios
If rejuvenation for you is less about deep relaxation and more about sweating it out, then you're in luck. Chicago is home to some of the highest-rated gyms and yoga studios within the region. It's time to get physical!
Zen Yoga Garage
Described as a "home for the urban fitness enthusiast", Zen Yoga Garage focuses on modern yoga, while also offering classes such as barre and HIIT. Be sure to check out their not-to-be-missed special events and workshops throughout the year too.
Fitness Formula Clubs Chicago
Fitness Formula Clubs Chicago (FFC) has been going strong within the Chicago area for over 36 years now, so it's no wonder why they have such a loyal following. They offer group fitness classes and one-on-one training, covering areas such as yoga and pilates, cycling, aquatics, rock climbing, and so much more.
Day Trips Near Chicago
Looking to fulfill your wanderlust by heading outside of the region for a day? You could spend decades within Chicago without barely scratching the surface of all there is to do in this large city, but consider these days trip next time you fancy a new adventure.
Galena
Galena is a small town in northwest Illinois known for its well-preserved 19th-century buildings. It's around a 3-hour drive from Chicago and is home to famous attractions such as the Ulysses S. Grant Home, 1826 Dowling House, Thunder Bay Falls, and the picturesque Lake Galena. You can even take a hot air balloon ride to truly soak up the scenic northwest Illinois landscape.
Springfield
Less than a 3.5-hour drive from Chicago will bring you to Springfield, the state capital of Illinois. The region is also famous for its Abraham Lincoln attractions, including the Abraham Lincoln Presidential Library and Museum, which traces the life of the US president, as well as Lincoln's restored home, and the Lincoln Tomb, which lies in Oak Ridge Cemetery. Other recommended attractions include the Dr. Martin Luther King Jr. Statue, Adams Wildlife Sanctuary, and Dana-Thomas House.
As a final reminder, some of these activities may need to wait until businesses fully reopen from coronavirus closures. However, there is still much to see and experience in Chicago that you can enjoy today! What are your favorite spots in Chicago? Send them our way to [email protected] or by tagging us on Instagram @rvshare and using the hashtag #rvsharelocal.