Uncategorized
June 9th, 2020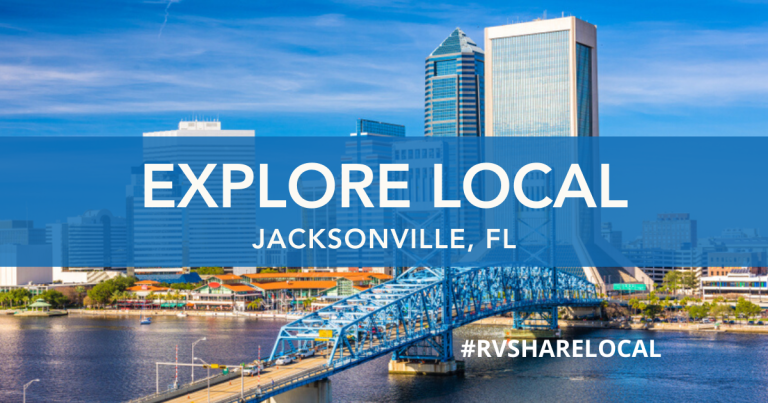 Locally known as the first coast, Jacksonville is the gateway to all the adventure Florida has to offer — and the city itself is chock-full of things to discover, eat and do in its own right. From kicking back on sandy beaches to exploring the city's gritty-yet-quaint urban core, Jacksonville is full of surprises for locals and visitors alike.
In this guide, we'll show you all the best things to do in Jacksonville if you're looking for an authentic taste of this one-of-a-kind Florida city. Even if you've called it home for decades, it's all too easy to forget to play tourist in your own backyard. Get ready to find some new things to explore in Jacksonville!
Why We Love to Travel
The beauty of travel is seeing new places, experiencing new things, meeting new people… That feeling of wanderlust is buried deep in our souls! Getting to experience cultures that are different from our own is an amazing way to grow as individuals and learn about others. Seeing how people all over the world live helps us keep an open mind and even gather inspiration to bring back into our daily lives.
Travel is also a great way to get away from the day-to-day. Breaking up our routines with a fun trip definitely recharges the batteries and helps prevent us from getting burnt out.
But here's the thing – you don't have to go far to fill your cup. Sometimes the best adventures are the ones close to home.
Benefits of Traveling Locally
While the culture an hour away from your home might not be drastically different from what you're used to, you can still gain a deepened sense of appreciation for where you've laid your roots. Plus, traveling locally has a lot of benefits:
More cost-effective. Local travel is certainly a budget-friendly way to explore! Many activities and local parks are free or have a low cost of entry. For day trips, you can also pack your own meals to save.
Eco-friendly way to travel. Travel is hard on the environment, but putzing around your area is more sustainable than air travel.
Quick trips. Getting out locally means you can do it more often! Long weekend trips are a lot easier to take when the destination is a short drive away.
Easy to plan. Preparing your itinerary for a local getaway will likely save you some time and stress.
More convenient. Especially if you have little ones, sticking close to home may be much more convenient than far-off destinations. If you forget something, have an emergency, or need to cut the trip short, being close by definitely has its benefits.
Explore Local: Jacksonville, Florida
So, what is there to explore in Jacksonville?
Considering that it's the largest city by landmass in the U.S., a whole heck of a lot! From the beaches to the northside to Riverside and downtown, Jacksonville is a sprawling city — and we won't lie, chances are you're going to be doing some driving. Although there are a plethora of wonderful things to see and do in this town, any two given destinations might be an hour apart. All of which is to say, we don't recommend attempting to get a feel for it without access to your own personal vehicle.
One thing's for sure, however: the payoff you'll get from your explorations will be well worth your trouble. Without further ado, let's dive into our favorite things to do in Jacksonville!
*Note: Some of the suggestions may not be doable due to coronavirus closures, but keep this list handy for when things start opening back up more! Be sure to check individual pages for specific operation details.
State Parks in Jacksonville
Although you might first think of beaches when you think of this coastal city, there's actually a wide array of wildernesses in the area — perfect for hiking, backcountry camping, dirt biking, and more. Here are some state and national parks to check out in the Jacksonville, FL area.
Anastasia State Park is located about an hour south of Jacksonville (depending on where in the city you start) in Saint Augustine — a town you're going to want to day trip to anyway. (More on that in just a little bit!) This unique park offers miles of rolling sand dunes and prime wildlife viewing opportunities.
Big Talbot Island State Park is comprised of a coastal barrier island just 20 miles east of downtown Jacksonville… and yes, the views start even on the drive. Once you arrive, wander around a driftwood-strewn beach that looks like it's out of a movie, or take advantage of the boat launch to get out on the water.
Little Talbot Island State Park is, as its name suggests, Big Talbot's smaller counterpart — though at 2,500 acres, it's by no means tiny. With miles of dunes and pristine beaches to explore, you'll thank yourself for visiting this undeveloped barrier island.
Fort Caroline National Memorial is the site where, hundreds of years ago, the French (literally) held down the fort against their Spanish enemies further south in Saint Augustine. Today, you can experience this historical landscape first hand and also learn more thanks to educational events and reenactments.
Fort Clinch State Park is located northeast of Jacksonville, between the ocean and the tangle of riverways that mark the Florida-Georgia border. It's a unique destination in its combination of natural wilderness and historical intrigue; the fort itself dates from the Civil War and you can still see the cannons — and even hear them, if you time your trip right for the demonstrations that take place over the first weekend of each month.
Guana Tolomato Matanzas National Estuarine Research Reserve is a unique stretch of wilderness struck through with waters. Tucked between the Tolomato and Guana rivers and just over the highway from the Atlantic ocean, visitors to this park can walk through a wide variety of ecosystems, including saltmarsh, grasslands, and low-slung Florida oak canopy.
Best Hiking Trails
Although there's plenty to keep you busy in the state parks listed above, there are plenty of other places to explore in Jacksonville on foot as well. Here are some of the best hiking trails in the city and the surrounding areas.
Julington Durbin Creek Preserve Loop
Tucked into — you guessed it — the Julington Durbin Creek Preserve, this loop trail comes in at just under six miles round trip and displays Florida pine, wildflowers, waterfronts, and more. Since there's just about no elevation change (it is Florida, after all), this trail is considered easy and good for all skill levels.
Hanna Park South Trail
A four-mile loop in Jacksonville's Kathryn Abbey Hanna Park, the Hanna Park South Trail is a popular destination for hikers as well as dirt bikers and bird watchers. Wildlife sightings are also common; keep your eyes peeled for armadillos!
Gopher Tortoise Ridge and Big Cypress Loop
A three-mile trek through the Sawmill Slough Preserve, the Gopher Tortoise Ridge and Big Cypress Loop draws visitors through multiple habitats, such as maple and (of course) cypress swamps and a lakeside. True to its name, visitors report seeing gopher tortoises on the trail, so be sure to have one eye cast downward.
Castaway Island Preserve
A breezy one-mile walk, the Castaway Island Preserve trail is less of a hike than an amble… but it's still well worth your while. You'll get lovely views and the chance to encounter wildlife, and the trail is paved the whole way, making it friendly for families and accessible to those with strollers or wheelchairs.
Best Restaurants in Jacksonville
All that hiking is sure to work up an appetite… and you're going to have to be well fueled to enjoy the rest of your adventure, too! Here are some of the best restaurants in Jacksonville, no matter what you're hungry for.
La Cena Ristorante
The kind of authentic, down-home joint that doesn't even have a website (other than its Facebook page), La Cena Ristorante is more focused on providing homemade eats than creating a web presence. Everything is fresh and portioned so that you could feed a whole family off just one dish. It's easily one of the best Italian restaurants in Jacksonville.
Orsay
If you're looking for something beyond dinner — say, a dining experience — the one place you absolutely cannot miss is Orsay. Offering elegant meals and fine wine without the pretense you might be used to at other establishments, your trip to Orsay will be a night you'll remember for years to come. (Or a morning — they are open starting at brunch hour on the weekends!)
Taco Lu
If you're looking for a Mexican restaurant that offers authenticity as well as an innovative twist, you've got to get to Taco Lu. You can find all the classics, like Mexican street corn and queso fundido, but the real star of the show is the list of innovative and delicious street tacos. Take it from an actual Jacksonville local: do not miss the carne royale. Yes, asada with brie and fresh grape salsa might sound weird… but trust us. It's not. It's awesome.
Sushi Bear 
Offering fine, fresh sushi as well as a range of other authentic Japanese eats, such as hibachi shrimp, vegetable tempura, pork katsu, chicken teriyaki and more, Sushi Bear is the perfect place to turn if you're looking for an Asian restaurant in the Jacksonville area. Don't forget to save some room for red bean ice cream!
Murray Hillbilly
Want to eat vegan tonight? Even if you don't align with the lifestyle on a permanent basis, Murray Hillbilly might change your mind about the possibilities vegan eats offer — specifically in the way of undeniable deliciosity. Offering plant-based versions of favorites like bacon-ranch burgers, exotic macs and cheeses, fried "chickun" sandwiches and more, prepare to have your mind opened and your hunger satisfied.
Local Insider Tips From Toni Smailagic:
I have a weak spot for curries, and Foo Dog delivers what's needed! They're located in Riverside and their entire menu is based on different curry dishes from around the world (Indian, Cambodian, Japanese, et al); all items can be ordered vegan. The jackfruit nuggets are a delicious add-on to any of the dishes. This is a fairly new restaurant, but locals are already coming back again and again.
Located in the cute San Marco neighborhood, the decor alone at Town Hall Jax is enticing enough to draw you in for a drink. The menu is the creation of Chef Tom Gray and focuses on seasonal ingredients from local farms. The food is definitely for those who enjoy a full-palate experience, as even their loaded fries are made with cured duck-egg yolk, aged goat cheese, and truffle balsamic. Whether you're sharing a charcuterie tray or eating some fresh local fish, there's absolutely no way you'll go wrong with dinner at Town Hall.
Fun Things to Do in Jacksonville
You're well fed. You've gotten some exercise. Now what? So glad you asked. Here are some of the top things to do in Jacksonville, no matter the occasion.
For Kids and Families
Bringing the family along? Here are some of our favorite things to do in Jacksonville with kids.
Jacksonville Zoo
A trip to the zoo is almost always a hit with the family — and Jacksonville Zoo ups the ante with the opportunity to see and encounter over 2,000 animals. You may even have a chance to feed a giraffe! Don't worry, you won't be on a ladder; they've built a helpful platform. (That said, the littlest animal enthusiasts might still need to sit on mom or dad's shoulders.)
Museum of Science and History (MOSH)
Fun and education don't always go together — but at Jacksonville's Museum of Science and History, or MOSH, they do. Along with its impressive roster of interactive exhibits, both signature and traveling, MOSH is also home to a planetarium, which brings the night sky to life in a way that's delightful for both adults and children.
Shipwreck Island Waterpark
One of many things to see and do at downtown Jacksonville's Adventure Landing, Shipwreck Island Waterpark is a perfectly Floridian way to while away an afternoon with your family. With a 500,000 gallon wave pool, an uphill water coaster, and a variety of other features designed for the whole family, you'll get wet and wild with a smile on your face.
On the Cheap
Yes, you can see the city without spending an arm and a leg! Here are some cheap, fun things to do in Jacksonville this weekend — or whenever.
Riverside Arts Market
Held each and every Saturday under the Fuller Warren Bridge, rain or shine, Riverside Arts Market is a spectacle well worth attending. Along with arts and craft vendors, delectable prepared foods and sometimes even animal adoptions, you can also peruse farm-fresh produce and other agricultural products (like homemade cheese!) at this one-of-a-kind farmers market.
Jacksonville Arboretum and Gardens
Encompassing a sprawling 128 acres and designated as a nonprofit, the Jacksonville Arboretum and Gardens requests a minute $3 donation for entrance if you're not a member… though you could certainly choose to donate more. Given the size of the property, it's not surprising that there are a number of trails to choose from, which will draw you through wetland marshes, oak canopies, and more.
At Night
We've covered lots of things to do in Jacksonville during the day… but what about after night falls?
Don't worry, we've got ideas for that, too!
You may think you've been to the movies — but we're pretty sure you haven't been to an indie theater the likes of Sun-Ray Cinema anytime recently. The kind of joint that only has two screens and charges actually-reasonable prices, Sun-Ray is one of our favorite suggestions for things for couples to do in Jacksonville, though you can certainly also go solo. (Don't skip the homemade popcorn and the vast topping bar!)
Art Walk
On the first Wednesday of each month, crowds gather in Jacksonville's dense downtown to meander the museums, galleries, shops and other organizations that partake in the city's Art Walk. Vendors also set up tents and kiosks, and there's often live music, food trucks, and more. In short, it's a great time, if your timing is right!
Local Insider Tips From Toni Smailagic:
If you want to feel a hint of a Brooklyn gallery in Jacksonville, this is the place. It's an exposed brick building next to the Florida Theater where the exhibits change monthly (or bi-monthly, depending on the programming). The Space Gallery is a gorgeous spot, yet its overlooked by many a passerby. Pair your visit with a drink at Dos Gatos, located right across the street.
Free Things to Do in Jacksonville
You read that right! Here are some totally free ways to get better acquainted with this unique city.
Jacksonville Skyway
Florida isn't particularly renowned for its public transit. But the Jacksonville Skyway makes for a great way to see the city and get from place to place — so long as you're not going too far. Best of all? It's totally free to the public! Keep in mind, however, that it's only open from 6 a.m. to 9 p.m., so it's not a good plan for making your way home after a big night at the bar.
Go to the beach!
How could we not advise you to take advantage of Florida's sun, sand, and surf? Jacksonville hosts miles and miles of beautiful beachfront, and each stretch of the coast has its own unique ambiance and vibe. Enjoy the younger, modern crowd that gathers at Jacksonville Beach on the south end of town, or head north to Atlantic for a slightly more laid-back atmosphere. The beaches in Saint Augustine are also worth visiting — and any stretch of coast and sand is the perfect place to soak up some sun!
Spas in Jacksonville
Who doesn't need a little bit of pampering? The following spas will get you feeling right as rain in no time.
Seventh Wonder Holistic Spa
Health, wellness, and beauty aren't just about eating right or going to the gym. They're not just about any one thing: it's a full-body, full-human project, and Seventh Wonder Holistic Spa is here to help you achieve it. Book individual spa services or convenient packages, but no matter what you pick, prepare for the ultimate indulgence!
Best Gyms & Yoga Studios
Any body can be a beach body — but if you want yours to feel strong and prepared for anything, here are some spots to consider adding to your itinerary.
The Gym Jax
Ready to show up and get the work done? The Gym Jax has you covered with its comprehensive collection of equipment and machines and passionate trainers who are ready to help you meet your goals.
Hot Spot Power Yoga
Yoga is about so many things: feeling grounded, getting focused, getting more powerful. No matter which of the many classes at Hot Spot Power Yoga you choose, or which of its three locations you frequent, you'll get all of those benefits and more.
Day Trips in Jacksonville
It would be easy to spend a lifetime in Jacksonville proper… but there are also so many places to make a quick getaway! Here are some of our favorite day trips from Jacksonville.
Saint Augustine
When you think of the most historic cities in the country, you might first think of Plymouth or Jamestown. But Saint Augustine, Florida, just an hour south of Jacksonville, actually predates both of them: founded in 1565, it's the oldest continually-run European settlement in America. Go for the classic attractions, like the Castillo de San Marcos and the lighthouse, but stay for the food, fun, and friendly atmosphere. The locals are nicer than you think and you can't turn around without a beautiful viewpoint, so why not make a whole weekend out of it?
Gainesville
Home to the University of Florida, Gainesville is so much more than just another central Florida town. It's a bustling burg filled with tons of live music, museums, restaurants, shops, and other cultural attractions. It's also a great hub from which to visit many of the state's scenic springs and rivers, which allow for swimming, SCUBA diving, and relaxing floats. (Psst: if you're gonna float a river, it's customary to bring a separate inner tube that's just filled with beer!)
Savannah
You may have to cross state lines, but Savannah is just two hours north of Jacksonville — which means you could easily be traipsing through the historic town squares under the iconic Spanish moss in no time. Tour Flannery O'Connor's childhood home or learn about Juliette Gordon Low and the birth of the Girl Scouts. Stay the night or come on home; either way, you're in for a beautiful journey.
As a final reminder, some of these activities may need to wait until businesses fully reopen from coronavirus closures. However, there is still much to see and experience in Jacksonville that you can enjoy today! What are your favorite spots in Jacksonville? Send them our way to [email protected] or by tagging us on Instagram @rvshare and using the hashtag #rvsharelocal.