Travel Inspiration
July 20th, 2020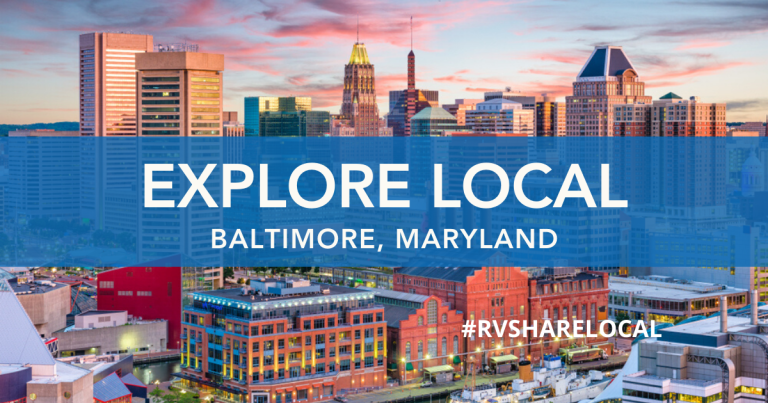 Charm City. The City that Reads. There are plenty of nicknames for Baltimore, and when you take the time to explore it in depth, it's easy to see how it got a reputation for being such a charmer.
Founded all the way back in 1729 and serving an important role in many parts of our nation's history, Baltimore is a place that offers both historical intrigue and modern-day fun. Whether you're taking a trip back in time at the Fort McHenry National Monument and Historic Shrine or kicking back with a hand-crafted cocktail over a delicious, local dinner, one thing's for certain: you'll never be complaining of nothing to do.
Our Explore Local series is built to help even those who've called their cities home for decades get out there and (re)familiarize themselves with all of the awesome that's likely in their own backyard. In this article, we turn our attention to all things Baltimore. Let's dive in!
Why We Love to Travel
From meeting new people to experiencing new sights, sounds, and smells – is there anything more exciting or rejuvenating than a break from the day-to-day mundanity? Traveling is an excellent way to immerse yourself in a new culture, setting, or way-of-life, but the best part is this: you don't have to venture far from home to enjoy what this world has to offer.
Whether your journey takes you across your own city, to an unexplored part of your state, or even to the other side of the world, there's no doubt you will still learn a lot about your surroundings – and yourself – along the way.
Benefits of Traveling Locally
While the culture an hour away from your home might not be drastically different from what you're used to, you can still gain a deepened sense of appreciation for where you've laid your roots. Plus, traveling locally has a lot of benefits:
More cost-effective. Local travel is certainly a budget-friendly way to explore! Many activities and local parks are free or have a low cost of entry. For day trips, you can also pack your own meals to save.
Eco-friendly way to travel. Travel is hard on the environment, but putzing around your area is more sustainable than air travel.
Quick trips. Getting out locally means you can do it more often! Long weekend trips are a lot easier to take when the destination is a short drive away.
Easy to plan. Preparing your itinerary for a local getaway will likely save you some time and stress.
More convenient. Especially if you have little ones, sticking close to home may be much more convenient than far-off destinations. If you forget something, have an emergency, or need to cut the trip short, being close by definitely has its benefits.
Explore Local: Baltimore, Maryland
Along with its historical locations and world-renowned eateries, Baltimore is also known for its museums and other cultural attractions. It's also home to one of the most prestigious aquariums in the world, not to mention the sheer beauty of its iconic Inner Harbor.
There are also a wide variety of green spaces both in and around Baltimore proper, making it a great place for outdoor adventurers of all stripes.
But enough generalizations — let's get to the nitty gritty! Here are our favorite things to do and places to explore in Baltimore.
State Parks in Baltimore
You might first think of restaurants, shops and museums when the words "explore Baltimore" pop into your head. But make no mistake, there are plenty of wonderful green spaces to discover and enjoy in the area, too. Here are some of the best state parks and national parks and monuments in the Baltimore, MD area.
Elk Neck State Park is located about an hour away from Baltimore proper at the tip of the Elk Neck Peninsula, meaning it's a prime location for any and all things water related. Whether you're there to fish, swim, boat, or stand-up paddleboard, you'll enjoy the idyllic scenery and laid-back pace of the area. Don't forget to take a trip up the Turkey Point Light Station, which is seasonally open to visitors.
Greenbrier State Park offers camping, hiking, and general recreation opportunities just an hour northwest of Baltimore. It's also home to a manmade lake encompassing a sprawling 42 acres, so be sure to bring your fishing pole.
North Point State Park is a 1,300-acre reserve located along the shores of the Chesapeake Bay, and is a common retreat for Baltimore residents — who only have to travel half an hour from town to get there. The park also houses the site of what was once Bay Shore Park, a prominent amusement park in the early 1900s.
Patapsco Valley State Park may only be a few minutes from Baltimore, but its stunning countryside will make city-dwellers feel like they've travelled much further, indeed. Replete with green landscapes, waterfronts, and even waterfalls, this state park offers the opportunity to hike, fish, hunt, canoe, and more.
Fort McHenry National Monument and Historic Shrine is an absolute must-visit for anyone who spends more than an hour or so in Baltimore. Known for its important role in the War of 1812, when it was successful in its defense against the British, this site was the inspiration for none other than Francis Scott Key's "The Star-Spangled Banner."
Best Hiking Trails
Whether or not you venture to one of the preserved green spaces in the area, there are plenty of amazing trails to help you get familiar with the Baltimore landscape on foot. Here are some of the best hiking trails in Baltimore.
Avalon Loop Trail
Spanning a total of twenty miles round trip, the Avalon Loop Trail is an amazing opportunity for adventures of just about any type and length: grab a quick one-mile jog or meander along its entire length over the course of a long day. Either way, you'll encounter beautiful sights including coastal forests, waterways and even a waterfall.
Lake Roland Park Red Trail
Tucked into the park of the same name, the Lake Roland Park Red Trail is a trek just shy of three miles and which is rated "easy" by most hikers. Seeing very little elevation change, this trail offers hikers the opportunity to take a beautiful, shady stroll without sweating too much — but while still getting some much-needed movement and fresh air!
Herring Run Greenway via Lake Montebello
A loop running less than six miles in length and seeing under 200 feet in elevation gain, Herring Run Greenway via Lake Montebello is an achievable adventure for many. It's accessible year-round and features bridges, wildflowers and good chance at spotting local wildlife. Dogs are allowed too, but be sure to keep them on leash the entire time.
Leakin Park Loop Trail
Leakin Park Loop is considered a "moderate" trail, seeing about 400 feet of elevation gain over its three-mile round-trip length. Along with hikers, this trail is also popular amongst trail runners and dog walkers, and sights along the way include old cobblestone ruins.
Fort McHenry Trail
Whether you're hiking, running, or road biking, the Fort McHenry Trail is a great option for expending your physical energy. The loop may be less than a mile all told, but along the way, you'll see some stunning views of the Baltimore Harbor — so it's very possible you'll want to slow down and relax anyway.
Best Restaurants in Baltimore
There's lots to explore in Baltimore — and exploration takes energy! Here are some of the best restaurants in Baltimore, Maryland, no matter what you've got an appetite for.
Azumi
Japan may be clear on the other side of the globe from Baltimore, but that doesn't mean you can't enjoy some amazing, authentic sushi while you're in town — and if that's what you're in the mood for, there's literally no better place to find it than Azumi. Offering lunch, dinner and private dining, this restaurant also has hot appetizers and salads on the menu, as well as a snazzy cocktail list.
Clavel
There are plenty of great options for Mexican in Baltimore. But Clavel is a stand-out — and to be honest, it's less about the food than the drinks. Known for its impressive stock of mezcal (think: what scotch is to whiskey, mezcal is to tequila), it's well worth finding a designated driver to enjoy a tasting flight… accompanied by some delicious, handmade tacos and ceviche!
La Tavola
Given that the town has an entire Little Italy neighborhood, there's no shortage of options when you're searching for the best Italian restaurants in Baltimore. But we'd be remiss not to recommend you check out La Tavola, a local institution known for its contemporary (yet authentic) cuisine and elegant (yet relaxed) dining area.
Liquid Earth
Think "raw" and "vegan" can't coexist with "delicious" and "craveable"? Eat at Liquid Earth, and you'll change your tune. Offering an innovative and nourishing array of vegetarian and plant-based eats, along with smoothies and fresh-squeezed juices, you'll leave feeling happier (and likely a mite healthier) than you did when you arrived.
Namaste Baltimore
Indian dining can be one of the most fulfilling eating experiences out there: it's comforting, it's delicious, and it's satisfying. And if you're in Baltimore, one of the best places to have that experience is Namaste. Authentic dishes are served up in an understated dining room by caring professionals, and everything on the menu is fresh and well-priced.
Fun Things to Do in Baltimore
Eating and hiking are just the beginning. Let's dive into the real stuff!
Here are the top things to do in Baltimore this weekend and beyond.
For Kids and Families
If you've got the kids along with you for the adventure, you're in luck: Baltimore is an incredible place to enjoy family time! Here are some of the Baltimore attractions built for attendees of all ages.
The National Aquarium and the Inner Harbor
Home to more than 20,000 animals, including Giant Octopus, Atlantic Puffins and so many more, the National Aquarium is renowned throughout Baltimore and beyond for its conservation and education efforts. Plus, it's located right along Baltimore's famous Inner Harbor, which is full of so many other fun things to see and explore. Make a whole day of it!
Baltimore and Ohio Railroad Museum
What kid isn't obsessed with trains, at least for a little while? Heck, we don't know many adults who aren't at least a little fascinated by locomotives. Indulge your inner geek(s) at the Baltimore and Ohio Railroad Museum, which includes a variety of events and exhibits crafted specifically with kids in mind.
The Maryland Zoo
The Maryland Zoo is more than just a zoo: it's a 135-acre park that's home to over 1,500 animals representing almost 200 species. Which is to say, it's a wild good time for everyone in the family. From box turtles to white Bengal tigers, come explore and meet all the exotic new friends just waiting to make your acquaintance.
At Night
Sure, there's no shortage of things to do in Baltimore during the day. But there's a lot going on after sunset, too! Here are some of our favorite things to do in Baltimore once the kids are in bed.
Mobtown Ballroom
The neighborhood it's in may be called "Pigtown," but don't get it twisted: The Mobtown Ballroom is about as classy as it gets. Housed in a repurposed church built back in the 1870s, dancing the night away here takes on a whole new atmosphere, and a beginner-friendly (and singles-friendly) range of classes means anyone who cares to shake a leg can give it a go. (Plus, there's a full liquor license if you're still nervous!)
Baltimore Comedy Factory
Liquor is great and all, but if you're really looking to unwind, almost nothing works as effectively or quickly as laughter. If you're in the mood for a guffaw or five, check out who's up at the Baltimore Comedy Factory — but even if you've never heard of them, book a ticket. You won't be disappointed.
Cheap and Free Things to Do in Baltimore
What's that? You want to explore Baltimore without wiping out your savings in the process?
Good news: It's totally possible! A variety of attractions in Baltimore are affordable or downright free. Here are just a couple.
Baltimore Museum of Art
It's not that common, here in the states, to encounter a fine art museum that lets you in for free. But the Baltimore Museum of Art is an exception — and one that's well worth spending a rainy afternoon perusing. With collections that span cultures, centuries, and genres, there's something for everyone to see here… and since gallery-walking is a decidedly romantic activitiy, this is high on our list of things for couples to do in Baltimore.
Enoch Pratt Free Library System
The oldest free library system in the country, the Enoch Pratt system offers 22 neighborhood branches that offer so much more than the ability to take out books. Enjoy free classes, musical performances, storytime for the kids, guest speakers, and even more fun and literary events. (And, yes: free books!)
Spas in Baltimore
Need a little R&R? Boy, have we been there. Whether you need a massage to relax your muscles, a facial to bring out your natural shine or something else altogether, here are the best day spas and salons in Baltimore.
About Faces Day Spa and Salon
Although it's technically located in the neighboring community of Canton, About Faces Day Spa & Salon is known not just throughout the city, but throughout the entire state as one of the very best places to get a massage. Of course, as their name suggests, massages aren't the only service available at this venerable institution; facials, waxing, nail care, and even hair and makeup are all on the docket.
The Pearl Modern Spa & Boutique
Raise your hand if you agree: spa treatments are almost as much about the atmosphere as the actual service. Well, at The Pearl Modern Spa & Boutique, you'll start relaxing the instant you step foot in the door, thanks to this joint's chic and contemporary surroundings. Treatments are available to beautify and pamper you from head to toe, and several special packages help you get more for your money's worth.
Best Gyms & Yoga Studios
Want to stay in shape — or just learn to hold fancy yoga shapes for longer periods of time? Here are some of the best gyms and yoga studios in Baltimore for those looking to sweat it out.
Maryland Athletic Club
Want to take your fitness pursuit to the next level? If it's not 110%, it's not the best it can be — and the best is what they're after at Maryland Athletic Club. But don't let that scare you off! Rather than being intimidating, this fitness facility helps motivate you to reach your goals through kind and professional training. Classes are available, as well as a wide range of equipment, free weights, and a swimming pool. You've got all you need — so get after it!
YogaWorks
Considered by many locals to be the best yoga available in Baltimore, YogaWorks offers a variety of locations — but no matter which you attend, you'll be lovingly guided through your practice by knowledgeable and charming professionals. Teacher training, pilates, and private yoga classes are also available if you're looking to take your existing practice above and beyond.
Day Trips in Baltimore
We get it: you're not going to get bored in Baltimore. But who can't use a change of scenery from time to time? Here are some of the best day trips to take in the Baltimore area.
Assateague Island National Shoreline
North Carolina's Outer Banks might get a lot of glory, but the barrier islands further north are just as stunning… and also they have wild ponies. (Which is to say, it's not a competition, but if it were, Maryland and Virginia would beat North Carolina by a country mile.) Along with the national shoreline, Assateague State Park is another great spot to explore in the area if you're looking for hiking trails, beaches, and wildlife observation. There are also numerous campgrounds in the area for your convenience and enjoyment.
Shenandoah National Park
One of the nation's most beautiful and alluring national parks is less than a four-hour drive from Baltimore! Shenandoah National Park is a great opportunity to get away from it all without having to devote too much time to the trip. And whether you're the outdoorsy type who likes to get dirty with a hike, climb, or bike ride, or a bit more relaxed, there's a great option for you in this park. Even if you don't want to sweat at all, you can enjoy the sights from the stunning Skyline Drive, which winds its way through the heart of the park.
Washington, D.C.
Our nation's capital is less than an hour's drive from Baltimore, and you probably already know how the city is teeming with fun (and often free!) things to do. Our recommendation: head that way in springtime, so you also get to benefit from the cherry blossoms.
Note: some of these activities may need to wait until businesses fully reopen from coronavirus closures. However, there is still much to see and experience in Baltimore that you can enjoy today! What are your favorite spots in Baltimore? Send them our way to [email protected] or by tagging us on Instagram @rvshare and using the hashtag #rvsharelocal.