Travel Inspiration
June 22nd, 2020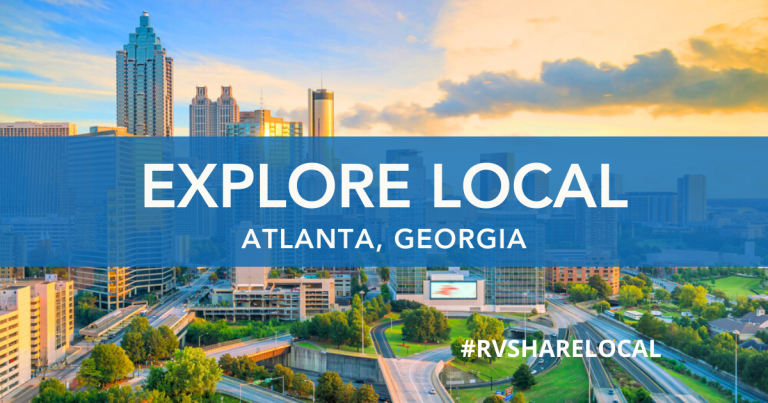 Down south, things are hot — especially when you're in Georgia's capital. Atlanta is one of the happeningest cities in the southeast — and the U.S. at large — and it's so vibrant and full of life that there's little chance to see and do it all, even if you're a long-time resident.
If you're wondering about the best places to explore in Atlanta, Georgia, you've come to the right place. In this article, we'll walk you through all the best restaurants, hiking trails, sights, scenes, and activities to add to your Atlanta itinerary.
Why We Love to Travel
So why do we love to travel in the first place? Getting to experience cultures that are different from our own or eating cuisine that's different than what we're used to are amazing ways to grow as individuals and learn about others. Seeing how other people live helps us keep an open mind and even gather inspiration to bring back into our daily lives.
Travel is also a great way to get away from the day-to-day. Breaking up our routines with a fun trip definitely recharges the batteries and helps prevent us from getting burnt out.
But again – you don't have to go far from home to get this perspective! Sometimes the best adventures are just around the corner.
Benefits of Traveling Locally
While the culture an hour away from your home might not be drastically different from what you're used to, you can still gain a deepened sense of appreciation for where you've laid your roots. Plus, traveling locally has a lot of benefits:
More cost-effective. Local travel is certainly a budget-friendly way to explore! Many activities and local parks are free or have a low cost of entry. For day trips, you can also pack your own meals to save.
Eco-friendly way to travel. Travel is hard on the environment, but putzing around your area is more sustainable than air travel.
Quick trips. Getting out locally means you can do it more often! Long weekend trips are a lot easier to take when the destination is a short drive away.
Easy to plan. Preparing your itinerary for a local getaway will likely save you some time and stress.
More convenient. Especially if you have little ones, sticking close to home may be much more convenient than far-off destinations. If you forget something, have an emergency, or need to cut the trip short, being close by definitely has its benefits.
Explore Local: Atlanta, Georgia
So: why Atlanta? And why explore local?
Travel guides are too often focused on making sure you hit all the main tourist attractions — which are cool, of course, but don't give you a real taste of what life is like in a given area. Plus, in a post-pandemic world, many of us are getting more intentional about exploring our own backyards so as to avoid spreading our germs to lands far and wide.
Fortunately, if Atlanta is your "backyard," you're in a lucky position, indeed. This town is home not only to tons of modern amenities and cool things to do, but also figured in a lot of important history from the Revolution to the Civil War. It's also surrounded by a plethora of outdoor spaces that offer respite from the busy-ness that can be city life.
In short, there's no way you're going to be bored. So: ready to explore Atlanta? Yeah, we are too. Let's get started.
State Parks in Atlanta
While Atlanta itself may be an urban paradise, there's no shortage of natural areas worth exploring in the surrounding areas, either. Here are some of the very best state and national parks to check out in the Atlanta, GA area.
Panola Mountain State Park is perfect for a quick getaway — just fifteen minutes outside of town and situated around the 100-acre granite outcrop that is its namesake. Ranger-led hikes that teach visitors about the rare plants and animals that inhabit this area are also available, but must be reserved ahead of time.
Sweetwater Creek State Park is one of the most popular hiking destinations near Atlanta, thanks in no short measure to its proximity. Less than an hour's drive from the heart of the city, this wild landscape will make you feel like you've been transported well outside of the hustle-bustle. Its 15 miles of hiking trails include the opportunity to see the ruins of a mid-nineteenth century mill, New Manchester, which we highly recommend checking out.
High Falls State Park is comprised of about 1,500 acres of the most beautiful Georgia countryside you've ever seen, including, as its name suggests, some mesmerizing waterfalls. Its 650-acre lake also makes it a popular destination amongst fisherfolk, and it's a great place to spot wildlife such as beavers, deer, and armadillos.
Tallulah Gorge State Park may make you realize that you don't actually need to drive all the way to Arizona to see a "grand" canyon (though don't get us wrong, that park is definitely worth the trip!). At almost 1,000 feet deep and also boasting some stunning waterfalls, Tallulah Gorge is well worth the drive from Atlanta. You can even cross the river on an expansion bridge suspended 80 feet over the bottom!
Vogel State Park is nestled into the unique landscape of the Chattahoochee National Forest, and is well known for its abundance of trees. Come in the fall for some of the best leaf peeping this side of the Mason-Dixon, or take a summer getaway to enjoy slightly cooler temperatures than you'd experience in the heart of Hotlanta.
Great Smoky Mountains National Park is pretty much the premier outdoor recreation destination in the southeast — and beyond. In fact, so many visitors make their way to this wilderness each year that it enjoys the title of most popular national park in the register! Take the drive to see why, but do plan on staying a while. Straddling the North Carolina/Tennessee border, this park is sprawling and filled with so many hiking trails that you'd need a lifetime to truly experience it, let alone a weekend.
Congaree National Park does require a bit of a trek — but it's well worth it. Located on the coast of South Carolina just a half-hour outside of Columbia, this historic hardwood forest, mercifully spared by the lumber industry in the late 1800s, is one of the most beautiful places in the south, and chock full of achievable, scenic hikes.
Best Hiking Trails
Even if you don't venture to one of the state or national parks, there are plenty of places to get some fresh air and exercise very close to town. Here are the best hiking trails in the Atlanta area.
Island Ford Trail
You don't have to get very far out of town to enjoy some truly breathtaking Georgia countryside. Just twenty minutes north of downtown Georgia, Island Ford Trail (nestled in a park of the same name) offers the chance to experience vibrant green canopy, relaxing waterfront, and even a waterfall. The trail measures 5.5 miles all told and sees about 600 feet of elevation gain during that time, putting it firmly in the "moderate" category. It's accessible year-round, and dogs are welcome, but be sure to keep Fido on leash!
East Palisades Trail
Tucked into the Chattahoochee River National Recreation Area, this hike is very popular (and therefore, sometimes, very crowded), but well worth it. At 2.6 miles out and back and with a relatively gentle elevation gain of 300 feet, the East Palisades Trail offers river views, dense Georgia canopy, and a little bit of a workout as well.
Cochran Shoals Trail from Interstate North Trailhead
Another Chattahoochee River hike, the Cochran Shoals Trail from Interstate North Trailhead is a 6-mile trek seeing about 330 feet of elevation gain, which is to say it's fairly gentle but will still make you sweat a little bit. It's another popular one, and for good reason; its riverside views and greenery are hard to say no to.
Lullwater Loop
If you're looking for a hiking experience that is as relaxing as its name suggests, Lullwater Loop is the perfect place to kick back. A 3.8-mile, heavily trafficked loop, this trek is easy enough for visitors of most fitness levels and will treat you to some beautiful lakeside views and forest cover.
Cascade Springs Nature Preserve Outer Loop
The Cascade Springs Nature Preserve may be within Atlanta's boundaries, but one step into this wilderness will take you miles out of the city life in your mind. The Outer Loop is a particularly attractive option thanks to its ease and convenient location: at 2.6-miles and with less than 200 feet of elevation gain, this is a quick little trek you might even be able to add on at the end of a workday.
Best Restaurants in Atlanta
If all that hiking and exploring caused you to work up an appetite, no problem: there are plenty of places to get a fine meal in Atlanta. Here are just a few to choose from.
Mary Mac's Tea Room
You can't call yourself a true southerner — or even someone who's really visited the south, for that matter — if you don't take the time to have a good southern meal. Although there are plenty of places to make that happen in Atlanta, Mary Mac's Tea Room is truly an institution, dating back to the 1940s and offering classics like fried green tomatoes, fried chicken, barbecued ribs and more.
Herban Fix
To swing wildly to the other end of the spectrum from chicken and ribs: what if you're in search of the very best vegetarian or vegan eats in Atlanta? You can find your fix at Herban Fix, which offers a wide arrangement of innovative plant-based dishes with a decidedly Asian inspiration.
Mi Barrio Mexican Restaurant
Looking for the best Mexican restaurant in Atlanta? It doesn't have to be costly to be delicious: Mi Barrio is a down-home, family-run operation that serves up some of the most delicious Mexican food in the business, and its casual, friendly location makes the meal go down even easier.
Desta Ethiopian Kitchen
Want to try something new? If you've never had Ethiopian cuisine before, you're in for a treat at Desta Ethiopian Kitchen — I mean, "Desta" literally means "happiness!" Enjoy freshly made, tasty, healthy Ethiopian food whether you're a meat-eater or a vegan, and pat yourself on the back for branching out.
Storico Fresco Alimentari e Ristorante
Home not only to one of the best Italian restaurants in Atlanta but also to one of the most beloved local markets in town, Storico Fresco Alimentari e Ristorante is not just a place to eat dinner: it's a place to buy the ingredients to make tomorrow's dinner yourself, as well. It's an especially important spot to put on your itinerary if you're at all a fan of freshly-made pasta… and let's be serious, who isn't?
Masterpiece
Some say there's no good Chinese food south of the Mason-Dixon line — and those people have not been to Masterpiece. This refined Cantonese dining room dishes up your favorites but in an elevated manner. You can also order online to enjoy it the old fashioned way: at home, from the box, on the couch.
O-Ku
If you're looking for the best sushi in Atlanta, look no further than O-Ku, which serves up classic rolls, innovative specials, and a variety of other classic Japanese dishes to boot. Worried about how far Atlanta is from an ocean? This joint sources their fish from the best markets in Tokyo and Hawaii and uses fresh, local, seasonal ingredients for all the rest of the accompaniments.
Fun Things to Do in Atlanta
Hiking? Check. Eating? Check. What else you ask? Tons. Here are some of the very best things to do in Atlanta, whether you're with the kids, with your sweetheart, or by yourself.
For Kids and Families
Bringing along the whole family? Good deal! Here are some of the top things to do with kids in Atlanta.
Traipse Through the Botanical Garden
Easily one of the most stunning in the country, the Atlanta Botanical Garden offers visitors a rich landscape filled with many different types of flowers as well as trees, shrubs, and other foliage. They also host fun seasonal events, including lighting up the park with thousands of twinkling lights for Christmas. (Kids love the gardens, but this is also high on the list of things for couples to do in Atlanta!).
Georgia Aquarium
If anyone in your family is even passingly interested in ocean wildlife, you absolutely must take a trip to the Georgia Aquarium, which was the largest in the world for seven years after its opening. (Although it's recently been eclipsed by two aquariums in Asia, it remains the largest in the United States and the Western Hemisphere.)
Cheap Things to Do in Atlanta
Even if you're not traveling far, playing tourist can get expensive. Here are some low-cost things to do that will still have you singing Atlanta's praises.
Make a Splash at Piedmont Park Aquatic Center
If there's one thing that's true about Atlanta, it's that it's HOT. Hot, hot, hot. And sometimes, the only way to cool down from that kind of heat is to take a dip. Piedmont Park Aquatic Center offers lap lanes as well as a more relaxed pool environment and is open to the public during daytime hours. The one-time access fee is $5 per person, but more inclusive pool passes are also available.
Meander Krog Street Market
If you haven't quite found enough to eat despite the list of restaurants above, take heart — there's more! Krog Street Market is one of the coolest places to go when you're hungry, but not quite sure for what. Along with getting a prepared meal, you can also browse retail options to take home and eat later, all at affordable prices. Yum!
Things to Do in Atlanta at Night
We've covered some of the coolest things to do in Atlanta during the day. What about at nighttime?
Take a Ride on the SkyView
This one's not for those with a fear of heights — but if you can handle it, taking a ride on the SkyView ferris wheel is a great way to get a lay of the land. Although this attraction is also open in daylight hours, it's especially beautiful when everything's lit up at night… and it's pretty darn romantic, to boot.
Go Back to Medieval Times
Knights jousting? Fair princesses? A delicious, eat-it-with-your hands meal? What's not to love? Find it all at Medieval Times Atlanta.
Free Things to Do in Atlanta
Cheap is good, but free is better. Here are some ways to see the city with absolutely zero cost at all.
Ride or Stride the BeltLine
Constructed out of a former railway corridor that ran around the core of Atlanta, the BeltLine is, today, a popular place to jog, cycle, or just walk — and it'll take you through and by some of Atlanta's coolest sights and scenes. It's totally free… though we don't guarantee you won't run into something cool to buy or delicious to eat along the way, which would cost money!
Cool Off in Centennial Olympic Park
Remember the 1996 Summer Olympic Games? They were held right here in Atlanta — and today, you can wander through Centennial Olympic Park without paying a dime. The Fountain of Rings is an especially nice way to cool off on a hot summer day.
Spas in Atlanta
Who couldn't use some pampering from time to time? Here are a few of the best day salons in Atlanta so you can look and feel your best.
Iwi Fresh Garden Day Spa and Atlanta Hot Shave
Call it a stereotype, but in some cases, it turns out to be true — spas are kind of a girl thing. Well, at Iwi Fresh Garden Day Spa, hubs can come along and grab a hot shave while you're getting your massage on. (Or, hey, if you're the "hubs" in question: just go on your own!)
Best Gyms and Yoga Studios
Keeping up with your fitness routine is the best way to ensure you stay healthy, strong, and ready to tackle anything that comes your way. Here are our favorite gyms and yoga studios in Atlanta.
LIV Fitness
At its heart, fitness is about nothing if it's not about finding the best way to, well, live — which is exactly what they're all about at LIV Fitness. No matter your goal, you'll find everything you need to meet it at this class Kirkwood gym location.
Tough Love Yoga
Can you think of a better name for a yoga studio? Tough Love Yoga is all about giving your body the movement and flexibility it deserves… even on those days when you just. Don't. Wanna. Trust us, you'll feel better after!
Day Trips in Atlanta
As you've doubtless seen from this post, you could stay busy in Atlanta for a decade… but there are still many great day trips worth taking in the area! Here are a few.
Savannah
Okay, at almost four hours of drive time one way, Savannah isn't exactly a quick day trip. But it is an amazing city to take a weekend in, especially if you add on a venture out to Tybee Island. Don't forget to take some selfies under the Spanish moss!
Chattanooga
Chattanooga — and its neighboring Georgia city just over the border, Lookout Mountain — is a well-known tourist destination for a reason. Along with meandering its scenic downtown, you can also add attractions like Rock City and Ruby Falls to your itinerary.
As a final reminder, some of these activities may need to wait until businesses fully reopen from coronavirus closures. However, there is still much to see and experience in Atlanta that you can enjoy today! What are your favorite spots in Atlanta? Send them our way to [email protected] or by tagging us on Instagram @rvshare and using the hashtag #rvsharelocal.