Travel Inspiration
September 10th, 2015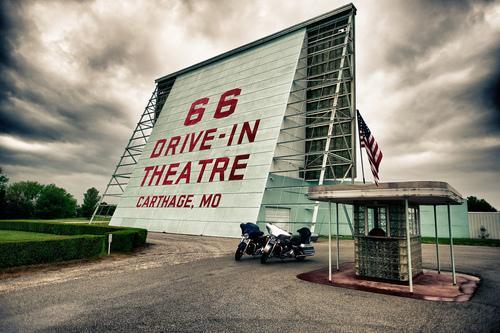 Watching multiple movies for less than the cost of the average ticket price from the comfort of your own vehicle — what more could you ask for? Oh, don't forget the popcorn and soda, or perhaps a hamburger is more what you had in mind. Fortunately, that is unlikely to be a problem when you visit one of the hundreds of drive-in theaters in the U.S.
First cropping up in New Jersey in 1933, drive-ins quickly became all the rage. Pairing cinema with automobiles, they grew in popularity and spread across the country. Although they don't enjoy the following they once did, many still command crowds of loyal fans on a weekly basis. Here are ten drive-ins that are worth taking a road trip for.
1. 66 Drive-In – Carthage, Missouri
Truly a blast from the past, this drive-in theater was built in 1949 along the historical Route 66 Highway. In the 1950s, the screen was widened to differentiate from television broadcasts, which were becoming more prevalent in the area. A playground was added at that time as well.
Although it was closed for a period in 1985, it was reopened in 1998 following renovations. It present, contemporary movies show throughout the summer on Friday, Saturday, and Sunday evenings. 66DriveIn.com
2. Bengies Drive-In Theatre – Baltimore, Maryland
Opening in 1956, Bengies Drive-in features the largest movie screen at 52 feet high and 120 feet wide, 6,240sq-feet. It also provides state-of-the-art digital projection; FM broadcast systems, vintage trailers and intermission clips, as well as in car heaters during its dusk to dawn movie showings.
To maintain the integrity of the location and ensure the enjoyment of patrons, there is a lengthy, strictly enforced list of rules. Since failure to follow these rules results in immediate ejection without refund, it is a good idea to check them out ahead of time. Bengies.com
3. Cherry Bowl Drive-In Theatre & Diner – Honor, Michigan
Boasting the largest movie screen in Northern Michigan, the Cherry Bowl Drive-in opened in 1953. Providing a double feature every night it is open, it also projects a vintage film, cartoons, and intermission footage.
Although they also have an FM broadcast, the primary sound system consists of the original vacuum tube motiograph amplifiers on poles at each parking spot. Further adding to the 1950's experience, they offer a homemade dinner—including cheesy fries and ribs—and mini-golf for additional family fun. CherryBowlDriveIn.com
4. Cumberland Drive-In Theatre – Newville, Pennsylvania
Opening in 1952 with the movie "Annie Get Your Gun," the Cumberland has been in business for over 60 years.
Operated by the same family for its entire existence, the theater faced a challenge that affected many drive-ins in 2013. Film companies were insisting that they make the transition from film to digital. This required a 75,000-dollar investment that many didn't have.
To ensure the continuation of the historic drive-in, the family encouraged patrons to vote for them on various social media sites. The five theaters with the most support would receive a digital projector donated by Honda. The fans of the Cumberland Drive-in prevailed and won a projector for their beloved theater. 81Fun.com
5. Hull's Drive In – Lexington, Virginia
Due to the generous donations of its patrons, Hull's Drive-in has the privilege of claiming the title of the only non-profit drive-in in the world.
Built in 1950, the theater developed such a devoted following that in 1999, when the owner couldn't afford to upgrade the equipment and reopen for the summer season, the fans decided to take action. They formed a not-for-profit organization called Hull's Angels. In 2000, they received their tax-exempt status and the theater has been going strong ever since. HullsDriveIn.com
6. Mission Tiki Drive-In Theatre – Montclair, California
The Mission Tiki opened in 1956. In 1975, it expanded from one screen to four. Then, in 2006, it received a major overhaul. The ticket booths and concession building were remodeled to look like Tiki huts. The sound system was expanded to include FM transmitters so guests could listen to the audio from their car's stereo and the projectors were also upgraded.
Guests can visit the Swap Meet that runs from 6 a.m. to 2 p.m. Wednesday through Sunday. Plus, they can enjoy the burgers and Mexican food offered at the concession stand during the daily double features this theater guarantees rain or shine. MissionTiki.com
7. Redwood Drive-In Theatre – West Valley City, Utah
Established in 1948, the Redwood Drive-in was an instant success. The double features are shown seven days a week except for during the oldest days of winter. The FM transmissions ensure patrons get the best quality audio and the stat-of-the-art digital projector means that they get the most up-to-date movies.
Their world famous Swap Meet is open Saturday and Sunday from 7 a.m. to 4 p.m. in the summer and 9 a.m. to 3 p.m. in the winter, as well. RedwoodDriveIn.com
8. Spud Drive-In Theatre – Driggs, Idaho
Home of the giant potato, the Spud Drive-in was built in 1953. As homage to the potato country in which it was established, the owners decided to use an enormous representation of a spud on the flatbed of a 1940's model truck as its marquee.
With homemade burgers and fries, it is truly a throwback to an earlier time. The theater shows movies on Saturday and Sunday evenings, as well as holidays throughout summer. They also host concerts and other events. SpudDriveIn.com
9. Wellfleet Drive-In Theatre – Wellfleet, Massachusetts
Open seven days a week from late May through mid-September, the Cape Cod drive-in was built in 1957.
This accommodating theater provides several snack and entertainment options. The drive-in has a snack bar where patrons can purchase typical movie fare, such as popcorn and candy. At the entrance to the drive-in, however, is a Dairy Bar and Grill, where meals like burgers, pizza, and milkshakes can be purchased and brought in to be enjoyed during the movies. There is also a flea market and mini-golf area. WellFleetCinemas.com
10. Wilderness Outdoor Movie Theater, Trenton, Georgia
Also claiming the largest outdoor screens in the world, this theater is open from April to October, Friday through Sunday. Built in the 1950s, it provides all of the charm of that time period—complete with a grassy area in the back for people to watch movies from their lawn chairs—while showing the most up-to-date movies.
With few of the "bells and whistles" that accompany some drive-in options, the Wilderness Outdoor Movie Theater provides exactly what it suggests. It is a clean facility that sells traditional movie-watching snacks. If authenticity is what one is looking for, they are sure to get it at this theater. WildernessTheater.com
In Conclusion
From the rustic and historical to the renovated and cutting-edge, drive-in theaters are as "American" as Fourth of July and apple pie. Reaching the peak of their popularity in the 1950s and 60s, they have lost some of their original appeal—due in part to the air-conditioned multi-plex. For many, however, they continue to be a source of nostalgia and entertainment.
Please share with any friends of the drive-in to keep this page of U.S. history alive.