How Tos & Tips
Last updated on June 12th, 2023. Originally published on September 30th, 2022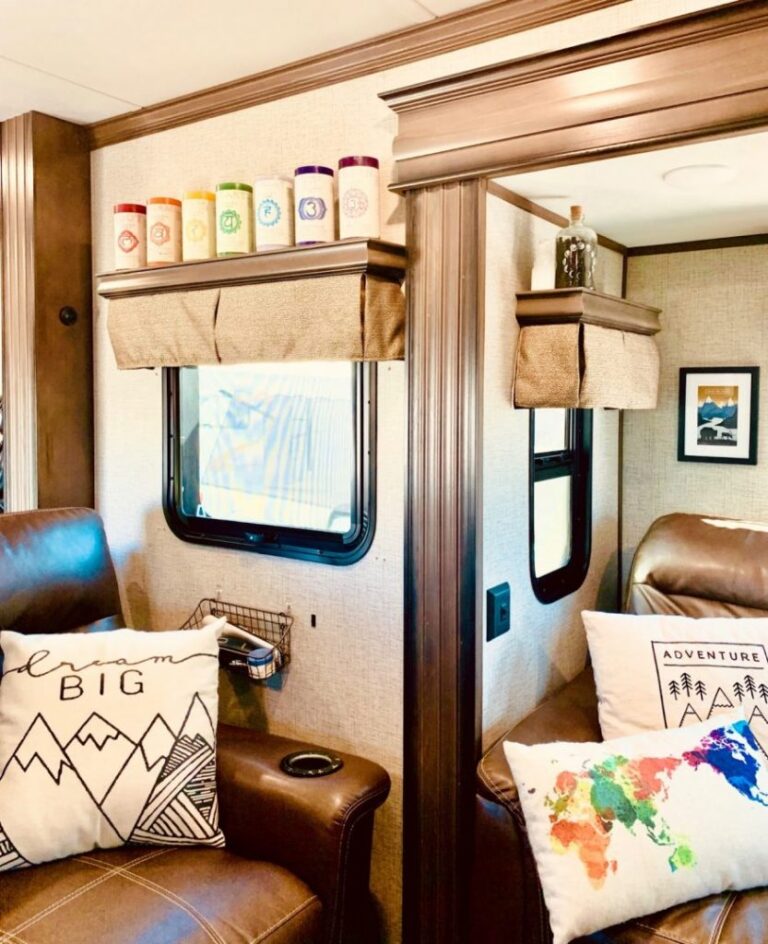 Just because we live in a small space doesn't mean we can't make it feel like home.
A lot of people that live in their RV's decorate, make changes, and even renovate their entire space. When living in a tiny home, it's important to make it feel like yours, whether by adding some hooks for hanging things, or changing the layout altogether.
Prioritize Function and Comfort
Allie and I aren't very handy (even though we wish we were). When shopping for our RV, we knew the floorplan and function of our future home on wheels would likely stay the same. We admire people who can renovate their spaces, but we knew that we wouldn't be heading down that road ourselves.
We ended up with our 2019 Keystone Alpine 3711KP because we loved the floorplan and the storage options. We had a pretty good idea of what we needed after living on the road in a smaller motorhome for a year prior to purchasing our fifth-wheel. We needed to have separate spaces for separate parts of our day-to-day lives, lots of storage to run our small business, and we needed to feel like we could move around comfortably. When we were shopping for a new RV, we would do a 30-minute rapid run through our day in the different models we were considering to see how daily tasks would work for us. We knew that life would continue to shift and change, but the basics would stay the same.
Pops of Color and Lighting
After deciding on and purchasing our new full-time home on wheels, we began thinking about ways to make it more bright and colorful. A lot of RVs are beige, beige, beige so we began with trying to find ways to add pops of color to each room. We hung some small tapestries and art pieces on the walls and across our living room windows. We also added colorful lanterns with LED lights in them. We love putting on our fireplace and lanterns while watching a movie or crocheting to some music. You can find ways to incorporate color through painting or by adding some art to your walls with velcro. Selecting bolder and brighter colors will really give that beige some contrast!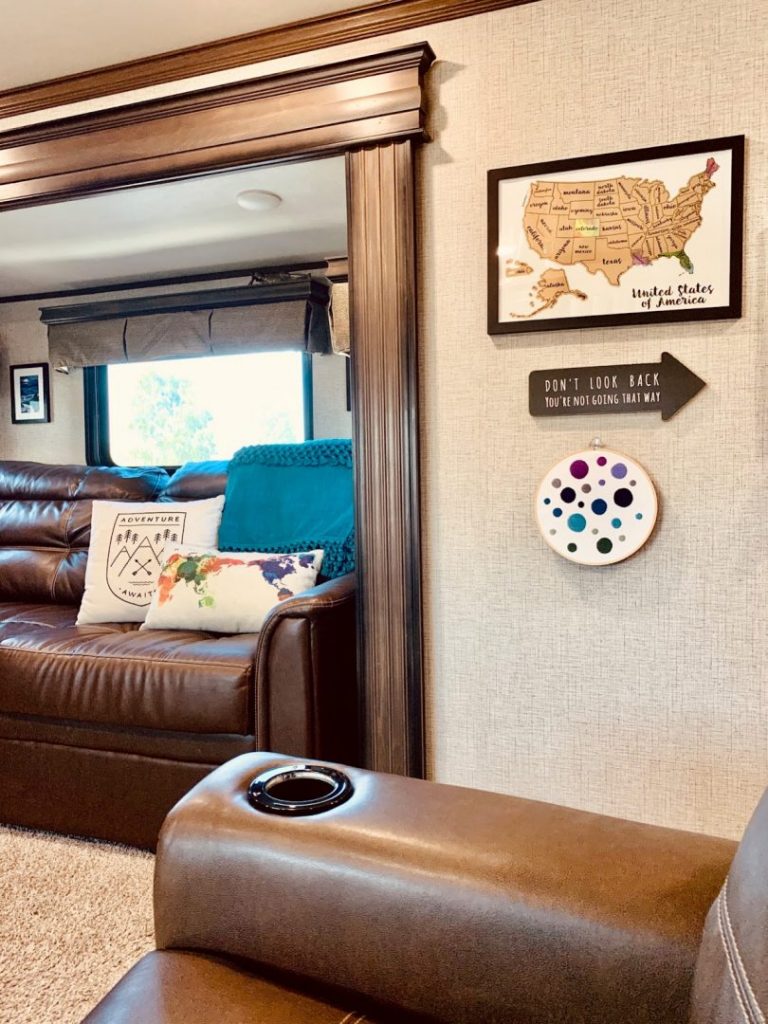 Decorating makes your space uniquely yours. In darker spaces, think about candles or small LED lights that might give some soft light to those corners and crevices. If you aren't adding color through painting or wallpaper, think about ways to add colorful art to your space. Maybe postcards from your favorite travel spots? A scratch-off map of the places you have been? Perhaps a small collection of tiny pieces from local shops during your adventures? We feel like showcasing our National Park postcards and our scratch-off map remind us of why we choose to live in a mobile home.
Permanent Versus Temporary Decor
If you move frequently, you might want to use command hooks to put items on the walls. For dishes, candle holders, and any knick knacks you can use velcro strips or double-sided tape to keep them in place while you are rolling down the road. We use a small piece of double-sided tape to keep our candles from falling off our valance while we are hauling our fifth-wheel. Choosing lightweight decorations, or ones that have multiple uses (perhaps a decorative basket that both looks good and holds your keys) are also good options for small spaces. If you have decor that you really enjoy having out, but doesn't seem mobile-friendly, you can have a small bin that you use to collect items as part of your drive day checklist. When you get to your new location, you just take that bin around your tiny home and place your items back out. If you choose that last option, then you can even change up where you put things each time you move.
Decorate Your Campsite
When we pull up to a campground spot, we usually have some outdoor space to make our own. Most campgrounds come with a picnic table and fire ring, and some offer small grassy areas or even a cement pad. Many RVers we know have some outdoor items, including a rug, flags, plants, etc. One of the reasons a lot of us enjoy RV living is because we want to spend more time outside, so it might be important to have some things in your outdoor space that make you feel more at home! Allie and I have a rug under our chairs as well as a small table with one of our favorite Buddha statues on it. We also proudly fly our rainbow flag at every campsite we have been to during our four years of full-time travel. Other things we suggest for outside setup are citronella candles, a tablecloth for your picnic table, lights for hanging outside in the evening, and your favorite coffee mug that you can bring out and sip your morning brew with.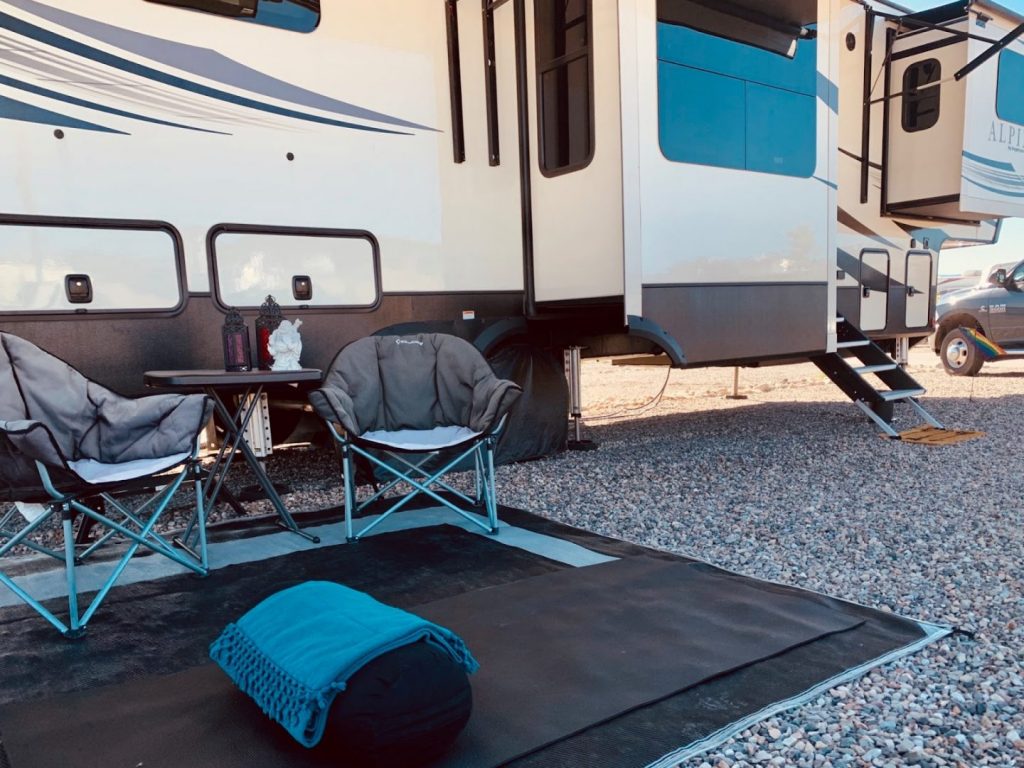 Holiday Decor for RVs
You might think that people in tiny homes don't decorate for holidays or seasons. I mean, where do we keep all of those items when they aren't in use? We are here to tell you that we DO decorate, and we DO store our seasonal decorations inside of our RV. Allie and I decorate for a few major holidays including Christmas, Valentine's Day, and Halloween. We also deck our RV out with extra rainbows during LGBTQ+ Pride Month. We have one small bin for each holiday and choose our decor wisely. For Christmas, we have some wood trees that come apart and lay flat, a small ceramic light-up tree, and some festive plates and candles. Halloween decor includes a pillow case, a few small signs, and a skull candle holder. For Pride, we generally add some rainbow flags, candles, and knick knacks, but let's be honest and just say that we already have several rainbows out all year long in our RV.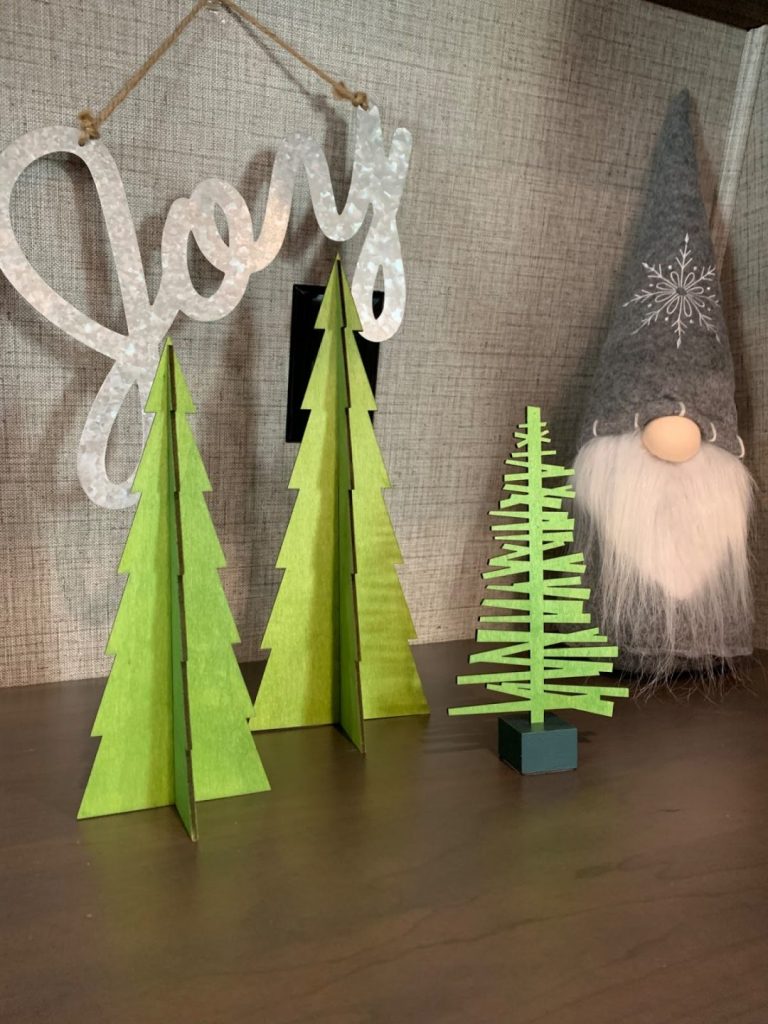 Make It Your Own
Decorating a small space doesn't have to be complicated, and we may not have bins and bins of knick-knacks or extra candles to put out, but most people like to make their space cozy. We decorated right after getting settled into our fifth wheel, and it makes us feel like we are at home with our rainbows and postcards and throw pillows. Is it time for a trip to the decor section of Target?