RVing Across America: Preparing for a Trip, Planning Stops, Where to Stay and More
How Tos & Tips
October 12th, 2019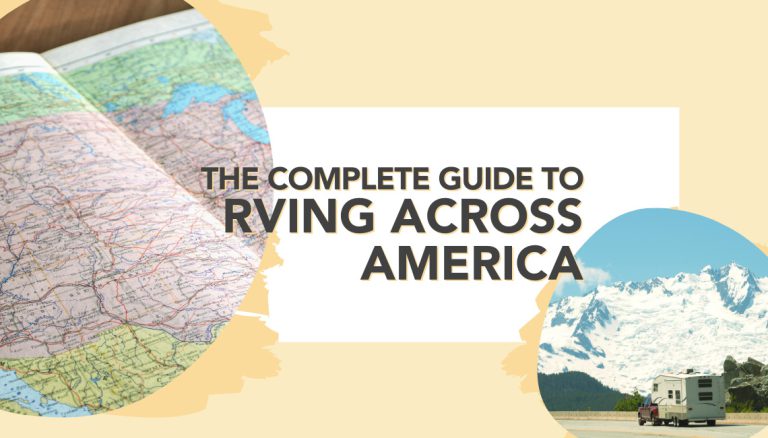 While even a weekend getaway is rewarding in an RV, there's nothing quite like tackling a coast-to-coast road trip in your very own bungalow on wheels. Whether you're taking Route 66 or meandering I-10 for as long as it'll carry you, RVing across America is a one-of-a-kind experience you and your family are sure not to forget.
But a cross country RV trip is no simple feat. Although traveling by RV may be more convenient and comfortable than stopping in a series of hotel rooms, unpacking and repacking your bags every time you stop, it still takes some planning chops if you want to pull it off without a hitch. (Or, you know, with a hitch, if you're in a travel trailer).
So in this post, we'll walk you through some of our best tips for those taking to the road for a major trek, including how to route your trip, how to plan your stops, and what on earth to bring for the occasion.
Playing RV Trip Planner? Here's What You Need to Know
Playing RV road trip planner is a job that's simultaneously rewarding and overwhelming at times. It can be a pretty sizable job to route a cross-country trip, and an RV trip planner generally works for free.
Going in armed with some pro tips and tactics can go a long way toward turning this chore into a joy, however. Here's what you should keep in mind when taking on a seriously long-term trip.
1. Don't overburden yourself with super-long driving days.
Even if you honestly love driving, being on the road for hours on end can be tiresome — especially when you're driving a larger vehicle, like a motorhome or travel trailer. While everyone's maximum drive day is different, we recommend figuring out how much driving you can do in a day without feeling overburdened, and sticking to that length of time (or less) when you're routing out your trip.
For instance, say you're traveling from Jacksonville to San Diego along I-10. That's a drive of about 2,300 miles and 33 total hours — which you definitely don't want to make in one fell swoop. Instead, you'll probably want to take it in 6-7 hour chunks, making for about a week of travel… and that's before you factor in the time you need to explore the stops you make along the way.
It's usually a good idea to have some sense of where you'll stop, but you also don't want to lock yourself into anything entirely. Which brings us to the next item on our list…
2. Build in wiggle room.
When you're planning a super long trip, it's easy to trick yourself into thinking you'll be super high energy the entire time, up for whatever comes next on your itinerary. But the truth is, even when we're doing fun stuff, we do eventually get tired… and your vacation will be much more enjoyable if you have room to sit back, relax, and breathe from time to time.
Although you can run into trouble finding room at developed campgrounds during the most popular travel seasons, you can usually find a spot for a night or two even if you're making reservations last minute, so we recommend not nailing down all of your reservations ahead of time. Rather, use Google Maps (or whatever your RV route planner of choice may be) to scope out the itinerary, and make a list of cities and sights you're considering. Then, play it by ear along the way, giving yourself the opportunity to stay a few days at that cool Bohemian town or to skip the expensive spot that sounded cooler than it actually turned out to be. One of the best parts of RVing is the ability to be spontaneous, so take advantage!
3. Use apps to your advantage.
Speaking of things to use to your advantage, we also recommend using the technology that's available to help make your trip-planning venture easier. There are free map services like Google Maps and Waze, of course, but we also suggest using programs like RoadTrippers, which can alert you to attractions along the way you might not otherwise have known about.
Apps can help you do a whole lot more than just plan your trip, too: they can help you save money, learn more about the attractions you're visiting, and so much more. Click here to learn more about some of our favorite apps for RVers, whether you're a weekend warrior or a full-timer.
4. When it comes to stays, think about how long you'll be there — and your ideal kind of camping trip.
As you probably already know, there are a variety of different kinds of campgrounds out there. And the experience of boondocking on public lands is considerably different than the experience of pulling into a swanky, luxury-filled, developed campground.
That said, if you're staying at developed campgrounds for the entirety of your trip, you're going to be spending a fair amount on accommodation fees, which you may want to offset with a few nights of "roughing it." (Though we have to say, waking up with a view of a beautiful, natural space out your RV window isn't exactly our idea of a bad time.)
It might be worth investing in amped-up digs if you're going to be hanging around a place for a longer period of time, since you'll probably have better access to amenities like laundry facilities and WiFi. Plus, campgrounds tend to charge lower per-night prices for folks who are staying a full week or more… though you can always save a good chunk of cash at a wide variety of campgrounds across the country by buying into a Passport America membership. (Get an automatic 50% off at all participating campgrounds!)
Even More Tips for RV Route Planners
RV maps and routes are one thing, but there's more that goes into creating an enjoyable cross-country getaway. Don't forget about these factors!
5. When it comes to packing, less is more.
We understand the impulse to bring everything but the kitchen sink when you're taking a cross-country trip. (And heck, in most RVs, the kitchen sink is included, too!)
But even the largest motorhomes and travel trailers have pretty limited storage space, which means every single item you bring should be important… or it should be left at home.
You need clothing and food, of course, but probably not as much as you think — and as far as groceries, you can always buy them as you go. We find that overpacking is one of the most common beginner mistakes when it comes to RVing, so check out this post on what to leave behind while you're creating your packing list.
6. Bringing Fido? Make sure to keep his needs in mind, too.
Many RVers who take long-term, cross country trips want to bring their four-legged family members, too. We totally get it! But traveling with pets does add a slight extra layer of complication, so be sure you're prepared for the realities of pet-friendly travel.
For one thing, you'll need to call ahead to the campgrounds you're considering to ensure they allow dogs (or cats). While most do, some do not.
And be sure not to leave your pet's needs off your packing list: food dishes, treats, and other items may be necessary to ensure your pet's comfort for the trip.
7. Don't want to drive both ways? Don't worry — you might not have to!
Crossing the country one time is a fun adventure, but doing it twice is… well, kind of a lot, especially if you have to take the same route. And if you're considering renting an RV through the peer-to-peer market, you may be worried that you need to return it to its owner. But fortunately, that's just not the case!
RVshare recently rolled out a one-way rental feature, which allows renters like you to drop off their rental vehicles at a disparate location. Then, you can fly home (or make other arrangements) while we drive the RV back to its rightful owner, which saves you money and gives you as much time as possible to fully explore on the way out. Win-win!
RV Cross Country Driving Routes
Seriously considering this cross country road trip madness? There are a variety of different routes you can take, from the iconic Route 66 to the highly underrated I-70.
But no matter which way you go, we know you won't regret your time spent en route when you're hitting the road in an RVshare vehicle!
This post may contain affiliate links.