How Tos & Tips
Last updated on November 9th, 2022. Originally published on November 21st, 2015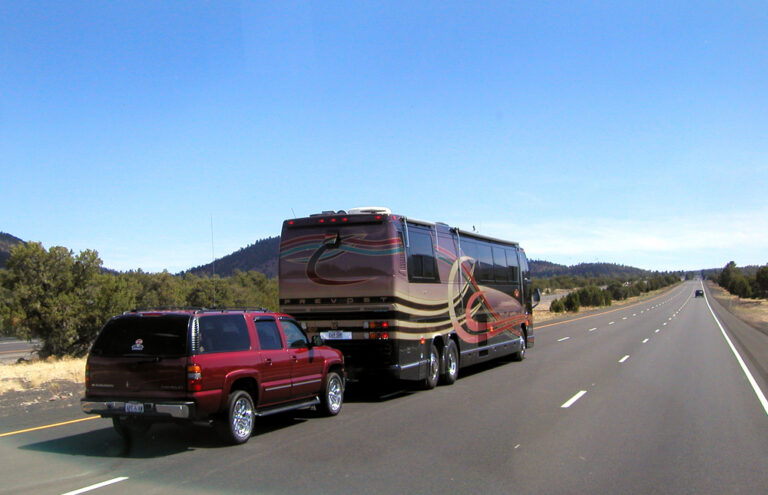 Are you interested in bringing your car along while you are out road-tripping in your RV?
This is a pretty common practice among RVers who drive motorhomes. Mainly because breaking camp and driving the big RV every time you want to go to the store or sightseeing is a huge hassle. Not to mention impractical. Luckily, you have options, including towing a car behind your RV on a dolly. In this guide, we'll walk you through the different types of dollies and how to find the one that works best for you.
RV & Motorhome Tow Dolly
The two most popular methods of towing a car behind your RV are to flat tow it or put it on an RV tow dolly. Flat towing is convenient because it requires no extra parts that must be stored at the campsite. The major drawback is that not all cars can be safely flat-towed. (Consult our guide about flat towing to learn more.) In this case, a dolly is your best option.
What is an RV Tow Dolly?
An RV tow dolly is a small, 2-wheel trailer that is specifically designed to tow automobiles. Basically, it carries the front wheels of your car while the back wheels remain on the road. Since most modern cars have front-wheel drive, their drive trains will remain motionless. That means no mileage will accumulate on the odometer, and your car won't incur wear and tear.
Other benefits of using an RV tow dolly include:
Most tow dollies have their own braking system
You won't have to make any modifications to your vehicle
RV tow dollies are small and take up less space than a full-size car trailer
Loading and unloading the towed vehicle is easy and straightforward
Which leads us to the question, how do you choose an RV tow dolly?
First of all, it's important to remember that not all tow dollies are not created equal. There are many factors to consider before spending your money on a dolly.
The Two Major Types of RV Tow Dollies
Mounted Front Wheels RV Tow Dolly
This type of dolly has wheels that are mounted like the front wheels of your car. They turn on kingpins and track around corners with your car having to move on a pivot between the trailer wheels. Examples of these include:
Acme Tow Dolly
Kar Kaddy SS Tow Dolly
These are typically the preferred type of tow dolly because of their advantage in reducing damage to your motorhome or trailer when maneuvering around tight corners.
Center Pivot RV Dolly
These types of dollies have a center pivot that allows your car to track around corners. Examples of these include:
Stehl Tow Dolly
Master Tow Dolly
Demco Tow It 2 Tow Dolly
American Car Dolly
Ultra Tow Dolly
All the models listed are good choices. Still, they are considered to be less ideal due to their fixed trailer wheels. Their center pivot point is also a factor.
When you choose between these two styles of tow dolly, it all comes down to your preference.
What to Look For in an RV Dolly
The following are the top things to look for in a dolly, so you can ensure you're getting the very best equipment for your needs:
Weight Rating
Clearly, one of the most important things to keep in mind when shopping for a tow dolly is weight. The weight rating of your dolly must be greater than the weight of your vehicle. As you might guess, this criteria becomes easier to meet the smaller your car is, so this is also something to keep in mind when shopping for a vehicle to tow.
Foldability
One of the biggest drawbacks of tow dollies is the fact that they must be stored when not in use. This is especially difficult in crowded campgrounds. Luckily, there are a few tow dollies out there that fold up, making them much easier to store.
Brakes
Some dollies come equipped with a braking system, meaning you won't have to invest in and install an auxiliary braking system. Obviously, this is a huge bonus, and one many people might consider a make-or-break feature. More on this in the next section.
Adjustable Tread Width
If you'll be switching up the vehicle you tow, a dolly with adjustable tread width is something you'll want to look into. This will allow you to accommodate a wide range of vehicles, meaning you can hold onto the same dolly even if you change cars or need to tow somebody else's vehicle. 
RV Dolly Brakes
Before you choose your tow dolly, there are a couple more things that you must consider. For example, a tow dolly with braking capabilities is required by law in most states.
Some tow dollies have electric brakes like you would find in a standard travel trailer. All you have to do is install a brake controller in your rig, and you are ready to go.
Other tow dollies have what are called surge brakes. The brakes are activated when the trailer senses that you are about to stop. The biggest benefit of these types of brakes is that they are built into the tow dolly. This means that you won't need to install any equipment.
RV Dolly Lights
Another important consideration is lighting. This is also required by law in most states and can usually be found on the fender of the tow dolly. Often, you will need to have operating brakes on the car that you are towing as well. This is achieved by installing wiring that allows your rig to control the factory lights on your car.
Another option is to buy a removable light system, or bar, that can be attached to the rear of your car. It can be removed when you reach your destination.
Do the Research on RV Tow Dollies
Finally, it's important that you read the manual of your car before you buy an RV tow dolly. Many of the newer models don't have a way for you to lock the steering wheel. This is mandatory when using a tow dolly because it prevents your car from drifting back and forth. Otherwise, the side panels can get damaged when you are taking corners. So, if your vehicle doesn't have the steering wheel lock feature, you shouldn't tow it with an RV tow dolly. Check out our blog on the best vehicles to tow for more tips.