Be a Campsite Chef: Use These 3 Knives
How Tos & Tips
September 18th, 2015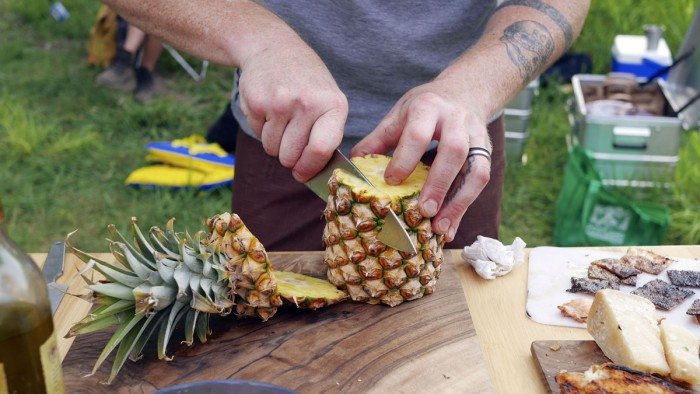 For decades, sportsmen and women have been wondering, Where can you get a great knife for campsite cooking? It's well known that outdoors stores like the Bass Pro Shop and Cabela's carry a wide variety of camping cutlery and utensils. Although their knives are generally sturdy, they don't always equal the quality required for finely dicing, slicing, or mincing that most cooks crave.
Fortunately, the Field Knife Set from Tiktaalik offers a solution. Made of Swedish Sadvik 12C27 steel with a unique handle design, these bad boys take your culinary experiments — in the kitchen or at the campfire — to a whole new level.
The Field Knife
Chopping at the campsite or in the kitchen is a breeze with the Chef's Field Knife. At 3.5-ounces, it is designed to be lightweight. The compact length is 10-inches from tip to end, and the blade length is 6.25-inches.
The 2015 price for this knife is $115 when purchased with the accompanying cutting board.
The Serrated Knife
This Serrated Field Knife is perfect for slicing bread or produce, such as tomatoes. The 2.5-ounce weight is easy to handle, as is the 6.1-inch blade. The total length is 10-inches.
The serrated knife is only available when purchased with the set.
The Paring Knife
A paring knife is great for peeling or slicing a single piece of fruit, a vegetable, or a garlic clove. It is also ideal for meticulous, decorative cutting of fruits and veggies, or shapes in dough.
The Paring Field Knife weighs only 1.2-ounces. This tiny tool is merely 6.85-inches with a 3.5-inch blade. The 2015 price is a reasonable $75.
The Design
These attractive knives are made from Swedish Sadvik 12C27 steel and have a Rockwell hardness of 54 to 61. The handles are what make these tools truly different.
They are flatter and thinner than those found on most knives. This allows them to be stacked flat against each other, taking up less space. In fact, the manufacturers claim that the three stacked together are no thicker than one traditionally handled knife.
The Full Set
The set of three knives comes in its own case. This flat, aluminum case stores effortlessly. It also easily fits in your campsite cooking gear or in a backpack.
The 2015 cost for the full set is $250.
In Conclusion
With this one of a kind set, you will be the master chef at your next cookout or dinner party. The unique design makes them easy to stack and the convenient case makes them easy to store. This set makes a wonderful gift, so please share with your friends and family members who delight at creating delicious edible items. Bon Appetit!