3 Easy To Make Camping Breakfast Sandwiches
How Tos & Tips
September 4th, 2015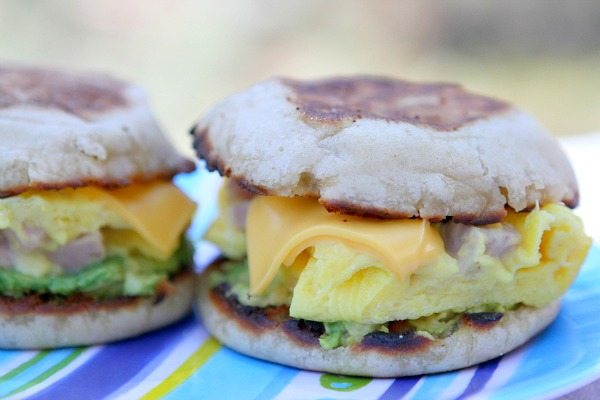 Breakfast is the most important meal of the day. It can also be the easiest. Especially with these three simple recipe ideas based on the idea of making an Omelette in a Bag.
Looking for a fun way to serve a healthy camping breakfast? Remember, you can customize any idea to fit your personal taste. Whatever you choose, these three easy to make camping breakfast sandwiches are a delicious way to start your day.
The Basic Omelette in a Bag Breakfast Sandwich
Prepare your eggs with no muss, no fuss, using the ziplock bag method. You will need a large pot of water that has been brought to a rolling boil. You will also need:
1 ziplock bag per 2 sandwiches
3 eggs
1 teaspoon water
Spice to taste (personally I love basil and chives with a dash of salt and pepper)
English muffins, ciabatta bread, biscuits, or bagels
Preparation:
Crack the eggs into the ziplock bag. Add and spice to taste.
Carefully squish/mix the eggs and then zip the top of the bag making sure to remove the excess air.
Place in boiling water and cook for 5-10 minutes until the eggs no longer look runny.
Remove the bag from the water, unzip (careful, this will be hot) and slip them onto a cutting board.
Toast your bread of choice on your camp stove, toaster or in a skillet.
The Salsa Special
In addition to your eggs and bread add chopped ham or bacon to your sandwich. Toss it in with the eggs while they are cooking. Spread your toasted bread with a bit of butter or mayo and top with a slice of avocado, cheese and salsa.
Assemble: Muffin, spread, eggs with ham or bacon, cheese, avocado, salsa, muffin on top. Perfection!
The Egg Mc-Camping
Cook your egg as previously directed and toast an English muffin with a bit of butter. Heat slices of Canadian bacon. Set aside a slice of easy to melt cheddar cheese.
Assemble: Muffin, spread, egg, Canadian Bacon, Cheese, Muffin on top. Just like McDonalds!
The Vegetarian Sammy
Morning Star breakfast sausages are completely vegetarian and come in traditional, maple or hot flavors. A regular size box holds six small round sausages. Use these to make a vegetarian breakfast, camping sandwich with or without eggs.
Heat your sausages in the skillet following the directions on the box.
Assemble: Muffin, mayo, egg, Morning Star vegetarian breakfast sausage, cheese (optional), muffin. If you aren't doing eggs make it a vegetarian sausage sammy only!
That's it! Three easy to customize camping breakfast sandwiches perfect for the entire family. Do you have a favorite breakfast sandwich? Share the recipe in our comment box below. If you like these ideas, please post them on your favorite sites. Pin them, like them, tweet them. We want the whole world to know just how easy it is to make a great breakfast even when you are camping.