Travel Inspiration
Last updated on February 23rd, 2023. Originally published on June 25th, 2020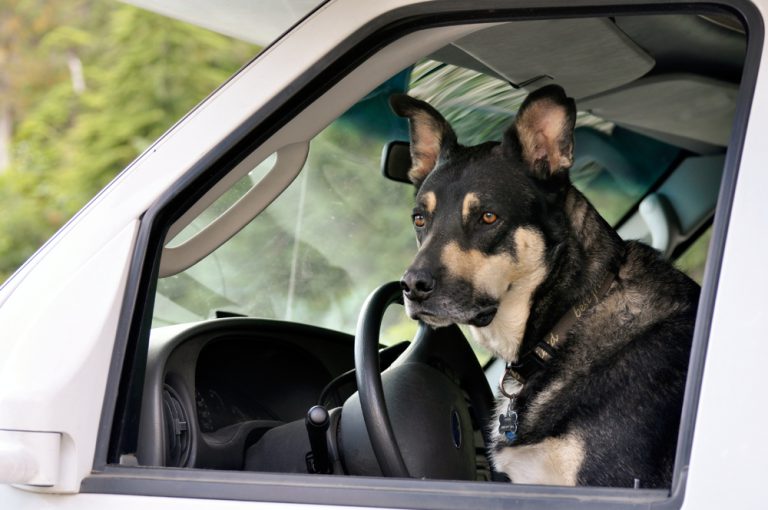 What's the only thing that's consistently better than camping?
Why, camping with dogs, of course. But whether you're tent camping or RVing it, camping with a dog (or three) does come with some extra considerations — and having the right tips, tricks, and gear up your sleeve can go a long way toward making for a fun, relaxed experience. There's nothing better than sharing your favorite destination with your favorite four-legged friend — so in this post, we're going to break down everything you need to know about how to camp with a dog, including some fun accessories that will make camping with your dog a whole lot easier!
Getting Your Pet Ready to Camp
Before you head out on your journey, there are a few things you'll want to do to prepare.
Check in with your vet.
Before you get packed and ready to go, touch base with your vet. It's always important to keep your pup current on their vaccines like rabies, distemper, and parvo, but your vet may also recommend vaccinating against leptospirosis. Leptospirosis can be found in water and causes infection that can even pass from your pet to you!
Make sure they have flea, tick, and heartworm medication.
You likely treat your pet monthly for fleas, ticks, and heartworm – generally in a chewable tablet form or liquid that is administered to the back of their neck. Making sure they are treated before you camp is important since you'll be outside more than usual. Plus, ticks and mosquitos love tall grass, standing water – things that you are more exposed to in the wilderness! But note: preventative meds should be bought from your vet! Buying over the counter versions can lead to serious side effects.
Confirm their tags are up to date.
While you're gone, you'll want to keep their collar on at all times. Make sure they have a nametag on their collar with your up-to-date info. Have your pet microchipped? Even better!
Think about their potential limitations.
While planning out your trip, think through what you'll be doing. Do you plan on going on an advanced hike that could take the entire day? Ask yourself if your dog will be able to keep up. And if they can't, will they be okay at camp while you're gone? If the activities you have in mind aren't super pet-friendly, consider leaving them at home this trip or planning one around what they can do.
Be aware of vet clinics near your camp.
As much of a bummer as it would be to have to rush your pet to the vet during your trip, having to search for a clinic mid-crisis will only add to your stress. Once you have your trip planned, do a quick search and make note of animal hospitals near the campground you're staying at. That way if your pup needs medical help, you'll know exactly where to call!
Camping with Dogs: Tips and Tricks
So, what do you need to know before you go with Fido? Here are a few things to keep in mind.
1. Find dog-friendly camping ahead of time.
Although a majority of campgrounds these days are pet-friendly, it would be a pretty frustrating scenario to drive all the way to your destination only to discover your dog isn't welcome — and staying at a pet-free campground with your dog secretly on board is a recipe for disaster. After all, he's gonna have to go out sometime!
That's why it's important to scope out your camping options ahead of time and make sure that dogs are allowed. We recommend making reservations, too, especially during high-traffic travel times. (We'll talk in a bit more depth on how to find dog-friendly campgrounds just a little bit later on in this post!)
2. Don't forget to pack for your pupper!
Creating a packing list is simultaneously one of the most important and most tedious parts of any camping trip. You want to make sure you don't have to make any last-minute stops just to replace something you easily could have stuck in your bag.
But if you're bringing along your favorite furry friends, don't forget that they have packing needs, too! Here are some basics to keep in mind, and we'll cover some fun and useful accessories to add to your list in just a moment!
What to pack on a camping trip with your dog
Food and treats
Food and water bowls
Leash, collar, harness with tags including your current contact information
Comfort items: bed, toys, blanket
Old towel to wipe off paws
Medications or supplements
Poop bags – remember what you bring in, you must bring out which includes cleaning up after your pup!
3. Going hiking? Check the rules.
So many campers love to go hiking with their dogs, and we understand why. It's great exercise for you and them, and most dogs love the opportunity to get out and smell the fresh air and flowers.
But depending on where you are, your dog may or may not technically be allowed on the trail — and even if she is, you may have to keep her on a leash of a certain length to remain "legal." This is especially true in national parks and other protected wilderness areas, where the presence of domestic animals can wreak havoc on the natural biospheres and food chains the park management services are working to protect.
Either way, it's a much better idea to scope out your hike before you go than to get there and discover you have to drive all the way back to your campsite. And if you find yourself tempted to leave your pup in the car, don't; even when temperatures feel mild, they can skyrocket inside a car in minutes, to say nothing of the fact that your dog will be without water or a place to use the bathroom.
4. When in doubt, go with the leash.
Even if you're in a pet-friendly park or on a dog-friendly beach during your camping trip, in most cases, it's a better idea to keep your pet on a leash than to let him wander. Even the best-trained dogs sometimes get distracted and refuse to come when they're called in a brand-new landscape, and the majority of public places have leash laws for a reason. (Let's face it: your dog may be awesome, but when she's up in someone else's face without their permission, she might just be being annoying!)
5. Consider paw protection.
If you're taking your pet outside in any extreme weather condition, whether hot or cold, or you're hiking in rocky or rough terrain, paw protection is important. I mean, you wouldn't want to walk barefoot in the snow or hot desert sand, would you?
That's why tough, waterproof dog booties can be an important item to add to your travel bag… even if Fido initially balks at wearing them. (Or walks all funny, like the dog in the video above. If so, consider the hilarity an added bonus!)
How to Find Dog-Friendly Camping
Finding dog-friendly camping is easier than ever, thanks to the invention of the internet. All you really need to do is Google "dog-friendly camping near me," and you should come up with a variety of hits for RV parks and campgrounds where Fido is welcome.
If the park doesn't come right out and state their pet policy, you can also call ahead and ask — but if you really want to up your game, consider looking specifically for parks that cater to dog owners. For example, some campgrounds offer fenced on-site dog parks and play areas, whereas others treat dogs like an added burden by requiring owners to pay extra fees for each pet. We prefer the former!
The Best Dog Travel Bed – and More Accessories
So, remember how we were talking about Fido's packing list? Having the right dog camping and travel accessories can really make a difference when it comes to setting up a relaxing and cozy campsite. Here are some of the most important pieces of gear to bring along.
6. A Great Travel Dog Bed
Even if your pup primarily sleeps on the bed or couch at home, investing in a high-quality travel dog bed can be a great idea for campers. The best versions will be waterproof, durable, and easily storable, but still comfortable and supportive for your pup.
For instance, the Lightspeed Outdoors Ultra-Plush Fold and Go Travel Pet Bed comes with a machine-washable cover and folds up nice and small for cramming in the car or camper. And yet the overstuffed inner cushion means your pup will be sitting pretty — in fact, you might even want to get down there and hang out with him!
Also, consider an elevated dog bed! These cots are great to use while camping because they are not only comfortable for your pup, but you can place their regular bed on top without it getting dirty!
7. Collapsible Bowls
We've all gotta eat, and your doggo is no exception… but when you're camping, storage space is at a premium. That's why we suggest pet owners use collapsible bowls, which pack up small and are still sturdy and easily washable. Plus, once you invest in some travel bowls, you won't have to worry about picking up the bowls you use at home and toting them along — it's way easier!
8. Dog Gear Travel Bag
Along with the items we've mentioned above, you've likely got some other stuff of Fluffy's that needs to go along for every trip: favorite toys, your best leash, medications, and whatever other ephemera your pet has accumulated. (They really are like children, right?)
A machine-washable dog gear travel bag can make it a breeze to pick up and go wherever you want as soon as you're ready — and some of them even come with built-in collapsible bowls, saving you an extra expense! Can't get much easier than that.
Camping with Dogs is So Worth the Effort
Although it does take a little bit of planning to do well, camping with dogs is totally worth the effort — there really is nothing as special as exploring a new place or retracing old footsteps with your friend's paws right beside you on the path. And when you rent your motorhome or travel trailer through RVshare, you won't have to worry about having your pet denied access to your rental rig!
Although many commercial dealerships shy away from renting to pet-owners in favor of keeping their rigs totally dander and dog-hair free, RVshare owners can simply flip a toggle on their listings to decide whether or not their rental is pet-friendly — and in many cases, they are! Since RVshare owners are regular people just like you and me, they often travel with their own pets on board… and best of all, they can afford to rent you their RV at low per-night prices, since they don't have to foot the overhead expense of running a business.
No matter where your RV trip takes you, we know it'll be a better journey with your dog along for the ride. Happy camping to you and yours — no matter how many feet "yours" may have!
This post may contain affiliate links.