Travel Inspiration
March 2nd, 2021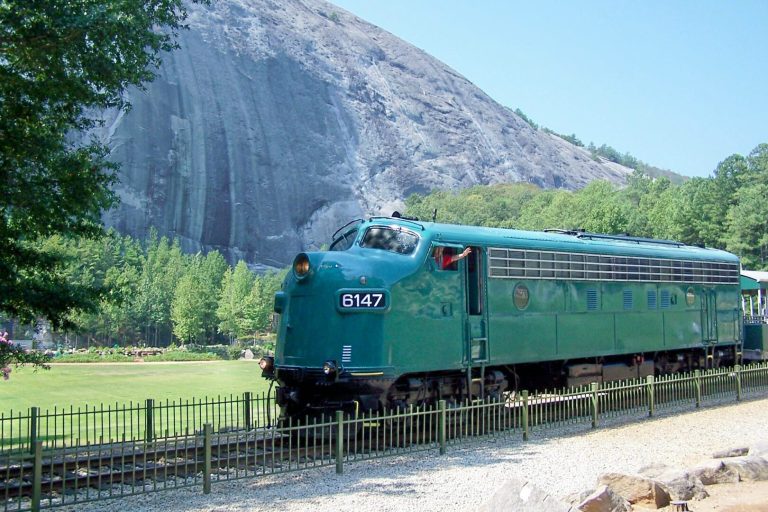 RV camping is fun no matter who you go with. That said, one of the best ways to experience RVing is with kids. This is because younger travelers bring a special sort of excitement to an RV vacation that nearly everyone enjoys watching and being a part of.
Of course, if you're going to go RVing with kids, you will want to make sure you find places to stay that will happily accommodate them. Additionally, you'll want to book places that the kids themselves will enjoy. This is where the many campgrounds for kids across the country come into play.
Below we've compiled a list of some of the very best RV parks for kids in the US. Pick one of these for your family RV adventure and you can rest assured you're going to have an amazing time.
Disney's Fort Wilderness
Orlando, FL
It's a well-known fact that Walt Disney World is easily one of the best family vacation destinations in the world. That said, not everyone realizes it can actually be an RV destination.
Disney's Fort Wilderness Campground is one of the best RV resorts we've ever seen. Every site is paved, the restrooms are spotless, and the amenities include multiple pools, a hot tub, a water slide, horseback riding, carriage rides, a dinner show, delicious restaurants, and more.
Kids adore the nightly campfire with Chip and Dale, and the proximity to the Disney parks (with boat transportation to Magic Kingdom) just can't be beat!
Ocean Lakes Family Campground
Myrtle Beach, SC
We were astounded by the size of Ocean Lakes Family Campground, as well as the amazing assortment of amenities offered there.
The fact that campers can walk from their RVs to the beautiful beach is easily the best perk of staying at this beautiful campground. That said, the game room, onsite water park, and multitude of organized family activities are pretty amazing as well.
We recommend visiting Ocean Lakes Family Campground during the Halloween season so you can experience their amazing Halloween festivities during your stay.
The Vineyards Campground and Cabins
Grapevine, TX
Heading to Texas? The Vineyards Campground and Cabins is one of the best campgrounds for kids. Not only that, the adults will probably love it too. 
The scenery and hiking trails in this lovely Lone Star campground are some of the best out there. If you get a little too hot while out hiking, be sure to check out the sandy lakefront beaches found in the campground and jump in for a swim. Of course, you could also choose to kayak or fish in the lake if that's what you prefer.
Kids love the playground and planned activities offered by this park—along with their bike, kayak, and paddle board rentals—and we're guessing you will too!
Campland on the Bay
San Diego, CA
San Diego is one of those cities everyone should experience at least once in their lifetime. Why not take your kids to experience it now? Campland on the Bay provides the perfect lodging option for your family getaway to this lovely city.
Families absolutely adore the spacious sites found at Campland on the Bay. Want even more room? Snag the "Super Site" and you'll have a patio and a jacuzzi all to yourself!
Because this campground is located on the shores of Mission Bay, you can count on having plenty of fun in the water. That said, there are also a number of other ways to fill your time while in the campground. These include a game room, scheduled family activities, pools, bike rentals, a skate park, and even an open-air study hall for the kids to do their online schooling.
Lake Rudolph Campground and RV Resort
Santa Claus, IN
This Christmas-themed campground is absolutely perfect for young campers. The theme is super fun, its location right next to the Holiday World theme park is perfect, and there are plenty of onsite amenities and activities to keep the whole family happy.
Some of our favorite amenities found at Lake Rudolph Campground and RV Resort include an awesome onsite water park, spacious sites, playgrounds, basketball courts, fishing, gem mining, and more.
Need transportation to Holiday World? The campground shuttle makes it easy to get from one place to the next.
Stone Mountain Park Campground
Atlanta, GA
Stone Mountain Park is one of Atlanta's most popular attractions. This place includes an amazing array of fun activities including a scenic railroad, mini golf, historic displays, SkyHike, a laser show, and a gondola trip to the top of the mountain.
What many people don't realize is that you can actually camp onsite, so getting to and experiencing these super fun attractions is an absolute cinch.
Stone Mountain Park Campground is easily one of the best campgrounds for kids out there. It has a pool, a playground, horseshoe courts, a volleyball court, and more. Organized activities are sometimes on the schedule, and the location is amazing.
Camp Gulf
Miramar Beach, FL
The beach is always a fantastic place to take the family. That's just one reason why families love Camp Gulf. Here, you're only steps away from an absolutely gorgeous beach, so spending days in the sand and sun is incredibly easy.
In addition to being on the beach, Camp Gulf also offers a lot of fun activity options for kids and adults alike. These include a super fun water slide, plenty of games to borrow, and fun family activities. You certainly won't get bored when staying at this beautiful RV campground.
Ingalls Homestead
De Smet, SD
If you ever read the Little House books growing up, you know who Laura Ingalls is. At Ingalls Homestead, you can explore the land Laura called home whilst living in South Dakota. The attraction includes such activities as doll making, covered wagon rides, and horseback riding, and really helps transport you back in time.
If you really want to immerse yourself in the pioneer lifestyle, onsite camping is available. There are a handful of RV sites available, and they do book up solid during the busy season, so be sure to book yours quickly.
Jellystone Parks
Multiple Locations
Not planning a visit to one of the areas mentioned above? No problem. Jellystone Parks are located all over the country and are fantastic campgrounds for kids.
Many of these parks include waterslides and even mini water parks. Visits from Yogi Bear and his friends are not uncommon, and other activities such as mini golf and jump pads are often available. Additionally, the staff at these parks will almost always have fun family-friendly events and activities planned, ensuring your stay is an excellent one.
KOA Locations
Multiple Locations
Another campground chain that is perfect for families is KOA.
These campgrounds are clean and well taken care of, usually with spacious sites to accommodate bigger groups of people. KOA parks are dog-friendly, with most boasting a dog park, and many offer planned activities for families throughout the week. On top of all that, most KOA campgrounds have pools and playgrounds, with many offering things like jump pads, hay rides, and water slides.
Ready to take your family RV vacation? Find a rental rig that works for your family and hit the road to check out one of these fantastic campgrounds for kids!