Travel Inspiration
September 10th, 2017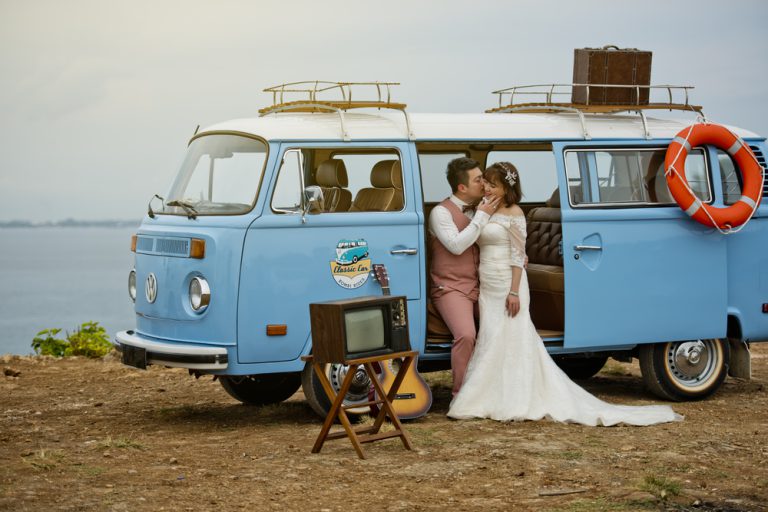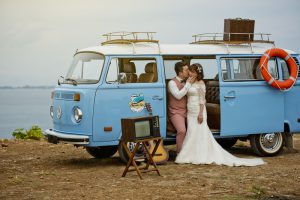 Engaged? Congratulations!
But if you thought finding your soulmate was the hard part, hold onto your carefully-curated bouquet and hand-beaded veil. Now is when the real work begins. You've got a wedding to plan!
Vintage Wedding Ideas
If you're like most brides (and grooms!) to be, you probably want a unique wedding — one that's memorable, charming, and undeniably you and your sweetheart's own. The vows are the most important part, of course… but let's face it: you're basically throwing the biggest, most extravagant party of your life. And an event like that takes some planning, especially if you want to do it in style.
Increasingly, it's in vogue to arrange a retro wedding, complete with classic, old-style gowns and black and white wedding photos. Maybe you serve your champagne in saucers instead of flutes and set up an old flash-camera style photo booth, or maybe you take it one step further and make the whole shebang a themed gala. A 20s-era Gatsby-style fete? A 50s sock-hop wedding? The choice is yours.
But if you're looking for ideas to add a touch of vintage glam to your wedding day, there's one surefire way to do it.
Wedding Transportation
No matter what style you decide on for your ceremony, you're likely going to need some transportation.
Whether it's the wedding getaway car that whisks you and your new spouse off the honeymoon of your dreams, or a party bus rental or limo rental for the bridal party and groomsmen, you and your posse are going to need a way to get around.
And if you want the perfect touch of retro, vintage whimsy, renting a Volkswagen bus or VW campervan is the perfect way to get it.
Wedding Bus
Maybe you need a larger van or bus, capable of holding you and your bridal party.
Or maybe you just want a campervan that you and your sweetheart can drive off into the sunset, a pre-loaded vacation vehicle ready for your favorite destination.
But whether you're looking to camp in it or just to chauffeur your friends and family around for the day, a VW van is a great addition to cute, old-school weddings — and it's easier to find one for hire than you think.
Wedding Campervan Hire
Still on the fence? Here's why a Volkswagen bus or campervan is the perfect vehicle for your vintage wedding.
1. It's already ready for your honeymoon!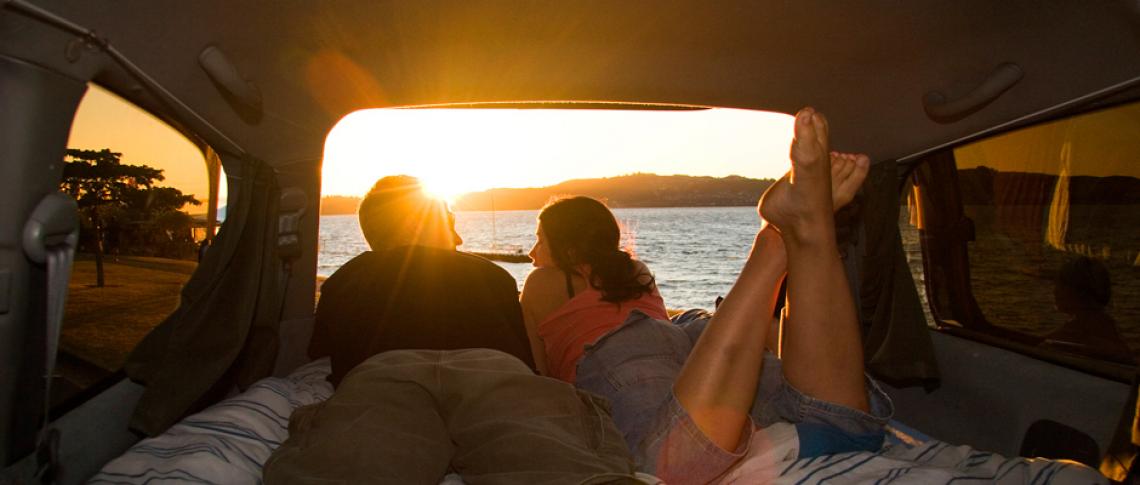 Think about it: You can step out of the pile of confetti and rice and straight into the vehicle you'll use to spend the first blissful few days of your new, married life together. You've got everything you need right there in the campervan — and when you're together, after all, you don't need much.
Just imagine curling up next to your new husband or wife with a new, gorgeous view out the dashboard window every morning, spending the day driving wherever the wind takes you… or not going anywhere at all. In your Volkswagen wedding van, you can focus on the most important thing about your trip: each other.
2. Traveling smaller is always better.
Who needs the hassle of big, heavy suitcases or the headache of choosing between seven different pairs of shoes?
Traveling in a camper van forces you to be minimalistic, but that's not a bad thing. You'll have less stuff — literally — to worry about when you can't everything in your apartment along for the ride. Plus, you'll have more incentive to get out of your campervan and go explore your destination… and that is the point of traveling, isn't it?
3. It's fun and easy to decorate to fit your wedding theme.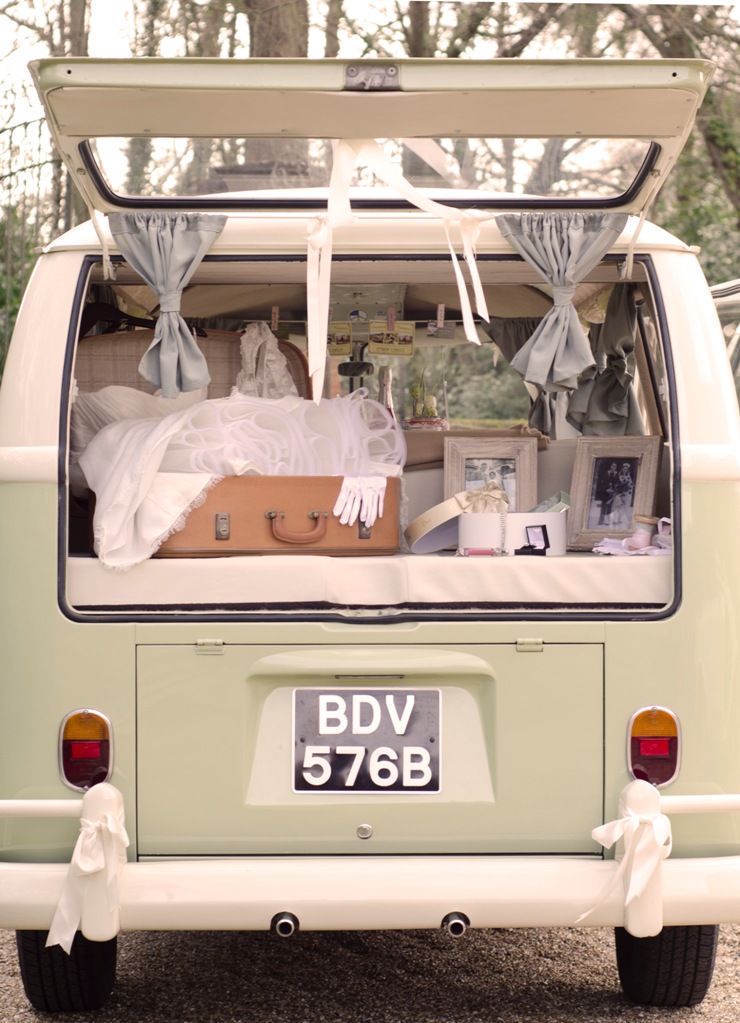 The only thing more fun than traveling in your VW wedding hire is decorating it for the big day!
White streamers, bows, and garlands of flowers… your campervan is sure to look the part in no time. (As if it weren't already cute enough, by the way.)
Plus, by decorating up the vehicle with your own special touches, you'll ensure it's yet another piece of your dream wedding: perfectly and uniquely your own style and fashion.
4. It'll make for amazing wedding photos.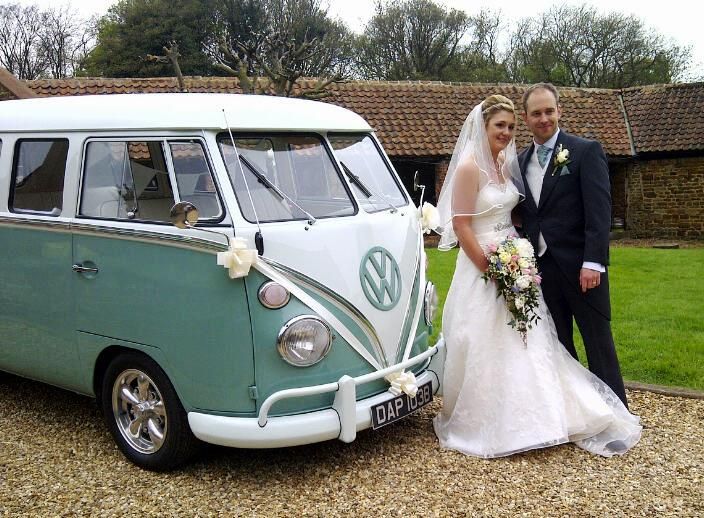 Of course you want to memorize every second of your big day, but the truth is, much of your recollection of your wedding will depend on photos. That means you want to make sure those images memorialize your ceremony and reception as well as possible!
Since they're already so unique and aesthetically pleasing, VW campers make a great wedding photo prop that also serves to give your future wedding album a taste of your individual style and personality. They're photos you'll long treasure, and which will get people talking about and remembering your wedding for years to come.
5. You'll be surprised at how easily you can find one for hire — and how cheaply!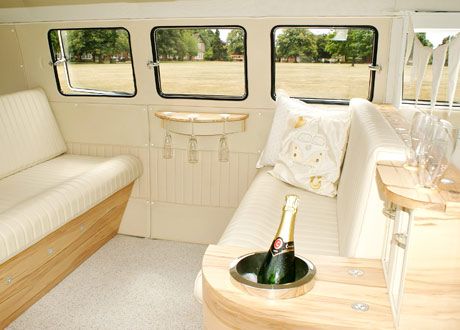 "All of this sounds amazing," you might be thinking… "But where on earth can I rent a VW camper?"
Well, it turns out campervans are a popular rental item both for special occasions and general vacationing. And across the UK and US, many RV rental dealerships have begun specializing in lending out Volkswagen camper vans for hire — for weddings and otherwise.
You can run a simple search for Volkswagen campervan rentals in your area by using your postal or zip code, or even call your local camper dealership to see if they might know of a source nearby. But even if you don't have a dedicated Volkswagen campervan rental agency in your area, you still might be able to find one on the peer-to-peer RV rental market.
After all, regular RV owners aren't bound by some corporate finding about which vehicles are "best" for a fleet. They simply purchase the RV that strikes their fancy. And as you likely know, campervans are hugely popular right now! That means there's more than likely a campervan owner in your area whose rig might be listed on RVshare, ready and waiting for your big day.
But whether or not you decide to bring a VW campervan into your matrimonial celebration, don't forget to sit back, relax, and enjoy the day. After all — if all goes as planned, it's the only wedding day you'll ever have!