8 Paws of Love: Camper Van Travel Tips with Two Dogs – Adventure Allens
RV Owners
Last updated on June 16th, 2022. Originally published on September 28th, 2021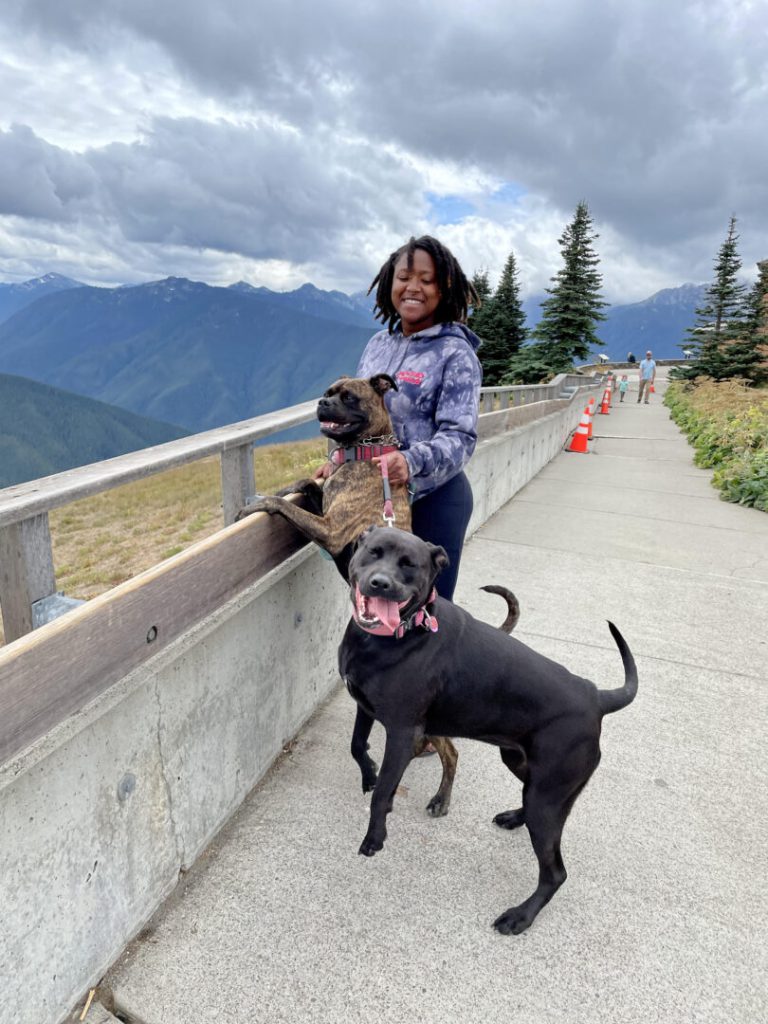 One of our favorite things about traveling by van is that we get to bring our dogs along. We travel full-time on the road with our two dogs, Chief and Storm. Let's talk about how it is to travel with our dogs in the van. We'll start with their adoption stories, where we store food, dog water bowl from the van, why we go to "rug out spots", off-leash training, and routines in the city.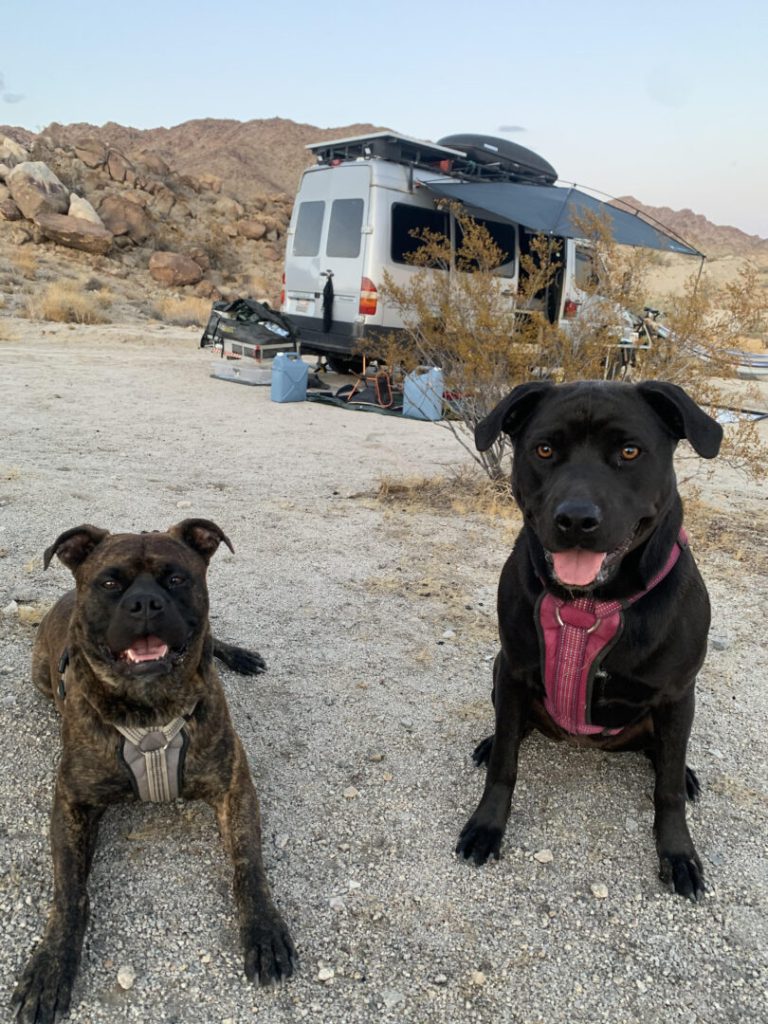 Meeting Our Pups
While we were still working in San Diego, living in the van and on the boat is around the time we adopted Chief. While Chris was working as a security guard in San Diego, a coworker of his asked if he'd be interested in a puppy. The coworker at the time had a babysitting accident go wrong. The next thing you know they had 10 puppies in a two-bedroom apartment. We went over to the apartment to go look at the puppies. We decided to pick the puppy that was sleeping because we thought that he would be a chill little guy. Man, were we wrong!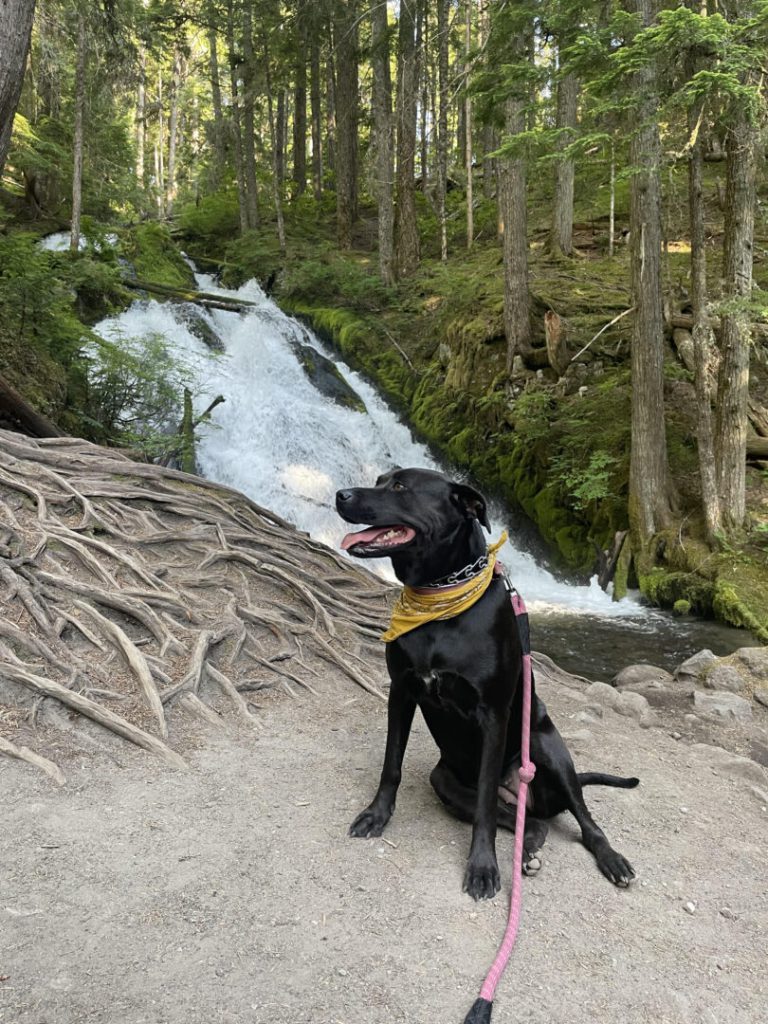 Almost two years later we decided we wanted a second dog. We were looking to adopt a sibling for Chief similar in age. While scrolling on Craigslist, we found an ad about Storm. At the time her name was Penny, and she was described as an 11-month-old, plays nice with dogs and children, escape artist, and knows a few commands. We felt she would be the perfect candidate to be Chief's counterpart. At the time we were living in Humboldt County California. So we drove two hours north to a dog park to go meet Storm. They played for an hour straight and we said OK, let's go home. The rest is history.
Chief grew up on the boat and in the van. So this lifestyle isn't something new for him. And Storm loves car rides. We are very lucky to have such adaptable dogs. This isn't the case for all dogs.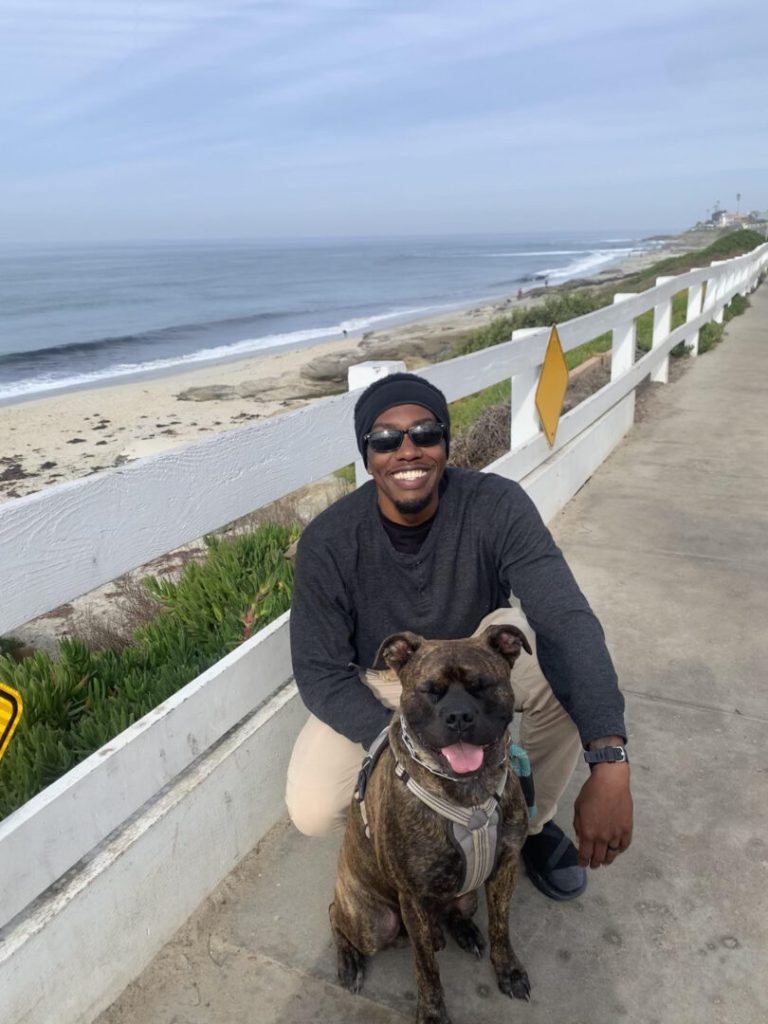 Storing Food in the Van
We store about one month's worth of dog food in a 50 lb. gamma sealed dog food container. It is durable and airtight, so it keeps everything fresh and safe. We feed them Taste of the Wild dog food. They eat at the same time every day at 7 PM right before bed. Chief lets us know when it's time to eat, by staring into our souls hahaha. We don't necessarily keep track of how much water they drink. For their water bowl, we use a large recycled potato container. It's square in shape and fits perfectly in the step, in the slider door. We fill up the potato salad bowl once or twice a day.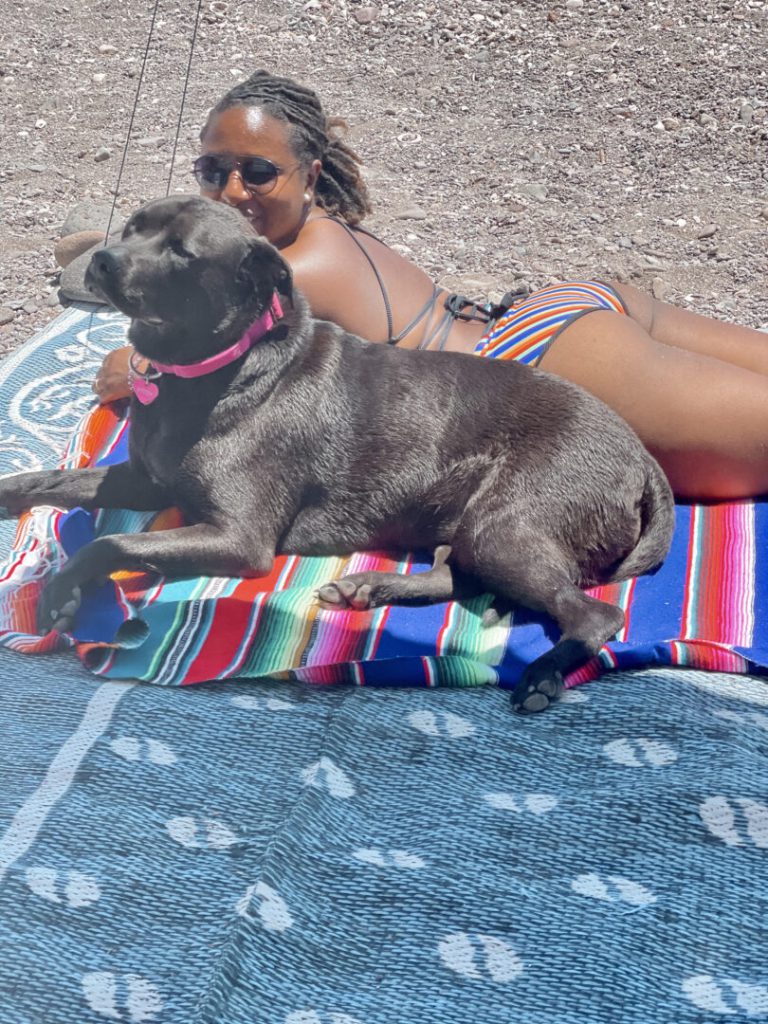 Choosing a Good Campsite for Dogs
Our favorite kind of campsites are the campsites where we can have the rug out. So we call these particular spots "Rug Out Spots". Being that we live in a van with two big dogs; we like to give the dogs their own space. Whenever we are camping out on forest land or the beach, we can lay out the rug. When the rug is laid out that whole 9 x 12 ft area is theirs. It gives them a home-base to go to and it keeps them from laying in the dirt as much. We have the dogs attached to 10 foot leads that hook on to welded anchor points on the bottom of the van.
As time has progressed Chief and Storm are growing through their puppy stage. Now we can trust them a little bit more with being off leash, giving them more space to roam freely and safely. What helps us is a lot of training with playing with the frisbee or savory treats. With patience and consistency, we have been able to improve their recall command.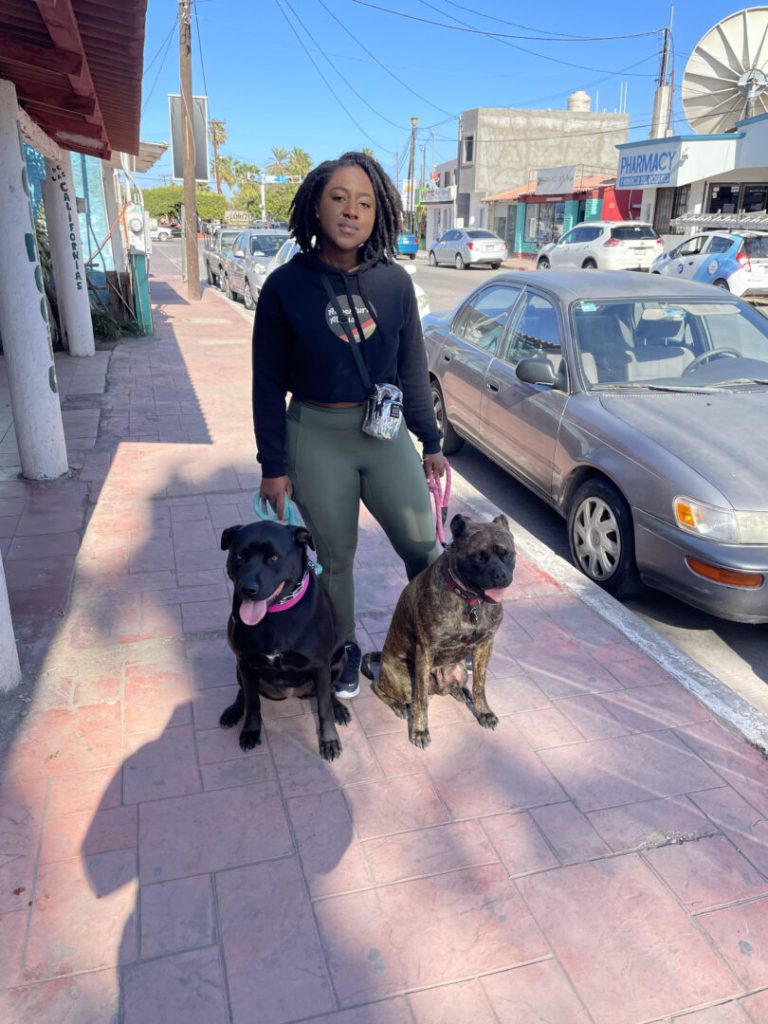 City Camping in the Van
We rarely find ourselves in the city. However, when we are there we like to keep ourselves on a strict routine. One of the first things we do in the morning is find a local dog park to take the dogs to. This gives them the ability to fully exercise themselves in a short period of time while still being able to socialize with other dogs. Being in the city, we are a little bit more confined to the van. This is when the van feels the smallest. We like to take the dogs on a big walk in the evening anywhere between 30 to 40 minutes. This allows them to have had a full day of exercise while having the ability to meet others as well.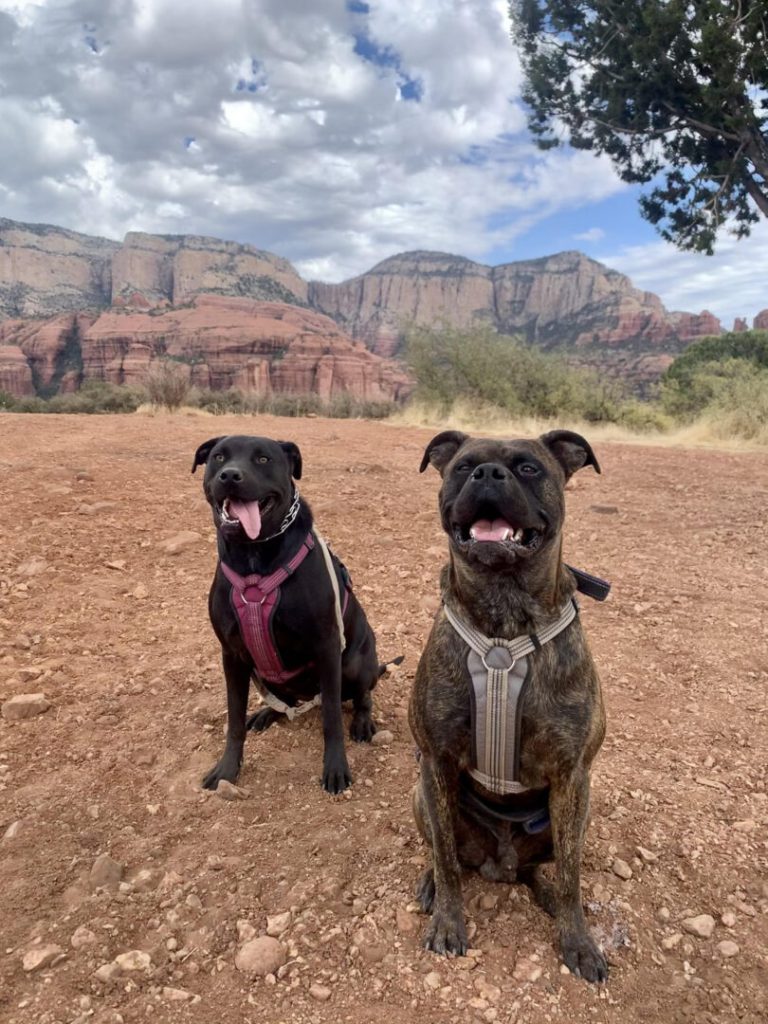 Dog-Friendly Destinations
Most National Parks aren't very dog friendly because of the impact they can have on the environment. For this reason, we rarely visit them other than the scenic drive through. On days where we want to do something that isn't dog-friendly, we take them on an exciting walk or hike that tires them out early in the day. Then we go out and explore for a little bit while they chill in the van. We have two MaxxAir fans that have the capability of pulling air in or out at 10 different speeds. In addition, there are two interior fans that have two settings. With a combination of those fans plus window coverings, the dogs can be comfortable chilling when conditions are suitable.
Oregon was one of our summer destinations, and it was very dog-friendly. From the coastal state parks and waterfall trails, there were tons to choose from that were dog-friendly. It was awesome being able to take them on every hike that we chose while we were in Oregon. Finding dog-friendly spots on the West Coast hasn't been an issue for us much.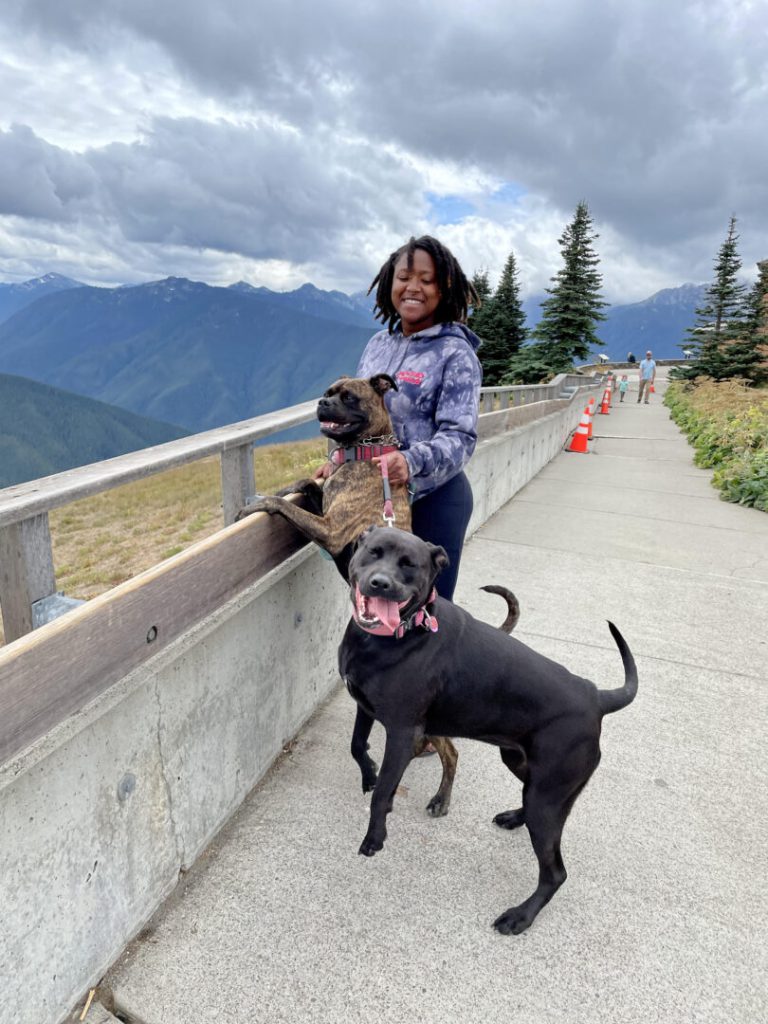 Wouldn't Have it Any Other Way
It's been a wonderful experience traveling all around the US with eight paws of love. Chief and Strom and make us feel more confident and safe while traveling on the road, they can smell better than us and they can see better than us. They have been to Mexico in the wintertime and to Washington in the summer. Swimming in the warm waters of Baja and then getting in frigid lakes in the mountains. They live such a good life and it makes any "inconvenience" meaningless.
About the authors: We welcome you to support our business (AdventureAllens.com) or follow along our journey on Instagrams @AdventureAllens and @MusclesOnTheMove. We're a nonprofit organization that is a representation platform to normalize Black travel and educate the community on living tiny. We sell T-shirts, e-books, and other merchandise on our website adventureallens.com. 
May contain affiliate links.