RVshare is a Real Business Opportunity for RV Owners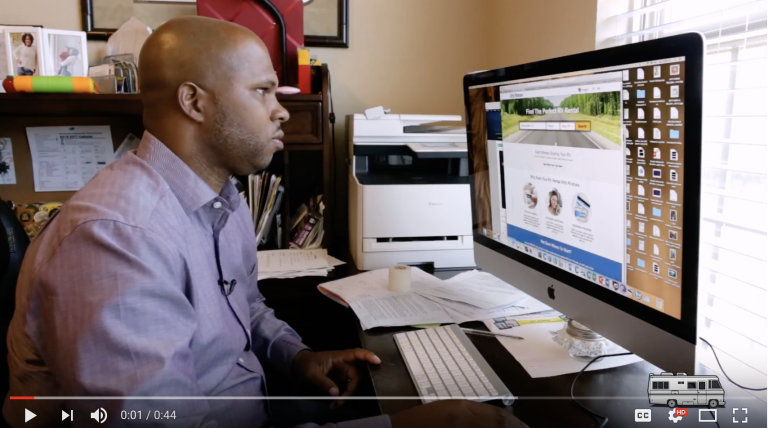 Last week, we caught up with Cornelius Garner and learned about his busy life running a fleet with RVshare. Today, we discuss more about how he runs his successful business, how he utilizes RVshare, and his advice to other RV owners thinking about building their business.
Do you have any repeat renters?
Cornelius: I do. I have a couple, two ladies up in Houston; they've rented from me three times. A lot of my renters are people flying into the airport. I have a couple that flew in from New Zealand, and they wanted me to deliver the RV to the airport. I found out that they were staying at a hotel near the airport; I called the hotel and they had RV parking, so I delivered it to the hotel for them. [The family] took off from there, and they're touring the U.S. right now.
I've had a Chinese family rent from me, and they went to the Grand Canyon, Las Vegas, California; he came back and had went 4,000 miles over his miles, and I said, "Hey, you went 4,000 miles over," and he says, "Yes, we got lost."
What advice do you have for people wary to list on RVshare, because they are uncomfortable with renters taking their vehicles and campers thousands of miles away?
Cornelius: I look at it as a business. A lot of people look at it as, "This is my baby," or whatever. I look at it as a business, and the way I look at it is there's nothing they can do to it that I can't fix. They put their deductible down and you have the insurance, so anything they do can be fixed.
The only thing you can't fix is mileage, and that's going to happen anyway. And renting it out, when I take my RV to be serviced, the mechanic tells me that it's worse for [the RV] to sit than it is to go. You get an RV that's 10 years old with 15,000 miles on it and it's actually worse than an RV with 35 thousand miles on it, because it's been sitting.
Running the Business
How many miles are renters allotted?
Cornelius: I allow my renters 250 miles per day when they rent my older RV, the Tioga. And in the Lexington, I allow 200 miles a day. I try to find something that sets me apart from the other renters to get more rentals, and so what I do is I provide free insurance. I have an MBA renters policy that I pay for, and I provide it to them for free.
But what's more important to the renter is my deductible. I have the lowest deductible on the site. My deductible is $500. Everybody else is [between] $1,500 and $1,000. I've even seen $2,500 deductibles, and I ask my renters a lot of times, "Hey, what made you choose me?" And 75% of the time, it's the deductible, and one guy told me the reviews.
How has RVshare helped you facilitate this whole business? How did you grow your business through this platform?
Cornelius: I thought about doing this on my own without RVshare; but what RVshare does for you, it legitimizes you. You are actually a company.
[Also], the biggest thing a customer wants it the roadside assistance. So that's a big part of it.
But, being able to take the deposit, refund deposits back to their credit card, and take the payment [and get] the advertising for the [RVshare's] price, you can't beat that. I've tried on Craigslist, and I get a lot of people coming, wanting to rent it on Craigslist, but it is scary.
So, I just refer them over to RVshare. They book it through there. That way you get your roadside assistance, and my insurance. They want to see that documentation, or the rental documentation, if they were to have an accident. So for the price that I pay, you can't beat renting through RVshare for the services that they offer.
What is it like to interact with RVshare to help run your business?
Cornelius: When I ask them a question, they pretty much leave it up to me. [RVshare] tells me what the rule is. They're like, "Hey, the contract says you're obligated to do this or you're obligated to do that, but some of our renters do this, and some of our renters do that; so it's up to you." That's pretty much it.
I look at RVshare like they let you run your own business, and they don't make any decisions for you. They let you make your decisions yourself. What I like about RVshare is I have repeat renters, and I tell them, "Hey, you rent from me again, I'll give you a discount." So I can go in, and I can adjust the price. They rent for five days and the quote comes out, I can change that, and I can give it to them for whatever I want.
Advice for Running a Rental Business Through RVshare
You mentioned there's nothing that a renter can do that you can't fix. What types of issues have you had to deal with?
Cornelius: When renters come back, there's always something minor that's wrong, but there's nothing I can't fix. I had a lady — she didn't do a pet deposit — and she had a dog in the RV. There was a lot of hair in the RV; then I looked at the back wall in the master bedroom, and it looked like a dog had scratched the wall.
I try to work with customers, so I [call her and] say, "You need to pay the pet deposit, because [the contract] says if you have a pet in the RV, you forfeit your deposit. I'm going to get an estimate on the wall." It just so happened that was $1,300 to fix.
So it's covered on the insurance, she has to pay the deductible and it gets fixed.
I had a guy sideswipe a parked car. It's damage to the RV, but, again, it's nothing I can't get fixed.
With two vehicles and multiple renters and therefore fixes on each RV, how do you keep track of all the service and give your renters peace of mind of how well maintained your vehicles are?
Cornelius: What I do is, in each one of my RVs, I keep a binder with all the service records. I have a Good Sam warranty over the whole coach, so everything is under warranty. I have insurance; I have a warranty on my tires. So I give [renters] peace of mind.
[I also tell them] "Hey, if you have a blowout, just take it to a Discount Tire anywhere, and it's covered." Also, blowouts are covered under my Good Sam warranty. So, that's an expense I try to take off of [the renter]. I'll reimburse them. They'll pay for it in the beginning, and then they'll get reimbursed when they return.
You're so pragmatic about it.
Cornelius: Yeah. It's like renting a house. You don't want to rent to horrible tenants, but if they tear it up, they have to pay for it.
Do you have a renter selection process?
Cornelius: I rent to anybody that wants to rent an RV. The reason why [some people] come to us, a lot of them, is because they can't afford the big companies. Since my deductible is lower, I do rent to a lot of people who normally couldn't afford to rent it. The repeat customers that I have in Houston can't really afford to pay.
I had a rental with them [scheduled, but my RV] broke down; I had generator issues, so they couldn't take it. I was on RVshare trying to help them find another rental, and they were telling me that they can't afford the $1000 to $1500 deductible.
How much have you made on RVshare?
Cornelius: The payout is something like $33,000 to me. So some months, I make about $10,000, so I guess each RV makes about $5,000.
Does that payout cover all of your expenses and include profit?
Cornelius: Oh yeah. Like I said, they gross about $5,000 a month each renting on RVshare, so the income has way covered my expenses. My [monthly] expenses for each one, if I don't have any problems, are storage, insurance and the payment on my RV. For each one, [all that is] about $1,000 a month. So yeah, it way covers.
Has your RVshare business affected your family in a positive way? Has it been substantial enough to supplement your family?
Cornelius: The income I make from RVshare has benefited my wife mostly. When I purchased the new RV, she just purchased a franchise. In the beginning, she's not making any money. So I told her that I would finance her business, until she started making money, with the income that I made from RVshare. So I guess that's how it's affected our family, by her starting up a new business. It's not really a strain on us, because I finance her through my RVshare business. We don't have to dip into our income for her business. Also, I never have to dip into our income. My RVshare account — it has its own account — fully pays for me. I never use our checking account for anything. My lunch at work, my gas — everything — comes out of [the RVshare] account.
How often do you use your RV personally?
Cornelius: My kids and I, we love the RV. If I'm just driving around the block, they want to get in the RV and watch a movie while [we're] driving. So it's just my wife, she doesn't like it that much.
Have you enjoyed any types of personal and family experiences in your RVs?
Cornelius: My family and I, we've enjoyed a couple of trips. My kids more than anyone; they love riding. Earlier this year, right when it was starting to get warm but it wasn't really warm yet, we took a trip in our RV to an RV resort here in San Antonio.
It was on the edge of San Antonio, about 30 miles away. They had a heated pool, outdoor kitchen. They had a stocked fishing pond. We took the dog out. My brother-in-law and his wife live there, [so] we invited them over; we barbecued. We had a really good time. It was right there on the lake, on the stocked pond, so we had a really good time, and we're going to do that again. But my RV is not available a lot, so one day when it's available, we're going to do that again.